Here are the 25 best Bible scriptures on competition.
1 Corinthians 9:24
Do you not know that in a race all the runners run, but only one receives the prize? So run that you may obtain it.
Colossians 3:23
Whatever you do, work heartily, as for the Lord and not for men.
2 Timothy 2:5
An athlete is not crowned unless he competes according to the rules.
Galatians 6:4
But let each one test his own work, and then his reason to boast will be in himself alone and not in his neighbor.
Colossians 3:17
And whatever you do, in word or deed, do everything in the name of the Lord Jesus, giving thanks to God the Father through him.
1 Corinthians 10:31
So, whether you eat or drink, or whatever you do, do all to the glory of God.
1 Corinthians 9:25
Every athlete exercises self-control in all things. They do it to receive a perishable wreath, but we an imperishable.
2 Corinthians 10:12
Not that we dare to classify or compare ourselves with some of those who are commending themselves. But when they measure themselves by one another and compare themselves with one another, they are without understanding.
Acts 20:24
But I do not account my life of any value nor as precious to myself, if only I may finish my course and the ministry that I received from the Lord Jesus, to testify to the gospel of the grace of God.
Deuteronomy 28:1
And if you faithfully obey the voice of the Lord your God, being careful to do all his commandments that I command you today, the Lord your God will set you high above all the nations of the earth.
Ecclesiastes 4:4
Then I saw that all toil and all skill in work come from a man's envy of his neighbor. This also is vanity and a striving after wind.
Galatians 5:26
Let us not become conceited, provoking one another, envying one another.
Galatians 6:9
And let us not grow weary of doing good, for in due season we will reap, if we do not give up.
Hebrews 12:1
Therefore, since we are surrounded by so great a cloud of witnesses, let us also lay aside every weight, and sin which clings so closely, and let us run with endurance the race that is set before us.
James 4:1
What causes quarrels and what causes fights among you? Is it not this, that your passions are at war within you?
James 4:6
But he gives more grace. Therefore it says, "God opposes the proud, but gives grace to the humble."
John 15:13
"Greater love has no one than this, that someone lay down his life for his friends."
Luke 1:37
For nothing will be impossible with God.
Luke 16:15
And he said to them, "You are those who justify yourselves before men, but God knows your hearts. For what is exalted among men is an abomination in the sight of God."
Matthew 19:30
"But many who are first will be last, and the last first."
Matthew 6:33
"But seek first the kingdom of God and his righteousness, and all these things will be added to you."
Philippians 2:3
Do nothing from rivalry or conceit, but in humility count others more significant than yourselves.
Philippians 4:13
I can do all things through him who strengthens me.
Proverbs 27:17
Iron sharpens iron, and one man sharpens another.
Psalm 108:13
With God we shall do valiantly; it is he who will tread down our foes.
More Bible Verses that Will Move You
50 Most Powerful Scriptures on Faith
60 Transcendent Verses on Trust
50 Strong Scriptures on Perseverance
68 Powerful Verses on Forgiveness
40 Uplifting Scriptures on Patience
Add Our Infographic Below to Your Pinterest Board
Hit the pin button below to add our infographic, with all the verses, to one of your Pinterest boards.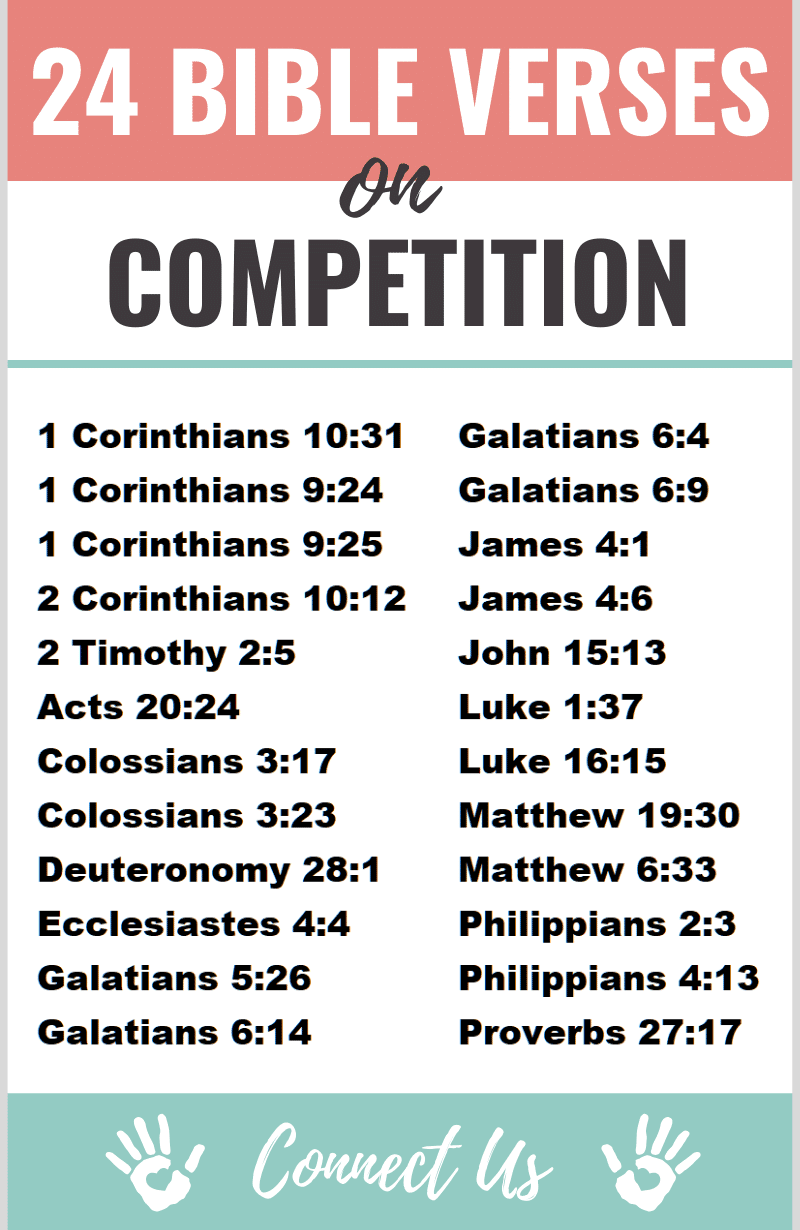 Author Bio
Natalie Regoli is a child of God, devoted wife, and mother of two boys. She has a Master's Degree in Law from The University of Texas. Natalie has been published in several national journals and has been practicing law for 18 years.