John 13:34
"A new command I give you: Love one another. As I have loved you, so you must love one another."
Explanation and Commentary of John 13:34
Judas had just a moment prior left to go and betray Jesus, and Jesus knew it. Now in his mounting distress, he would give them his final parting words before going to suffer his greatest trial. As he contemplated leaving the disciples all on their own, his main concern was that they love one another. It was "a new command" because, while love had been the focus of some of Jesus' earlier commands; love God, love neighbor, and love enemies, here, he bases the love they are to have for one another on the way he has loved them. Additionally, his concern that the disciples love "one another" has a special motive in the next verse so that the world will know that they belong to Christ (Jn 13:35).
And how has he loved them? He has served them (Jn 13:1), he has kept them with him for his entire ministry, patiently teaching them, training them, empowering them, saving them by choosing them, and by what he knew he was ready to do for them on the cross. The cross is the ultimate expression of the love of God. It is a love for others that springs from the love at the heart of the Father, the sacrificial and perfect love that would absorb the offense of sin and the wrath of God for evil. Christ loved his bride, the Church, "to make her holy, cleansing her by the washing with water through the word, and to present her to himself as a radiant church, without stain or wrinkle or any other blemish, but holy and blameless" (Eph 5:25-27).
Jesus calls us to give ourselves to one another for the sake of building one another up and making concrete the love that God in Christ has for each of us. Jesus knew that the sacrificial love of his Father was supernatural and would be a sign to the world if seen among his disciples.
Breaking Down the Key Parts of John 13:34
#1 "A new command I give you:"
Jesus's commands are not a burdensome list of meticulous rules to follow, but rather some all-encompassing principles and virtues that to keep would cause one's whole life to come into order. This command is new in that the grounds for it are based in Jesus's own example of love for his disciples.
#2 "Love one another."
As a father or mother longs to see their children love one another, so God in Christ longs to see his own children love one another with the love that is rooted in Christ's death on the cross.
#3 "As I have loved you, so you must love one another."
We love like Christ, who loved us before we loved him, even when we hated him. One of those present for this command was John, who would later write, "This is how we know what love is: Jesus Christ laid down his life for us. And we ought to lay down our lives for our brothers and sisters" (1 Jn 3:16).
Bible Study on John 13:34
Expert Overview of John Ch. 13-21
Biblical Translations of John 13:34
NIV
"A new command I give you: Love one another. As I have loved you, so you must love one another."
NLT
"So now I am giving you a new commandment: Love each other. Just as I have loved you, you should love each other."
ESV
"A new commandment I give to you, that you love one another: just as I have loved you, you also are to love one another."
KJV
"A new commandment I give unto you, That ye love one another; as I have loved you, that ye also love one another."
NKJV
"A new commandment I give to you, that you love one another; as I have loved you, that you also love one another."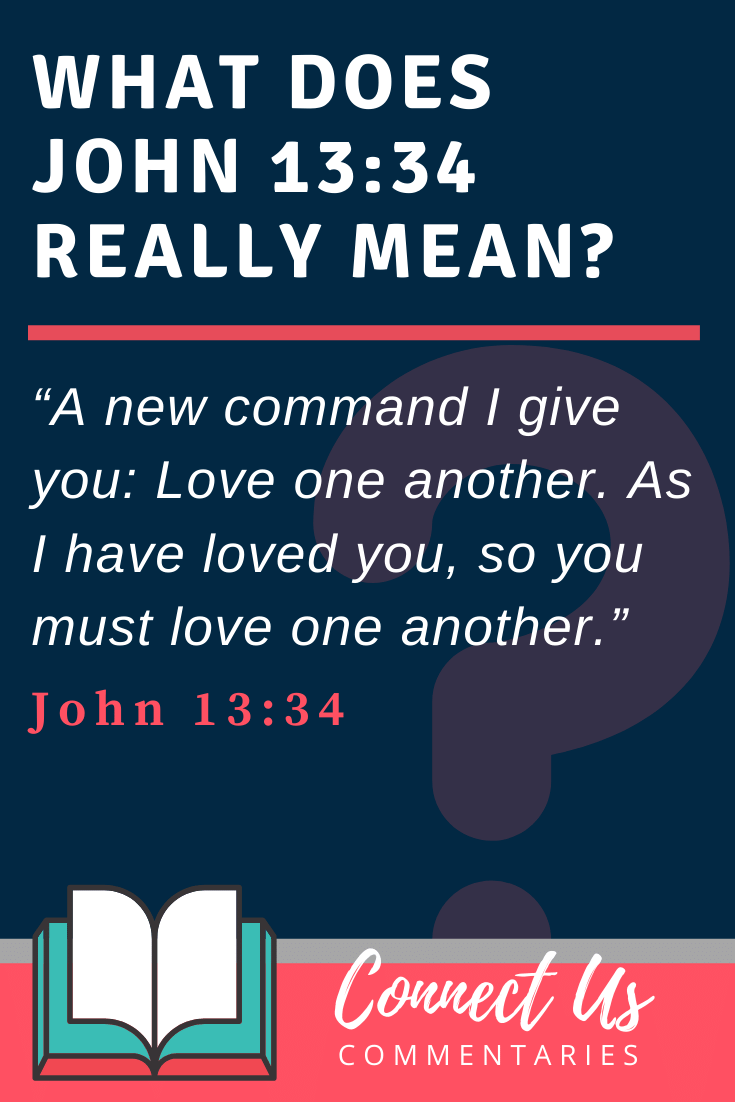 Author Bio
Natalie Regoli is a child of God, devoted wife, and mother of two boys. She has a Master's Degree in Law from The University of Texas. Natalie has been published in several national journals and has been practicing law for 18 years.