The word "reward" appears 65 times throughout the books of the Bible. The graph below shows the locations of each appearance. It begins with Genesis in the top left and concludes with Revelation in the bottom right.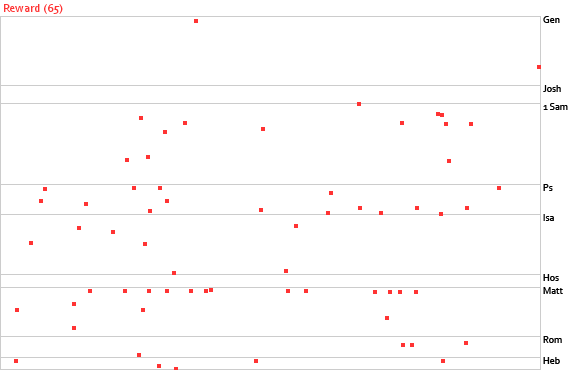 Here are the 25 best Bible scriptures on rewards.
James 1:12
Blessed is the man who remains steadfast under trial, for when he has stood the test he will receive the crown of life, which God has promised to those who love him.
Matthew 16:27
For the Son of Man is going to come with his angels in the glory of his Father, and then he will repay each person according to what he has done.
Matthew 25:21
His master said to him, "Well done, good and faithful servant. You have been faithful over a little; I will set you over much. Enter into the joy of your master."
Psalm 37:4
Delight yourself in the Lord, and he will give you the desires of your heart.
1 Peter 5:4
And when the chief Shepherd appears, you will receive the unfading crown of glory.
1 Corinthians 15:58
Therefore, my beloved brothers, be steadfast, immovable, always abounding in the work of the Lord, knowing that in the Lord your labor is not in vain.
1 Corinthians 3:8
He who plants and he who waters are one, and each will receive his wages according to his labor.
1 Corinthians 4:5
Therefore do not pronounce judgment before the time, before the Lord comes, who will bring to light the things now hidden in darkness and will disclose the purposes of the heart. Then each one will receive his commendation from God.
1 Thessalonians 2:19
For what is our hope or joy or crown of boasting before our Lord Jesus at his coming? Is it not you?
2 Corinthians 5:10
For we must all appear before the judgment seat of Christ, so that each one may receive what is due for what he has done in the body, whether good or evil.
2 John 1:8
Watch yourselves, so that you may not lose what we have worked for, but may win a full reward.
2 Peter 3:9
The Lord is not slow to fulfill his promise as some count slowness, but is patient toward you, not wishing that any should perish, but that all should reach repentance.
2 Timothy 4:8
Henceforth there is laid up for me the crown of righteousness, which the Lord, the righteous judge, will award to me on that Day, and not only to me but also to all who have loved his appearing.
Ephesians 2:8
For by grace you have been saved through faith. And this is not your own doing; it is the gift of God.
Ephesians 6:8
Knowing that whatever good anyone does, this he will receive back from the Lord, whether he is a slave or free.
Hebrews 11:6
And without faith it is impossible to please him, for whoever would draw near to God must believe that he exists and that he rewards those who seek him.
Luke 6:35
But love your enemies, and do good, and lend, expecting nothing in return, and your reward will be great, and you will be sons of the Most High, for he is kind to the ungrateful and the evil.
Mark 9:41
"For truly, I say to you, whoever gives you a cup of water to drink because you belong to Christ will by no means lose his reward."
Matthew 5:12
"Rejoice and be glad, for your reward is great in heaven, for so they persecuted the prophets who were before you."
Matthew 6:2
"Thus, when you give to the needy, sound no trumpet before you, as the hypocrites do in the synagogues and in the streets, that they may be praised by others. Truly, I say to you, they have received their reward."
Matthew 6:20
"But lay up for yourselves treasures in heaven, where neither moth nor rust destroys and where thieves do not break in and steal."
Matthew 6:6
"But when you pray, go into your room and shut the door and pray to your Father who is in secret. And your Father who sees in secret will reward you."
Revelation 2:10
"Do not fear what you are about to suffer. Behold, the devil is about to throw some of you into prison, that you may be tested, and for ten days you will have tribulation. Be faithful unto death, and I will give you the crown of life."
Revelation 22:12
"Behold, I am coming soon, bringing my recompense with me, to repay everyone for what he has done."
Romans 6:23
For the wages of sin is death, but the free gift of God is eternal life in Christ Jesus our Lord.
More Bible Verses that Will Move You
50 Most Powerful Scriptures on Faith
60 Transcendent Verses on Trust
50 Strong Scriptures on Perseverance
68 Powerful Verses on Forgiveness
40 Uplifting Scriptures on Patience
Add Our Infographic Below to Your Pinterest Board
Hit the pin button below to add our infographic, with all the verses, to one of your Pinterest boards.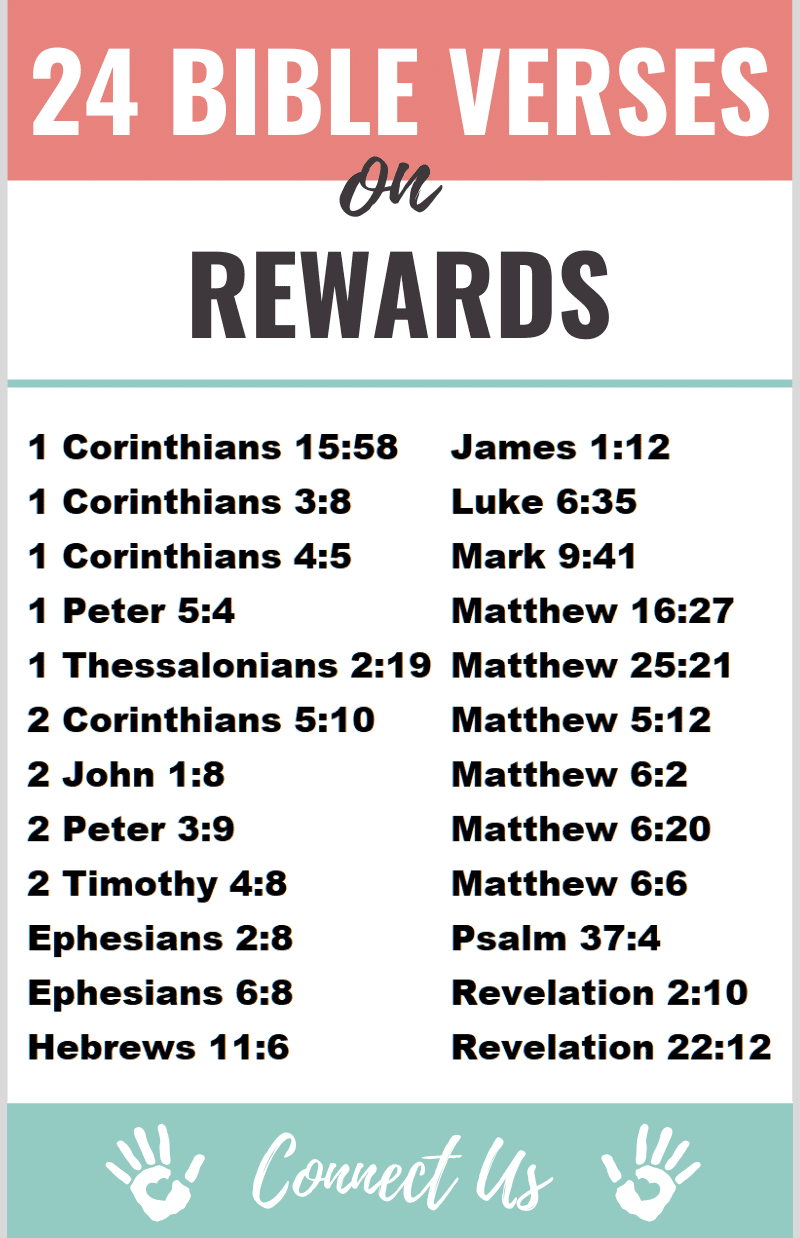 Author Bio
Natalie Regoli is a child of God, devoted wife, and mother of two boys. She has a Masters Degree in Law from The University of Texas. Natalie has been published in several national journals and has been practicing law for 18 years.