The word "commit" occurs 164 times in the Bible. The infographic below identifies the points of each occurrence. This graphic presentation starts with Genesis in the top left and concludes with Revelation in the bottom right.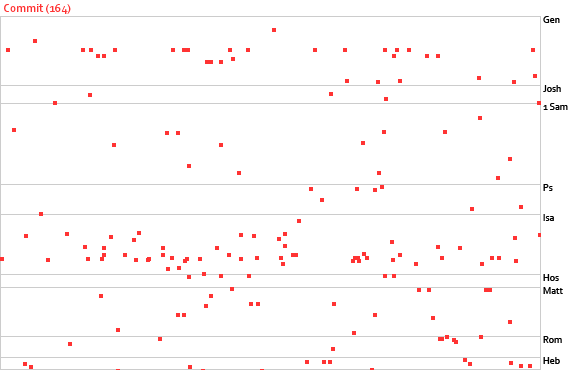 Here are the 25 most compelling Bible scriptures on commitment to God.
Proverbs 16:3
Commit your work to the Lord, and your plans will be established.
Matthew 22:37
And he said to him, "You shall love the Lord your God with all your heart and with all your soul and with all your mind."
Hebrews 11:6
And without faith it is impossible to please him, for whoever would draw near to God must believe that he exists and that he rewards those who seek him.
James 4:8
Draw near to God, and he will draw near to you. Cleanse your hands, you sinners, and purify your hearts, you double-minded.
Psalm 25:4
Make me to know your ways, O Lord; teach me your paths.
1 Corinthians 2:14
The natural person does not accept the things of the Spirit of God, for they are folly to him, and he is not able to understand them because they are spiritually discerned.
1 Kings 8:61
Let your heart therefore be wholly true to the Lord our God, walking in his statutes and keeping his commandments, as at this day."
2 Peter 1:5
For this very reason, make every effort to supplement your faith with virtue, and virtue with knowledge.
2 Peter 3:18
But grow in the grace and knowledge of our Lord and Savior Jesus Christ. To him be the glory both now and to the day of eternity. Amen.
2 Timothy 1:12
Which is why I suffer as I do. But I am not ashamed, for I know whom I have believed, and I am convinced that he is able to guard until that Day what has been entrusted to me.
Colossians 2:8
See to it that no one takes you captive by philosophy and empty deceit, according to human tradition, according to the elemental spirits of the world, and not according to Christ.
Galatians 2:20
I have been crucified with Christ. It is no longer I who live, but Christ who lives in me. And the life I now live in the flesh I live by faith in the Son of God, who loved me and gave himself for me.
Hebrews 12:1
Therefore, since we are surrounded by so great a cloud of witnesses, let us also lay aside every weight, and sin which clings so closely, and let us run with endurance the race that is set before us.
James 4:3
You ask and do not receive, because you ask wrongly, to spend it on your passions.
John 14:6
Jesus said to him, "I am the way, and the truth, and the life. No one comes to the Father except through me."
John 3:16
For God so loved the world, that he gave his only Son, that whoever believes in him should not perish but have eternal life.
Matthew 28:19
"Go therefore and make disciples of all nations, baptizing them in the name of the Father and of the Son and of the Holy Spirit."
Matthew 6:33
"But seek first the kingdom of God and his righteousness, and all these things will be added to you."
Psalm 119:105
Your word is a lamp to my feet and a light to my path.
Psalm 143:10
Teach me to do your will, for you are my God! Let your good Spirit lead me on level ground!
Psalm 37:5
Commit your way to the Lord; trust in him, and he will act.
Romans 1:16
For I am not ashamed of the gospel, for it is the power of God for salvation to everyone who believes, to the Jew first and also to the Greek.
Romans 1:21
For although they knew God, they did not honor him as God or give thanks to him, but they became futile in their thinking, and their foolish hearts were darkened.
Romans 12:2
Do not be conformed to this world, but be transformed by the renewal of your mind, that by testing you may discern what is the will of God, what is good and acceptable and perfect.
Titus 2:12
Training us to renounce ungodliness and worldly passions, and to live self-controlled, upright, and godly lives in the present age.
More Bible Verses that Will Move You
50 Most Powerful Scriptures on Faith
60 Transcendent Verses on Trust
50 Strong Scriptures on Perseverance
68 Powerful Verses on Forgiveness
40 Uplifting Scriptures on Patience
Add Our Infographic Below to Your Pinterest Board
Hit the pin button below to add our infographic, with all the verses, to one of your Pinterest boards.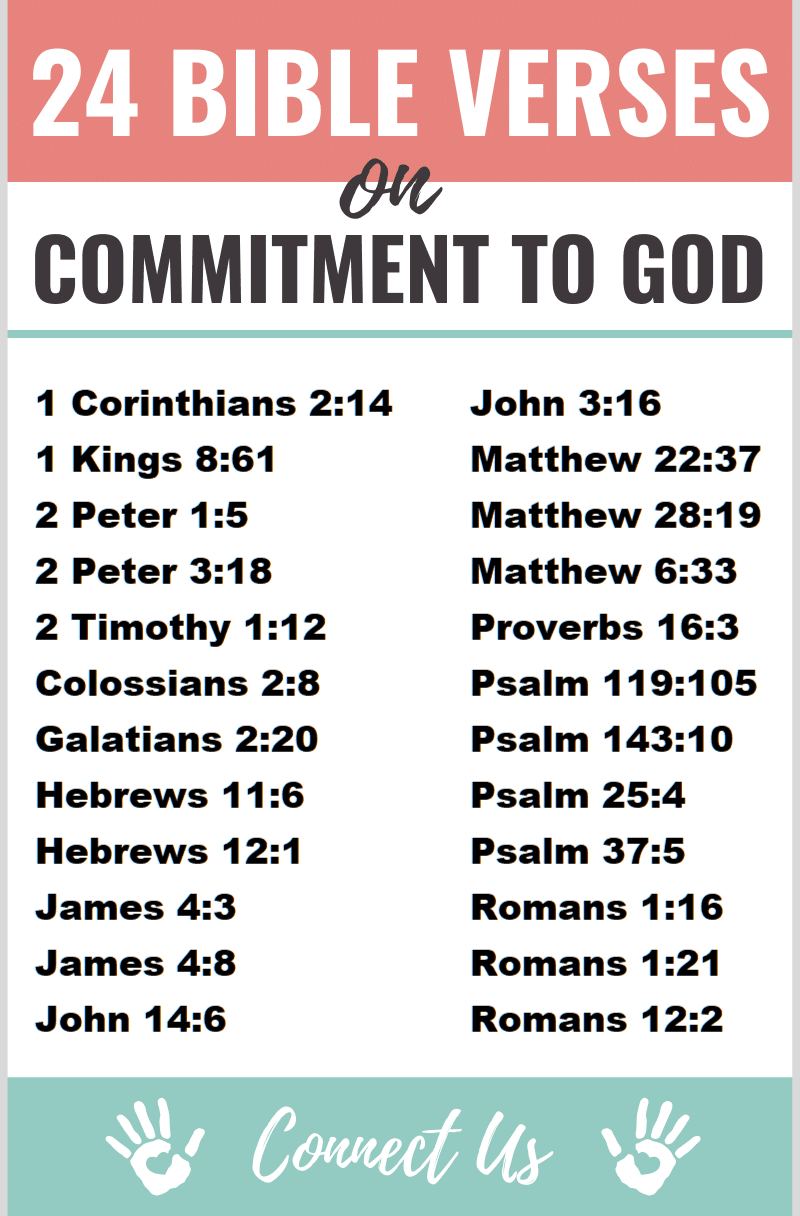 Author Bio
Natalie Regoli is a child of God, devoted wife, and mother of two boys. She has a Master's Degree in Law from The University of Texas. Natalie has been published in several national journals and has been practicing law for 18 years.