Getting married to the person you want to spend the rest of your life with is one of the happiest feelings, but putting God first in your marriage is the true key to a life full of happiness. Here are 25 strong prayers for newlyweds. Along with the prayers are printable images for you to use or share.
Prayer for Newlyweds
Lord of Joy, You are worthy of all our praise. You have created male and female and joined us together in marriage. Thank You for how You have ordered our lives so that we are now together. As we embark on this new stage in our lives, we want to place You in the center. Keep us united in a singular purpose as we are now one body. As we have started, let us finish the same way, rooted and grounded in Christ. We thank You for this wonderful gift. Amen.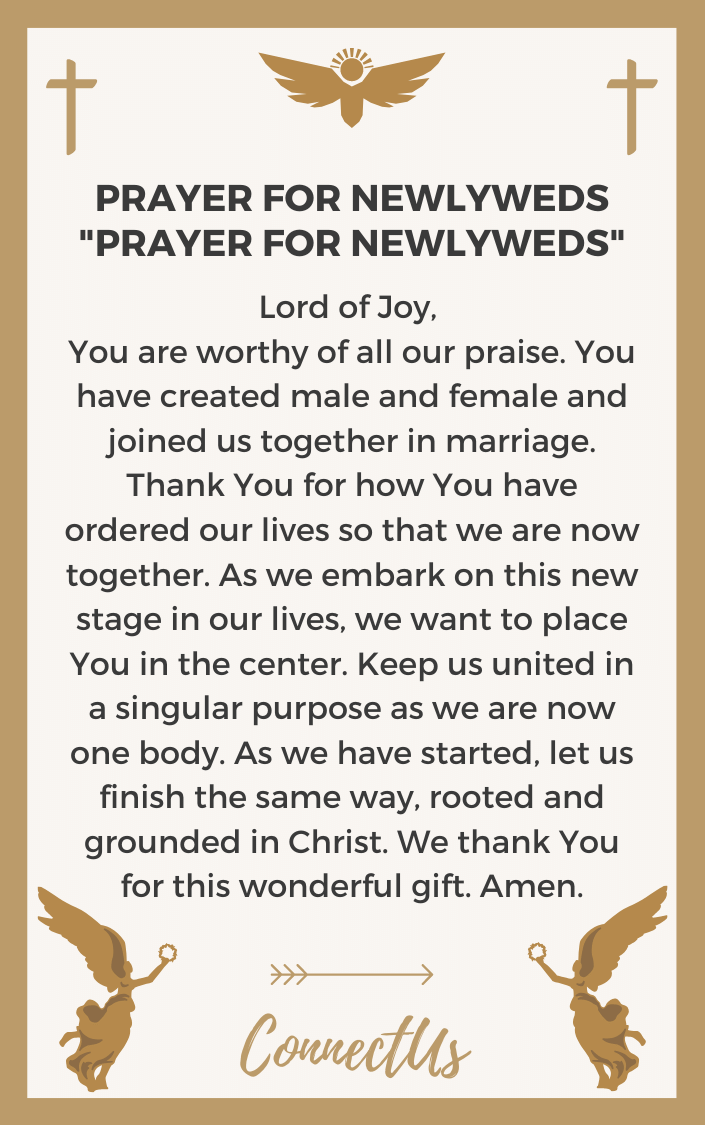 Prayer of Thanksgiving
Lord of the Highest Heavens, Thank You for how You have brought us here to this point where we can enjoy the incredible blessing of marriage. As in the beginning, You created man and woman and ordained marriage to be the first human institution, You have blessed us through it. With thanksgiving and praise, we seek to keep this vow that we have made sacred. This union is evidence of Your good gifts to us. With gratefulness, we pray. Amen.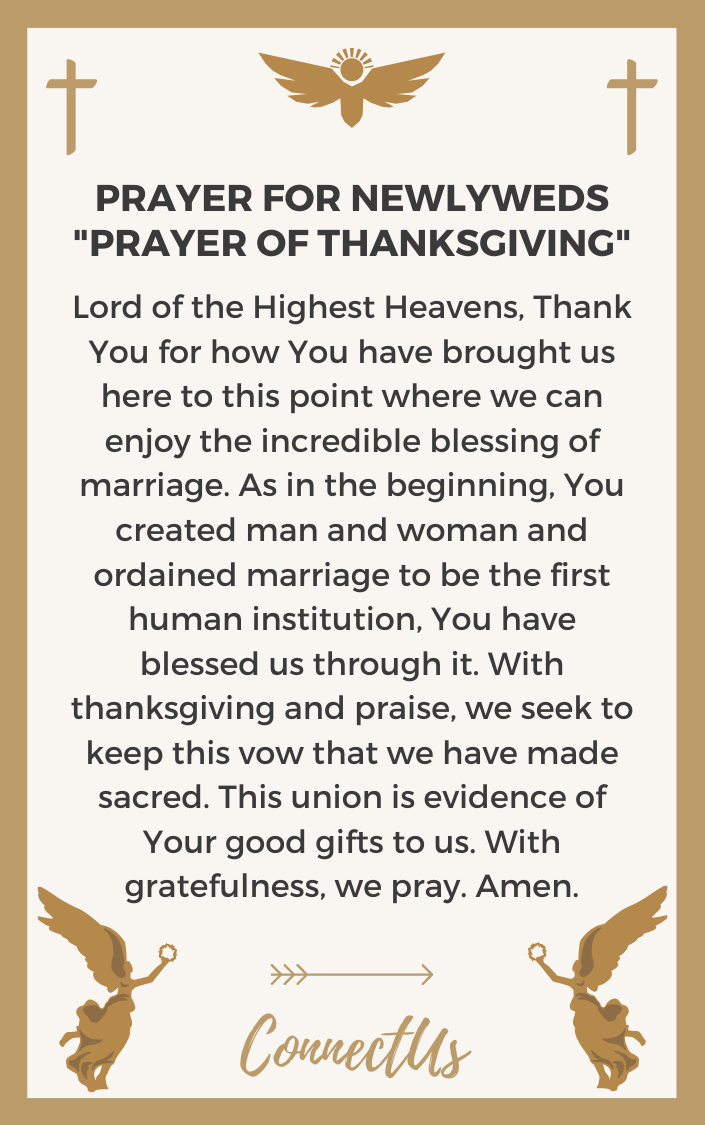 Prayer for Health
Jesus, the Great Physician, You have given us life and breath. You formed our inward parts; You know every inch of us. You have made our bodies a temple for the Holy Spirit within us. We glorify You in our body. Strengthen our bodies so that sickness may be far from us and we may enjoy good health. We pray that in sickness we would still know Your goodness and that You would give us patient endurance if it is not Your will that we be healed at that time. Empower us to eat, drink, and live to Your glory. All these things we pray in Jesus' name. Amen.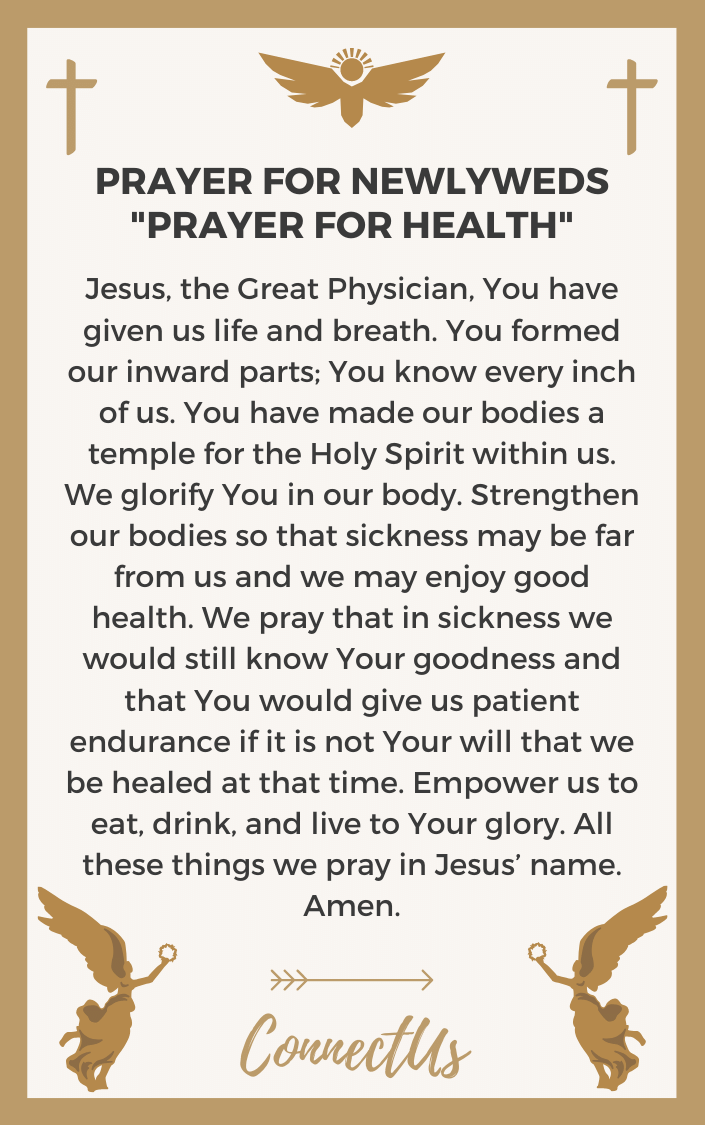 Prayer for the Years Ahead
God of Grace, thank You for bringing our lives together in such a beautiful way. You have declared the end from the beginning. Gracious God, we pray now for the years ahead of us. We stand strong in our faith so that the generations to come, our children, and our children's' children would know Your great faithfulness to us. May years be added to our lives, so that we can continue to recount Your good deeds to us. In the blessed name of Jesus, we ask. Amen.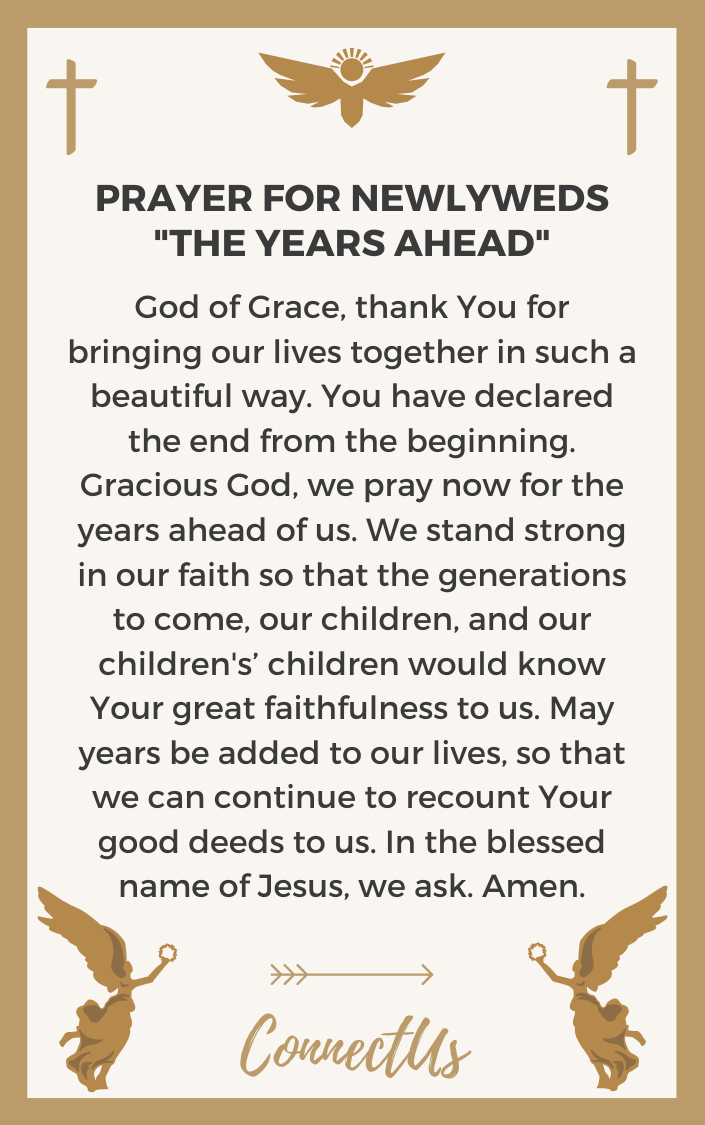 Prayer for Unity
Creator God, You unite us together, strengthening the bonds of unity within our marriage. According to Your design, two are better than one. This threefold cord will not be broken! Increase our eagerness to maintain this unity. You have created us to help lift each other up. We rebuke any attempt of our enemies to divide us. Above all, connect us in the love of Christ, in whose name we pray. Amen.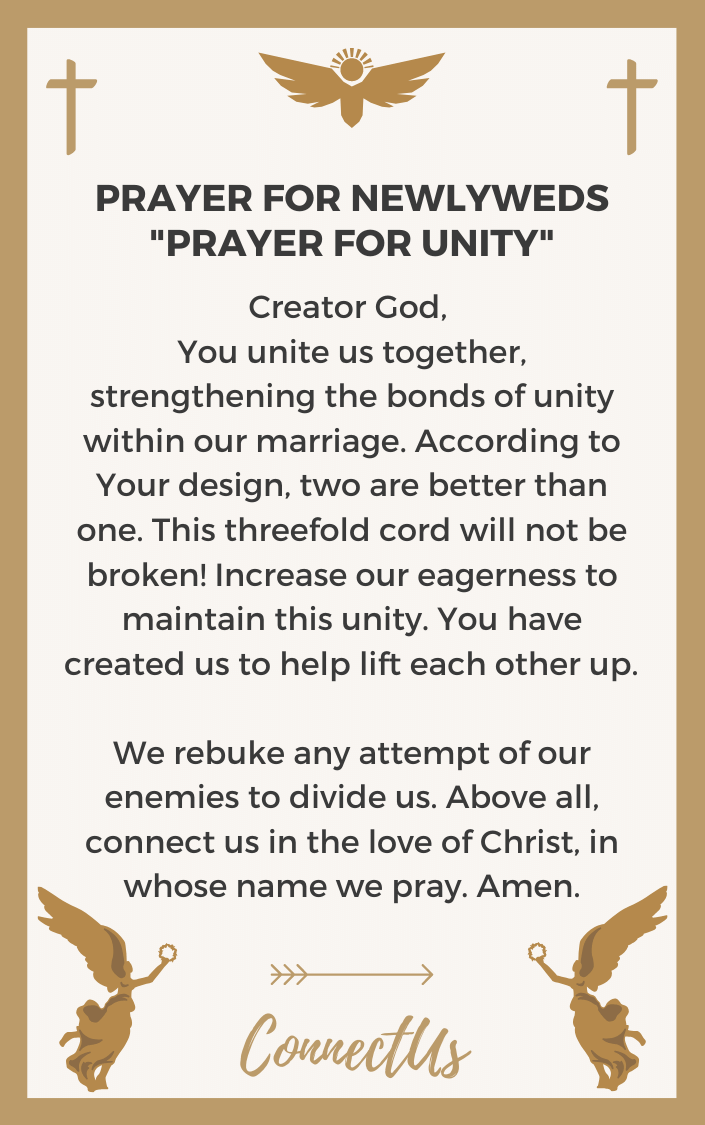 Prayer for Continued Growth in Marriage
Compassionate Father, our relationship with You is incredibly important to us. Help us to establish boundaries that will nurture our growth together in knowledge of Jesus. Make us ready for Jesus' return. May we be believers who will love Your Word and desire to meditate on it all day long. We pray that our roots would grow into Your love and keep us strong. In our daily lives, we will seek to mutually encourage each other to a deeper devotion to You. In Jesus' name. Amen.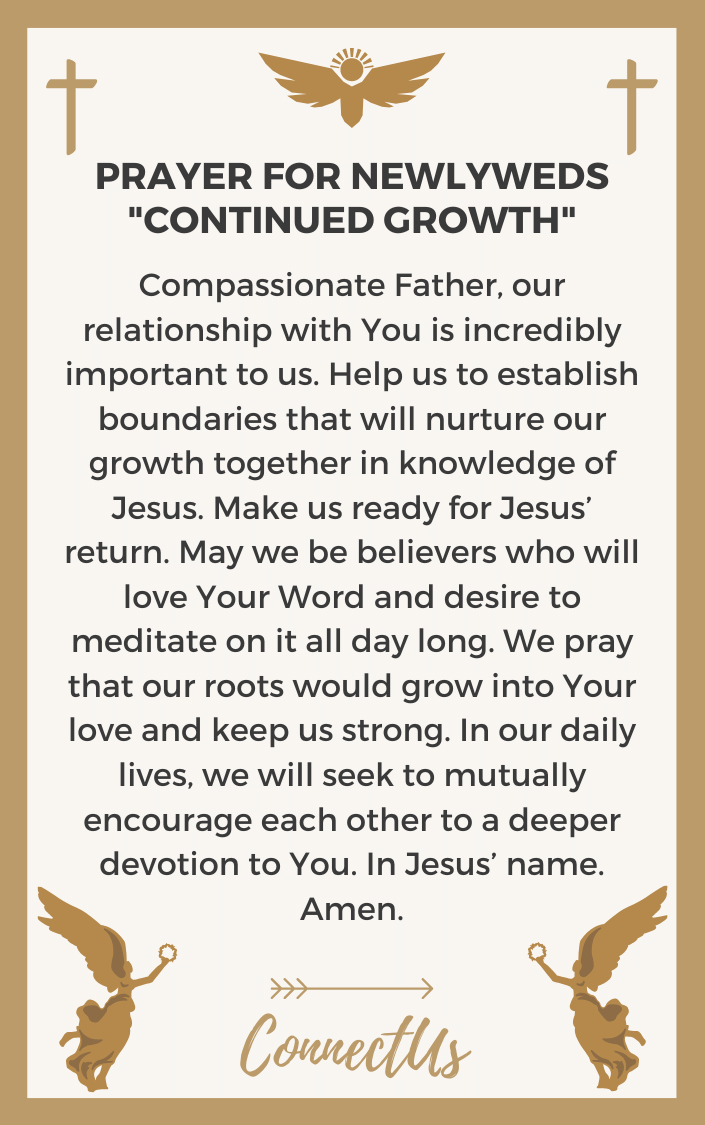 Prayer for Financial Contentment
Sovereign Lord, You supply every need of ours according to Your riches in glory in Christ Jesus. Keep the love of money far away from us so that we have peace within our walls. Teach us to steward our finances with integrity because whoever walks in integrity walks securely. As Your Word says, "godly contentment is great gain," help us strive for this. Grant to us neither poverty or wealth but instead our daily bread. Amen.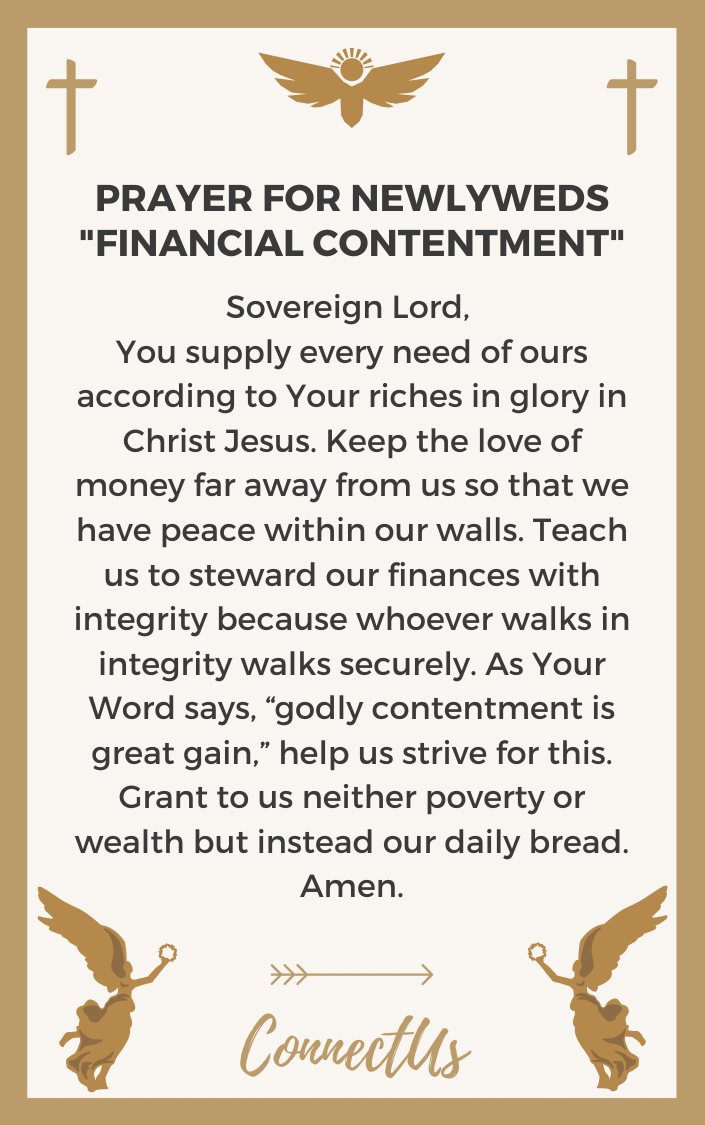 Prayer for Trust
Lord God, there is no fear in love, but perfect love casts out fear. In Your love, we have no fear. May we have such a trust in You that we can step into the things You have prepared for us in marriage. Supply the faith that we are lacking in, Lord. When the storms come, secure our hearts to the surety of Your promises. Make it clear to us how close You are in the love of Jesus. Amen.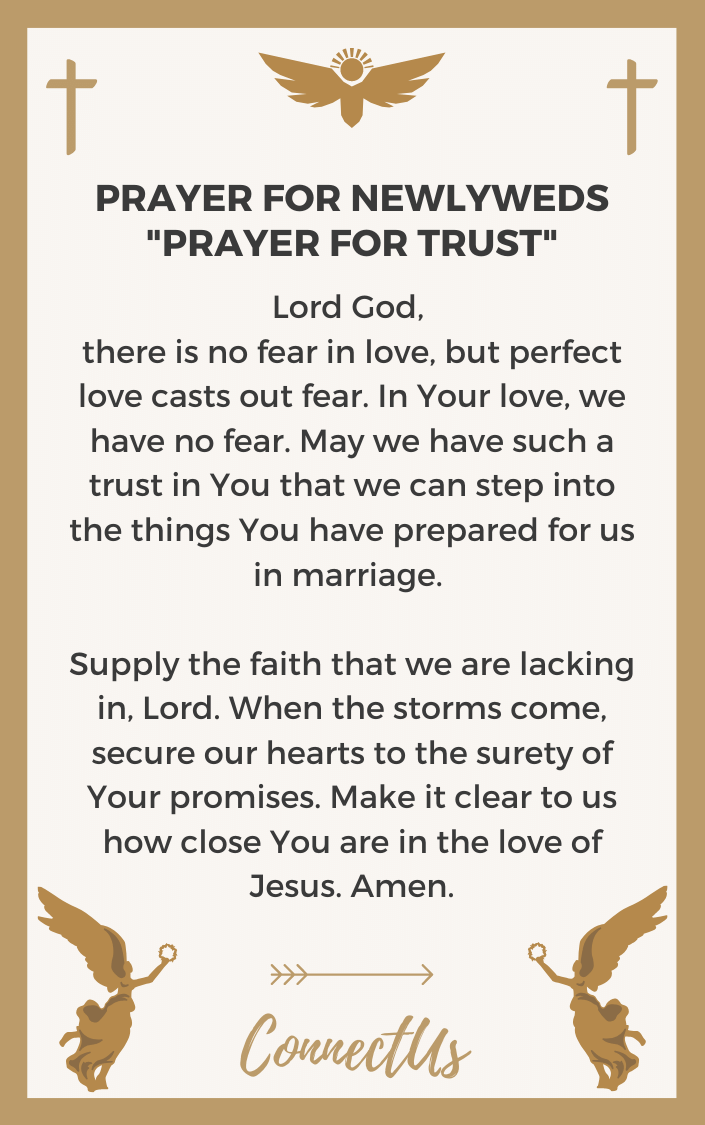 Prayer to See Trials as Opportunities
Heavenly Father, Paul has said that we who marry will face many troubles in this life. We ask that You prepare us for these trials. As we establish our lives as a married couple, teach us to persevere. We pray that You will establish us and guard us against the evil one. May we have the grace to work with these trials, using them as a time to grow intimacy. Since You work all things for good, transform every trial into an opportunity for our continued sanctification. Amen.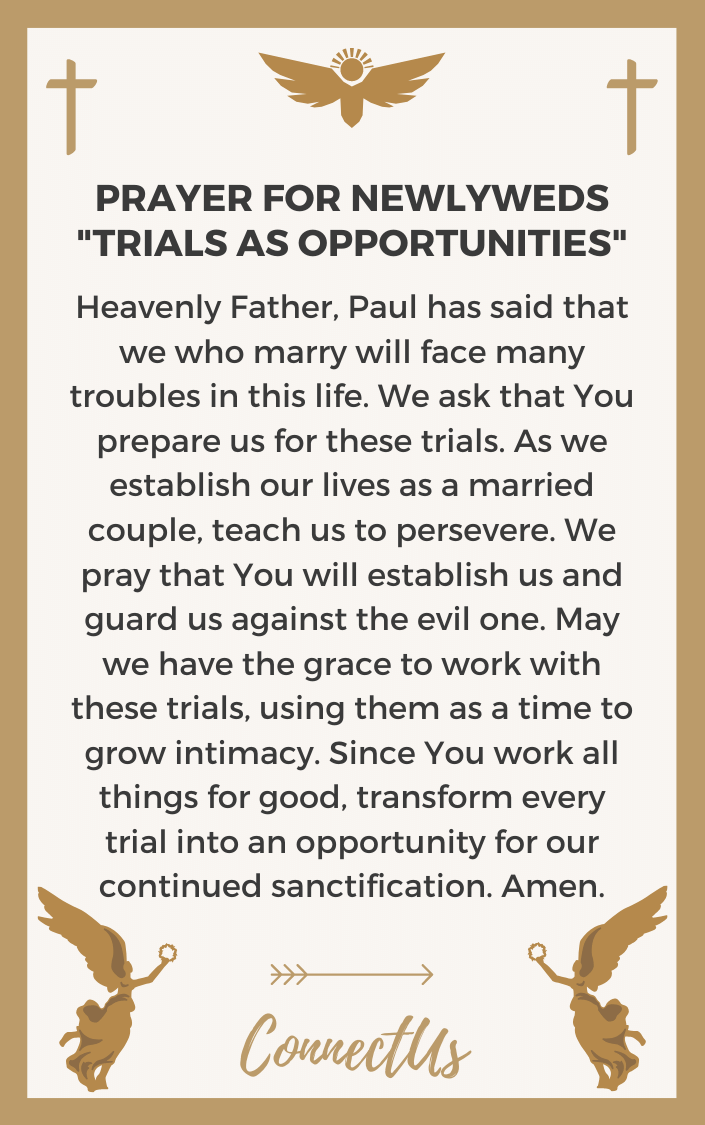 Prayer for Wisdom
Light in the Darkness, Your Word tells us that a house is built by wisdom, and through understanding, it is established; through knowledge, its rooms are filled with rare and beautiful treasures. We seek to build our homes on Your wisdom. Teach us knowledge and good judgment, for we believe in Your commands. May our decisions be made with godly wisdom as we listen for Your guidance. Thank You for the good gifts You bless us with. Amen.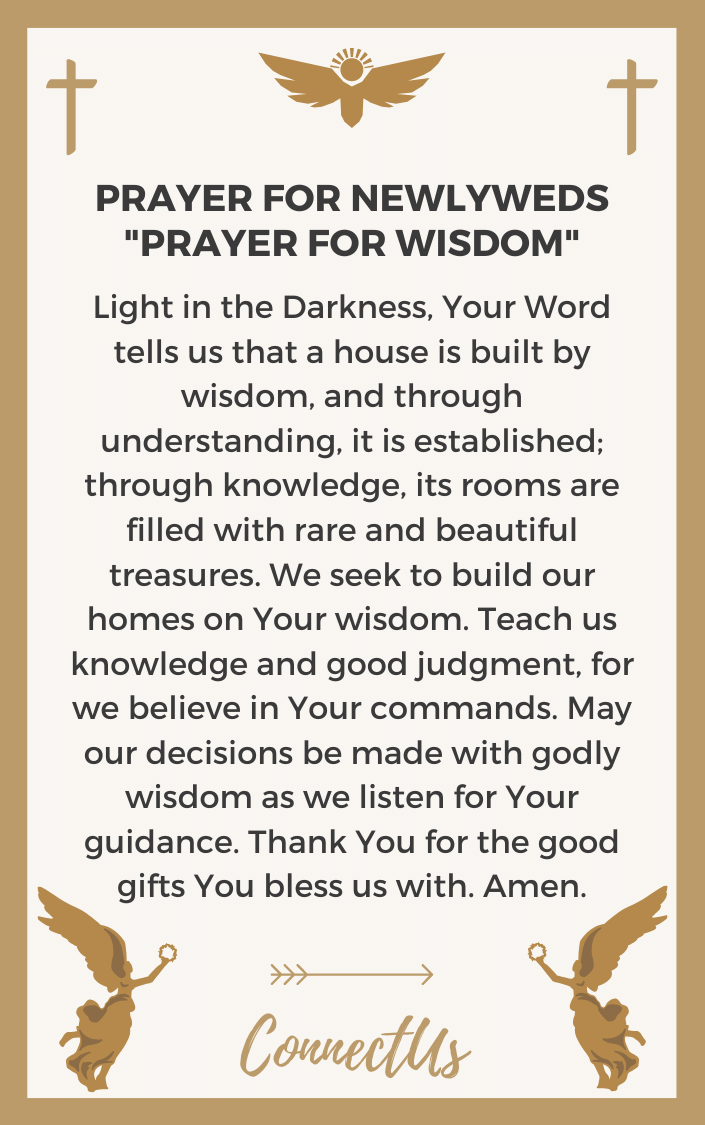 Prayer in Times of Change
O Jehovah, my God, thank You for bringing us through our courtship. We look forward to the blessings You will gift to us in our marriage too. Help us to look for the joys in the changes as we merge our lives. In the midst of change, You remain the Unchanging One. We do not need to fear change, instead, we rest assured that goodness and mercy shall follow us all the days of our lives and we will dwell in the house of the Lord forever. In the eternal love You show to us, we pray. Amen.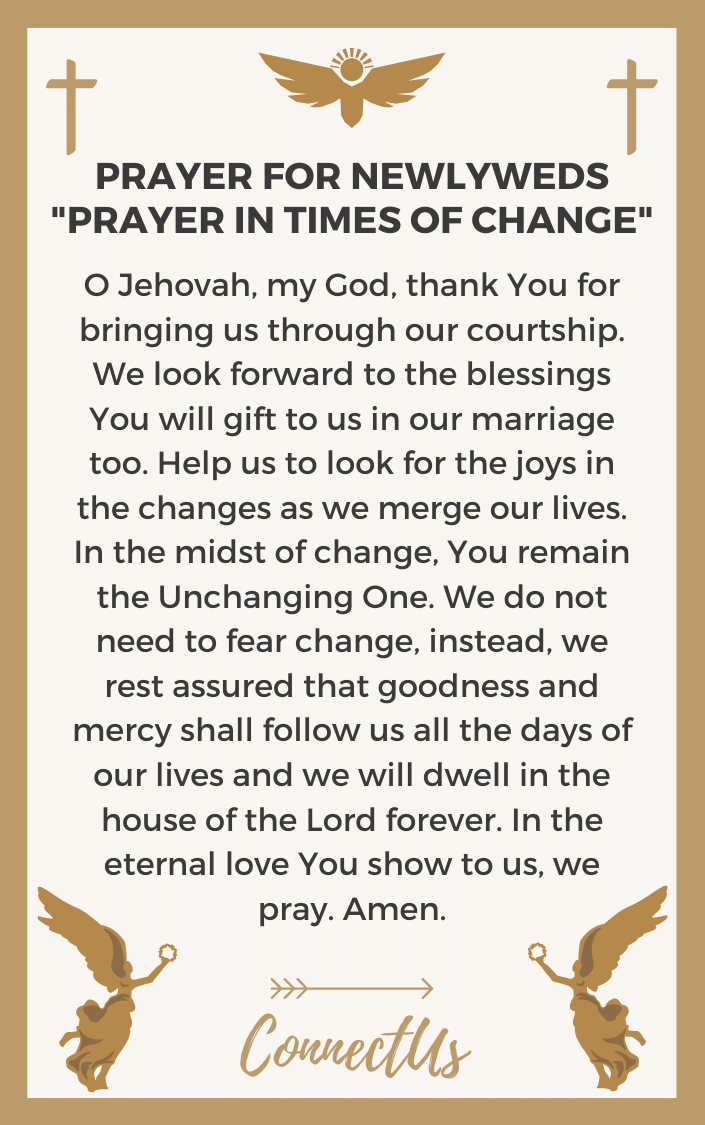 Prayer in Disagreement
Lord God, in this time of disagreement, we will heed Your warning to be quick to listen, slow to speak and slow to become angry. Let only that which is useful for building up be spoken, giving grace to our spouse. With gentle words, help us to make our needs known and surrender them to You to fulfill. Help us not to sin when we do not get what we want. Rather, let us demonstrate the forgiving Spirit of Christ. Amen.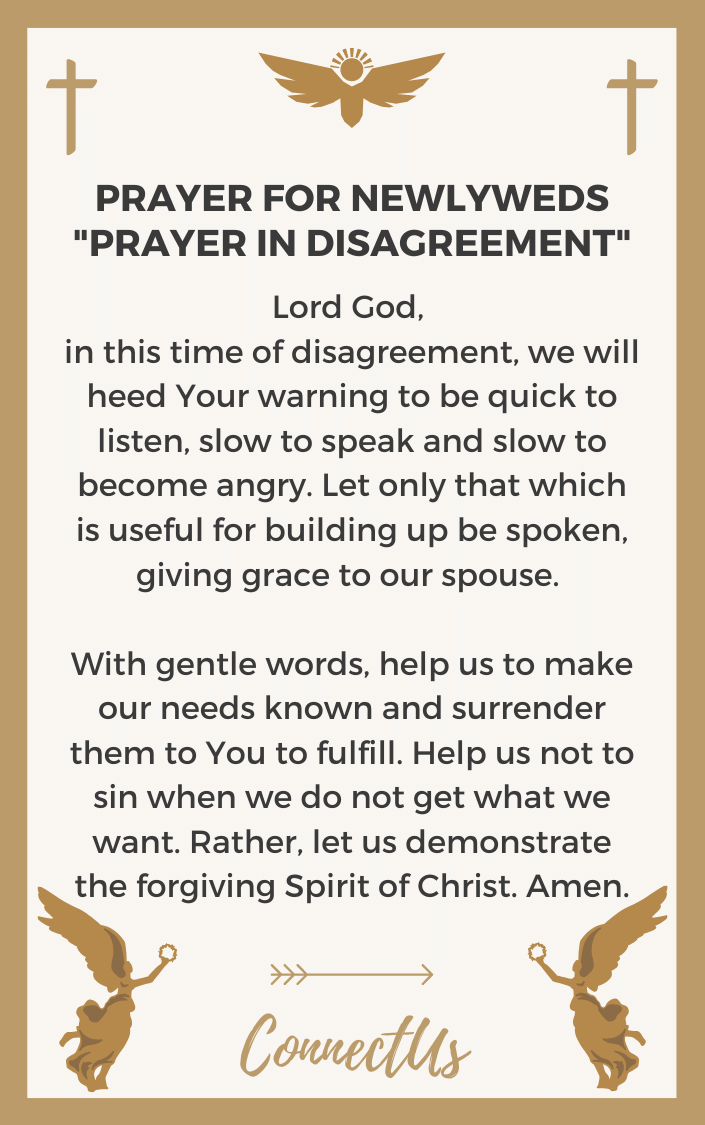 Prayer for Understanding
Heavenly Father, in marriage, we bring our individual experiences, the things that make us different. When we hear each other's words, may we seek to listen for understanding, knowing that this will bring us closer together. May we do good toward each other. In humility, let us consider the other's interests more important than our own. By Your Spirit, we will seek to clothe ourselves in love towards each other. Amen.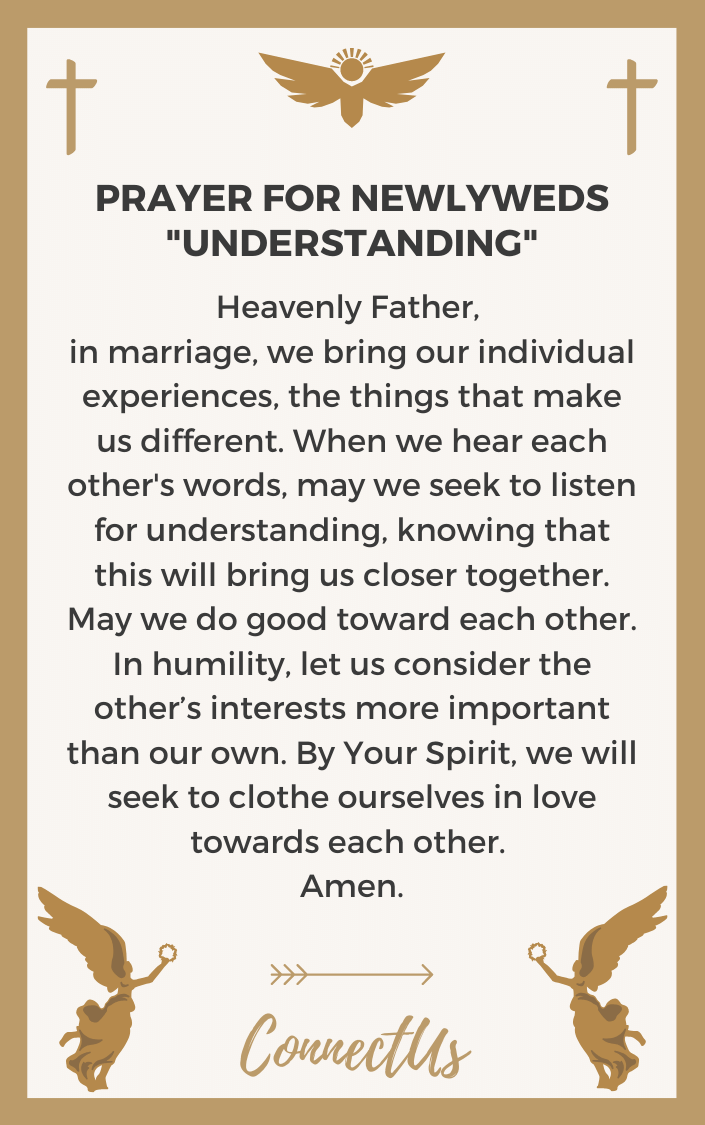 Prayer to Maintain Vows
God of Mercy and Love, as we remember our wedding day with fondness, we're reminded that it was never about the day itself, but how it marked the beginning of a lifelong journey as husband and wife. Before You, before our family and our friends, we shared vows. Vows that we ask for Your help to maintain. Father, we are not strong enough to hold to our vows on our own. In hard times, we will be tempted to be selfish. But we are not alone and, in our weakness, You show Yourself to be strong and faithful. Thank You for showing us how to be faithful. Amen.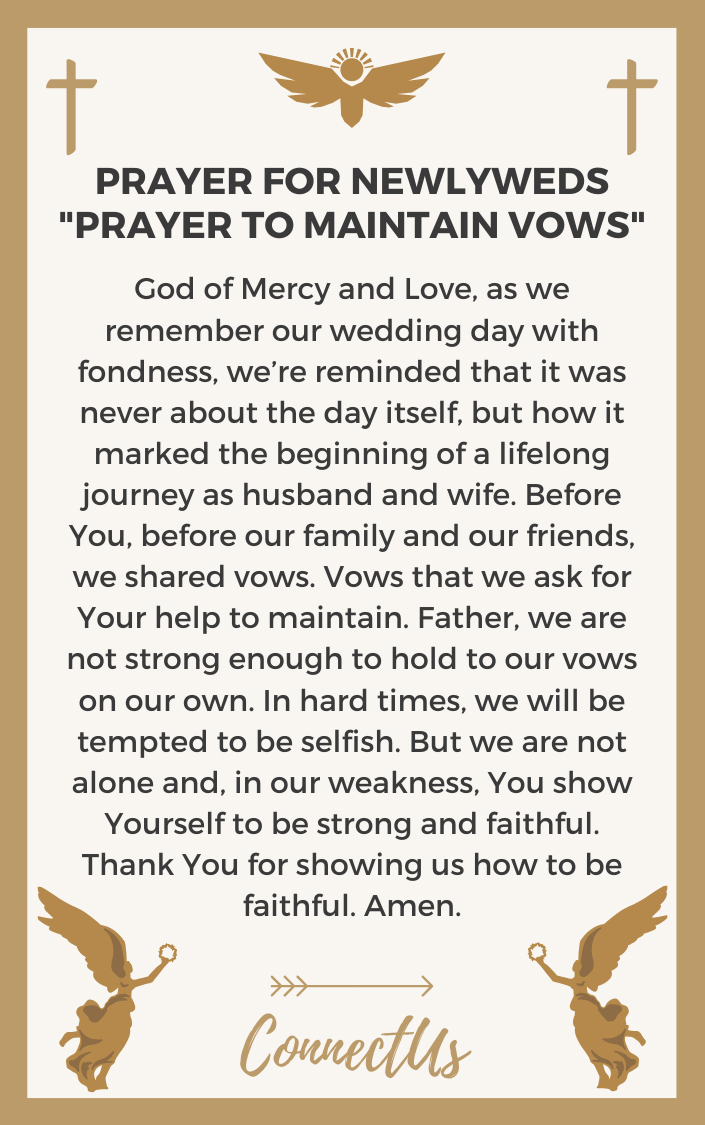 Prayer to Heal Wounded Pasts
Lord God, there is no limit to Your understanding. We invite You to come and speak healing into the places of hurt within us. While troubled by the wounds of the past, we do not want to allow them to affect our future together. We forgive the people who inflicted the wounds, knowing we will find freedom and restoration on the other side. Thank You that there is no place so deep and dark where the love of Christ cannot find and heal us. In everything, we praise You, Lord. Amen.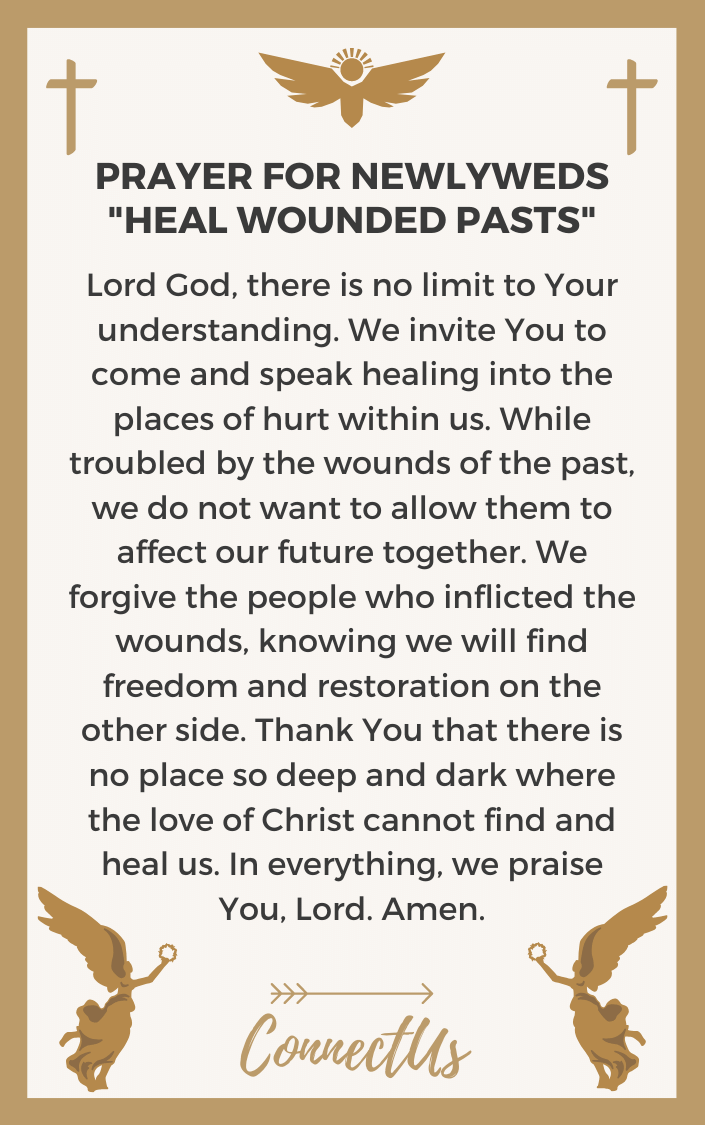 Prayer to Have Fun
Father God, You have created laughter and humor. As we begin our married lives, help us to have fun with each other. May we make many memories of laughter and fun. Continuing the joy of our courtship, may we keep trying to make each other laugh. May we use our sense of humor as an expression of love to each other. In Jesus' precious name, we pray. Amen.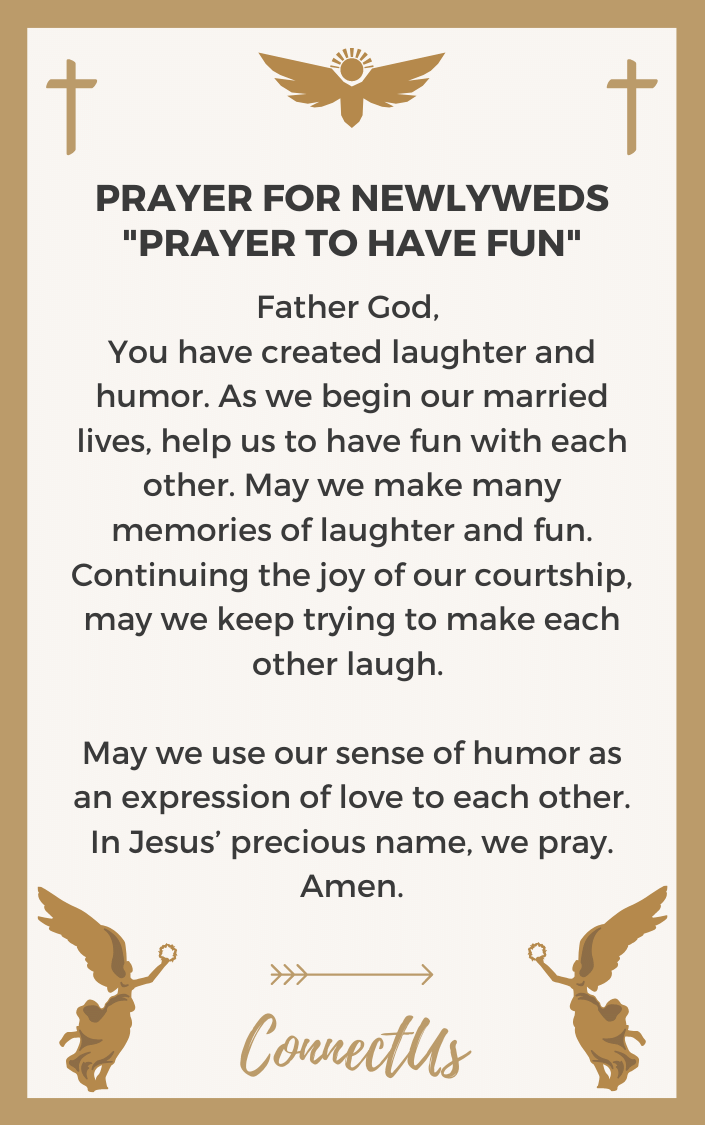 Prayer of Joy
Lord, make our delight be in You. You make known to us the path of life; in Your presence, there is fullness of joy; at Your right hand are pleasures forevermore. In love, You sent Jesus to give us life to the fullest and that we may have total joy. Infuse our marriage with overflowing delight in each other and You. Fill us always with Your Spirit so that we will be fruitful. Amen.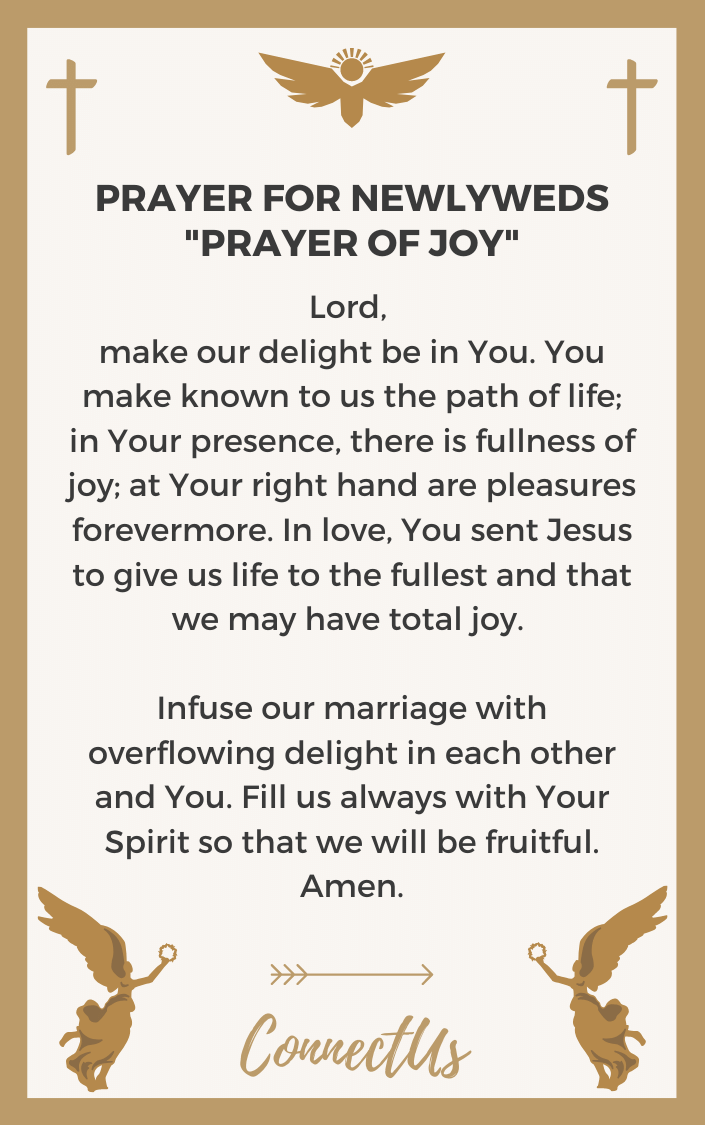 Prayer of Forgiveness
Compassionate and Gracious God, as Your children, forgiven and shown mercy, we have been called to forgive others also. Marriage magnifies the many flaws that we each have, the ways we sin against one another. We humbly seek Your forgiveness first and follow through with asking forgiveness from our spouse, whom we have also failed to love in our actions. Lord, help us to have a humility that makes us aware of our shortcomings and resolve to be more selfless. We know that love prospers when a fault is forgiven; may our love prosper when we choose to forgive. Protect us from an attitude of self-righteousness. Amen.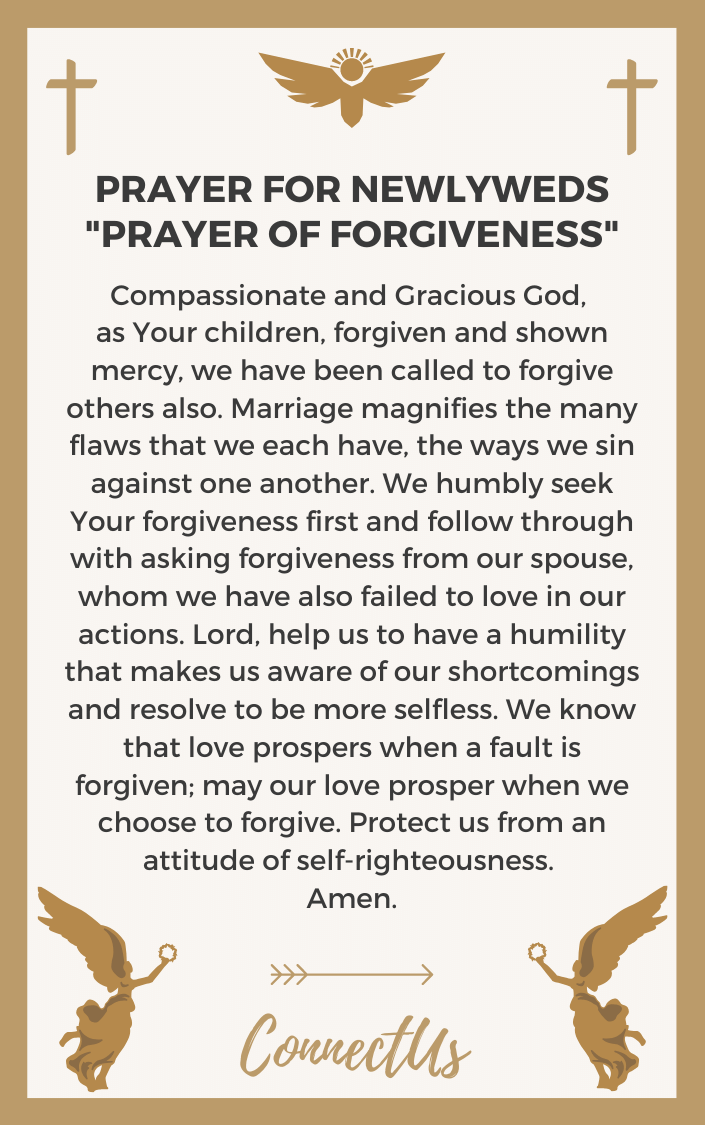 Prayer for Love and Passion
Lord of Unfailing Love, You created marriage to be a bond of love. Indeed, You inspired an entire book devoted to the passionate love between a husband and wife. We do not want to shy away from expressing such love to one another in our covenant of marriage. The writer of the Song of Songs says, "Many waters cannot quench love; rivers cannot wash it away." What a love to have, that nothing can succeed against it. As Jesus is united to the Church, which is His body, so may we model this in our marriage, loving one another to the end. In Jesus' name, we pray. Amen.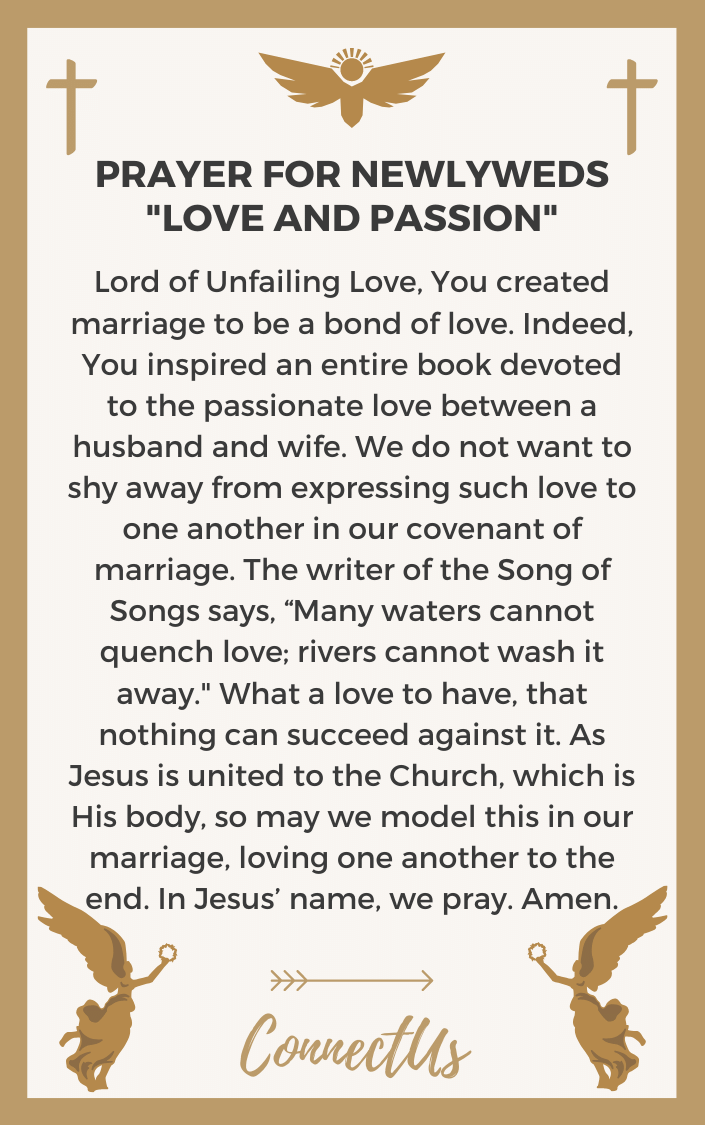 Prayer for Healthy Marriage
Loving God, we want to honor You as our Father. For us as a married couple, we do not want to only worship You through our words but in our marriage and lives. Shape our desire more and more so that our every action would be done reverently to You. We especially pray for the way we treat each other within our covenant of marriage that it be governed by Your command to put the interest of the other ahead of our own. In Jesus' name. Amen.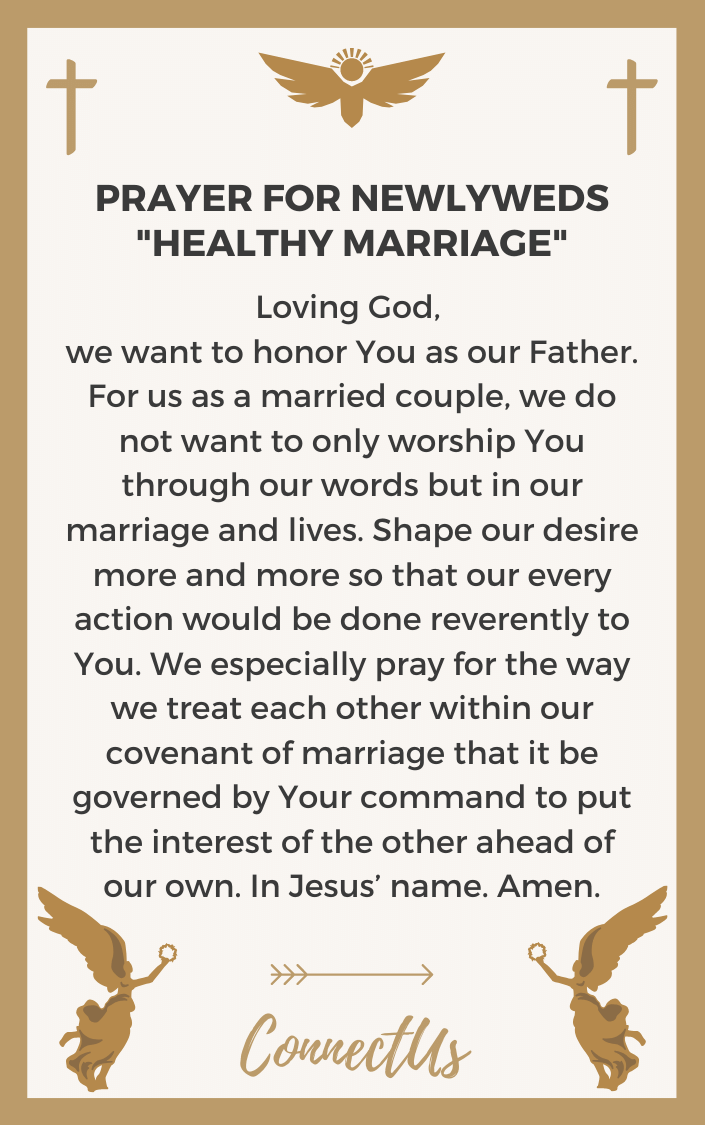 Prayer for Engaging in Church as a Married Couple
Heavenly Father, You have made two one through our marriage. Ultimately, we know that You desire an intimate relationship between Christ and the Church as well. As we seek to be members of our local congregation, help us to see the greater reality that this is the bride of Christ and to love our Church accordingly. Let us use our marriage to be a blessing to others each Sunday. In the love of Jesus, we pray. Amen.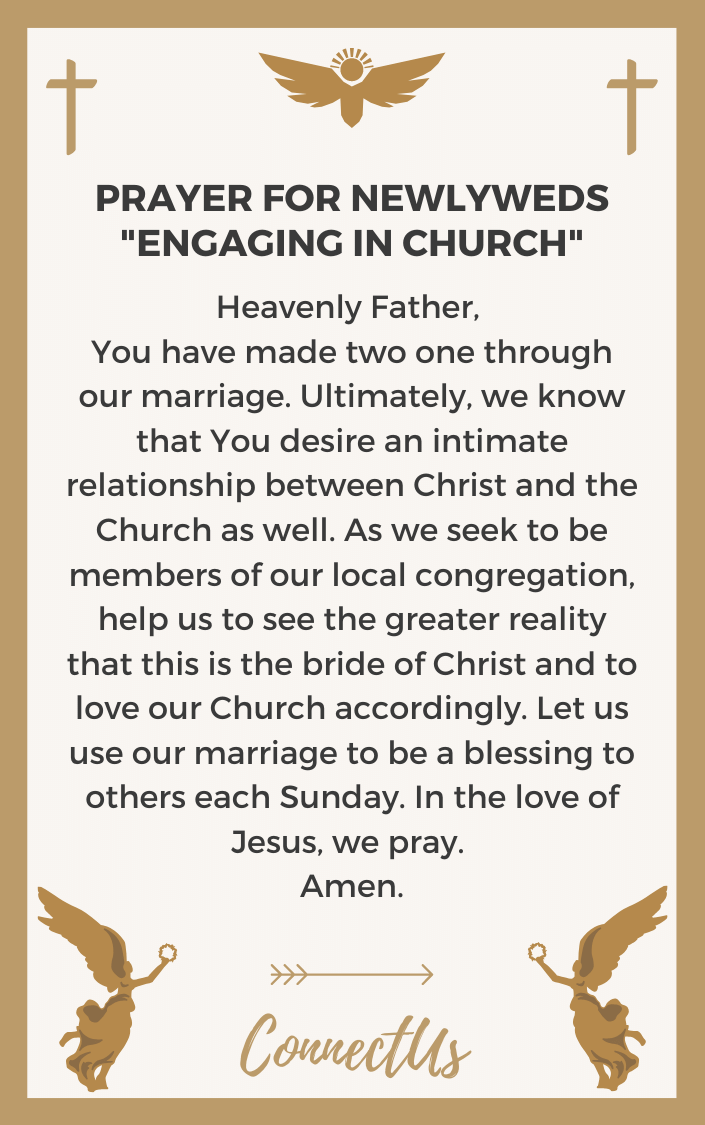 Prayer for Direction
Mighty God, You are the one directing our steps. As we look to the future as a newly married couple, help us to focus our plans on how we can bring You glory in our lives. Guide us onto the right path and grow us closer to each other and You through every circumstance. Keep us away from paths that cause us to stray or to look away from You. Thank You that You are always present with us and Your love will never run out. Amen.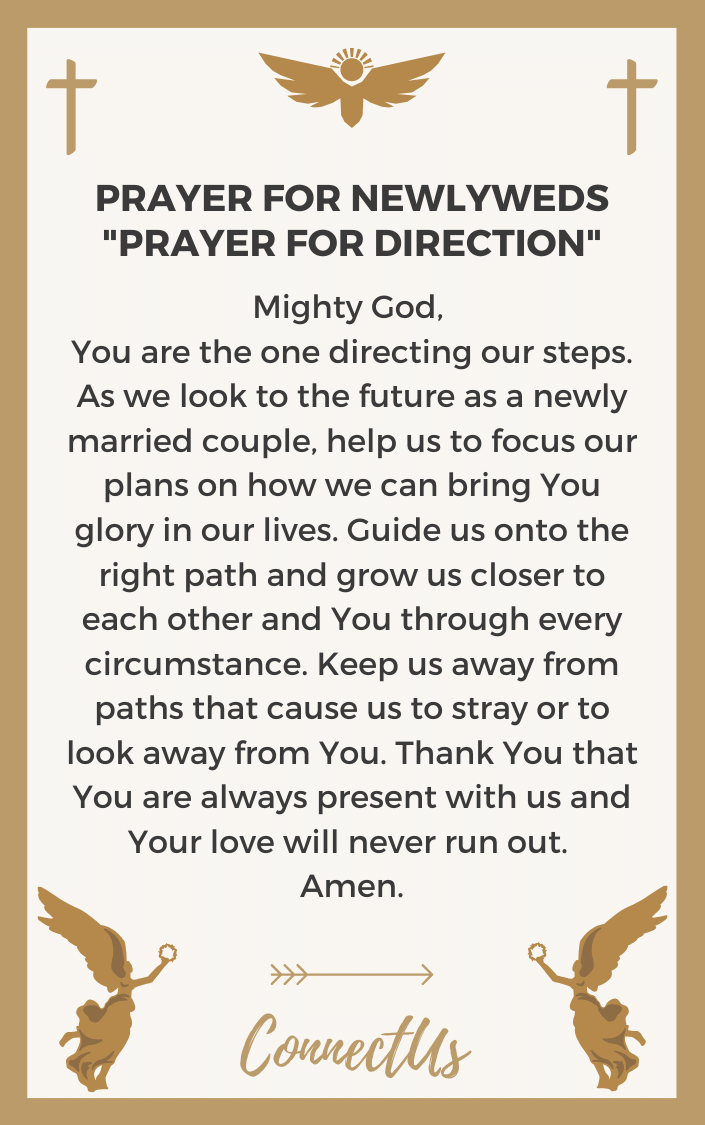 Prayer for Wife for Role as Wife
Holy God, everything has been set up according to Your good design. I want to be obedient to the responsibility that I have been given within my unique role. Show me how I can support my husband when the situation calls for it. In doing so, help me to experience a greater enjoyment of being a wife. Let me look to Your Word and depend on the Spirit to produce in me godly qualities of gentleness and submissiveness towards my husband. In Jesus' name. Amen.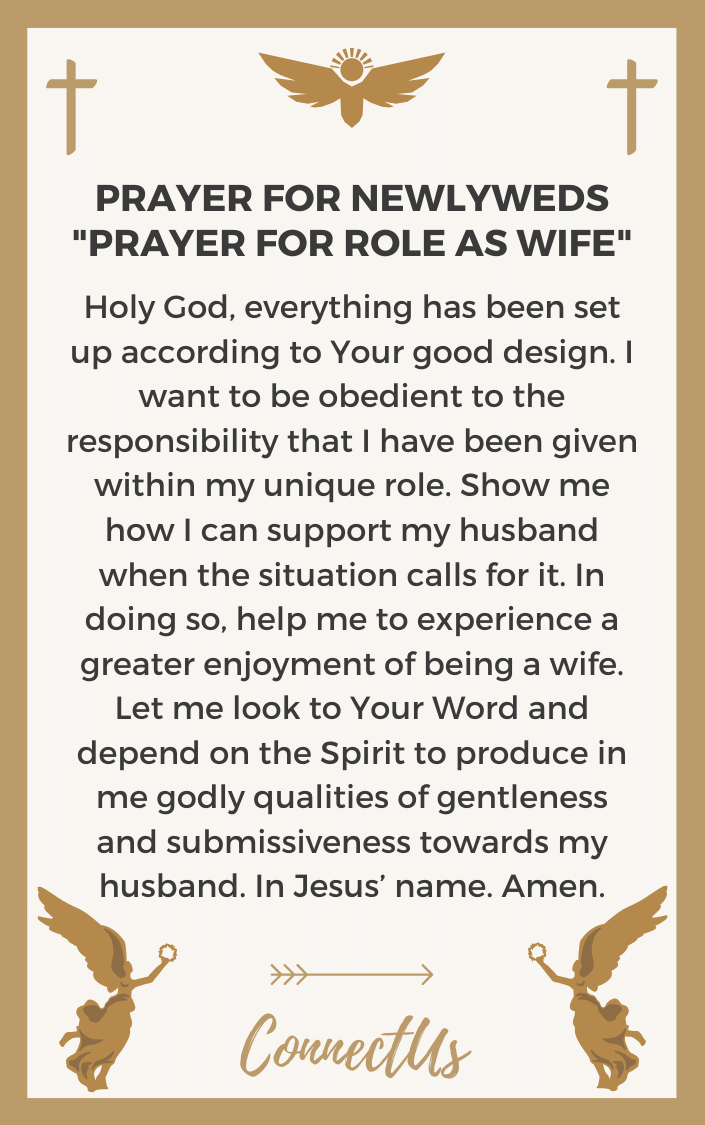 Prayer for Husband for Role as Husband
Lord, as Your Word states, "He who finds a wife has found favor from the Lord." I praise You for the favor You have shown to me. My wife is far more precious than jewels. Help me to love her as she deserves, making every necessary sacrifice for her well-being. Jesus, You are trustworthy; help me to be trustworthy so that I can make it easy for my wife to follow my leadership. Give me the strength to protect and cherish her and as You provide for me, I want to provide for her. In Jesus' mighty name, I pray. Amen.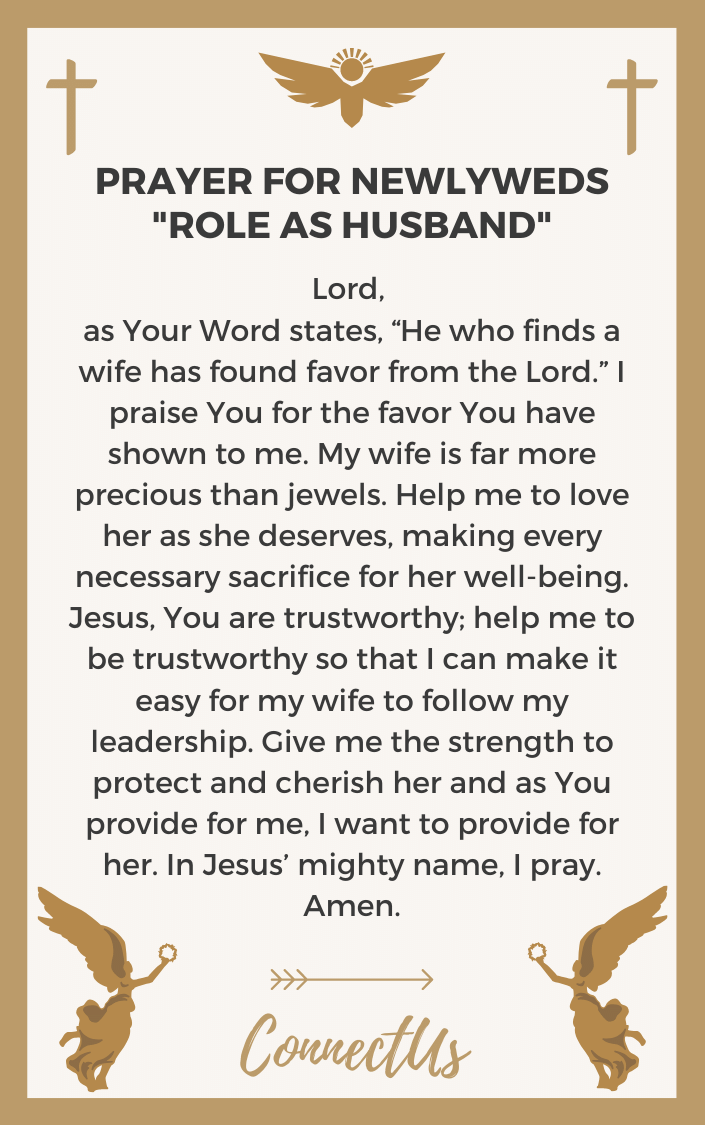 Prayer for Wife for Husband's Leadership
Dear God, I pray that my husband will devote himself to You with a heart after Your own heart, removing the idols that may prevent him from living under Your headship. As I submit to You as my Savior and Lord, so also will I submit to my husband. May I not hinder him in any way as he lives out the calling You've given to him. In all things, I trust that You will lead my husband in the right paths. Amen.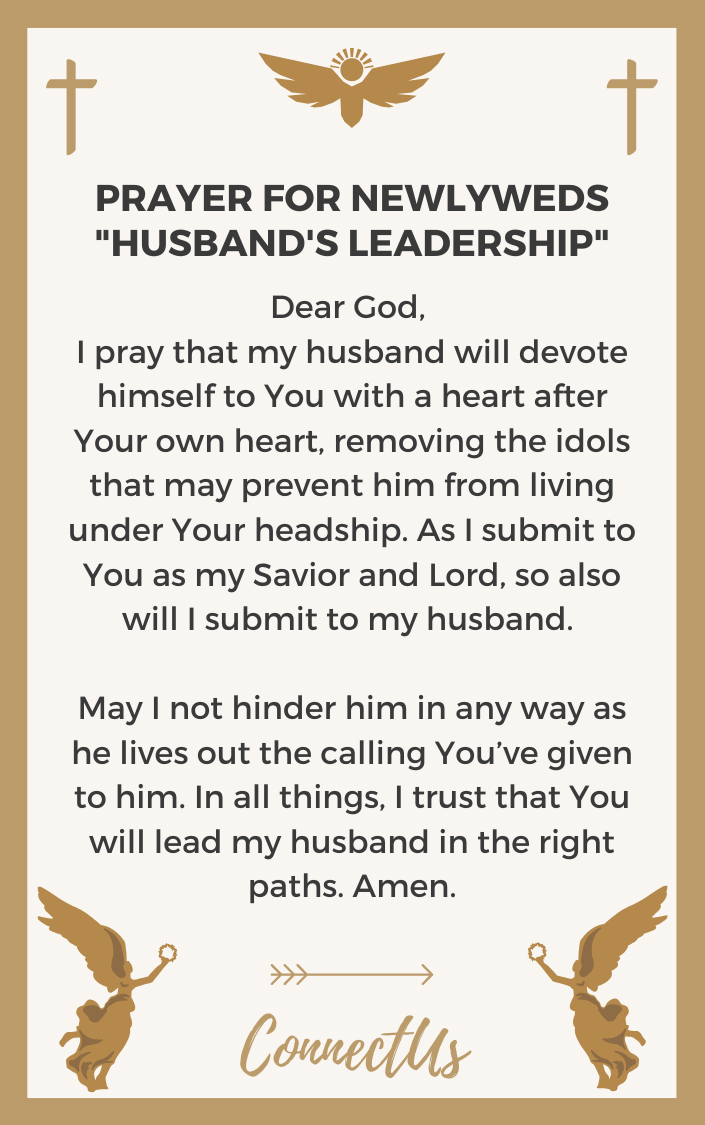 Most Popular Prayers by Topic
For Hard Times
For Financial Prosperity
For Physical Health
For Emotional Health
For Protection
For a Marriage
For Babies and Pregnancy
For Family
For Spiritual Warfare
For Spiritual Health
For a Death
For the Workplace
For Bedtime
Our 10 week prayer journal will guide you through your daily prayers and help you plan out your prayer week. It is completely free. You can
click here to get it now
.

Author Bio
Natalie Regoli is a child of God, devoted wife, and mother of two boys. She has a Masters Degree in Law from The University of Texas. Natalie has been published in several national journals and has been practicing law for 18 years. If you would like to reach out to contact Natalie, then go here to
send her a message
.