The word greatness is found 37 times in the Old and New Testament. The image below reveals the locations of each occurrence. This cool graph starts with Genesis in the top left and ends with Revelation in the bottom right.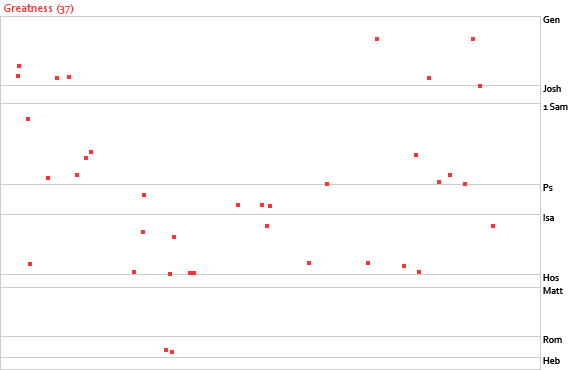 Here are the 30 most uplifting Bible scriptures on greatness.
Jeremiah 29:11
"For I know the plans I have for you," declares the Lord, "plans for welfare and not for evil, to give you a future and a hope."
Philippians 4:13
I can do all things through him who strengthens me.
Galatians 2:20
I have been crucified with Christ. It is no longer I who live, but Christ who lives in me. And the life I now live in the flesh I live by faith in the Son of God, who loved me and gave himself for me.
John 3:16
For God so loved the world, that he gave his only Son, that whoever believes in him should not perish but have eternal life.
Romans 8:28
And we know that for those who love God all things work together for good, for those who are called according to his purpose.
1 Chronicles 16:11
Seek the Lord and his strength; seek his presence continually!
1 Chronicles 29:11
Yours, O Lord, is the greatness and the power and the glory and the victory and the majesty, for all that is in the heavens and in the earth is yours. Yours is the kingdom, O Lord, and you are exalted as head above all.
Colossians 2:8
See to it that no one takes you captive by philosophy and empty deceit, according to human tradition, according to the elemental spirits of the world, and not according to Christ.
Deuteronomy 10:17
For the Lord your God is God of gods and Lord of lords, the great, the mighty, and the awesome God, who is not partial and takes no bribe.
Deuteronomy 9:26
And I prayed to the Lord, "O Lord God, do not destroy your people and your heritage, whom you have redeemed through your greatness, whom you have brought out of Egypt with a mighty hand."
Ephesians 3:20
Now to him who is able to do far more abundantly than all that we ask or think, according to the power at work within us.
Exodus 15:7
In the greatness of your majesty you overthrow your adversaries; you send out your fury; it consumes them like stubble.
Genesis 1:26
Then God said, "Let us make man in our image, after our likeness. And let them have dominion over the fish of the sea and over the birds of the heavens and over the livestock and over all the earth and over every creeping thing that creeps on the earth."
Hebrews 11:6
And without faith it is impossible to please him, for whoever would draw near to God must believe that he exists and that he rewards those who seek him.
Isaiah 40:26
Lift up your eyes on high and see: who created these? He who brings out their host by number, calling them all by name, by the greatness of his might, and because he is strong in power not one is missing.
Isaiah 40:31
But they who wait for the Lord shall renew their strength; they shall mount up with wings like eagles; they shall run and not be weary; they shall walk and not faint.
Isaiah 41:10
"Fear not, for I am with you; be not dismayed, for I am your God; I will strengthen you, I will help you, I will uphold you with my righteous right hand."
Isaiah 61:1
The Spirit of the Lord God is upon me, because the Lord has anointed me to bring good news to the poor; he has sent me to bind up the brokenhearted, to proclaim liberty to the captives, and the opening of the prison to those who are bound.
Job 37:5
God thunders wondrously with his voice; he does great things that we cannot comprehend.
John 14:27
"Peace I leave with you; my peace I give to you. Not as the world gives do I give to you. Let not your hearts be troubled, neither let them be afraid."
Luke 1:15
For he will be great before the Lord. And he must not drink wine or strong drink, and he will be filled with the Holy Spirit, even from his mother's womb.
Luke 7:28
"I tell you, among those born of women none is greater than John. Yet the one who is least in the kingdom of God is greater than he."
Matthew 20:28
"Even as the Son of Man came not to be served but to serve, and to give his life as a ransom for many."
Psalm 145:3
Great is the Lord, and greatly to be praised, and his greatness is unsearchable.
Psalm 147:3
He heals the brokenhearted and binds up their wounds.
Psalm 71:21
You will increase my greatness and comfort me again.
Psalm 8:6
You have given him dominion over the works of your hands; you have put all things under his feet.
Romans 12:2
Do not be conformed to this world, but be transformed by the renewal of your mind, that by testing you may discern what is the will of God, what is good and acceptable and perfect.
Romans 15:13
May the God of hope fill you with all joy and peace in believing, so that by the power of the Holy Spirit you may abound in hope.
Zephaniah 3:17
The Lord your God is in your midst, a mighty one who will save; he will rejoice over you with gladness; he will quiet you by his love; he will exult over you with loud singing.
More Bible Verses that Will Move You
50 Most Powerful Scriptures on Faith
60 Transcendent Verses on Trust
50 Strong Scriptures on Perseverance
68 Powerful Verses on Forgiveness
40 Uplifting Scriptures on Patience
Add Our Infographic Below to Your Pinterest Board
Hit the pin button below to add our infographic, with all the verses, to one of your Pinterest boards.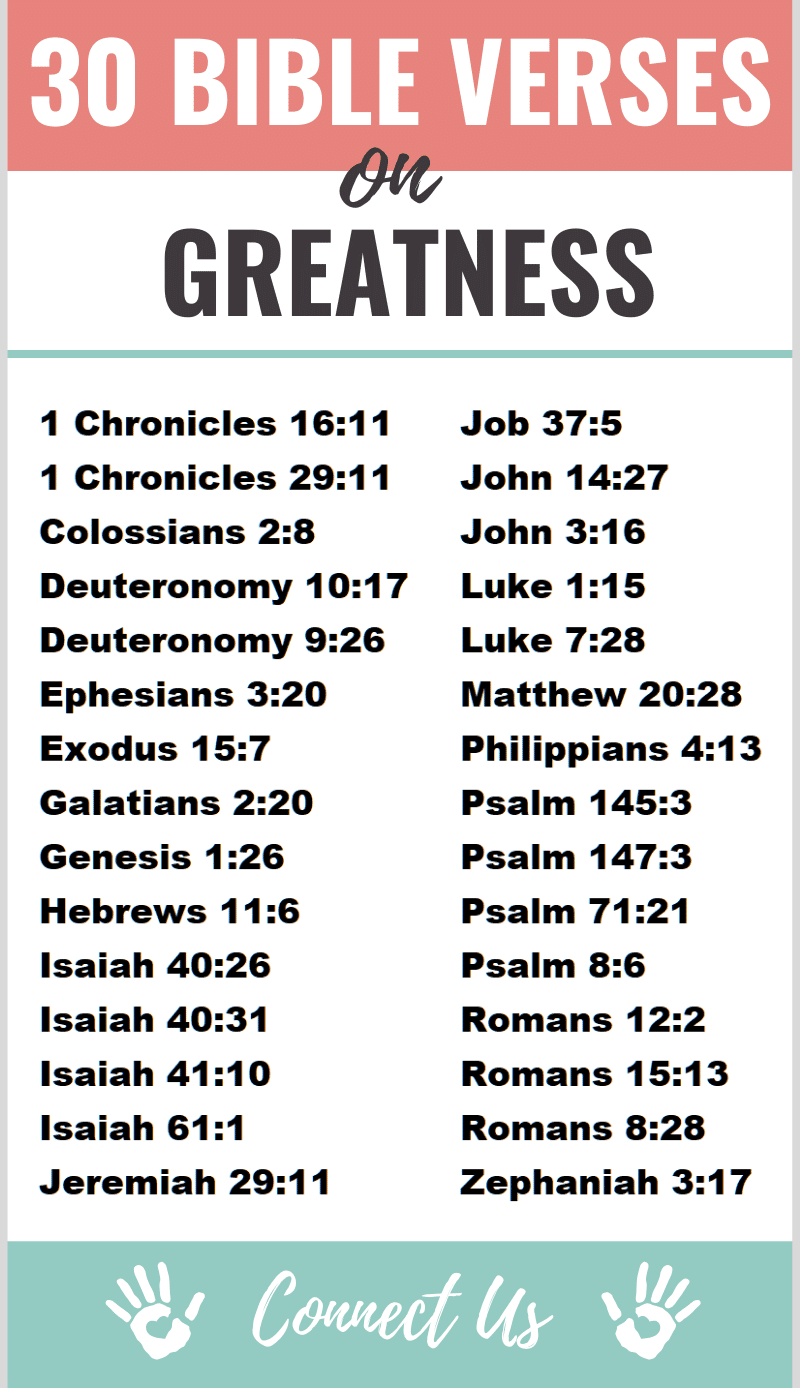 Author Bio
Natalie Regoli is a child of God, devoted wife, and mother of two boys. She has a Master's Degree in Law from The University of Texas. Natalie has been published in several national journals and has been practicing law for 18 years.