Here are the 25 most transcendent Bible scriptures on togetherness.
1 Peter 4:8
Above all, keep loving one another earnestly, since love covers a multitude of sins.
Philippians 2:2
Complete my joy by being of the same mind, having the same love, being in full accord and of one mind.
Matthew 18:20
"For where two or three are gathered in my name, there am I among them."
John 13:34
"A new commandment I give to you, that you love one another: just as I have loved you, you also are to love one another."
Psalm 95:6
Oh come, let us worship and bow down; let us kneel before the Lord, our Maker!
1 Corinthians 15:33
Do not be deceived: "Bad company ruins good morals."
1 Peter 3:8
Finally, all of you, have unity of mind, sympathy, brotherly love, a tender heart, and a humble mind.
1 Thessalonians 5:11
Therefore encourage one another and build one another up, just as you are doing.
2 Kings 2:2
And Elijah said to Elisha, "Please stay here, for the Lord has sent me as far as Bethel." But Elisha said, "As the Lord lives, and as you yourself live, I will not leave you." So they went down to Bethel.
Ecclesiastes 4:9
Two are better than one, because they have a good reward for their toil.
Ezekiel 16:8
"When I passed by you again and saw you, behold, you were at the age for love, and I spread the corner of my garment over you and covered your nakedness; I made my vow to you and entered into a covenant with you," declares the Lord God, "and you became mine."
James 4:4
You adulterous people! Do you not know that friendship with the world is enmity with God? Therefore whoever wishes to be a friend of the world makes himself an enemy of God.
Job 2:11
Now when Job's three friends heard of all this evil that had come upon him, they came each from his own place, Eliphaz the Temanite, Bildad the Shuhite, and Zophar the Naamathite. They made an appointment together to come to show him sympathy and comfort him.
John 15:13
"Greater love has no one than this, that someone lay down his life for his friends."
John 3:16
For God so loved the world, that he gave his only Son, that whoever believes in him should not perish but have eternal life.
Luke 6:31
"And as you wish that others would do to you, do so to them."
Matthew 5:21
"You have heard that it was said to those of old, 'You shall not murder; and whoever murders will be liable to judgment.'"
Proverbs 12:26
One who is righteous is a guide to his neighbor, but the way of the wicked leads them astray.
Proverbs 13:20
Whoever walks with the wise becomes wise, but the companion of fools will suffer harm.
Proverbs 16:28
A dishonest man spreads strife, and a whisperer separates close friends.
Proverbs 17:17
A friend loves at all times, and a brother is born for adversity.
Proverbs 18:24
A man of many companions may come to ruin, but there is a friend who sticks closer than a brother.
Proverbs 27:17
Iron sharpens iron, and one man sharpens another.
Psalm 133:1
A Song of Ascents. Of David. Behold, how good and pleasant it is when brothers dwell in unity!
Romans 12:16
Live in harmony with one another. Do not be haughty, but associate with the lowly. Never be wise in your own sight.
More Bible Verses that Will Move You
50 Most Powerful Scriptures on Faith
60 Transcendent Verses on Trust
50 Strong Scriptures on Perseverance
68 Powerful Verses on Forgiveness
40 Uplifting Scriptures on Patience
Add Our Infographic Below to Your Pinterest Board
Hit the pin button below to add our infographic, with all the verses, to one of your Pinterest boards.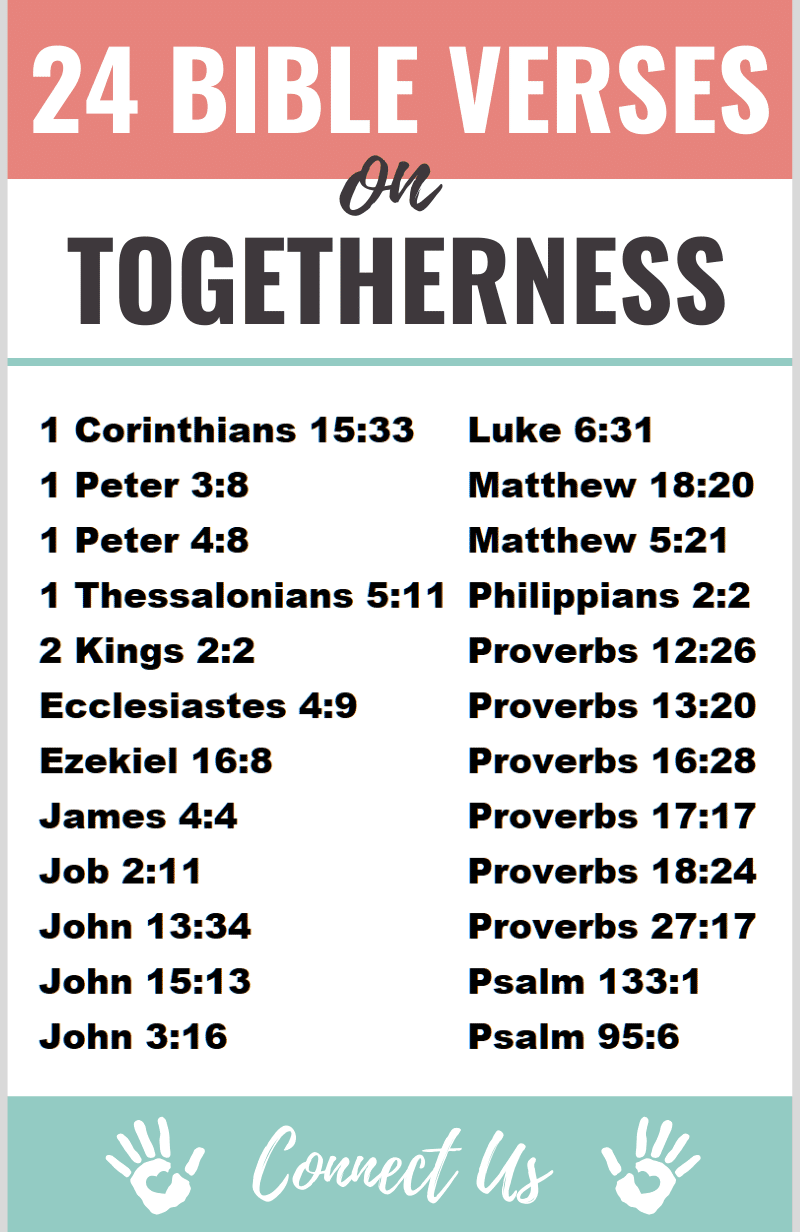 Author Bio
Natalie Regoli is a child of God, devoted wife, and mother of two boys. She has a Master's Degree in Law from The University of Texas. Natalie has been published in several national journals and has been practicing law for 18 years.