You love your son and want the very best life possible for him. Here are the 25 strongest prayers for your son's protection, including images you can print to use and share.
Prayer to Protect My Son from Turning Away from Faith
My Lord, Ancient of Days, I pray that You will protect my son from turning away from You. So many of his peers are saying in their hearts that there is no God. So many have turned away from You and from Your teachings and commands in Your Word. Lord God, please keep my son in the faith. May he remain steadfast in his love for You and in obedience to Your Word and committed to Your call on his life. Amen.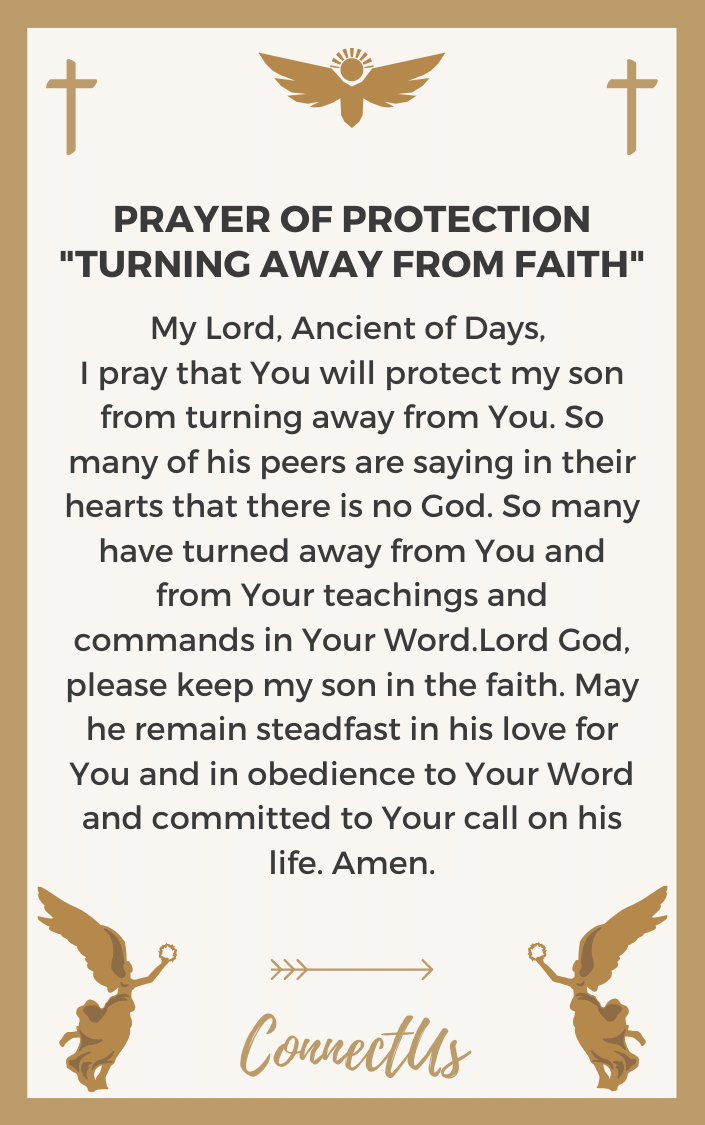 Be a Refuge from Violence Prayer
God our Protector, please be a refuge for my son from any kind of violence. Confront any who would do him harm, and bring them to their knees. Deliver my son from such people by Your hand. May my son's steps hold to Your paths, and help him avoid the way of the violent. Keep him as the apple of Your eye; hide him in the shadow of Your wings. Amen.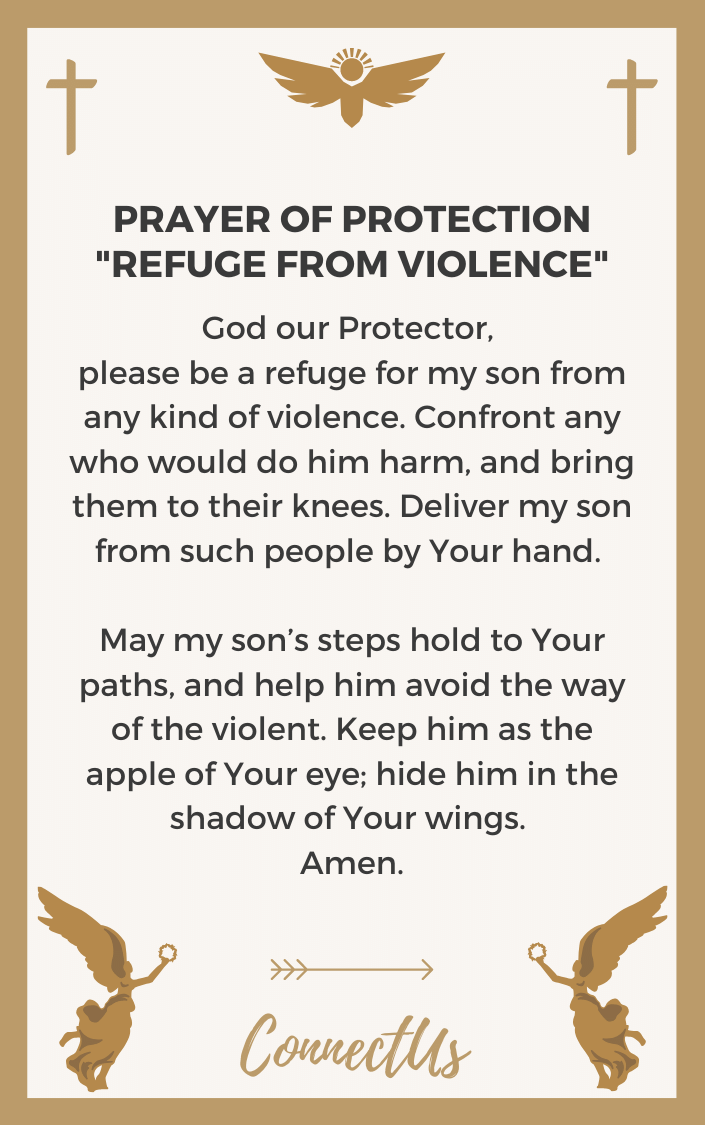 Prayer to Preserve My Son from Dishonorable Behavior
Righteous God, may my son walk in integrity, practice righteousness, and speak the truth from his heart. Preserve him from behaviors that would dishonor Your Name, such as slandering others, causing harm to others, or speaking scornfully to others. May he consistently fear and honor You and be a defender of the innocent. May he never be shaken, and may he always set You before him. Preserve him, I pray. Amen.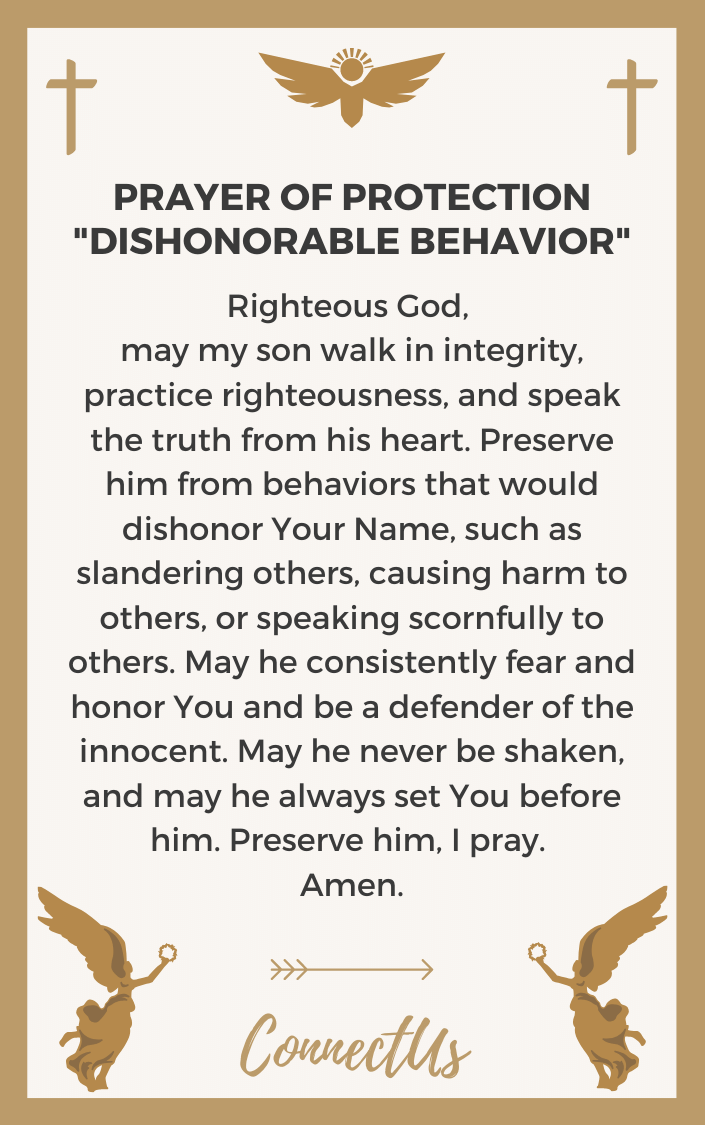 Be a Defense from Addictions Prayer
Lord, my Stronghold, You are worthy to be praised. I intercede for my son, asking that You be a defense for him against any sort of addictions. May he never be ensnared in these cords that devastate and bring chaos and often death. Protect him from any alliances that might take him down this dangerous path. May my son walk blamelessly before You and keep himself from anything that would bring harm. Amen.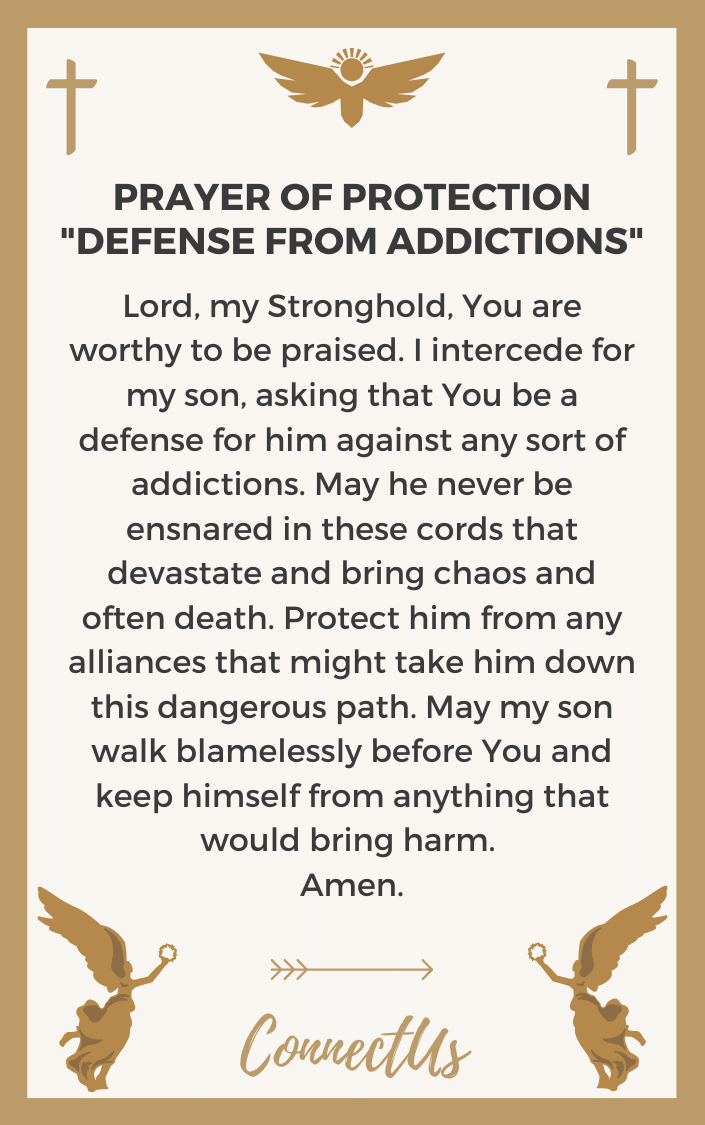 Prayer to Shelter My Son from False Doctrine
Lord, my chosen portion and my cup, shelter my son from the teachings of those who pervert Your Word. Help him to recognize and turn away from false doctrine. Counsel him and instruct him from the truth of Your Word. Light up the darkness May his boundary lines fall in pleasant places. Make known to him the path of life and fill him with joy in Your presence. Amen.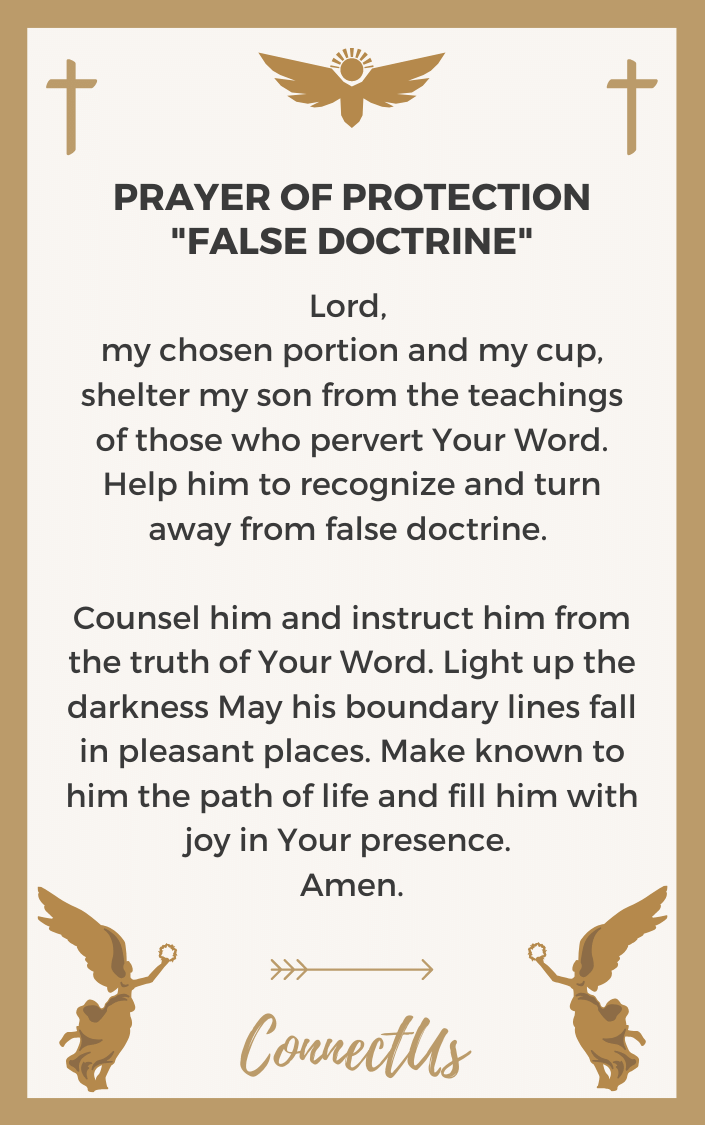 Prayer for Protection from Harmful Habits
God my Strength, I pray that You would protect my son from engaging in any activities that would harm his body. Protect him from smoking or vaping or using recreational drugs. Keep him from abusing alcohol, from driving too fast, or texting while driving. Protect him from overeating and from eating a lot of junk food and sweets. Please protect him from developing a sedentary lifestyle, or becoming addicted to video games. May he develop the habit of following hard after You. Amen.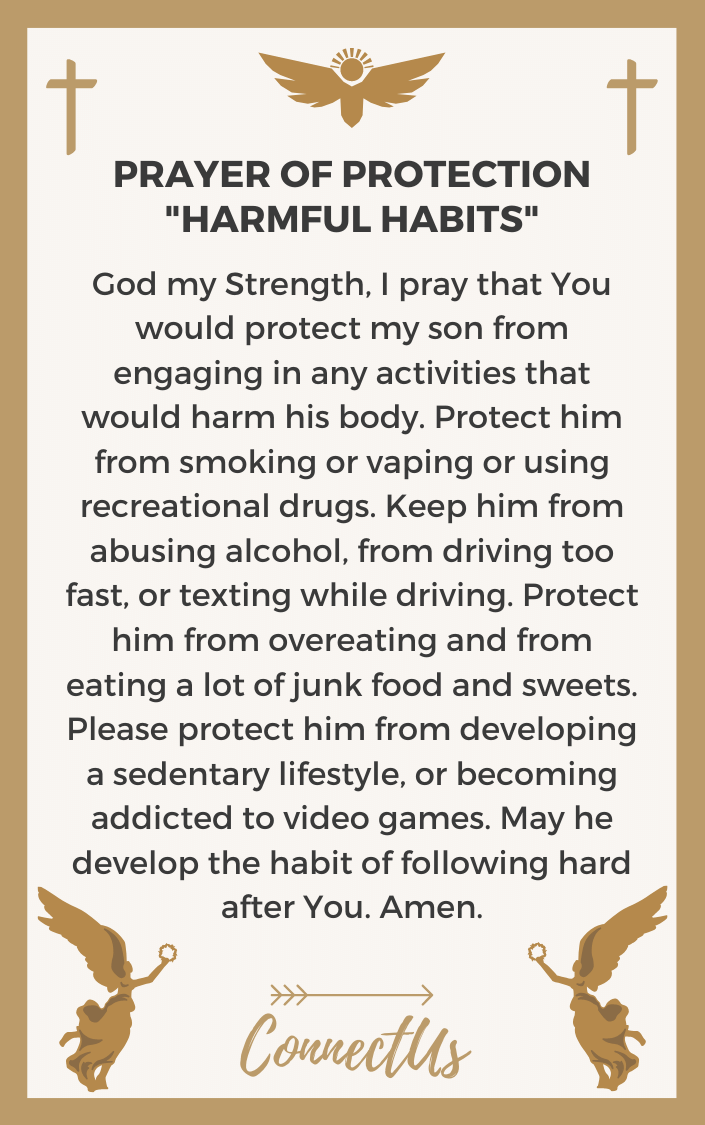 Prayer to Protect My Son from Illness
God, the horn of my salvation, I pray that You will protect my son from infection and illness. Scatter any viruses or bacteria that would make him sick, reach down from on high and cover my son with Your protection. Rescue him from any pathogen that would overwhelm his body and be his support. Arm his immune system with strength and fill him with an abundance of health. Amen.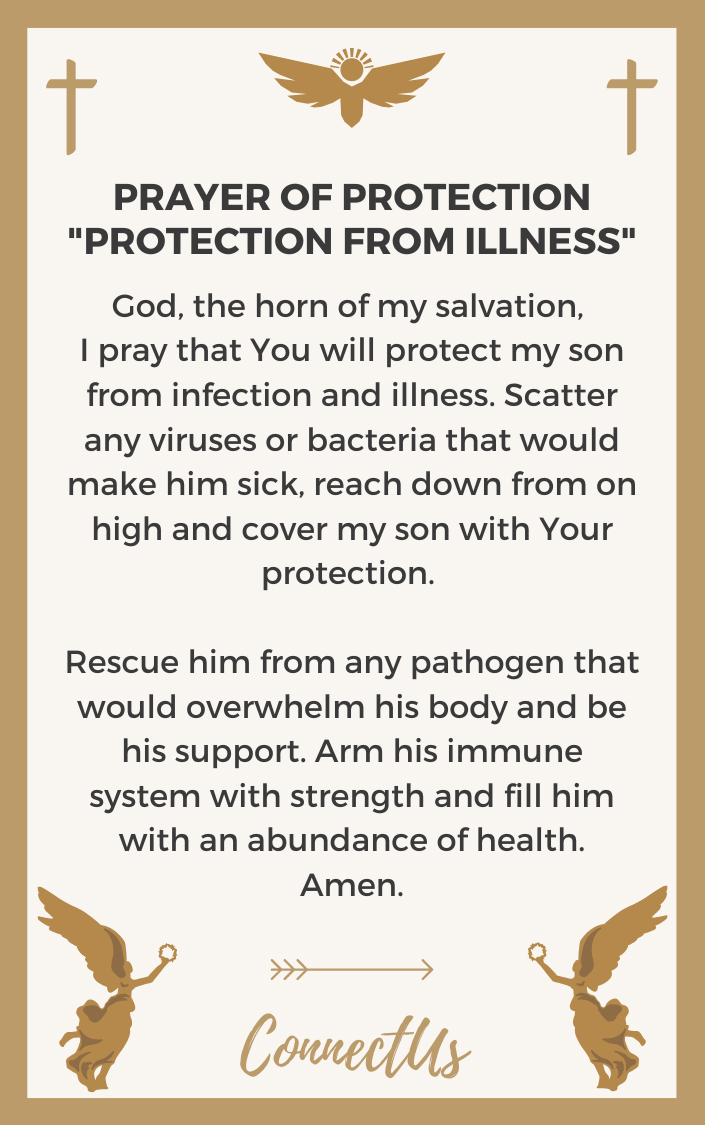 Prayer to Guard from the Spiritual Forces of Evil
God of Salvation, hedge my son about and guard him against the rulers, the authorities and the powers of this world's darkness. Strengthen him to come against the spiritual forces of evil in the heavenly realms. Make him a warrior for Your kingdom, O Master of the Universe, and make him strong in You and in Your mighty power, clothed in the full armor of God. Amen.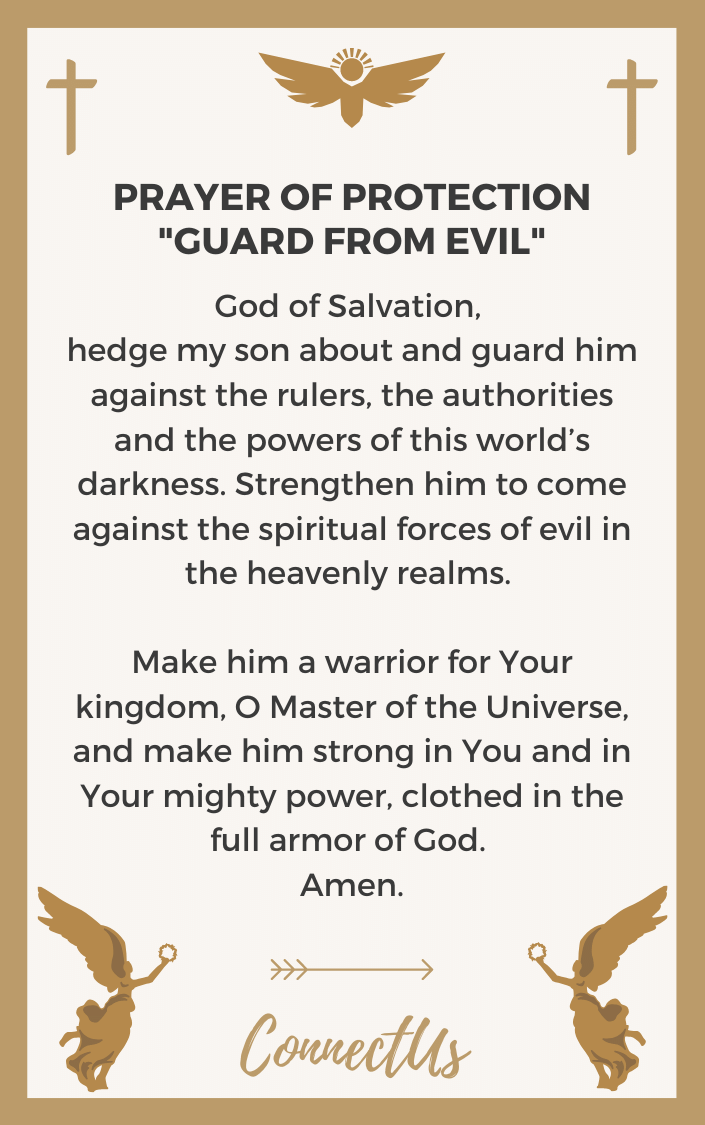 Prayer to Shield from Injury
O God my Fortress, please shield my son from injury and accidents. In Your Name may he be protected and sustained from bodily harm. Help him to use discretion so that he doesn't foolishly put himself in harm's way. Look on him with Your favor, Lord. May he trust You and stand firm and safe in You. Give him length of days and grant him blessings over his life. Amen.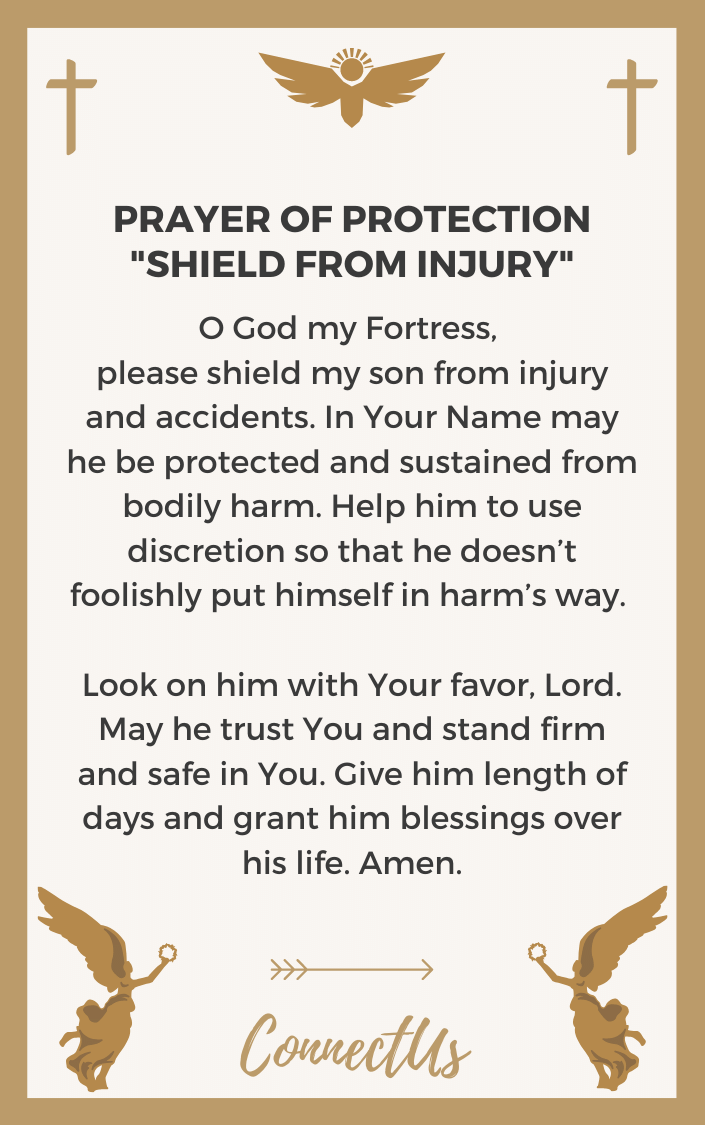 Prayer to Preserve from Fear and Anxiety
Lord our Counselor, guard my son's mind against darkness and preserve him from fear and anxiety. In unsettling and dangerous times, may he look to You as his strength. Counsel and guide him to cast all his care on You. Apprehend any thoughts and emotions that wander into worry or panic or agitation and wipe them away. Cheer him with joy and confidence in Your presence. Amen.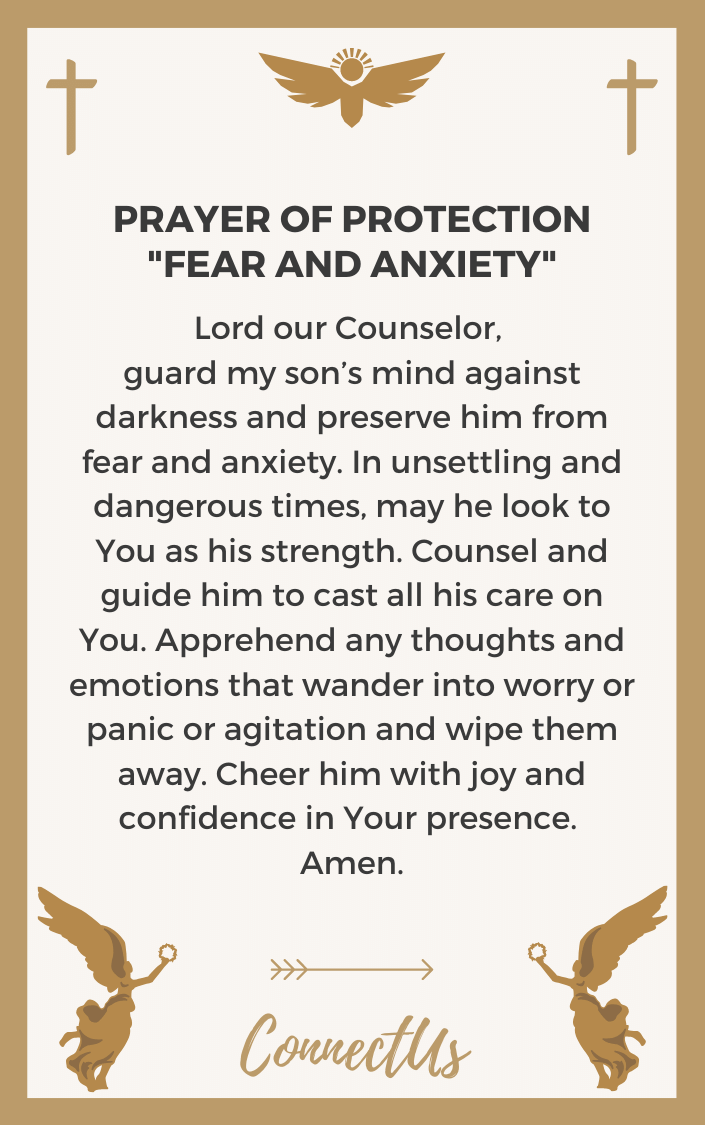 Prayer for Protection from Bad Influences
God our Shelter, I pray that You would protect my son from friends and other people speaking into his life that are bad influences. When his buddies entice him to join them in dangerous activities, help him to take a stand for sane and safe behaviors. When people make negative or hurtful confessions over him, may their words roll off like water. May my son make You his chief influence. Amen.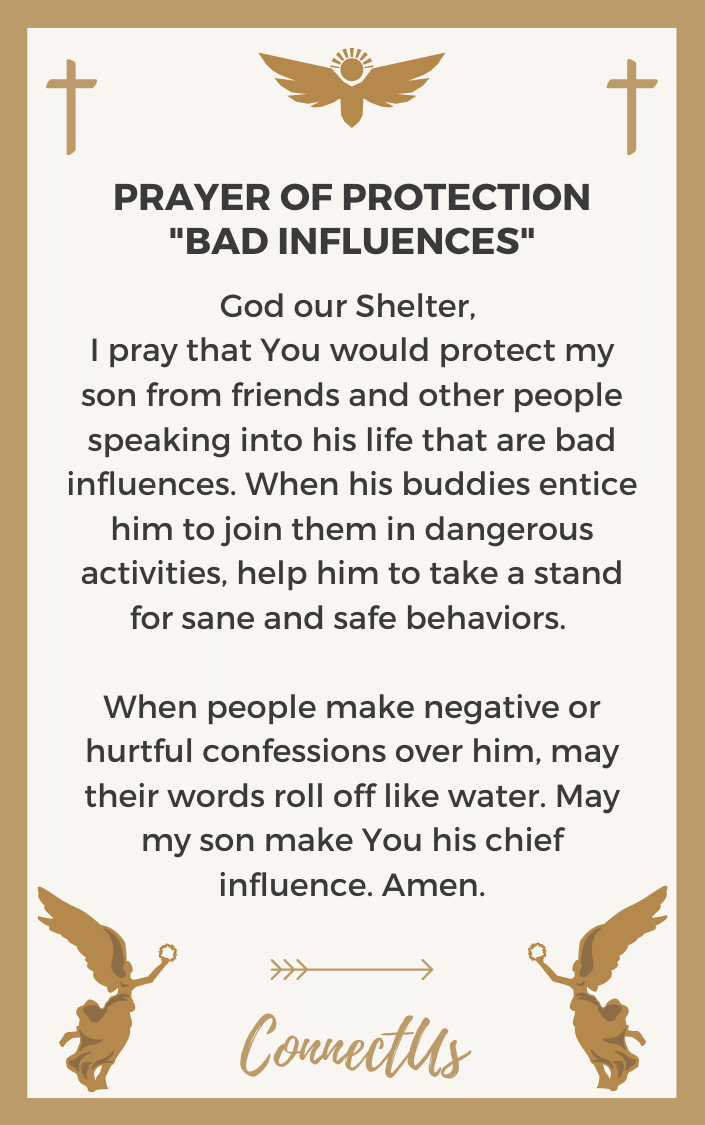 Prayer for God to be a Buffer from Bullying
God our Shield, please be a buffer for my son against those who might try to bully him. Unfortunately, a number of students at his school engage in aggressive, intimidating, and mean behaviors toward other kids. I pray a shield of protection around him from these hurtful actions and words. May he defend and comfort other students who are the targets of bullying. And Lord, may he never be guilty of bullying others. Amen.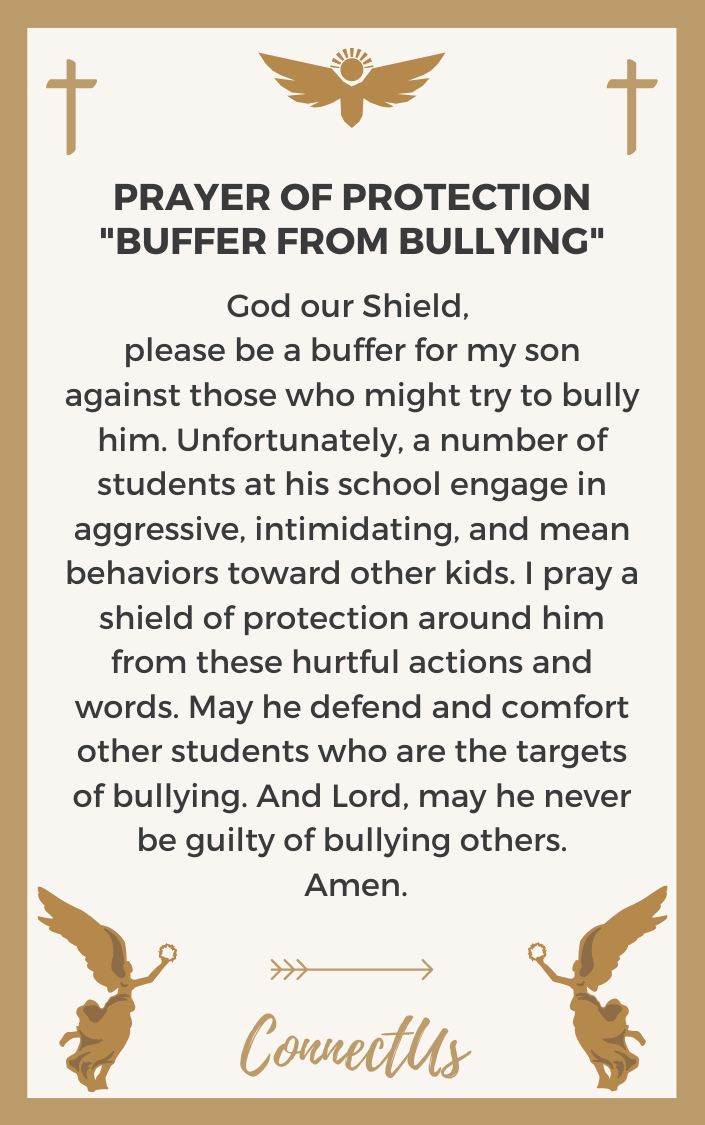 Prayer to Defend Against Depression and Hopelessness
Lord, You are worthy to be praised, for You are the ultimate source of hope and joy. I pray that You will defend my son from sliding into depression and feelings of hopelessness. Help him to set his mind and heart on You – to fixate on You and not what he's going through. Help him to see the silver lining in seemingly negative events, to find joy in the small things, and to cultivate a habit of rejoicing and praising You. Amen.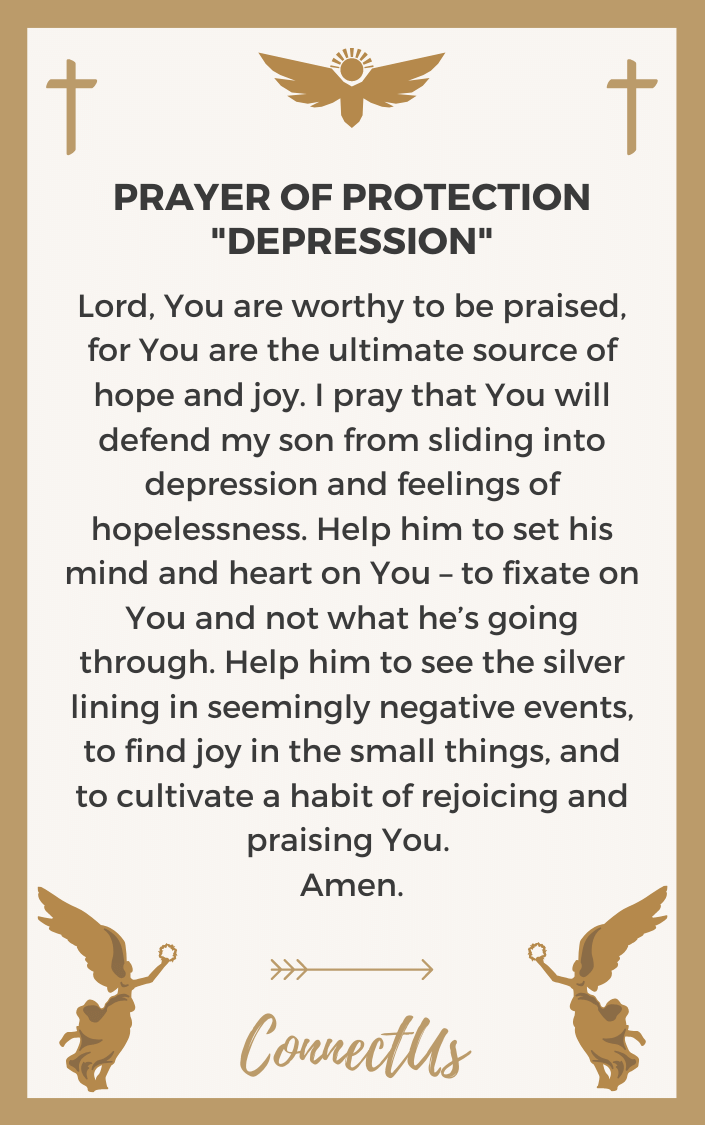 Prayer for Protection from Unwise Decisions
Father of Wisdom, I pray that Your wisdom would drive the decisions that my son makes. Protect him from making unwise decisions with regard to how he uses his time, who he becomes friends with, activities in which he engages, what he puts into his body, and all the other decisions that will determine his present and future health, happiness and success. May he always seek Your Holy Spirit's guidance. Amen.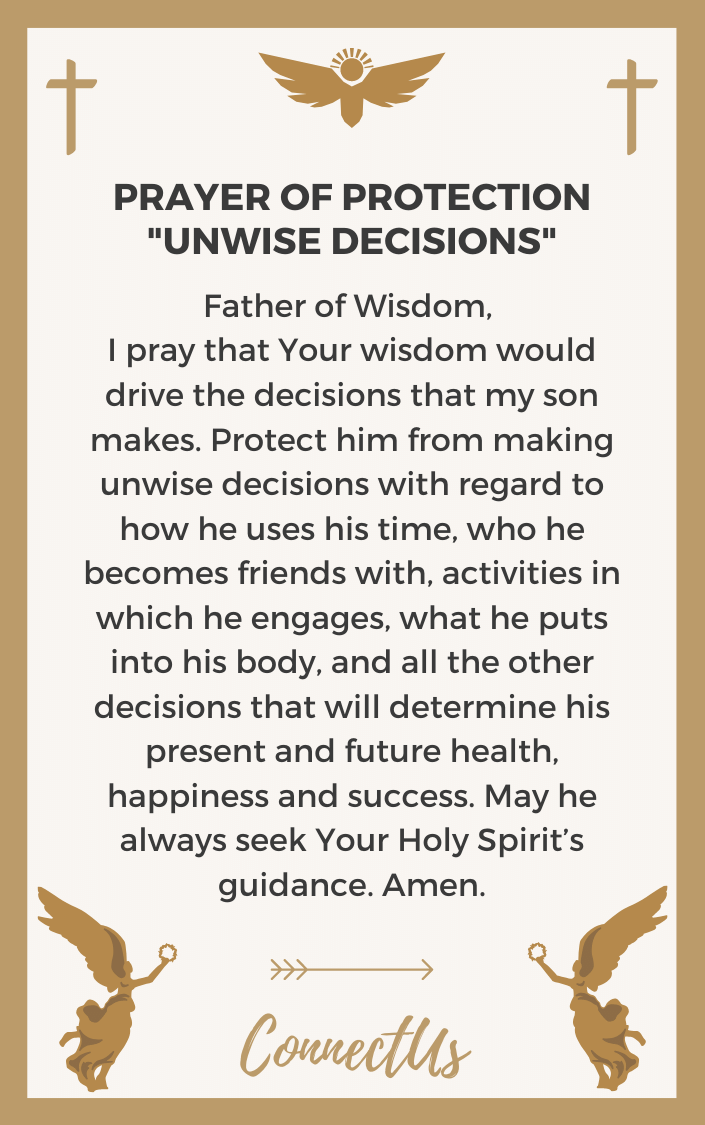 Prayer for Preservation Against Problems in Relationships
Father of Love, we intercede for our son's relationships, that You would preserve him from relationship breakdowns. Whether it's with his friends, his siblings, us his parents, his teachers, his future employers, and colleagues – we pray that he will be preserved from problems with conflict management, or being overly defensive or argumentative or selfish. Help him to love others as You love him and be easy to get along with. Amen.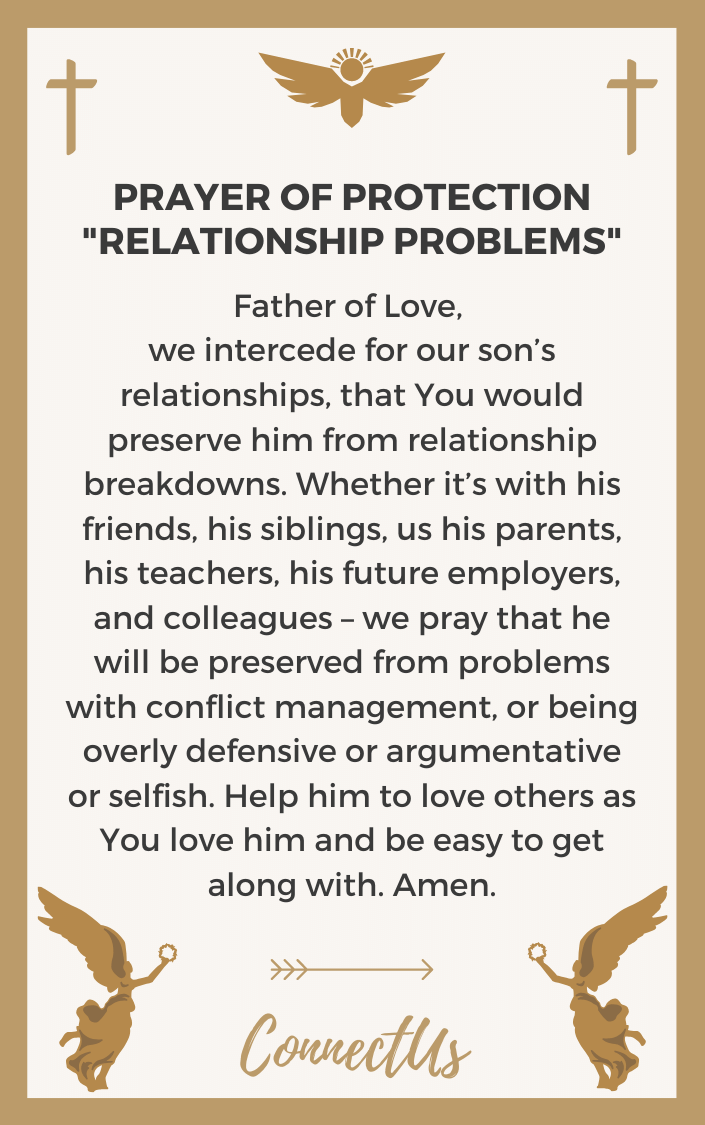 Prayer to be a Shield Against Poor Health
God my Rock, I come to You on behalf of my son, requesting that You would be a shield against any sort of poor health – whether disability, or disorder, or disease. Keep him sound in his spirit, his mind, and his body. Help him to develop lifelong habits that will promote a strong body, and a healthy mind and spirit. Grant him a long life of contentment and peace, serving You faithfully. Amen.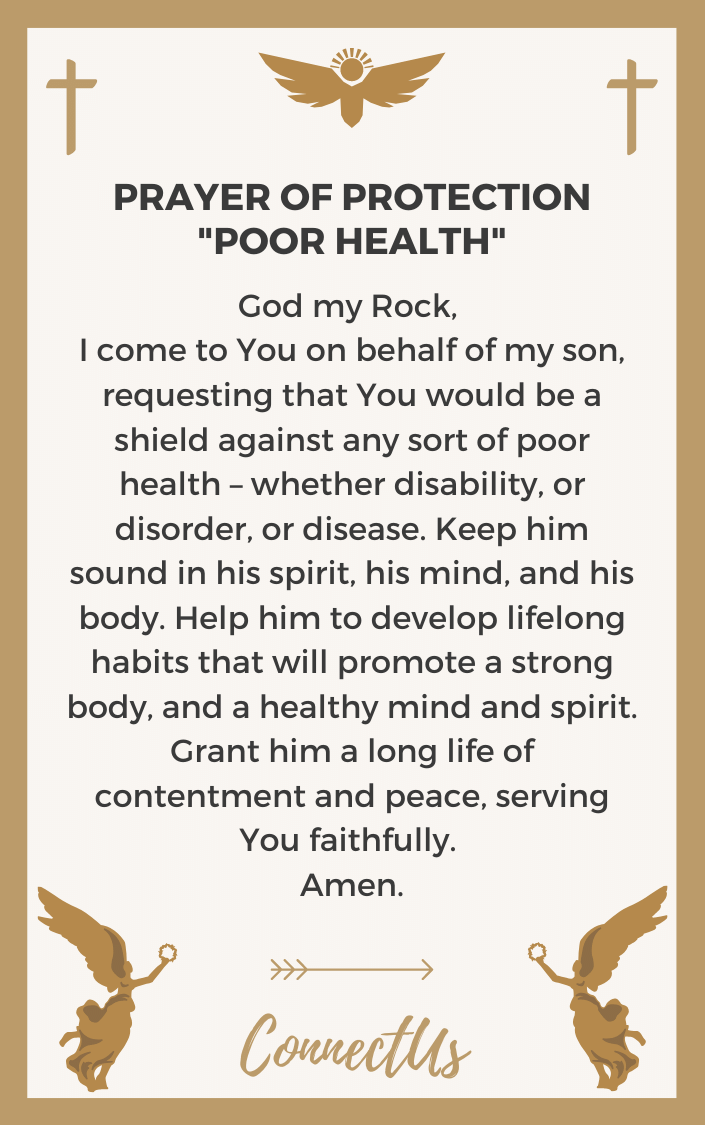 Prayer for Protection from Being Deceived
Lord my Deliverer, You know that my son is innately honest and just assumes everyone else is authentic and truthful. Protect him from being deceived by dishonest people. Protect him from scams, fake news, and false information on social media. Protect him from falling prey to those being used by the devil to lead him down the wrong path. Be a wall around him and keep him safe from deceit. Amen.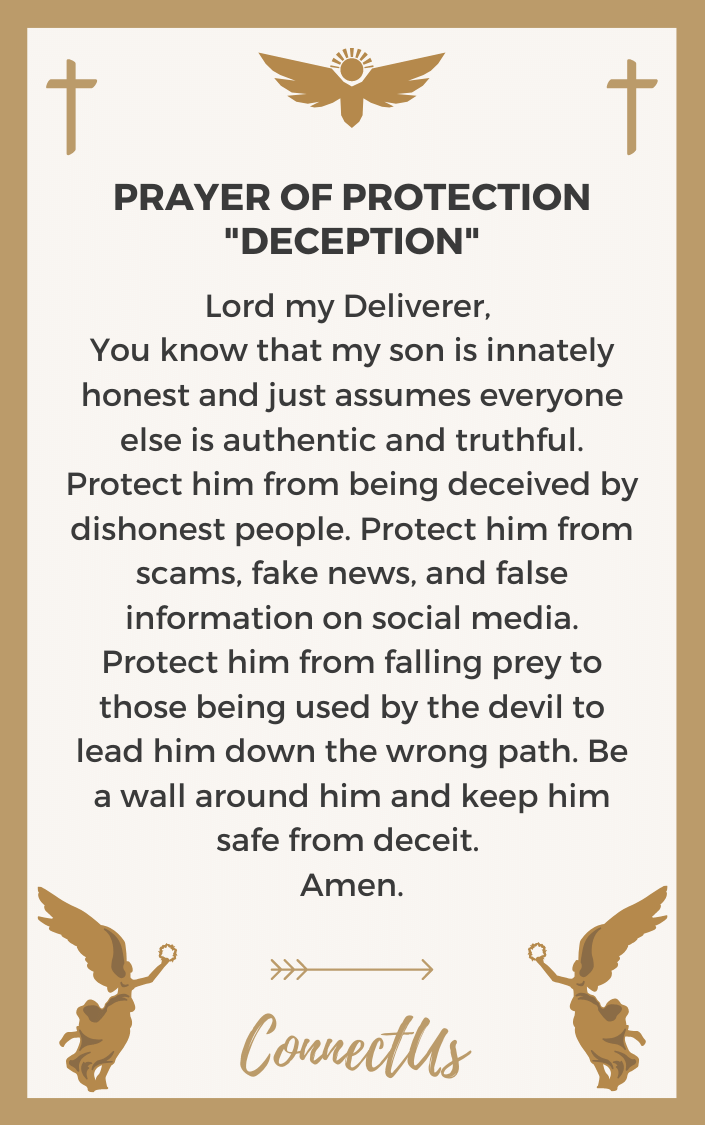 Prayer to be Protected in God's Shadow
Most High, I pray that my son will always live under Your shelter. May he always be protected in Your shadow. Lord, may he make You his refuge and fortress in every circumstance of his life. May he put his complete trust in You, O God. I pray that You will deliver him from any snares of the evil one, and from all deadly things. Cover him with Your feathers, gracious Lord. Amen.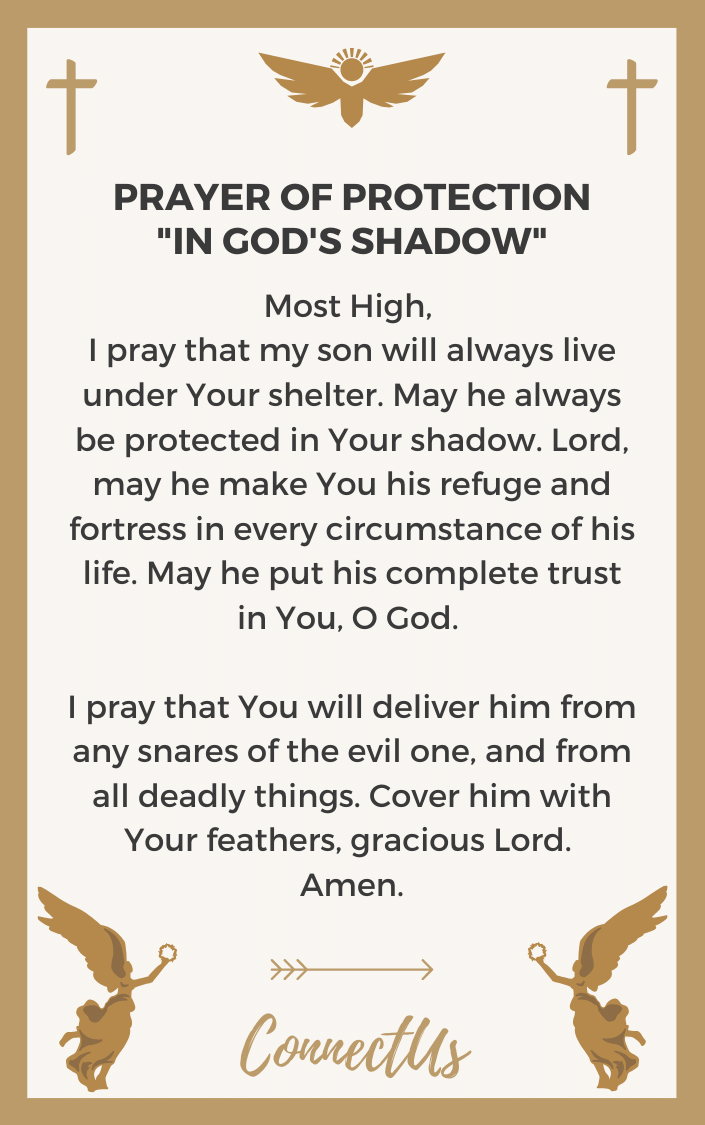 Prayer for a Wall of Protection
All-Powerful Lord, may my son find refuge under Your wings, for Your faithfulness is a shield and a wall of protection. May he never fear the terrors of the night, nor the dangers of the day, nor any disease that stalks in darkness, nor any calamity that destroys, because he has made You his dwelling. Even when he is surrounded by violence or sickness or death, may no harm come near him. Amen.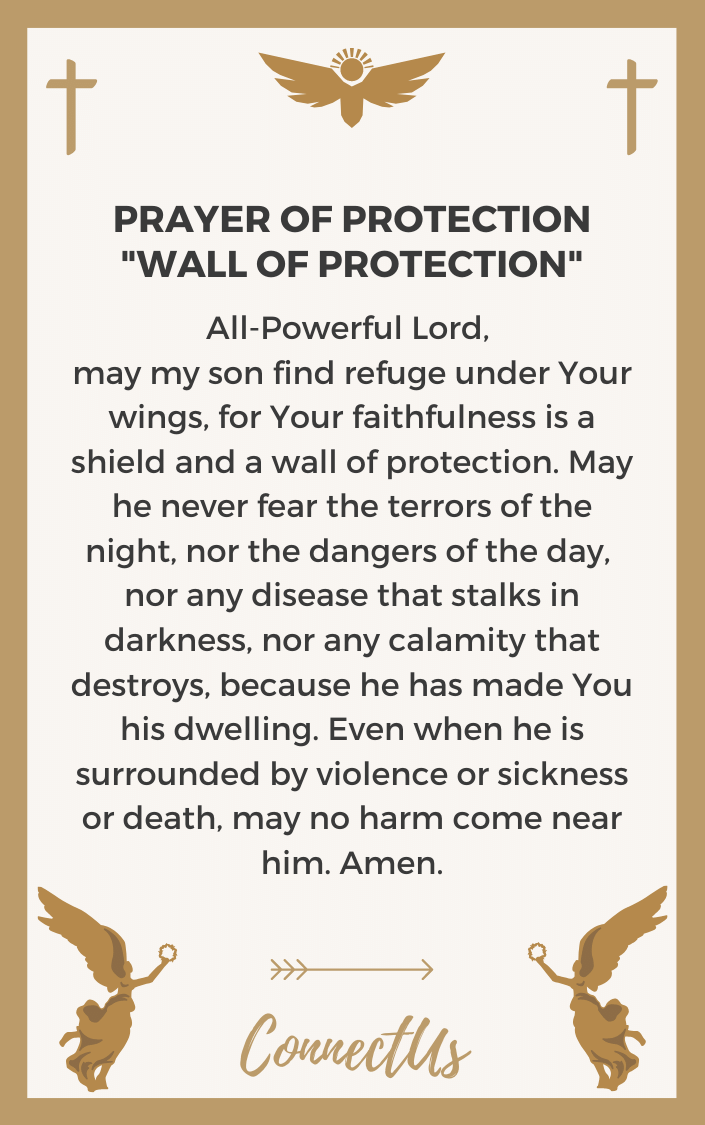 Prayer for Angels of Protection
Almighty God, I intercede for my son and ask that You command Your angels concerning him, to guard him in all his ways. May no evil come against him. May no deadly disease come near his home. May Your angels lift him up in their hands and protect him from all injuries. Whenever he confronts danger – whether mortal or from the powers of the air – may he invoke the mighty Name of Jesus and trample the enemy under his feet. Amen.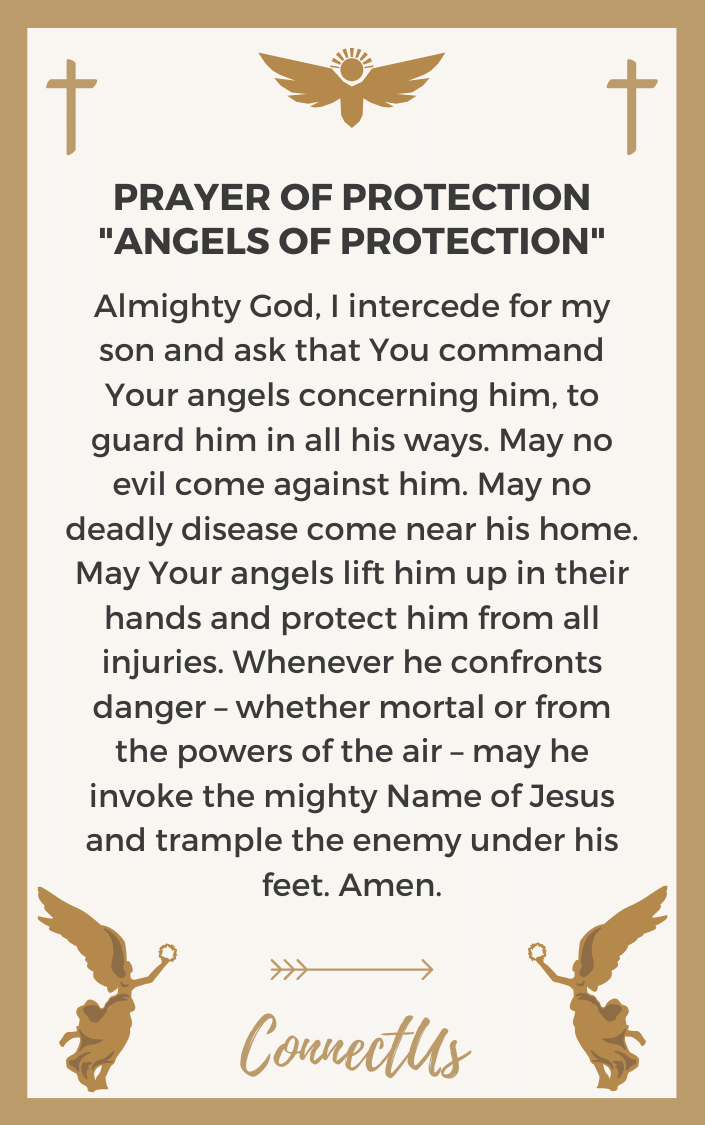 Prayer for God to Deliver from All Adversaries
God our Deliverer, because my son knows and honors Your Name, and because he loves You, I ask that You will deliver him and protect him. When he calls out to You, may You answer him. Be with him in trouble, when he is in dire straits, and when he is in distress and adversity. Deliver him from all adversaries and honor him with a long and happy life. Show him Your salvation. Amen.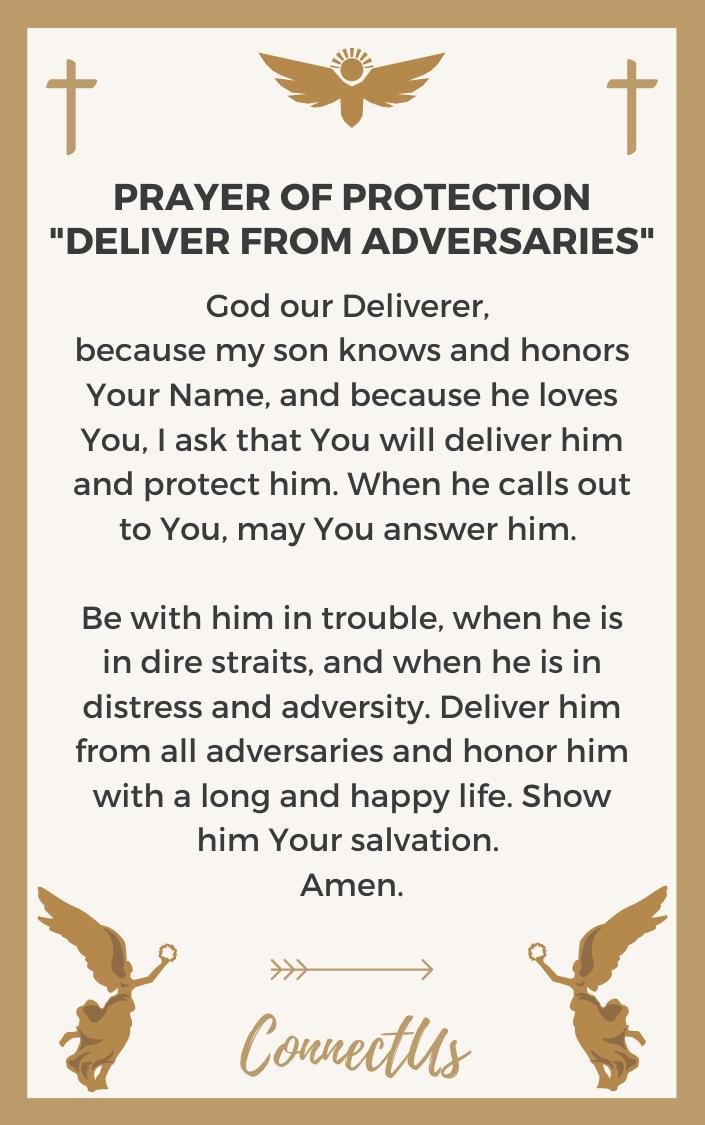 Prayer to the Judge of the Earth
O Judge of the Earth, rise up against the proud and the arrogant who would seek to oppress and harm my son. They think You don't see or care, but You are the One who created our eyes and ears and You see and hear all things. Give my son relief from these days of adversity. Be his Helper. When his foot begins to slip, support him. When anxiety overwhelms him, console him, and delight his soul. Amen.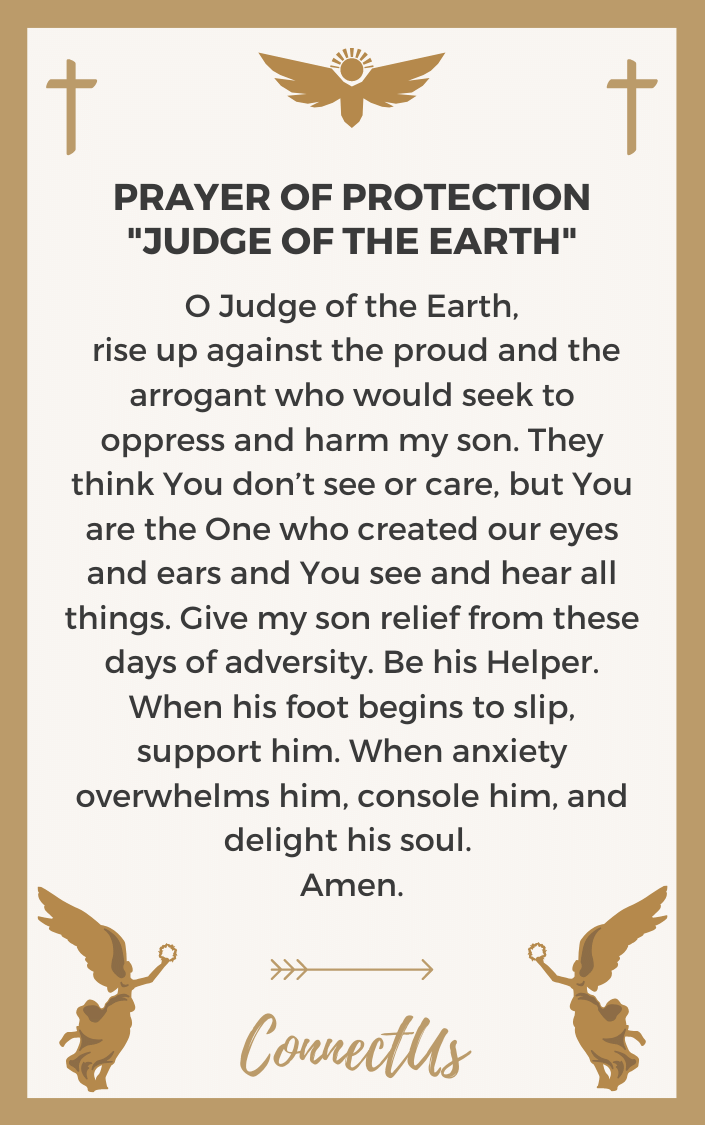 Prayer for God to Be a Stronghold
Lord my God, be a stronghold to my son. Be his rock of refuge, for You are our great God, the King above everything in heaven on earth and below the earth. May my son sing for joy to You, the Rock of his salvation. Preserve the soul of my son and deliver him from the hand of the wicked. Remember my son in Your love and faithfulness. Exercise justice and righteousness on behalf of my son. Amen.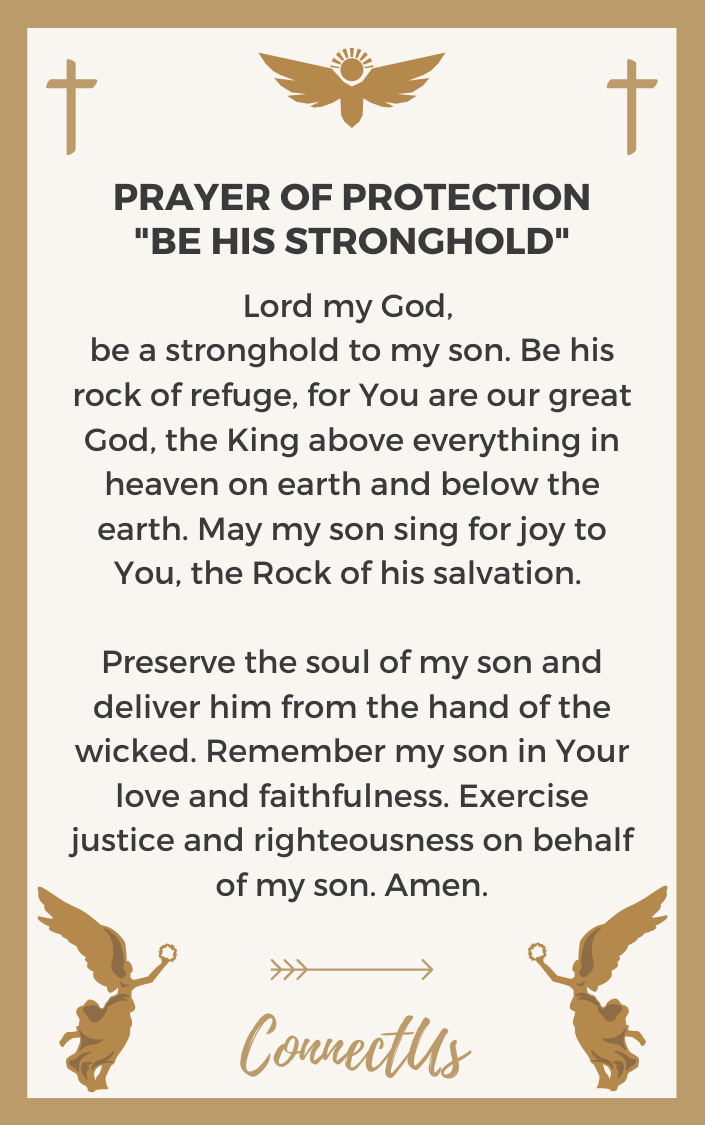 Prayer for Protection from Evil Words
God our Fortress, in Your mighty Name I ask that You come against any evil words spoken against my son. When people unleash their mouths for evil and speak out deceitful things against my son, block those words. When they slander and malign his reputation, may their words fall to the ground. Rebuke those who make groundless accusations. Because my son walks in integrity and honors You with his praise and worship, show him Your deliverance. Amen.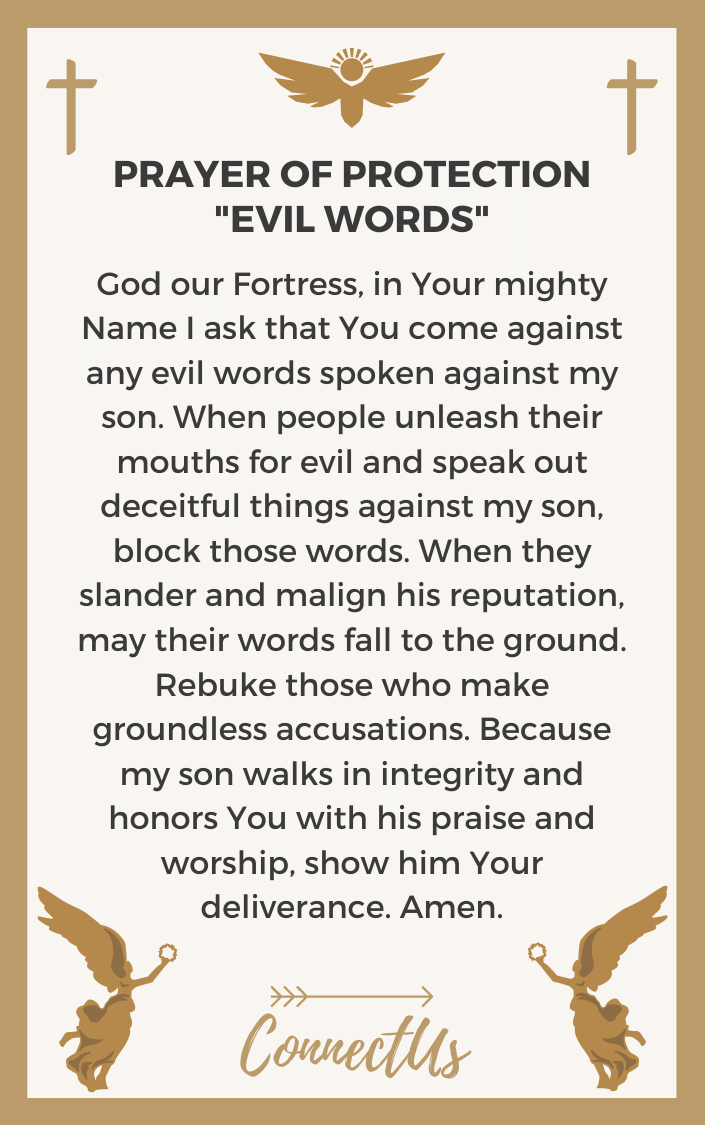 Prayer for Preservation from Sin
O God who restores, I thank You that You are a merciful God. Lord, preserve my son from sin. Help him to live righteously. When he does sin, may he be quick to repent and confess and be restored to fellowship with You. According to Your great compassion, blot out his sin. Wash him clean. Lord, You desire truth in the inmost being; I pray that You will teach my son wisdom. Create in him a clean heart and renew a right spirit within him. Amen.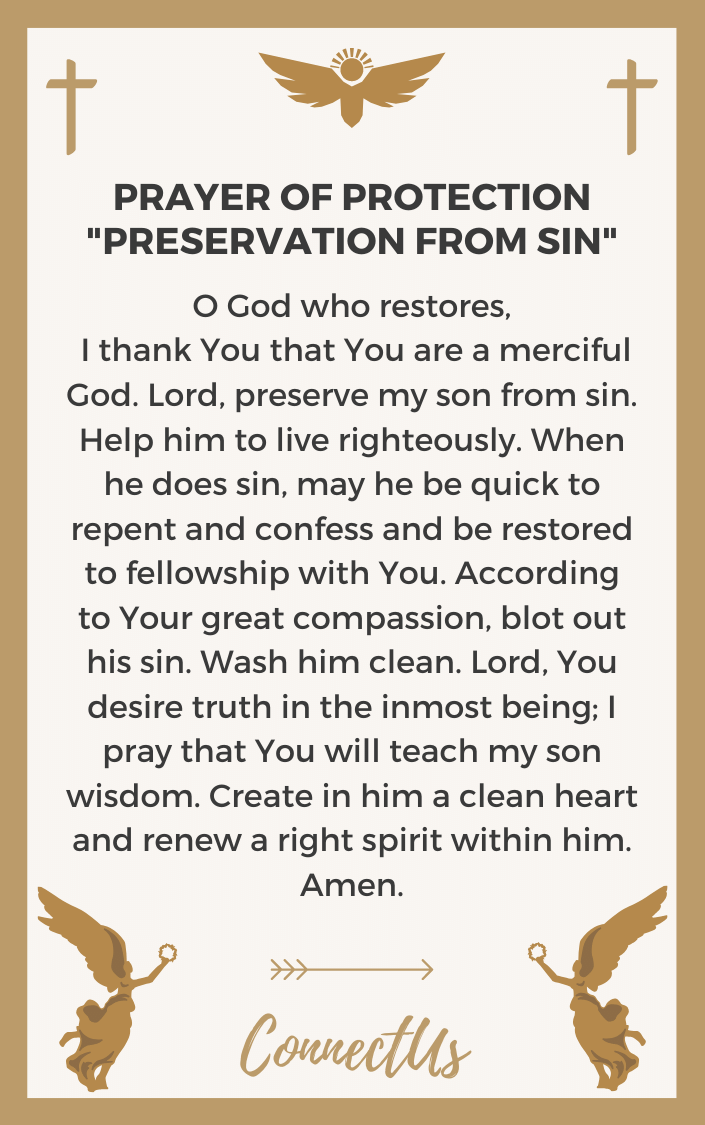 Most Popular Prayers by Topic
For Hard Times
For Financial Prosperity
For Physical Health
For Emotional Health
For Protection
For a Marriage
For Babies and Pregnancy
For Family
For Spiritual Warfare
For Spiritual Health
For a Death
For the Workplace
For Bedtime
Our 10 week prayer journal will guide you through your daily prayers and help you plan out your prayer week. It is completely free. You can
click here to get it now
.

Author Bio
Natalie Regoli is a child of God, devoted wife, and mother of two boys. She has a Master's Degree in Law from The University of Texas. Natalie has been published in several national journals and has been practicing law for 18 years.