The word church is found 126 times in the Old and New Testament. The image below reveals the locations of each occurrence. This cool graph starts with Genesis in the top left and ends with Revelation in the bottom right.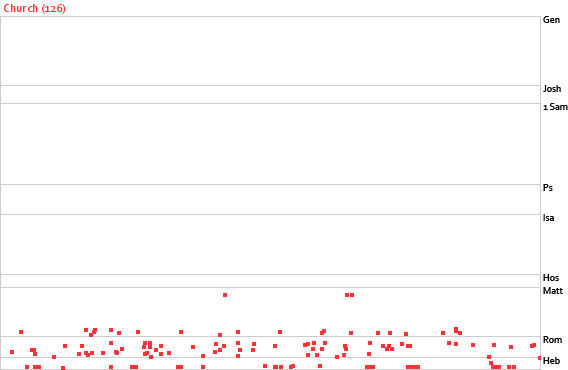 Here are the 30 most compelling Bible scriptures on community.
Galatians 6:2
Bear one another's burdens, and so fulfill the law of Christ.
1 Thessalonians 5:14
And we urge you, brothers, admonish the idle, encourage the fainthearted, help the weak, be patient with them all.
Matthew 18:20
"For where two or three are gathered in my name, there am I among them."
1 John 1:7
But if we walk in the light, as he is in the light, we have fellowship with one another, and the blood of Jesus his Son cleanses us from all sin.
1 Corinthians 1:10
I appeal to you, brothers, by the name of our Lord Jesus Christ, that all of you agree, and that there be no divisions among you, but that you be united in the same mind and the same judgment.
1 John 4:11
Beloved, if God so loved us, we also ought to love one another.
1 Peter 3:8
Finally, all of you, have unity of mind, sympathy, brotherly love, a tender heart, and a humble mind.
1 Peter 4:10
As each has received a gift, use it to serve one another, as good stewards of God's varied grace.
1 Peter 4:9
Show hospitality to one another without grumbling.
Acts 1:14
All these with one accord were devoting themselves to prayer, together with the women and Mary the mother of Jesus, and his brothers.
Acts 2:42
And they devoted themselves to the apostles' teaching and the fellowship, to the breaking of bread and the prayers.
Acts 4:32
Now the full number of those who believed were of one heart and soul, and no one said that any of the things that belonged to him was his own, but they had everything in common.
Colossians 3:13
Bearing with one another and, if one has a complaint against another, forgiving each other; as the Lord has forgiven you, so you also must forgive.
Colossians 3:14
And above all these put on love, which binds everything together in perfect harmony.
Ephesians 2:10
For we are his workmanship, created in Christ Jesus for good works, which God prepared beforehand, that we should walk in them.
Ephesians 4:29
Let no corrupting talk come out of your mouths, but only such as is good for building up, as fits the occasion, that it may give grace to those who hear.
Ephesians 4:3
Eager to maintain the unity of the Spirit in the bond of peace.
Galatians 6:10
So then, as we have opportunity, let us do good to everyone, and especially to those who are of the household of faith.
Genesis 2:18
Then the Lord God said, "It is not good that the man should be alone; I will make him a helper fit for him."
James 5:16
Therefore, confess your sins to one another and pray for one another, that you may be healed. The prayer of a righteous person has great power as it is working.
Proverbs 15:22
Without counsel plans fail, but with many advisers they succeed.
Proverbs 17:17
A friend loves at all times, and a brother is born for adversity.
Proverbs 27:17
Iron sharpens iron, and one man sharpens another.
Psalm 133:1
A Song of Ascents. Of David. Behold, how good and pleasant it is when brothers dwell in unity!
Romans 12:16
Live in harmony with one another. Do not be haughty, but associate with the lowly. Never be wise in your own sight.
Romans 12:5
So we, though many, are one body in Christ, and individually members one of another.
Romans 14:1
As for the one who is weak in faith, welcome him, but not to quarrel over opinions.
Romans 15:5
May the God of endurance and encouragement grant you to live in such harmony with one another, in accord with Christ Jesus.
Romans 15:7
Therefore welcome one another as Christ has welcomed you, for the glory of God.
Romans 16:17
I appeal to you, brothers, to watch out for those who cause divisions and create obstacles contrary to the doctrine that you have been taught; avoid them.
More Bible Verses that Will Move You
50 Most Powerful Scriptures on Faith
60 Transcendent Verses on Trust
50 Strong Scriptures on Perseverance
68 Powerful Verses on Forgiveness
40 Uplifting Scriptures on Patience
Add Our Infographic Below to Your Pinterest Board
Hit the pin button below to add our infographic, with all the verses, to one of your Pinterest boards.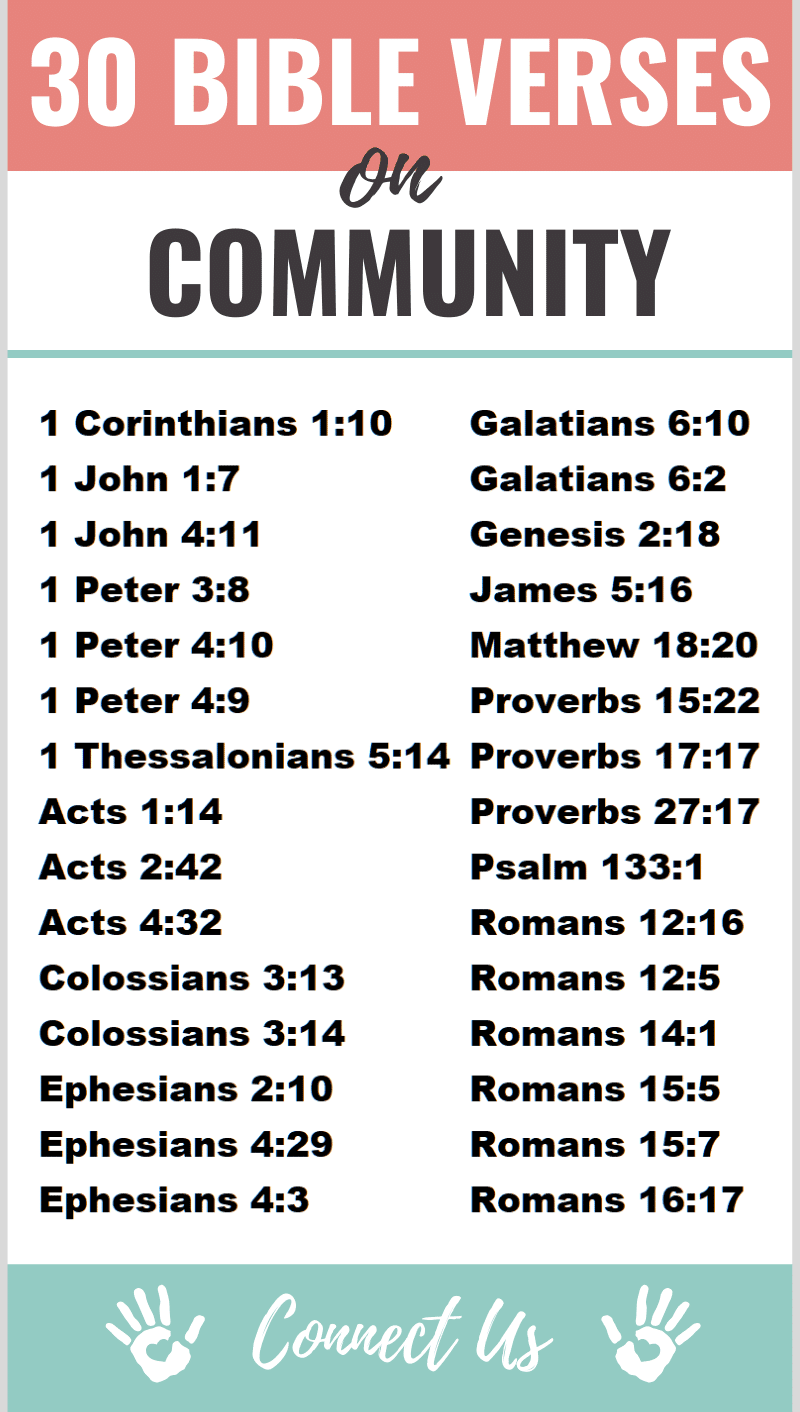 Author Bio
Natalie Regoli is a child of God, devoted wife, and mother of two boys. She has a Master's Degree in Law from The University of Texas. Natalie has been published in several national journals and has been practicing law for 18 years.