Here are the 30 best Bible scriptures on creativity.
Ephesians 2:10
For we are his workmanship, created in Christ Jesus for good works, which God prepared beforehand, that we should walk in them.
Genesis 1:27
So God created man in his own image, in the image of God he created him; male and female he created them.
Genesis 1:1
In the beginning, God created the heavens and the earth.
Colossians 3:23
Whatever you do, work heartily, as for the Lord and not for men.
Proverbs 22:29
Do you see a man skillful in his work? He will stand before kings; he will not stand before obscure men.
1 Timothy 4:14
Do not neglect the gift you have, which was given you by prophecy when the council of elders laid their hands on you.
2 Corinthians 5:17
Therefore, if anyone is in Christ, he is a new creation. The old has passed away; behold, the new has come.
Amos 4:13
For behold, he who forms the mountains and creates the wind, and declares to man what is his thought, who makes the morning darkness, and treads on the heights of the earth— the Lord, the God of hosts, is his name!
Daniel 1:17
As for these four youths, God gave them learning and skill in all literature and wisdom, and Daniel had understanding in all visions and dreams.
Ecclesiastes 3:11
He has made everything beautiful in its time. Also, he has put eternity into man's heart, yet so that he cannot find out what God has done from the beginning to the end.
Ephesians 3:20
Now to him who is able to do far more abundantly than all that we ask or think, according to the power at work within us.
Exodus 35:35
He has filled them with skill to do every sort of work done by an engraver or by a designer or by an embroiderer in blue and purple and scarlet yarns and fine twined linen, or by a weaver—by any sort of workman or skilled designer.
Genesis 1:26
Then God said, "Let us make man in our image, after our likeness. And let them have dominion over the fish of the sea and over the birds of the heavens and over the livestock and over all the earth and over every creeping thing that creeps on the earth."
Genesis 2:3
So God blessed the seventh day and made it holy, because on it God rested from all his work that he had done in creation.
Genesis 2:7
Then the Lord God formed the man of dust from the ground and breathed into his nostrils the breath of life, and the man became a living creature.
Isaiah 40:28
Have you not known? Have you not heard? The Lord is the everlasting God, the Creator of the ends of the earth. He does not faint or grow weary; his understanding is unsearchable.
Isaiah 42:5
Thus says God, the Lord, who created the heavens and stretched them out, who spread out the earth and what comes from it, who gives breath to the people on it and spirit to those who walk in it.
Isaiah 45:9
"Woe to him who strives with him who formed him, a pot among earthen pots! Does the clay say to him who forms it, 'What are you making?' or 'Your work has no handles?'"
Isaiah 64:8
But now, O Lord, you are our Father; we are the clay, and you are our potter; we are all the work of your hand.
Isaiah 65:17
"For behold, I create new heavens and a new earth, and the former things shall not be remembered or come into mind."
Jeremiah 10:12
It is he who made the earth by his power, who established the world by his wisdom, and by his understanding stretched out the heavens.
John 1:3
All things were made through him, and without him was not any thing made that was made.
Luke 1:37
For nothing will be impossible with God.
Matthew 25:16
He who had received the five talents went at once and traded with them, and he made five talents more.
Proverbs 4:23
Keep your heart with all vigilance, for from it flow the springs of life.
Psalm 104:24
O Lord, how manifold are your works! In wisdom have you made them all; the earth is full of your creatures.
Psalm 139:14
I praise you, for I am fearfully and wonderfully made. Wonderful are your works; my soul knows it very well.
Romans 1:20
For his invisible attributes, namely, his eternal power and divine nature, have been clearly perceived, ever since the creation of the world, in the things that have been made. So they are without excuse.
Romans 12:2
Do not be conformed to this world, but be transformed by the renewal of your mind, that by testing you may discern what is the will of God, what is good and acceptable and perfect.
Romans 12:6
Having gifts that differ according to the grace given to us, let us use them: if prophecy, in proportion to our faith.
More Bible Verses that Will Move You
50 Most Powerful Scriptures on Faith
60 Transcendent Verses on Trust
50 Strong Scriptures on Perseverance
68 Powerful Verses on Forgiveness
40 Uplifting Scriptures on Patience
Add Our Infographic Below to Your Pinterest Board
Hit the pin button below to add our infographic, with all the verses, to one of your Pinterest boards.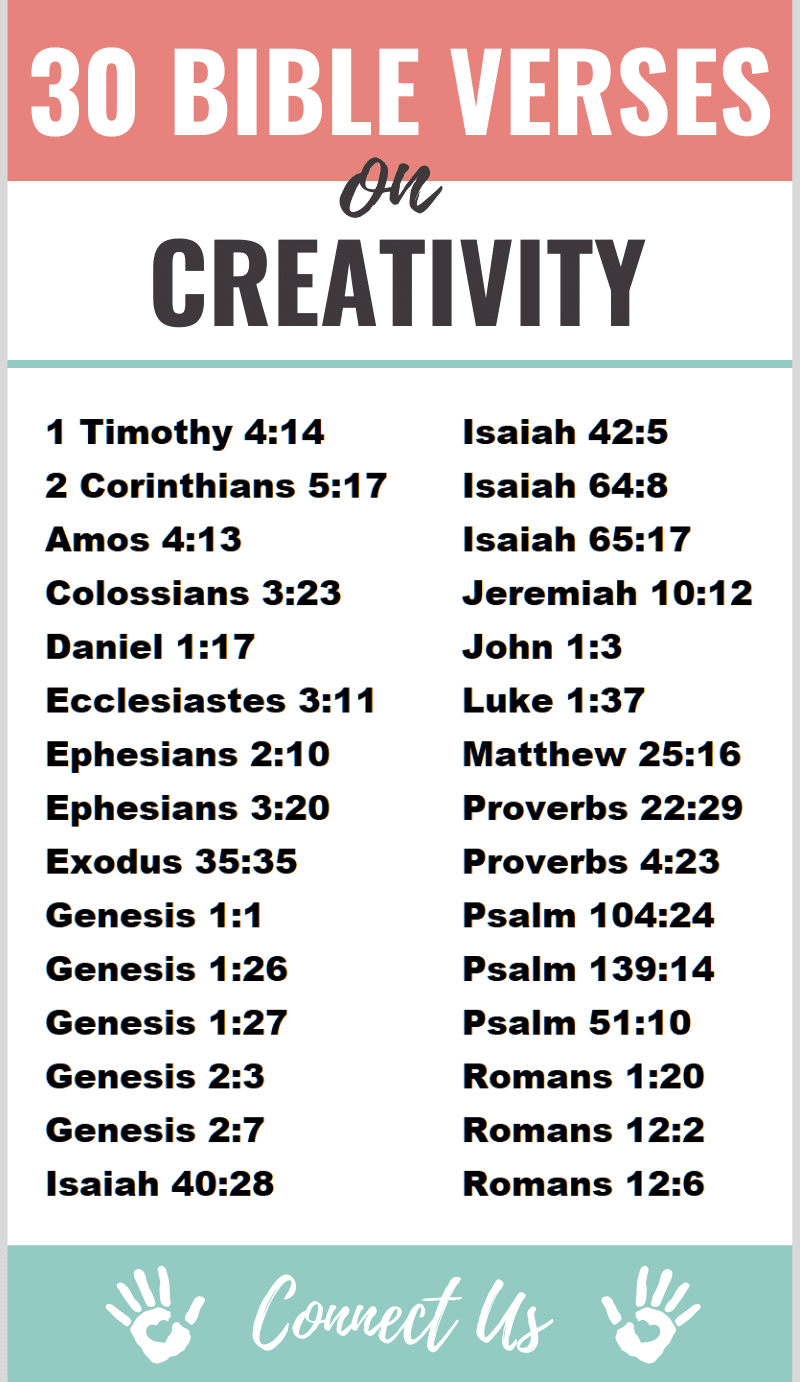 Author Bio
Natalie Regoli is a child of God, devoted wife, and mother of two boys. She has a Master's Degree in Law from The University of Texas. Natalie has been published in several national journals and has been practicing law for 18 years.