Matthew 10:34
"Do not suppose that I have come to bring peace to the earth. I did not come to bring peace, but a sword."
Explanation and Commentary of Matthew 10:34
This at first is a rather enigmatic statement for the one who is described as the Prince of Peace, and who said, "blessed are peacemakers" (Mt 5:9). It is not that Jesus's ultimate goal is not to bring peace on the earth at the very end of the current age, but that peace will only be achieved by a short-term tribulation and conflict between good and evil. Even right before the very end, Jesus is described in Revelation 19 as a conquering rider, covered in blood, waging war with justice, and, "Coming out of his mouth is a sharp sword with which to strike down the nations. 'He will rule them with an iron scepter.' He treads the winepress of the fury of the wrath of God Almighty" (Rev 19:15).
Jesus tells his disciples that there will be conflict in his name. It would be nice if everyone would have loved Jesus and everything he had to say, just as it would be nice for the Church to be loved by the world, but Jesus indicated that approval from the world was a sure sign that the Church, or the Christian, is not standing for truth and for Christ. Next, he will say that "a man's enemies will be that of his own household" (Mt 10:36). Before this, he had said that he was sending them out like "sheep among wolves" (Mt 10:16).
Jesus' ministry was a sign that the "year of the Lord's favor" (Lk 4:19) was upon them, but it was also a sign that the judgment was close at hand. Blessed are you when people hate you, when they exclude you and insult you and reject your name as evil, because of the Son of Man" (Lk 6:22).
Breaking Down the Key Parts of Matthew 10:34
#1 "Do not suppose…"
It is never necessary to suppose with Christ. The revealed Word of God in Scripture tells us everything we need to know for how to live. There may be some careful interpreting and application from Christ's contemporary context to ours, but God has generously revealed enough about Christ to keep us exploring well into our eternal existence.
#2 "…that I have come to bring peace on the earth."
"Glory to God in the highest heaven, and on earth peace to those on whom his favor rests" (Lk 2:14) was sung by the angel chorus to the shepherds at the birth of Jesus. He most certainly brought us peace with God, and in a very important sense tore down the "dividing wall of hostility" (Eph 2:14) between people groups formerly at odds. But in the current sense, it must be understood that true belief in Christ and the gospel will cause conflict with people in the world.
#3 "I did not come to bring peace, but a sword."
"Woe to you when everyone speaks well of you, for that is how their ancestors treated the false prophets" (Lk 6:26). Jesus calls us to die to ourselves as we take up our cross and follow him daily (Lk 9:23). If we do this faithfully, there will be enemies to love and persecutors to bless (Lk 6:28).
Bible Study on Matthew 10:34
Expert Overview of Matthew Ch. 1-13
Biblical Translations of Matthew 10:34
NIV
"Do not suppose that I have come to bring peace to the earth. I did not come to bring peace, but a sword."
NLT
"Don't imagine that I came to bring peace to the earth! I came not to bring peace, but a sword."
ESV
"Do not think that I have come to bring peace to the earth. I have not come to bring peace, but a sword."
KJV
"Think not that I am come to send peace on earth: I came not to send peace, but a sword."
NKJV
"Do not think that I came to bring peace on earth. I did not come to bring peace but a sword."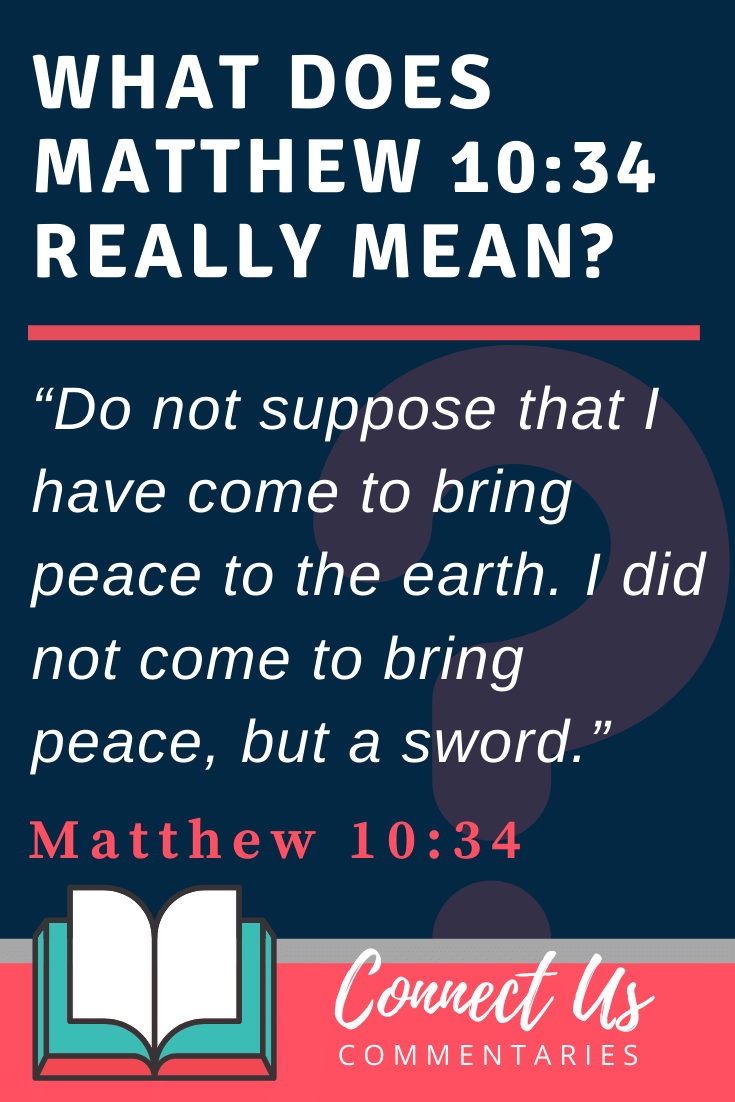 Author Bio
Natalie Regoli is a child of God, devoted wife, and mother of two boys. She has a Master's Degree in Law from The University of Texas. Natalie has been published in several national journals and has been practicing law for 18 years.