Here are the 30 best Bible scriptures on frustration.
John 16:33
"I have said these things to you, that in me you may have peace. In the world you will have tribulation. But take heart; I have overcome the world."
Isaiah 41:10
"Fear not, for I am with you; be not dismayed, for I am your God; I will strengthen you, I will help you, I will uphold you with my righteous right hand."
Galatians 6:9
And let us not grow weary of doing good, for in due season we will reap, if we do not give up.
Psalm 34:18
The Lord is near to the brokenhearted and saves the crushed in spirit.
1 Peter 5:7
Casting all your anxieties on him, because he cares for you.
1 Corinthians 13:5
Or rude. It does not insist on its own way; it is not irritable or resentful.
1 Thessalonians 5:18
Give thanks in all circumstances; for this is the will of God in Christ Jesus for you.
2 Kings 17:18
Therefore the Lord was very angry with Israel and removed them out of his sight. None was left but the tribe of Judah only.
Colossians 3:8
But now you must put them all away: anger, wrath, malice, slander, and obscene talk from your mouth.
Ecclesiastes 2:24
There is nothing better for a person than that he should eat and drink and find enjoyment in his toil. This also, I saw, is from the hand of God.
Ecclesiastes 3:1
For everything there is a season, and a time for every matter under heaven.
Ecclesiastes 5:17
Moreover, all his days he eats in darkness in much vexation and sickness and anger.
Ecclesiastes 7:9
Be not quick in your spirit to become angry, for anger lodges in the bosom of fools.
Exodus 14:14
The Lord will fight for you, and you have only to be silent.
Isaiah 26:3
You keep him in perfect peace whose mind is stayed on you, because he trusts in you.
Isaiah 44:25
Who frustrates the signs of liars and makes fools of diviners, who turns wise men back and makes their knowledge foolish.
James 1:19
Know this, my beloved brothers: let every person be quick to hear, slow to speak, slow to anger.
Joshua 1:9
"Have I not commanded you? Be strong and courageous. Do not be frightened, and do not be dismayed, for the Lord your God is with you wherever you go."
Matthew 5:22
"But I say to you that everyone who is angry with his brother will be liable to judgment; whoever insults his brother will be liable to the council; and whoever says, 'You fool!' will be liable to the hell of fire."
Philippians 4:13
I can do all things through him who strengthens me.
Philippians 4:7
And the peace of God, which surpasses all understanding, will guard your hearts and your minds in Christ Jesus.
Proverbs 14:29
Whoever is slow to anger has great understanding, but he who has a hasty temper exalts folly.
Proverbs 15:18
A hot-tempered man stirs up strife, but he who is slow to anger quiets contention.
Proverbs 19:11
Good sense makes one slow to anger, and it is his glory to overlook an offense.
Proverbs 29:11
A fool gives full vent to his spirit, but a wise man quietly holds it back.
Proverbs 3:6
In all your ways acknowledge him, and he will make straight your paths.
Psalm 7:11
God is a righteous judge, and a God who feels indignation every day.
Revelation 21:4
"He will wipe away every tear from their eyes, and death shall be no more, neither shall there be mourning, nor crying, nor pain anymore, for the former things have passed away."
Romans 8:20
For the creation was subjected to futility, not willingly, but because of him who subjected it, in hope.
Romans 8:28
And we know that for those who love God all things work together for good, for those who are called according to his purpose.
More Bible Verses that Will Move You
50 Most Powerful Scriptures on Faith
60 Transcendent Verses on Trust
50 Strong Scriptures on Perseverance
68 Powerful Verses on Forgiveness
40 Uplifting Scriptures on Patience
Add Our Infographic Below to Your Pinterest Board
Hit the pin button below to add our infographic, with all the verses, to one of your Pinterest boards.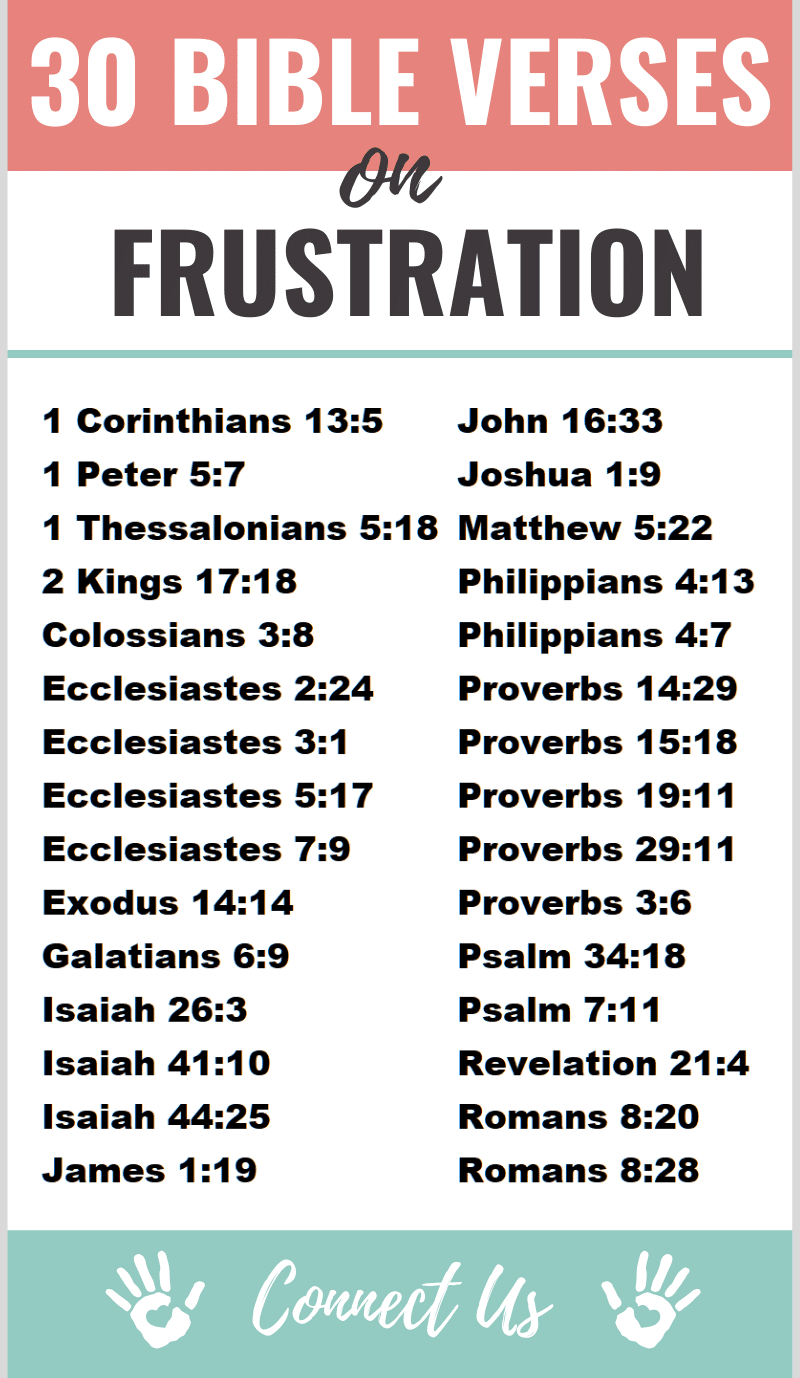 Author Bio
Natalie Regoli is a child of God, devoted wife, and mother of two boys. She has a Master's Degree in Law from The University of Texas. Natalie has been published in several national journals and has been practicing law for 18 years.