The word "sleep" appears 84 times throughout the books of the Bible. The graph below shows the locations of each appearance. It begins with Genesis in the top left and concludes with Revelation in the bottom right.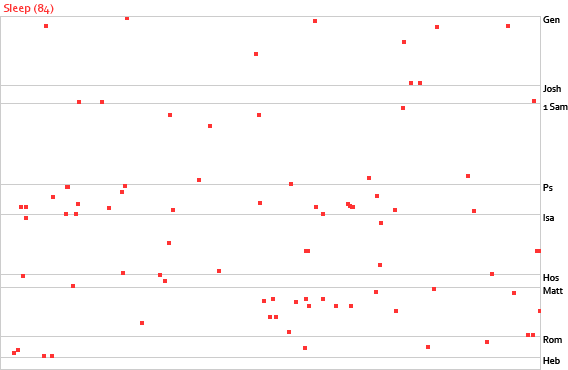 Here are the 30 best Bible scriptures on sleep.
Proverbs 3:24
If you lie down, you will not be afraid; when you lie down, your sleep will be sweet.
Psalm 4:8
In peace I will both lie down and sleep; for you alone, O Lord, make me dwell in safety.
Psalm 127:2
It is in vain that you rise up early and go late to rest, eating the bread of anxious toil; for he gives to his beloved sleep.
Proverbs 20:13
Love not sleep, lest you come to poverty; open your eyes, and you will have plenty of bread.
Psalm 3:5
I lay down and slept; I woke again, for the Lord sustained me.
1 Kings 19:5
And he lay down and slept under a broom tree. And behold, an angel touched him and said to him, "Arise and eat."
1 Peter 5:7
Casting all your anxieties on him, because he cares for you.
1 Thessalonians 4:14
For since we believe that Jesus died and rose again, even so, through Jesus, God will bring with him those who have fallen asleep.
Daniel 2:1
In the second year of the reign of Nebuchadnezzar, Nebuchadnezzar had dreams; his spirit was troubled, and his sleep left him.
Daniel 6:18
Then the king went to his palace and spent the night fasting; no diversions were brought to him, and sleep fled from him.
Ecclesiastes 5:12
Sweet is the sleep of a laborer, whether he eats little or much, but the full stomach of the rich will not let him sleep.
Genesis 2:21
So the Lord God caused a deep sleep to fall upon the man, and while he slept took one of his ribs and closed up its place with flesh.
Isaiah 26:3
You keep him in perfect peace whose mind is stayed on you, because he trusts in you.
Jeremiah 31:26
At this I awoke and looked, and my sleep was pleasant to me.
Job 11:19
You will lie down, and none will make you afraid; many will court your favor.
Job 14:12
So a man lies down and rises not again; till the heavens are no more he will not awake or be roused out of his sleep.
Job 33:15
In a dream, in a vision of the night, when deep sleep falls on men, while they slumber on their beds.
John 11:11
After saying these things, he said to them, "Our friend Lazarus has fallen asleep, but I go to awaken him."
John 11:12
The disciples said to him, "Lord, if he has fallen asleep, he will recover."
Luke 8:23
And as they sailed he fell asleep. And a windstorm came down on the lake, and they were filling with water and were in danger.
Mark 4:38
But he was in the stern, asleep on the cushion. And they woke him and said to him, "Teacher, do you not care that we are perishing?"
Mark 5:39
And when he had entered, he said to them, "Why are you making a commotion and weeping? The child is not dead but sleeping."
Matthew 10:28
"And do not fear those who kill the body but cannot kill the soul. Rather fear him who can destroy both soul and body in hell."
Matthew 11:28
"Come to me, all who labor and are heavy laden, and I will give you rest."
Matthew 27:52
The tombs also were opened. And many bodies of the saints who had fallen asleep were raised.
Matthew 6:34
"Therefore do not be anxious about tomorrow, for tomorrow will be anxious for itself. Sufficient for the day is its own trouble."
Matthew 8:24
And behold, there arose a great storm on the sea, so that the boat was being swamped by the waves; but he was asleep.
Matthew 9:24
He said, "Go away, for the girl is not dead but sleeping." And they laughed at him.
Proverbs 6:10
A little sleep, a little slumber, a little folding of the hands to rest.
Proverbs 6:9
How long will you lie there, O sluggard? When will you arise from your sleep?
More Bible Verses that Will Move You
50 Most Powerful Scriptures on Faith
60 Transcendent Verses on Trust
50 Strong Scriptures on Perseverance
68 Powerful Verses on Forgiveness
40 Uplifting Scriptures on Patience
Add Our Infographic Below to Your Pinterest Board
Hit the pin button below to add our infographic, with all the verses, to one of your Pinterest boards.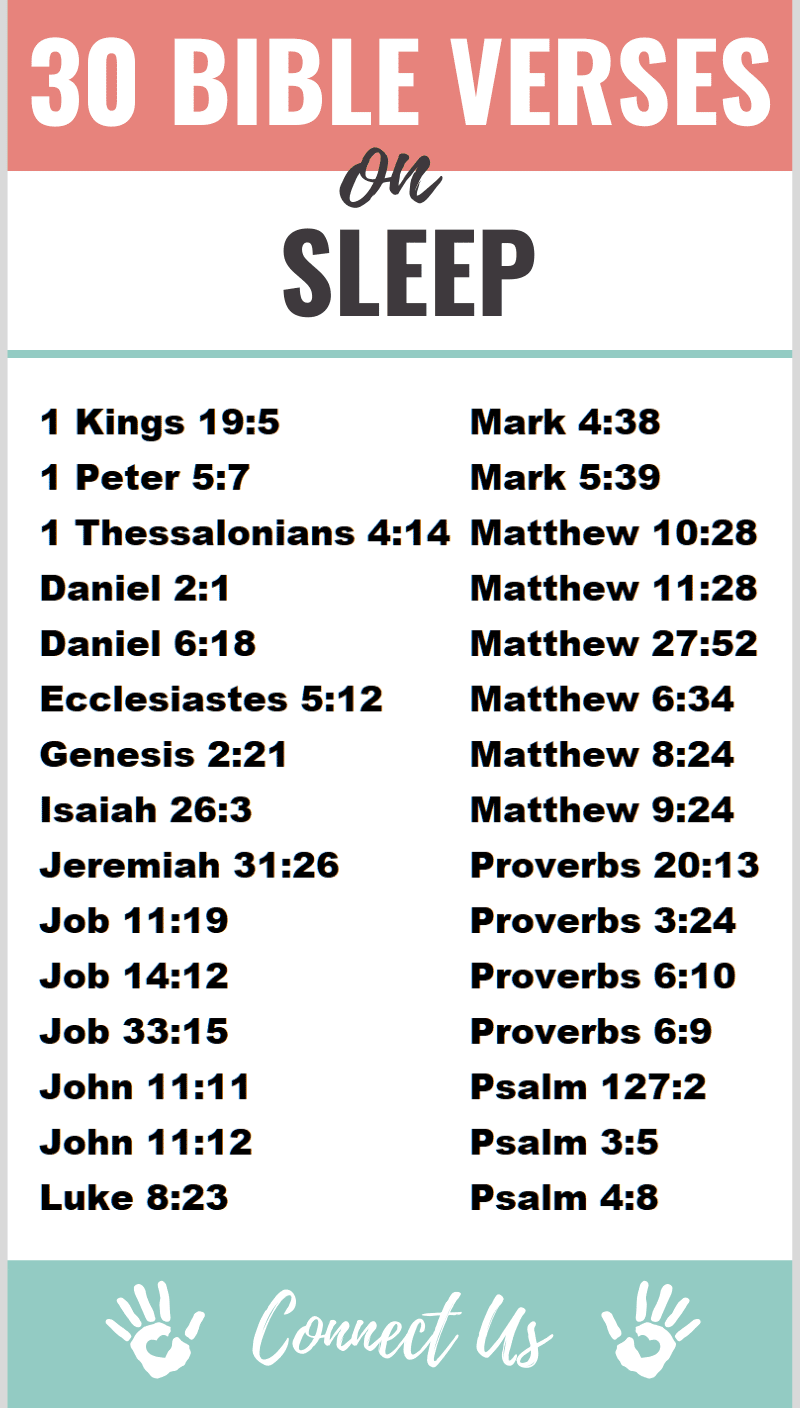 Author Bio
Natalie Regoli is a child of God, devoted wife, and mother of two boys. She has a Master's Degree in Law from The University of Texas. Natalie has been published in several national journals and has been practicing law for 18 years.