Here are the 30 most powerful Bible scriptures on surrender.
James 4:7
Submit yourselves therefore to God. Resist the devil, and he will flee from you.
Romans 12:2
Do not be conformed to this world, but be transformed by the renewal of your mind, that by testing you may discern what is the will of God, what is good and acceptable and perfect.
James 4:10
Humble yourselves before the Lord, and he will exalt you.
Romans 12:1
I appeal to you therefore, brothers, by the mercies of God, to present your bodies as a living sacrifice, holy and acceptable to God, which is your spiritual worship.
Proverbs 23:26
My son, give me your heart, and let your eyes observe my ways.
2 Corinthians 5:17
Therefore, if anyone is in Christ, he is a new creation. The old has passed away; behold, the new has come.
2 Timothy 1:7
For God gave us a spirit not of fear but of power and love and self-control.
Deuteronomy 6:5
You shall love the Lord your God with all your heart and with all your soul and with all your might.
Galatians 2:20
I have been crucified with Christ. It is no longer I who live, but Christ who lives in me. And the life I now live in the flesh I live by faith in the Son of God, who loved me and gave himself for me.
Hebrews 4:16
Let us then with confidence draw near to the throne of grace, that we may receive mercy and find grace to help in time of need.
James 1:22
But be doers of the word, and not hearers only, deceiving yourselves.
James 4:8
Draw near to God, and he will draw near to you. Cleanse your hands, you sinners, and purify your hearts, you double-minded.
Jeremiah 10:23
I know, O Lord, that the way of man is not in himself, that it is not in man who walks to direct his steps.
John 12:49
"For I have not spoken on my own authority, but the Father who sent me has himself given me a commandment—what to say and what to speak."
John 14:15
"If you love me, you will keep my commandments."
John 3:30
"He must increase, but I must decrease."
John 4:34
Jesus said to them, "My food is to do the will of him who sent me and to accomplish his work."
John 5:19
So Jesus said to them, "Truly, truly, I say to you, the Son can do nothing of his own accord, but only what he sees the Father doing. For whatever the Father does, that the Son does likewise."
Luke 14:33
"So therefore, any one of you who does not renounce all that he has cannot be my disciple."
Luke 9:23
And he said to all, "If anyone would come after me, let him deny himself and take up his cross daily and follow me."
Matthew 11:28
"Come to me, all who labor and are heavy laden, and I will give you rest."
Matthew 11:29
"Take my yoke upon you, and learn from me, for I am gentle and lowly in heart, and you will find rest for your souls."
Matthew 26:39
And going a little farther he fell on his face and prayed, saying, "My Father, if it be possible, let this cup pass from me; nevertheless, not as I will, but as you will."
Matthew 6:33
"But seek first the kingdom of God and his righteousness, and all these things will be added to you."
Matthew 7:21
"Not everyone who says to me, 'Lord, Lord,' will enter the kingdom of heaven, but the one who does the will of my Father who is in heaven."
Psalm 37:7
Be still before the Lord and wait patiently for him; fret not yourself over the one who prospers in his way, over the man who carries out evil devices!
Psalm 46:10
"Be still, and know that I am God. I will be exalted among the nations, I will be exalted in the earth!"
Psalm 50:15
"And call upon me in the day of trouble; I will deliver you, and you shall glorify me."
Psalm 9:10
And those who know your name put their trust in you, for you, O Lord, have not forsaken those who seek you.
Romans 6:13
Do not present your members to sin as instruments for unrighteousness, but present yourselves to God as those who have been brought from death to life, and your members to God as instruments for righteousness.
More Bible Verses that Will Move You
50 Most Powerful Scriptures on Faith
60 Transcendent Verses on Trust
50 Strong Scriptures on Perseverance
68 Powerful Verses on Forgiveness
40 Uplifting Scriptures on Patience
Add Our Infographic Below to Your Pinterest Board
Hit the pin button below to add our infographic, with all the verses, to one of your Pinterest boards.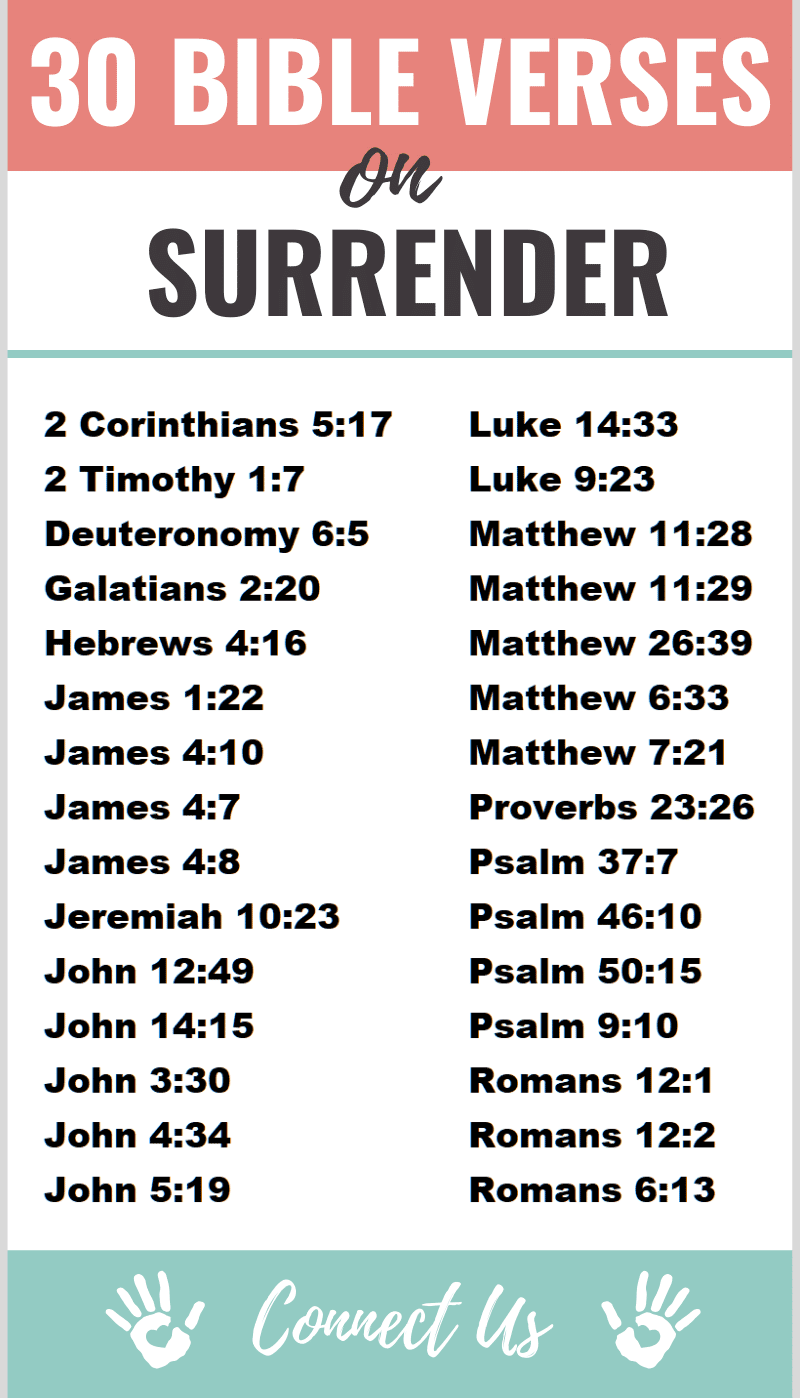 Author Bio
Natalie Regoli is a child of God, devoted wife, and mother of two boys. She has a Master's Degree in Law from The University of Texas. Natalie has been published in several national journals and has been practicing law for 18 years.