The word "water" appears 709 times throughout the books of the Bible. The graph below shows the locations of each appearance. It begins with Genesis in the top left and concludes with Revelation in the bottom right.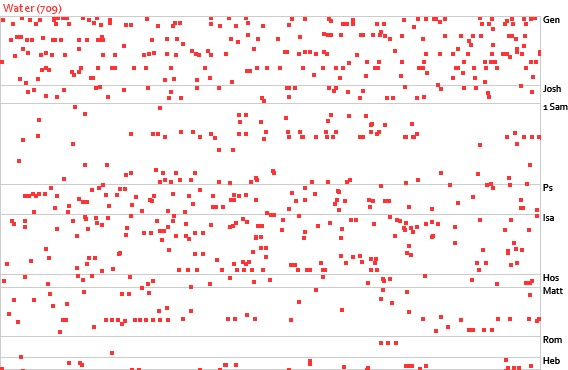 Here are the 30 best Bible scriptures on water.
John 4:14
"But whoever drinks of the water that I will give him will never be thirsty again. The water that I will give him will become in him a spring of water welling up to eternal life."
Isaiah 12:3
With joy you will draw water from the wells of salvation.
John 7:38
"Whoever believes in me, as the Scripture has said, 'Out of his heart will flow rivers of living water.'"
Isaiah 44:3
"For I will pour water on the thirsty land, and streams on the dry ground; I will pour my Spirit upon your offspring, and my blessing on your descendants."
Ezekiel 36:25
"I will sprinkle clean water on you, and you shall be clean from all your uncleannesses, and from all your idols I will cleanse you."
Amos 5:24
But let justice roll down like waters, and righteousness like an ever-flowing stream.
Ephesians 5:26
That he might sanctify her, having cleansed her by the washing of water with the word.
Exodus 17:6
"Behold, I will stand before you there on the rock at Horeb, and you shall strike the rock, and water shall come out of it, and the people will drink." And Moses did so, in the sight of the elders of Israel.
Ezekiel 47:9
And wherever the river goes, every living creature that swarms will live, and there will be very many fish. For this water goes there, that the waters of the sea may become fresh; so everything will live where the river goes.
Genesis 1:2
The earth was without form and void, and darkness was over the face of the deep. And the Spirit of God was hovering over the face of the waters.
Isaiah 43:2
"When you pass through the waters, I will be with you; and through the rivers, they shall not overwhelm you; when you walk through fire you shall not be burned, and the flame shall not consume you."
Isaiah 49:10
"They shall not hunger or thirst, neither scorching wind nor sun shall strike them, for he who has pity on them will lead them, and by springs of water will guide them."
Isaiah 55:1
"Come, everyone who thirsts, come to the waters; and he who has no money, come, buy and eat! Come, buy wine and milk without money and without price."
Isaiah 58:11
And the Lord will guide you continually and satisfy your desire in scorched places and make your bones strong; and you shall be like a watered garden, like a spring of water, whose waters do not fail.
Jeremiah 2:13
"For my people have committed two evils: they have forsaken me, the fountain of living waters, and hewed out cisterns for themselves, broken cisterns that can hold no water."
Joel 3:18
"And in that day the mountains shall drip sweet wine, and the hills shall flow with milk, and all the streambeds of Judah shall flow with water; and a fountain shall come forth from the house of the Lord and water the Valley of Shittim."
John 15:3
"Already you are clean because of the word that I have spoken to you."
John 3:5
Jesus answered, "Truly, truly, I say to you, unless one is born of water and the Spirit, he cannot enter the kingdom of God."
John 4:10
Jesus answered her, "If you knew the gift of God, and who it is that is saying to you, 'Give me a drink,' you would have asked him, and he would have given you living water."
Matthew 10:42
"And whoever gives one of these little ones even a cup of cold water because he is a disciple, truly, I say to you, he will by no means lose his reward."
Matthew 3:11
I baptize you with water for repentance, but he who is coming after me is mightier than I, whose sandals I am not worthy to carry. He will baptize you with the Holy Spirit and fire.
Matthew 3:16
And when Jesus was baptized, immediately he went up from the water, and behold, the heavens were opened to him, and he saw the Spirit of God descending like a dove and coming to rest on him.
Proverbs 18:4
The words of a man's mouth are deep waters; the fountain of wisdom is a bubbling brook.
Proverbs 5:15
Drink water from your own cistern, flowing water from your own well.
Psalm 23:2
He makes me lie down in green pastures. He leads me beside still waters.
Psalm 63:1
A Psalm of David, when he was in the wilderness of Judah. O God, you are my God; earnestly I seek you; my soul thirsts for you; my flesh faints for you, as in a dry and weary land where there is no water.
Revelation 21:6
And he said to me, "It is done! I am the Alpha and the Omega, the beginning and the end. To the thirsty I will give from the spring of the water of life without payment."
Revelation 22:1
Then the angel showed me the river of the water of life, bright as crystal, flowing from the throne of God and of the Lamb.
Revelation 22:17
"The Spirit and the Bride say, 'Come.' And let the one who hears say, 'Come.' And let the one who is thirsty come; let the one who desires take the water of life without price."
Zechariah 14:8
On that day living waters shall flow out from Jerusalem, half of them to the eastern sea and half of them to the western sea. It shall continue in summer as in winter.
More Bible Verses that Will Move You
50 Most Powerful Scriptures on Faith
60 Transcendent Verses on Trust
50 Strong Scriptures on Perseverance
68 Powerful Verses on Forgiveness
40 Uplifting Scriptures on Patience
Add Our Infographic Below to Your Pinterest Board
Hit the pin button below to add our infographic, with all the verses, to one of your Pinterest boards.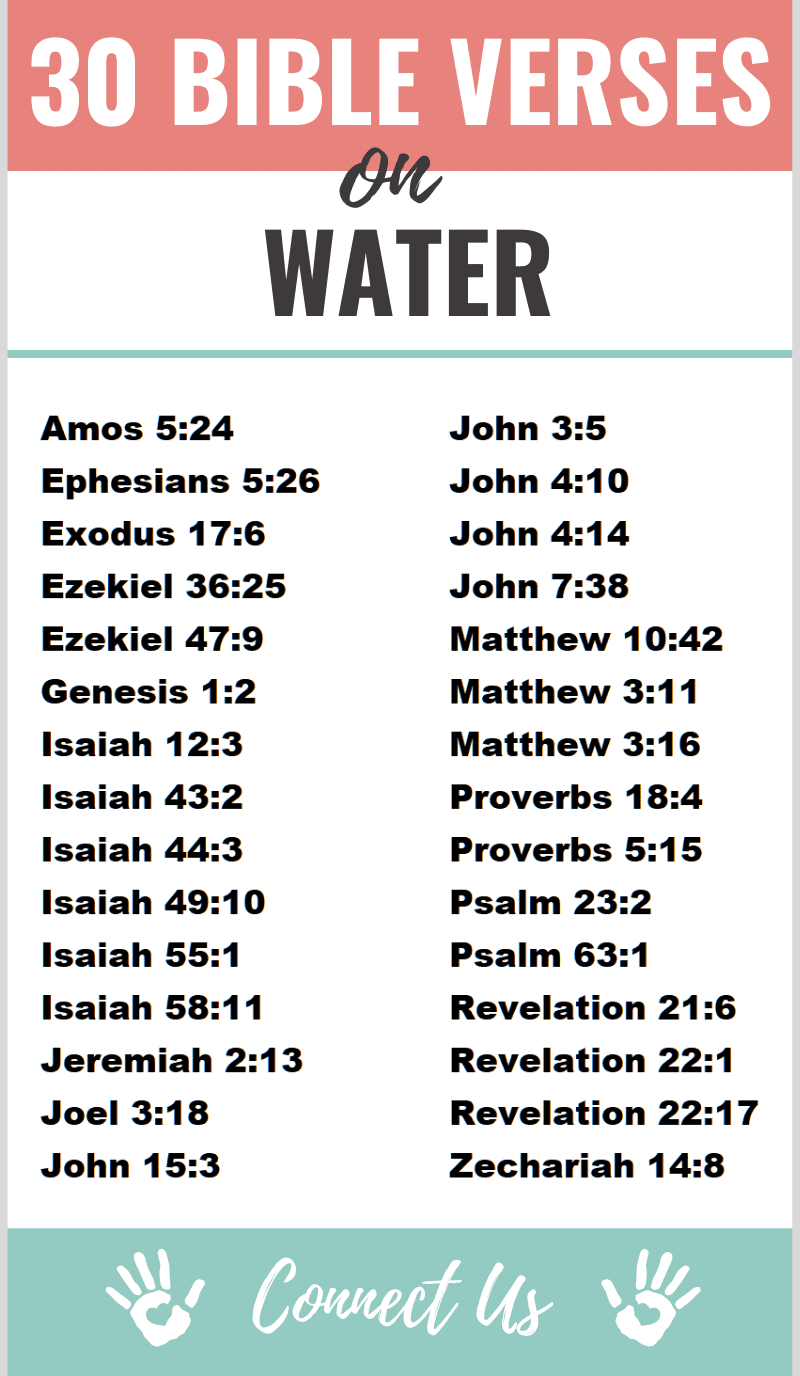 Author Bio
Natalie Regoli is a child of God, devoted wife, and mother of two boys. She has a Masters Degree in Law from The University of Texas. Natalie has been published in several national journals and has been practicing law for 18 years. If you would like to reach out to contact Natalie, then go here to
send her a message
.