Here are the 30 most comforting Bible scriptures on gentleness.
Titus 3:2
To speak evil of no one, to avoid quarreling, to be gentle, and to show perfect courtesy toward all people.
1 Peter 3:15
But in your hearts honor Christ the Lord as holy, always being prepared to make a defense to anyone who asks you for a reason for the hope that is in you; yet do it with gentleness and respect.
Proverbs 15:1
A soft answer turns away wrath, but a harsh word stirs up anger.
Psalm 18:35
You have given me the shield of your salvation, and your right hand supported me, and your gentleness made me great.
James 3:17
But the wisdom from above is first pure, then peaceable, gentle, open to reason, full of mercy and good fruits, impartial and sincere.
1 Corinthians 4:21
What do you wish? Shall I come to you with a rod, or with love in a spirit of gentleness?
1 Peter 2:23
When he was reviled, he did not revile in return; when he suffered, he did not threaten, but continued entrusting himself to him who judges justly.
1 Peter 3:4
But let your adorning be the hidden person of the heart with the imperishable beauty of a gentle and quiet spirit, which in God's sight is very precious.
1 Thessalonians 2:7
But we were gentle among you, like a nursing mother taking care of her own children.
1 Timothy 3:3
Not a drunkard, not violent but gentle, not quarrelsome, not a lover of money.
1 Timothy 6:11
But as for you, O man of God, flee these things. Pursue righteousness, godliness, faith, love, steadfastness, gentleness.
2 Corinthians 10:1
I, Paul, myself entreat you, by the meekness and gentleness of Christ—I who am humble when face to face with you, but bold toward you when I am away!
2 Samuel 22:36
You have given me the shield of your salvation, and your gentleness made me great.
Colossians 3:12
Put on then, as God's chosen ones, holy and beloved, compassionate hearts, kindness, humility, meekness, and patience.
Ephesians 4:2
With all humility and gentleness, with patience, bearing with one another in love.
Galatians 5:22
But the fruit of the Spirit is love, joy, peace, patience, kindness, goodness, faithfulness.
Galatians 5:23
Gentleness, self-control; against such things there is no law.
Galatians 5:25
If we live by the Spirit, let us also walk by the Spirit.
Galatians 6:1
Brothers, if anyone is caught in any transgression, you who are spiritual should restore him in a spirit of gentleness. Keep watch on yourself, lest you too be tempted.
Hebrews 13:5
Keep your life free from love of money, and be content with what you have, for he has said, "I will never leave you nor forsake you."
Isaiah 40:11
He will tend his flock like a shepherd; he will gather the lambs in his arms; he will carry them in his bosom, and gently lead those that are with young.
Isaiah 53:7
He was oppressed, and he was afflicted, yet he opened not his mouth; like a lamb that is led to the slaughter, and like a sheep that before its shearers is silent, so he opened not his mouth.
James 1:21
Therefore put away all filthiness and rampant wickedness and receive with meekness the implanted word, which is able to save your souls.
Matthew 11:29
"Take my yoke upon you, and learn from me, for I am gentle and lowly in heart, and you will find rest for your souls."
Matthew 5:5
"Blessed are the meek, for they shall inherit the earth."
Micah 6:8
He has told you, O man, what is good; and what does the Lord require of you but to do justice, and to love kindness, and to walk humbly with your God?
Philippians 4:5
Let your reasonableness be known to everyone. The Lord is at hand.
Proverbs 15:4
A gentle tongue is a tree of life, but perverseness in it breaks the spirit.
Proverbs 25:15
With patience a ruler may be persuaded, and a soft tongue will break a bone.
Titus 3:1
Remind them to be submissive to rulers and authorities, to be obedient, to be ready for every good work.
More Bible Verses that Will Move You
50 Most Powerful Scriptures on Faith
60 Transcendent Verses on Trust
50 Strong Scriptures on Perseverance
68 Powerful Verses on Forgiveness
40 Uplifting Scriptures on Patience
Add Our Infographic Below to Your Pinterest Board
Hit the pin button below to add our infographic, with all the verses, to one of your Pinterest boards.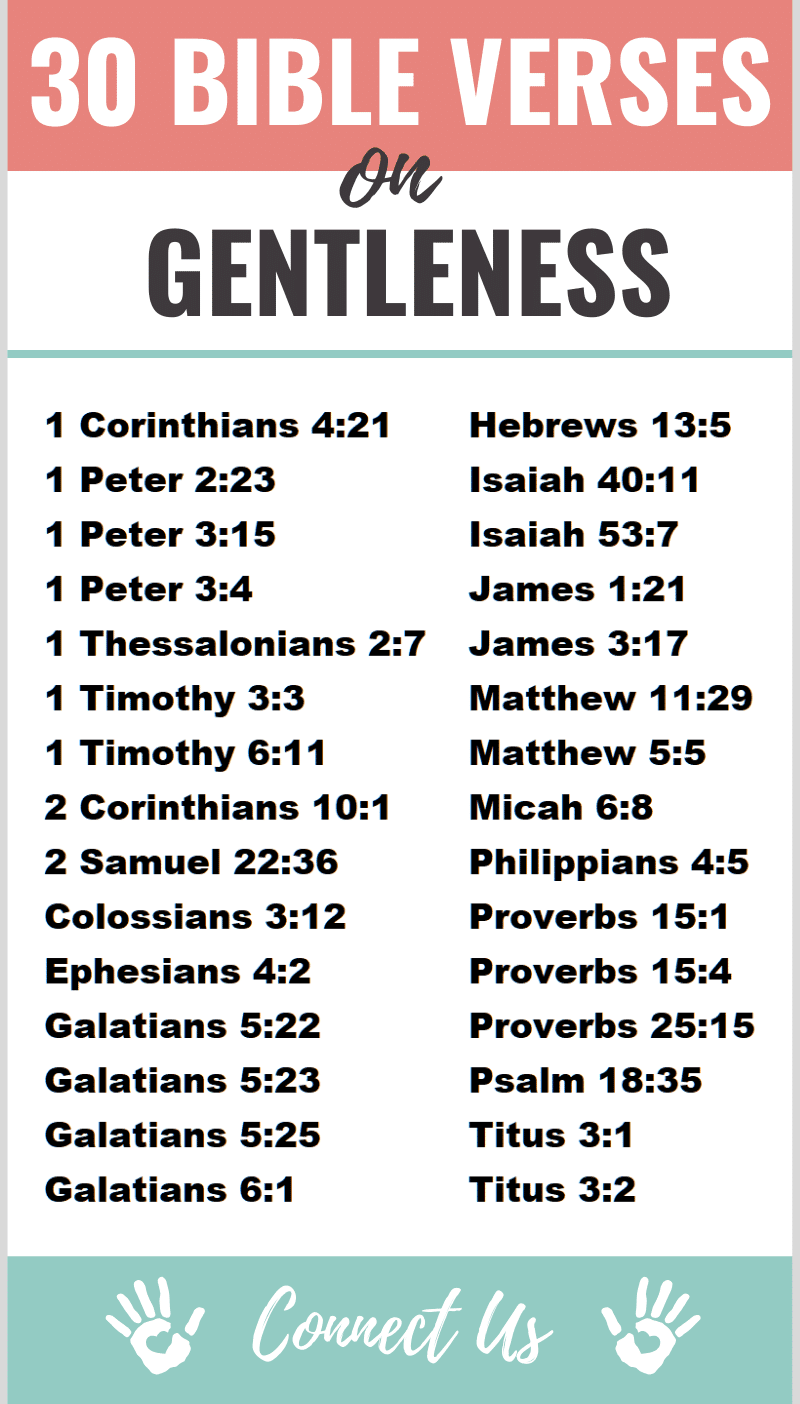 Author Bio
Natalie Regoli is a child of God, devoted wife, and mother of two boys. She has a Master's Degree in Law from The University of Texas. Natalie has been published in several national journals and has been practicing law for 18 years.