The word "work" appears 683 times throughout the books of the Bible. The graph below shows the locations of each appearance. It begins with Genesis in the top left and concludes with Revelation in the bottom right.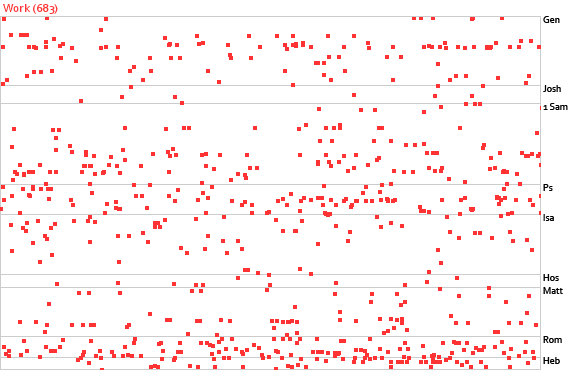 Here are the 30 most compelling Bible scriptures on hard work.
Colossians 3:23
Whatever you do, work heartily, as for the Lord and not for men.
Proverbs 13:4
The soul of the sluggard craves and gets nothing, while the soul of the diligent is richly supplied.
Proverbs 14:23
In all toil there is profit, but mere talk tends only to poverty.
Philippians 4:13
I can do all things through him who strengthens me.
Proverbs 16:3
Commit your work to the Lord, and your plans will be established.
1 Corinthians 10:31
So, whether you eat or drink, or whatever you do, do all to the glory of God.
1 Timothy 5:8
But if anyone does not provide for his relatives, and especially for members of his household, he has denied the faith and is worse than an unbeliever.
2 Timothy 2:6
It is the hard-working farmer who ought to have the first share of the crops.
Acts 20:35
In all things I have shown you that by working hard in this way we must help the weak and remember the words of the Lord Jesus, how he himself said, "It is more blessed to give than to receive."
Colossians 3:17
And whatever you do, in word or deed, do everything in the name of the Lord Jesus, giving thanks to God the Father through him.
Colossians 3:24
Knowing that from the Lord you will receive the inheritance as your reward. You are serving the Lord Christ.
Ecclesiastes 2:24
There is nothing better for a person than that he should eat and drink and find enjoyment in his toil. This also, I saw, is from the hand of God.
Ecclesiastes 9:10
Whatever your hand finds to do, do it with your might, for there is no work or thought or knowledge or wisdom in Sheol, to which you are going.
Ephesians 4:28
Let the thief no longer steal, but rather let him labor, doing honest work with his own hands, so that he may have something to share with anyone in need.
Ephesians 6:7
Rendering service with a good will as to the Lord and not to man.
Galatians 6:9
And let us not grow weary of doing good, for in due season we will reap, if we do not give up.
Genesis 2:15
The Lord God took the man and put him in the garden of Eden to work it and keep it.
Isaiah 41:13
"For I, the Lord your God, hold your right hand; it is I who say to you, 'Fear not, I am the one who helps you.'"
James 2:17
So also faith by itself, if it does not have works, is dead.
Jeremiah 29:11
"For I know the plans I have for you," declares the Lord, "plans for welfare and not for evil, to give you a future and a hope."
John 5:17
But Jesus answered them, "My Father is working until now, and I am working."
Luke 1:37
For nothing will be impossible with God.
Matthew 5:16
"In the same way, let your light shine before others, so that they may see your good works and give glory to your Father who is in heaven."
Proverbs 12:11
Whoever works his land will have plenty of bread, but he who follows worthless pursuits lacks sense.
Proverbs 12:24
The hand of the diligent will rule, while the slothful will be put to forced labor.
Proverbs 18:9
Whoever is slack in his work is a brother to him who destroys.
Proverbs 22:29
Do you see a man skillful in his work? He will stand before kings; he will not stand before obscure men.
Psalm 128:2
You shall eat the fruit of the labor of your hands; you shall be blessed, and it shall be well with you.
Psalm 37:5
Commit your way to the Lord; trust in him, and he will act.
Psalm 90:17
Let the favor of the Lord our God be upon us, and establish the work of our hands upon us; yes, establish the work of our hands!
More Bible Verses that Will Move You
50 Most Powerful Scriptures on Faith
60 Transcendent Verses on Trust
50 Strong Scriptures on Perseverance
68 Powerful Verses on Forgiveness
40 Uplifting Scriptures on Patience
Add Our Infographic Below to Your Pinterest Board
Hit the pin button below to add our infographic, with all the verses, to one of your Pinterest boards.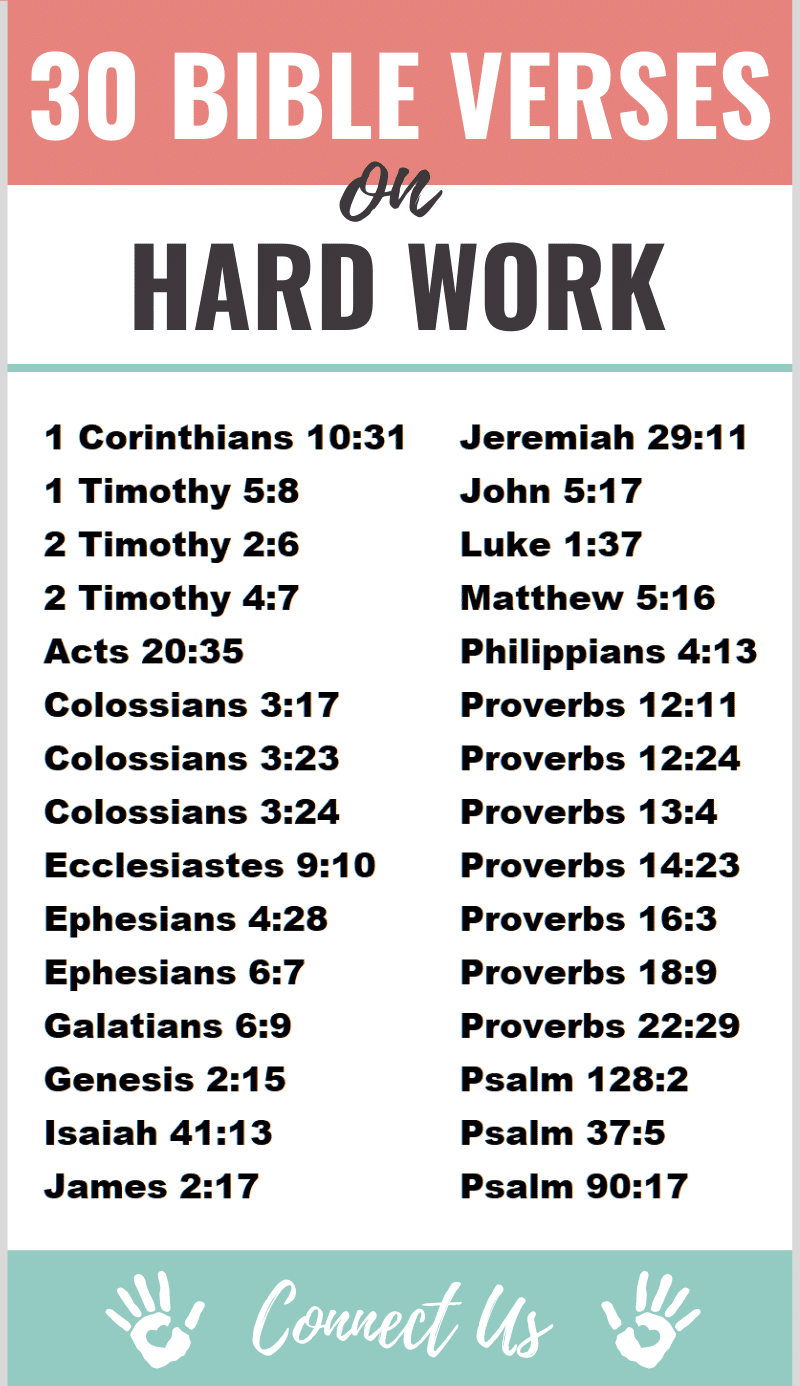 Author Bio
Natalie Regoli is a child of God, devoted wife, and mother of two boys. She has a Masters Degree in Law from The University of Texas. Natalie has been published in several national journals and has been practicing law for 18 years. If you would like to reach out to contact Natalie, then go here to
send her a message
.