Here are the 30 most compelling Bible scriptures on hypocrisy.
1 John 4:20
If anyone says, "I love God," and hates his brother, he is a liar; for he who does not love his brother whom he has seen cannot love God whom he has not seen.
Matthew 7:5
"You hypocrite, first take the log out of your own eye, and then you will see clearly to take the speck out of your brother's eye."
James 1:26
If anyone thinks he is religious and does not bridle his tongue but deceives his heart, this person's religion is worthless.
Matthew 6:1
"Beware of practicing your righteousness before other people in order to be seen by them, for then you will have no reward from your Father who is in heaven."
Romans 2:3
Do you suppose, O man—you who judge those who practice such things and yet do them yourself—that you will escape the judgment of God?
1 John 1:6
If we say we have fellowship with him while we walk in darkness, we lie and do not practice the truth.
1 John 2:4
Whoever says "I know him" but does not keep his commandments is a liar, and the truth is not in him.
1 John 2:9
Whoever says he is in the light and hates his brother is still in darkness.
1 Peter 2:1
So put away all malice and all deceit and hypocrisy and envy and all slander.
1 Peter 2:16
Live as people who are free, not using your freedom as a cover-up for evil, but living as servants of God.
2 Timothy 3:5
Having the appearance of godliness, but denying its power. Avoid such people.
Galatians 6:3
For if anyone thinks he is something, when he is nothing, he deceives himself.
Isaiah 29:13
And the Lord said: "Because this people draw near with their mouth and honor me with their lips, while their hearts are far from me, and their fear of me is a commandment taught by men."
Luke 12:2
"Nothing is covered up that will not be revealed, or hidden that will not be known."
Luke 16:15
And he said to them, "You are those who justify yourselves before men, but God knows your hearts. For what is exalted among men is an abomination in the sight of God."
Luke 6:46
"Why do you call me 'Lord, Lord,' and not do what I tell you?"
Matthew 22:18
But Jesus, aware of their malice, said, "Why put me to the test, you hypocrites?"
Matthew 23:13
"But woe to you, scribes and Pharisees, hypocrites! For you shut the kingdom of heaven in people's faces. For you neither enter yourselves nor allow those who would enter to go in."
Matthew 23:15
"Woe to you, scribes and Pharisees, hypocrites! For you travel across sea and land to make a single proselyte, and when he becomes a proselyte, you make him twice as much a child of hell as yourselves."
Matthew 23:23
"Woe to you, scribes and Pharisees, hypocrites! For you tithe mint and dill and cumin, and have neglected the weightier matters of the law: justice and mercy and faithfulness. These you ought to have done, without neglecting the others."
Matthew 23:27
"Woe to you, scribes and Pharisees, hypocrites! For you are like whitewashed tombs, which outwardly appear beautiful, but within are full of dead people's bones and all uncleanness."
Matthew 23:5
"They do all their deeds to be seen by others. For they make their phylacteries broad and their fringes long."
Matthew 6:16
"And when you fast, do not look gloomy like the hypocrites, for they disfigure their faces that their fasting may be seen by others. Truly, I say to you, they have received their reward."
Matthew 6:2
"Thus, when you give to the needy, sound no trumpet before you, as the hypocrites do in the synagogues and in the streets, that they may be praised by others. Truly, I say to you, they have received their reward."
Matthew 6:5
"And when you pray, you must not be like the hypocrites. For they love to stand and pray in the synagogues and at the street corners, that they may be seen by others. Truly, I say to you, they have received their reward."
Matthew 7:15
"Beware of false prophets, who come to you in sheep's clothing but inwardly are ravenous wolves."
Psalm 101:7
No one who practices deceit shall dwell in my house; no one who utters lies shall continue before my eyes.
Psalm 55:21
His speech was smooth as butter, yet war was in his heart; his words were softer than oil, yet they were drawn swords.
Romans 2:1
Therefore you have no excuse, O man, every one of you who judges. For in passing judgment on another you condemn yourself, because you, the judge, practice the very same things.
Titus 1:16
They profess to know God, but they deny him by their works. They are detestable, disobedient, unfit for any good work.
More Bible Verses that Will Move You
50 Most Powerful Scriptures on Faith
60 Transcendent Verses on Trust
50 Strong Scriptures on Perseverance
68 Powerful Verses on Forgiveness
40 Uplifting Scriptures on Patience
Add Our Infographic Below to Your Pinterest Board
Hit the pin button below to add our infographic, with all the verses, to one of your Pinterest boards.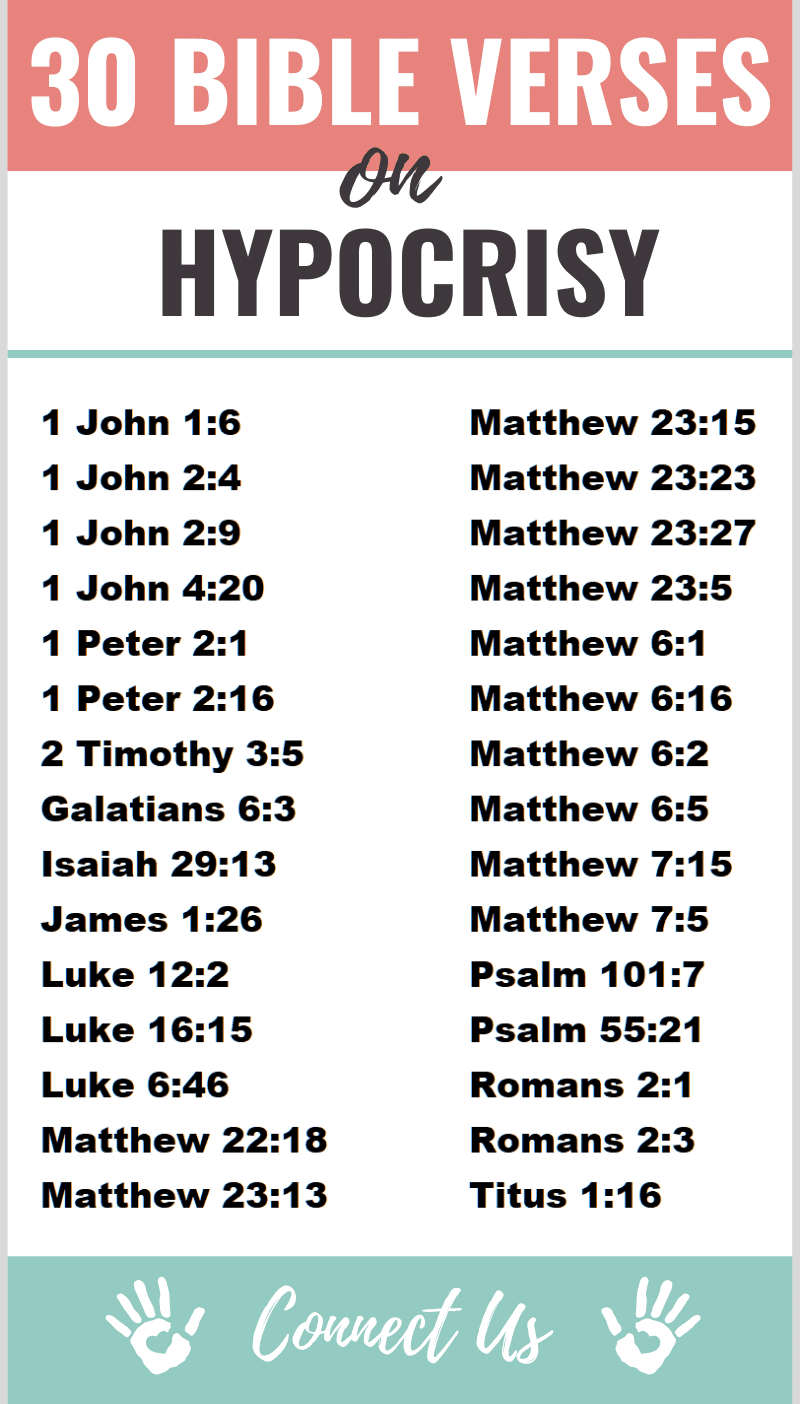 Author Bio
Natalie Regoli is a child of God, devoted wife, and mother of two boys. She has a Master's Degree in Law from The University of Texas. Natalie has been published in several national journals and has been practicing law for 18 years.