Here are the 30 most compelling Bible scriptures on judging others.
Luke 6:37
"Judge not, and you will not be judged; condemn not, and you will not be condemned; forgive, and you will be forgiven."
John 7:24
"Do not judge by appearances, but judge with right judgment."
James 4:12
There is only one lawgiver and judge, he who is able to save and to destroy. But who are you to judge your neighbor?
Ephesians 4:29
Let no corrupting talk come out of your mouths, but only such as is good for building up, as fits the occasion, that it may give grace to those who hear.
Matthew 7:5
You hypocrite, first take the log out of your own eye, and then you will see clearly to take the speck out of your brother's eye.
1 Corinthians 2:15
The spiritual person judges all things, but is himself to be judged by no one.
1 Corinthians 4:5
Therefore do not pronounce judgment before the time, before the Lord comes, who will bring to light the things now hidden in darkness and will disclose the purposes of the heart. Then each one will receive his commendation from God.
1 Samuel 16:7
But the Lord said to Samuel, "Do not look on his appearance or on the height of his stature, because I have rejected him. For the Lord sees not as man sees: man looks on the outward appearance, but the Lord looks on the heart."
2 Corinthians 5:10
For we must all appear before the judgment seat of Christ, so that each one may receive what is due for what he has done in the body, whether good or evil.
Galatians 5:14
For the whole law is fulfilled in one word: "You shall love your neighbor as yourself."
Galatians 6:1
Brothers, if anyone is caught in any transgression, you who are spiritual should restore him in a spirit of gentleness. Keep watch on yourself, lest you too be tempted.
Isaiah 11:3
And his delight shall be in the fear of the Lord. He shall not judge by what his eyes see, or decide disputes by what his ears hear.
James 1:26
If anyone thinks he is religious and does not bridle his tongue but deceives his heart, this person's religion is worthless.
James 3:17
But the wisdom from above is first pure, then peaceable, gentle, open to reason, full of mercy and good fruits, impartial and sincere.
James 4:11
Do not speak evil against one another, brothers. The one who speaks against a brother or judges his brother, speaks evil against the law and judges the law. But if you judge the law, you are not a doer of the law but a judge.
James 5:9
Do not grumble against one another, brothers, so that you may not be judged; behold, the Judge is standing at the door.
John 3:17
For God did not send his Son into the world to condemn the world, but in order that the world might be saved through him.
John 8:7
And as they continued to ask him, he stood up and said to them, "Let him who is without sin among you be the first to throw a stone at her."
Leviticus 19:15
"You shall do no injustice in court. You shall not be partial to the poor or defer to the great, but in righteousness shall you judge your neighbor."
Luke 6:31
"And as you wish that others would do to you, do so to them."
Matthew 7:1
"Judge not, that you be not judged."
Matthew 7:12
"So whatever you wish that others would do to you, do also to them, for this is the Law and the Prophets."
Matthew 7:15
"Beware of false prophets, who come to you in sheep's clothing but inwardly are ravenous wolves."
Matthew 7:2
"For with the judgment you pronounce you will be judged, and with the measure you use it will be measured to you."
Matthew 7:6
"Do not give dogs what is holy, and do not throw your pearls before pigs, lest they trample them underfoot and turn to attack you."
Proverbs 31:9
Open your mouth, judge righteously, defend the rights of the poor and needy.
Romans 14:1
As for the one who is weak in faith, welcome him, but not to quarrel over opinions.
Romans 14:10
Why do you pass judgment on your brother? Or you, why do you despise your brother? For we will all stand before the judgment seat of God.
Romans 2:1
Therefore you have no excuse, O man, every one of you who judges. For in passing judgment on another you condemn yourself, because you, the judge, practice the very same things.
Romans 2:3
Do you suppose, O man—you who judge those who practice such things and yet do them yourself—that you will escape the judgment of God?
More Bible Verses that Will Move You
50 Most Powerful Scriptures on Faith
60 Transcendent Verses on Trust
50 Strong Scriptures on Perseverance
68 Powerful Verses on Forgiveness
40 Uplifting Scriptures on Patience
Add Our Infographic Below to Your Pinterest Board
Hit the pin button below to add our infographic, with all the verses, to one of your Pinterest boards.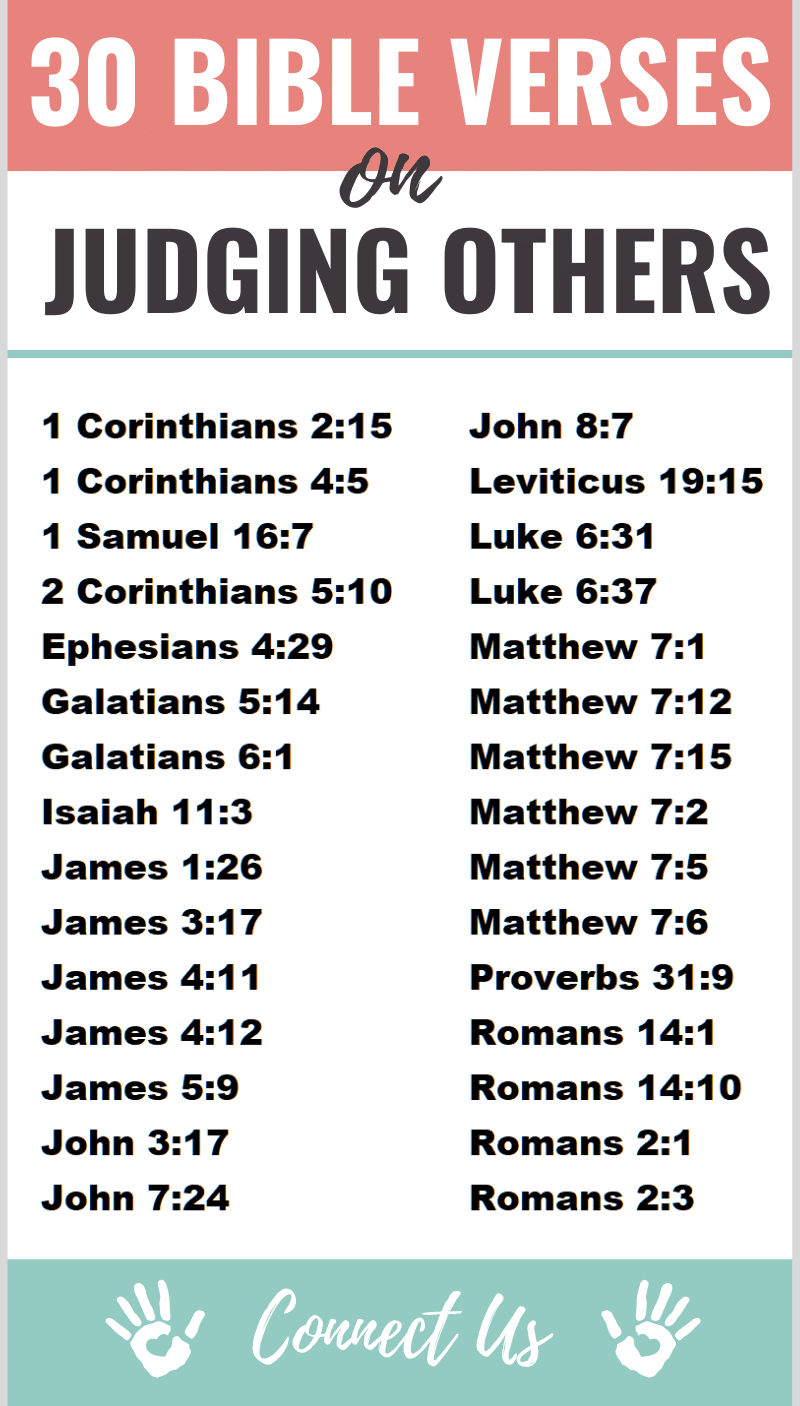 Author Bio
Natalie Regoli is a child of God, devoted wife, and mother of two boys. She has a Master's Degree in Law from The University of Texas. Natalie has been published in several national journals and has been practicing law for 18 years.