Here are the 30 most compelling Bible scriptures on laziness.
Proverbs 13:4
The soul of the sluggard craves and gets nothing, while the soul of the diligent is richly supplied.
Colossians 3:23
Whatever you do, work heartily, as for the Lord and not for men.
2 Thessalonians 3:10
For even when we were with you, we would give you this command: If anyone is not willing to work, let him not eat.
Proverbs 10:4
A slack hand causes poverty, but the hand of the diligent makes rich.
Proverbs 18:9
Whoever is slack in his work is a brother to him who destroys.
1 Timothy 5:8
But if anyone does not provide for his relatives, and especially for members of his household, he has denied the faith and is worse than an unbeliever.
2 Timothy 2:15
Do your best to present yourself to God as one approved, a worker who has no need to be ashamed, rightly handling the word of truth.
Colossians 3:17
And whatever you do, in word or deed, do everything in the name of the Lord Jesus, giving thanks to God the Father through him.
Ecclesiastes 10:18
Through sloth the roof sinks in, and through indolence the house leaks.
Ecclesiastes 9:10
Whatever your hand finds to do, do it with your might, for there is no work or thought or knowledge or wisdom in Sheol, to which you are going.
Ephesians 4:28
Let the thief no longer steal, but rather let him labor, doing honest work with his own hands, so that he may have something to share with anyone in need.
Genesis 2:15
The Lord God took the man and put him in the garden of Eden to work it and keep it.
Hebrews 12:11
For the moment all discipline seems painful rather than pleasant, but later it yields the peaceful fruit of righteousness to those who have been trained by it.
Hebrews 13:16
Do not neglect to do good and to share what you have, for such sacrifices are pleasing to God.
Hebrews 6:12
So that you may not be sluggish, but imitators of those who through faith and patience inherit the promises.
James 1:22
But be doers of the word, and not hearers only, deceiving yourselves.
James 2:18
But someone will say, "You have faith and I have works." Show me your faith apart from your works, and I will show you my faith by my works.
James 4:17
So whoever knows the right thing to do and fails to do it, for him it is sin.
John 5:17
But Jesus answered them, "My Father is working until now, and I am working."
Proverbs 10:26
Like vinegar to the teeth and smoke to the eyes, so is the sluggard to those who send him.
Proverbs 10:5
He who gathers in summer is a prudent son, but he who sleeps in harvest is a son who brings shame.
Proverbs 12:24
The hand of the diligent will rule, while the slothful will be put to forced labor.
Proverbs 12:27
Whoever is slothful will not roast his game, but the diligent man will get precious wealth.
Proverbs 14:23
In all toil there is profit, but mere talk tends only to poverty.
Proverbs 19:15
Slothfulness casts into a deep sleep, and an idle person will suffer hunger.
Proverbs 20:13
Love not sleep, lest you come to poverty; open your eyes, and you will have plenty of bread.
Proverbs 20:4
The sluggard does not plow in the autumn; he will seek at harvest and have nothing.
Proverbs 21:25
The desire of the sluggard kills him, for his hands refuse to labor.
Proverbs 6:6
Go to the ant, O sluggard; consider her ways, and be wise.
Romans 12:11
Do not be slothful in zeal, be fervent in spirit, serve the Lord.
More Bible Verses that Will Move You
50 Most Powerful Scriptures on Faith
60 Transcendent Verses on Trust
50 Strong Scriptures on Perseverance
68 Powerful Verses on Forgiveness
40 Uplifting Scriptures on Patience
Add Our Infographic Below to Your Pinterest Board
Hit the pin button below to add our infographic, with all the verses, to one of your Pinterest boards.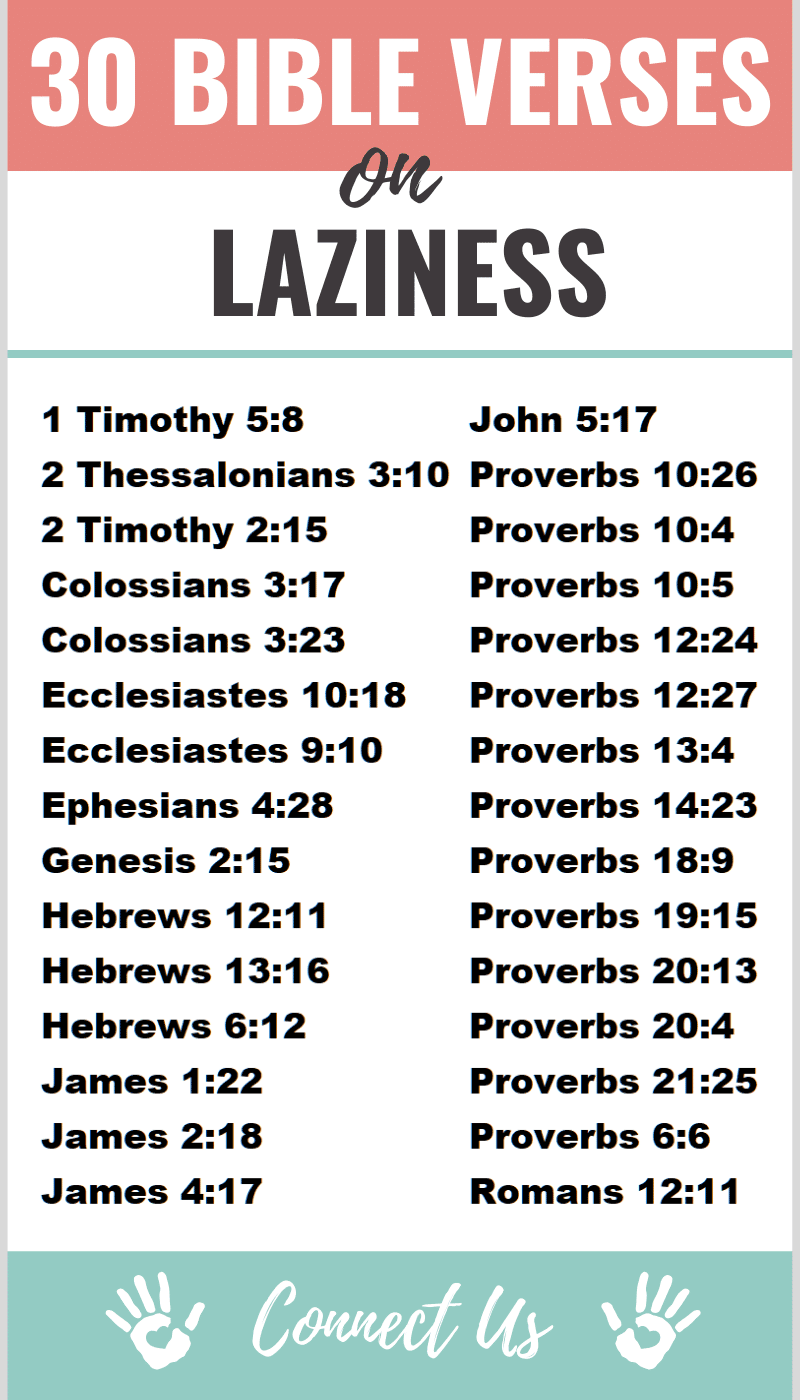 Author Bio
Natalie Regoli is a child of God, devoted wife, and mother of two boys. She has a Master's Degree in Law from The University of Texas. Natalie has been published in several national journals and has been practicing law for 18 years.