Matthew 4:19
"'Come, follow me,' Jesus said, 'and I will send you out to fish for people.'"
Explanation and Commentary of Matthew 4:19
This was Jesus' instruction to Peter, but he obviously meant it for John and James as well, who were present and also obeyed. These men were commercial fishermen, and the statement follows a miracle done by Jesus in which they threw their nets out at Jesus' request after fishing unsuccessfully all night. Though it was the middle of the day and in deep waters, the catch was miraculously large, and the fishermen marveled.
Then came the invitation to follow Jesus and join in his ministry. By the grace of God, they laid down their nets and followed. Jesus calls us all in the same way. One way or another, he shows himself. Some, even today are privy to a sign or wonder in their lives that leave them thinking, "There must be a God!" Others sense the evidence in his good created order and just know that the Bible is true and Jesus is to be trusted. Still, others live through experiences that drive them to the Savior who, is gracious and compassionate to save, and they follow him.
No matter how one comes to see Christ as Lord and Savior, the invitation must be accepted. Christ was always moving forward, and his invitation was always to follow him on his path. The result for Peter, James, and John, and for any today who will accept the invitation, is to lay down our lives and "follow," becoming fishers of men.
Breaking Down the Key Parts of Matthew 4:19
#1 "'Come, follow me,' Jesus said,"
Much of Christianity in today's culture has been reduced to, "Say this prayer to ask Jesus into your heart, and you will go to heaven." But that was never how Jesus invited people. He said to "follow him." He is to be both Savior and Lord. To receive his salvation is to give him Lordship of your whole life and to go where he leads.
#2 "'and I will send you out to fish for people.'"
There is no other kind of disciple than one who is sent. Jesus calls us, teaches us, empowers us, and then sends us to fish for people. He ascended into heaven (Acts 1:9-12) and will return again. It seems to be the only reason that he did not take us with him is that the mission must be completed by his empowered and Spirit-filled Church. Today, Jesus' call is the same. Join in and fish for people until he returns. The language of the great commission shows that this is what he waits for (Mt 28:18-20).
Expert Overview of Matthew Ch. 1-13
Biblical Translations of Matthew 4:19
NIV
"Come, follow me," Jesus said, "and I will send you out to fish for people."
NLT
Jesus called out to them, "Come, follow me, and I will show you how to fish for people!"
ESV
And he said to them, "Follow me, and I will make you fishers of men."
KJV
And he saith unto them, "Follow me, and I will make you fishers of men."
NKJV
Then He said to them, "Follow Me, and I will make you fishers of men."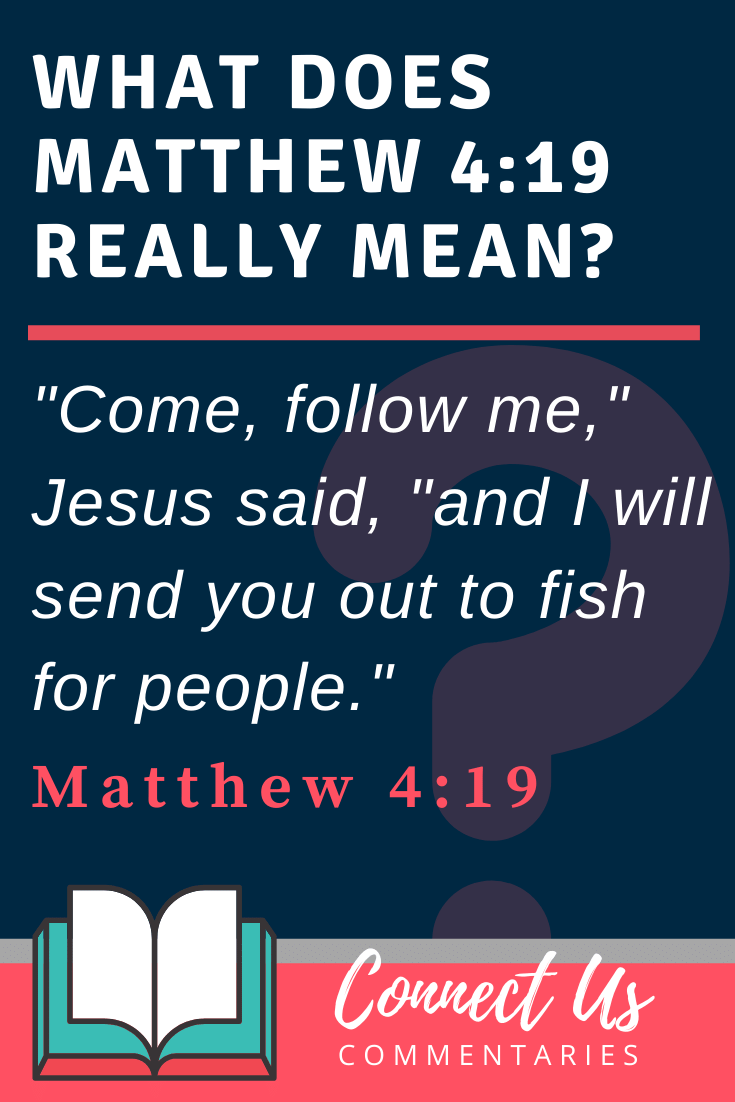 Author Bio
Natalie Regoli is a child of God, devoted wife, and mother of two boys. She has a Master's Degree in Law from The University of Texas. Natalie has been published in several national journals and has been practicing law for 18 years.