Our main mission in life as Christians is to spread the love of Christ to those who have yet to receive and accept the message. Here are 23 powerful prayers for evangelism, including images you can print to use and share.
A Prayer for Boldness
Righteous Savior, as I look out over this city, I see so many who are lost and afraid. And yet in my own strength, I know that there is nothing I can do. I am shy. I am timid. Father, increase my faith. Give me the boldness I need to fill this city with the glorious hope of eternal life in Your Son, Jesus. Amen.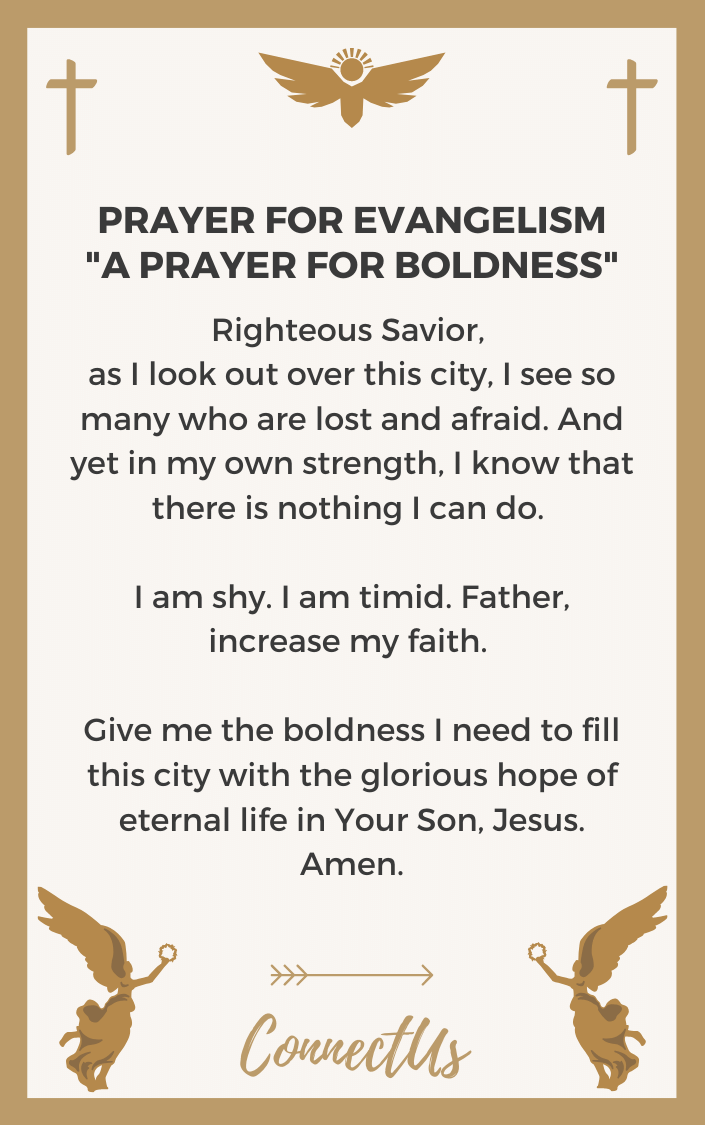 A Prayer for Fruitfulness
Dear Heavenly Father, I pray that as the seeds of the gospel are scattered and planted today, that they would land on good soil. Make them bear fruit, Father. Scare away the crows. Enrich the rocky soil. Strangle the weeds. Instead, give us rich, healthy soil ready to receive the seeds of the gospel. In Jesus' name, I pray, Amen.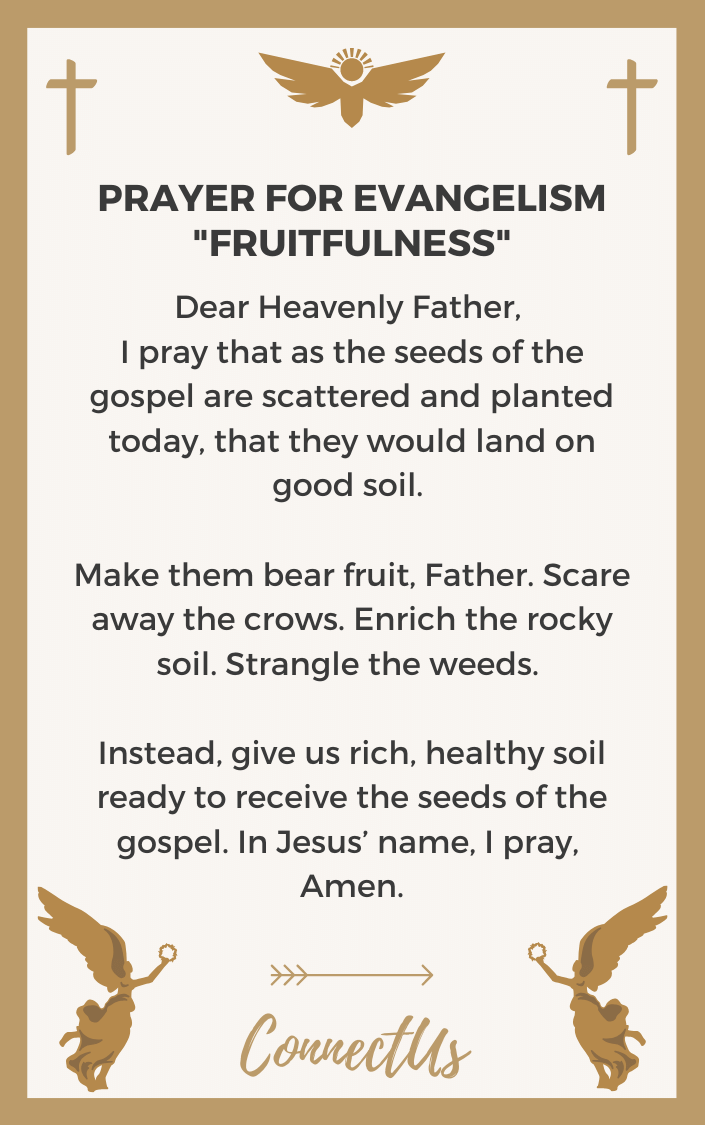 A Prayer for the Distracted
Jesus, my Savior, unfortunately, there are so many people in the world today who are so distracted by the pursuit of money, or by their screens, that they don't even know You are right there next to them, calling them to the greatest adventure ever: life eternal with You. Jesus, please overcome these distractions, get their attention, and wow them with the gospel. Put the words in my mouth to keep their attention, and turn them forever to You. In Jesus' name, I pray, Amen.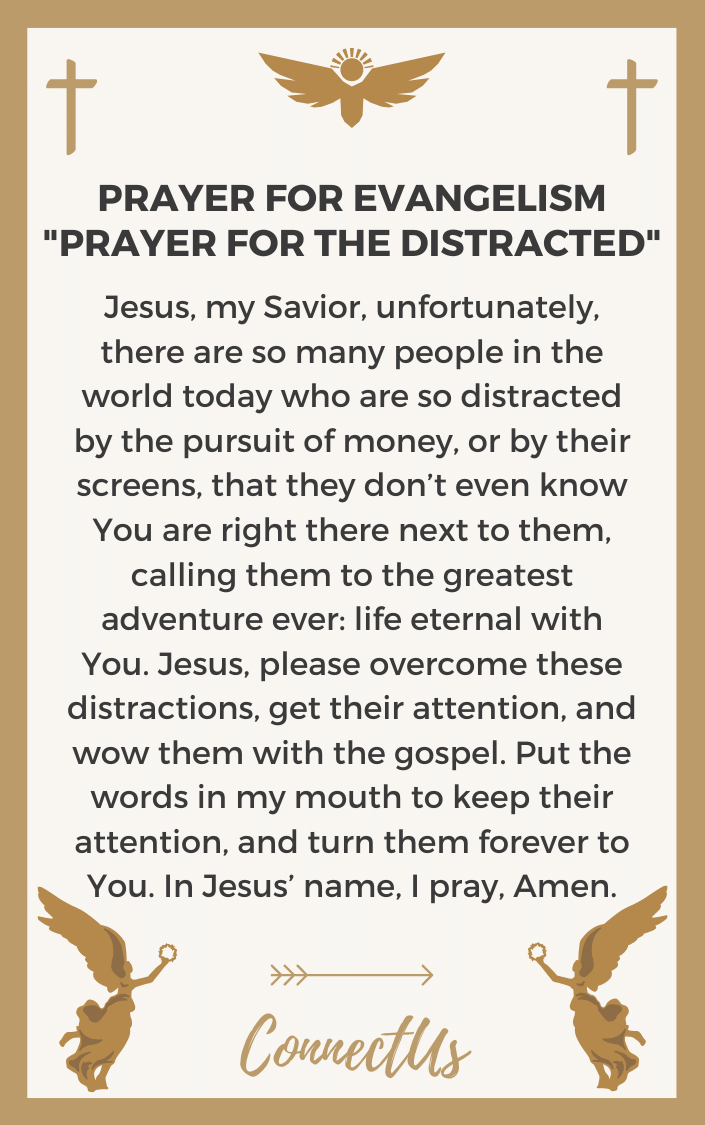 A Prayer for Opportunity
Jesus, my Savior, I long for the opportunity to proclaim the goodness of Your name. As I go out today, please bring me into contact with those who have been given eyes to see and ears to hear. Direct my steps and lead me into the conversations You want me to have today, Jesus. In Jesus' name, I pray, Amen.
A Prayer for Salvation
Precious Holy Spirit, I know that unless You build the house, my labor is in vain. I could share the gospel a thousand times today, Holy Spirit, and yet, unless You come in power and do the mighty work of salvation, no one will believe. Holy Spirit, come. Save the lost and hurting who hear the gospel today. Amen.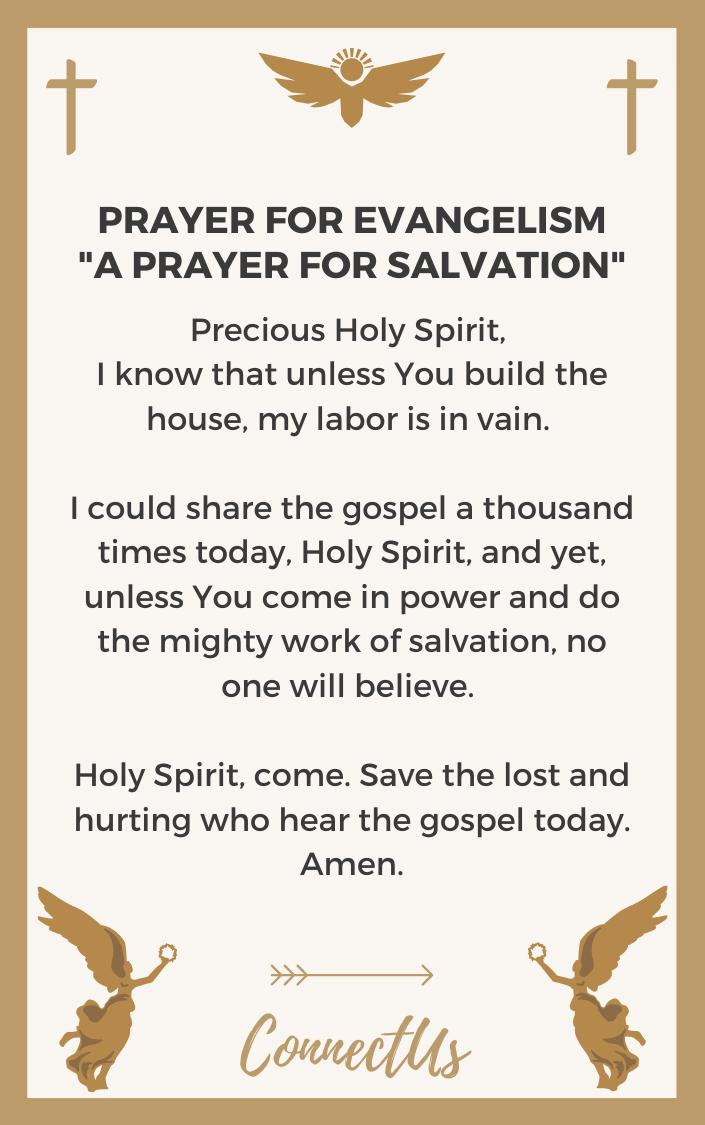 A Prayer for Thanksgiving
O Jehovah, my God, who am I that You are mindful of me? I am but a mist, yet You choose to do the awesome work of evangelism through me. You could do this work on Your own, and yet in Your infinite grace, You include me. God, You are good. I praise Your name for Your goodness and for giving me the chance to share Your love today. In Jesus' name, Amen.
A Prayer for My Neighbor
Jesus, our Great Redeemer, as I go out to proclaim the gospel today, help me not to overlook my neighbor. You have called me to love my neighbor as myself, Jesus. I want to share my greatest treasure with my neighbor, Jesus. That treasure is You. Bring to my mind ways I can love and bless my neighbor, and grant that I might have the privilege of testifying to Your goodness to my neighbor today. In Jesus' name, Amen.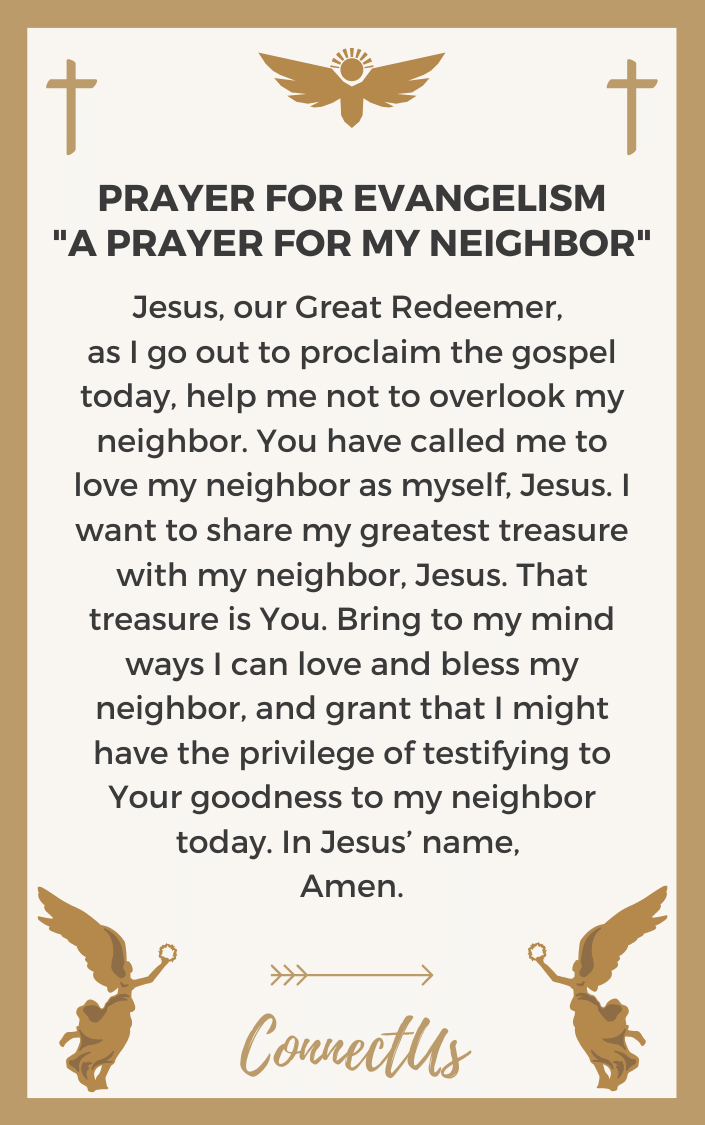 A Prayer for Unexpected Fruit
Lord Jehovah, Self-Existent One, I have my own ideas about who is worthy of salvation. But Your ways are not my ways, Lord. You worked through prostitutes and tax collectors and sinners. You came not to call the righteous, but sinners, to repentance. Give me the courage of faith to believe that even those I would shy away from and hesitate to share the gospel with might come to faith if I but take a moment to show them Your gospel love. Amen.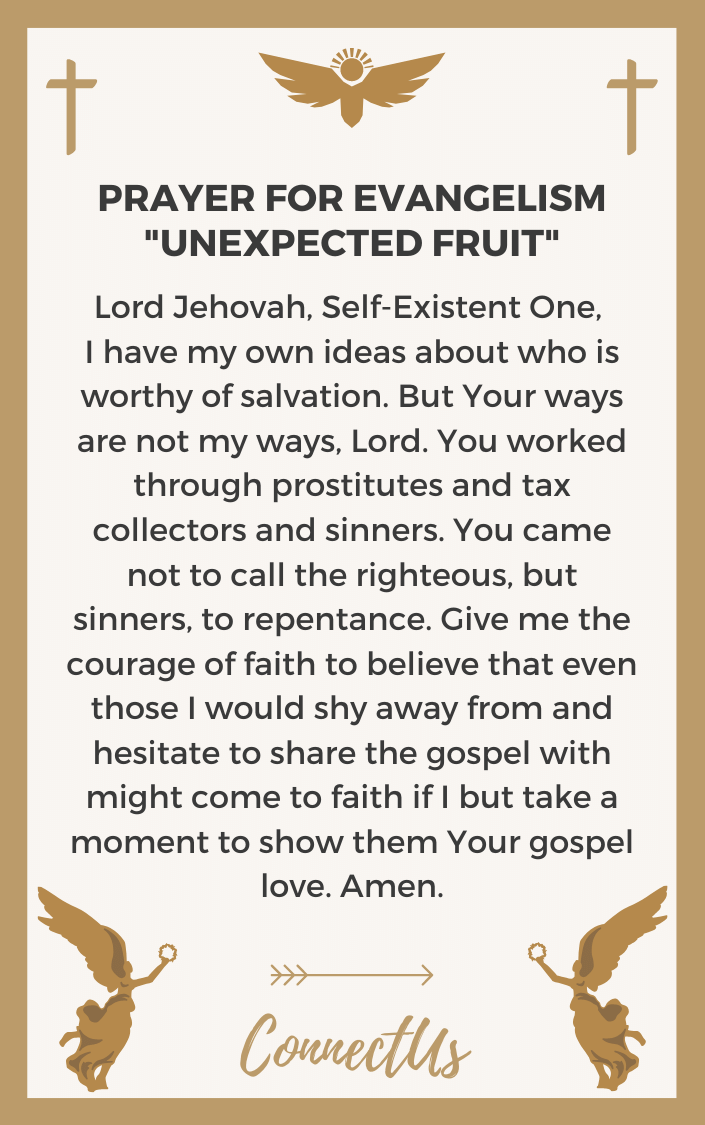 A Prayer of Gospel Authority
All-Powerful and Everlasting God, even though I go out as a sheep among wolves I am not afraid. I know that I am going out with the authority of the gospel. The gospel is the power of God unto salvation and it is the most powerful message I can bring into any conversation. Lord, I believe, help my unbelief. Help me to proclaim Your name in all authority. With gospel authority. In Jesus' name, Amen.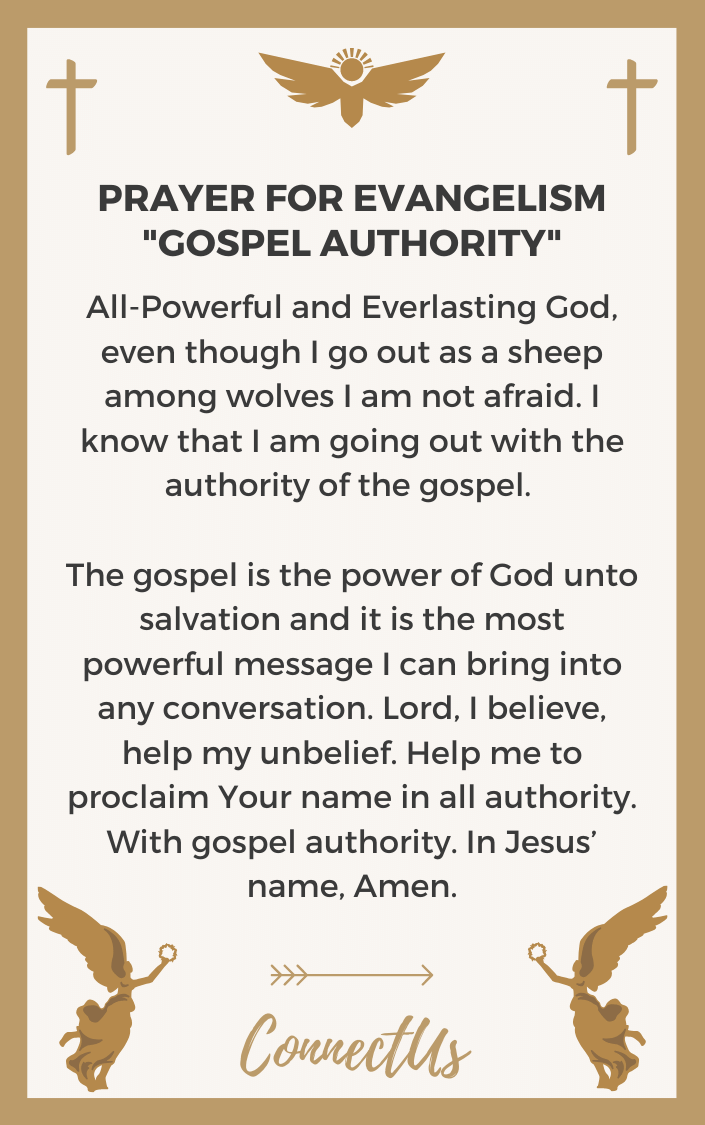 A Prayer to Not Be Ashamed
Merciful and Forgiving Lord, You bought me with a price, and I know that You love me. Jesus, You stood before the Father on my behalf and were not ashamed. Give me the courage not to be ashamed of Your gospel, but to proclaim it with all boldness as often as I can. Your word is truth, Lord. I will not be ashamed. Amen.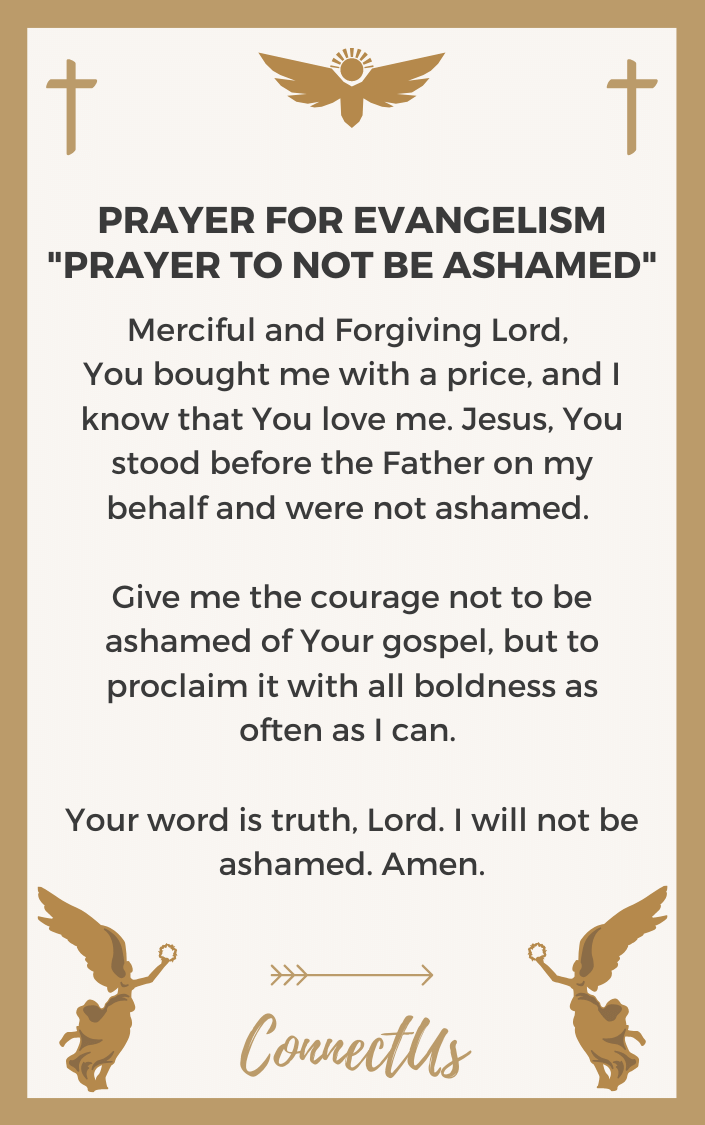 A Prayer for Light
Light in the Darkness, we pray against the darkness of this world. There are so many people and so many places covered in darkness. It can be discouraging. But You are the light of the world, Jesus. Come into this world and light up the darkness. Shine brightly and overcome the power of the darkness with the even greater power of Your gospel light. Amen.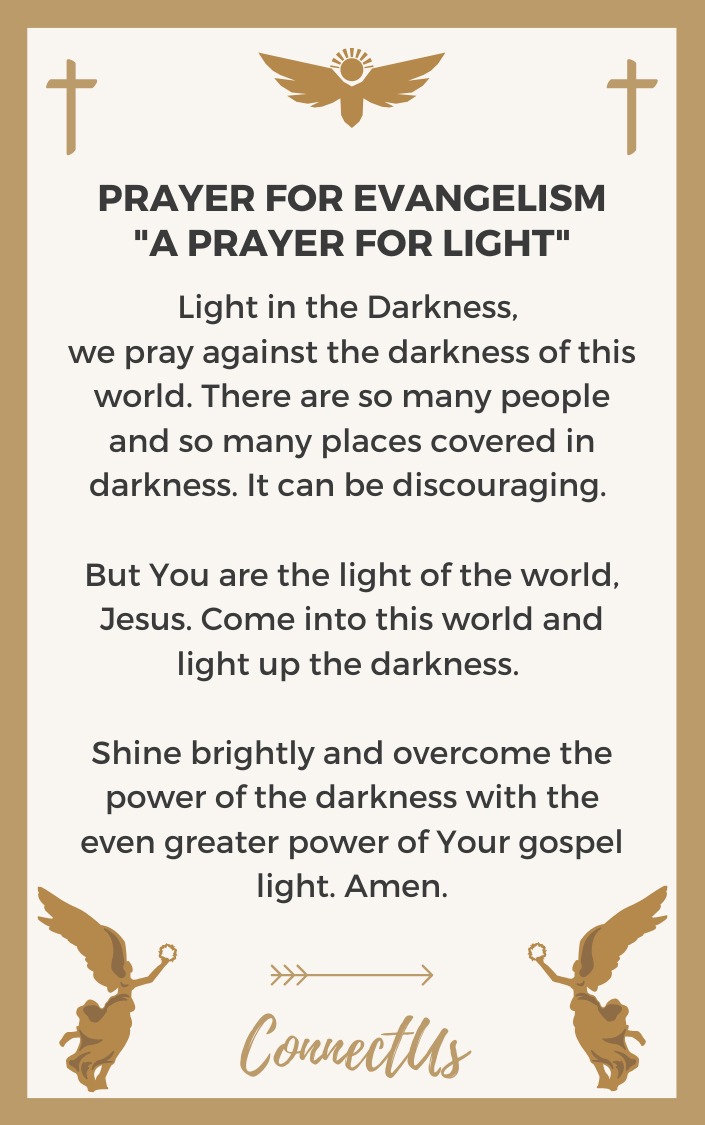 A Prayer for an Unnamed Friend
Living God, I pray for my friend who has heard the gospel and has gone to church. My friend knows the truth, and yet refuses to submit to Your glory. Lord, give me another chance to show my friend Your love, Your greatness, Your glory. Give my friend eyes to see that he might know the ultimate joy of salvation and life eternal with You in Your glorious presence. In Jesus' name, Amen.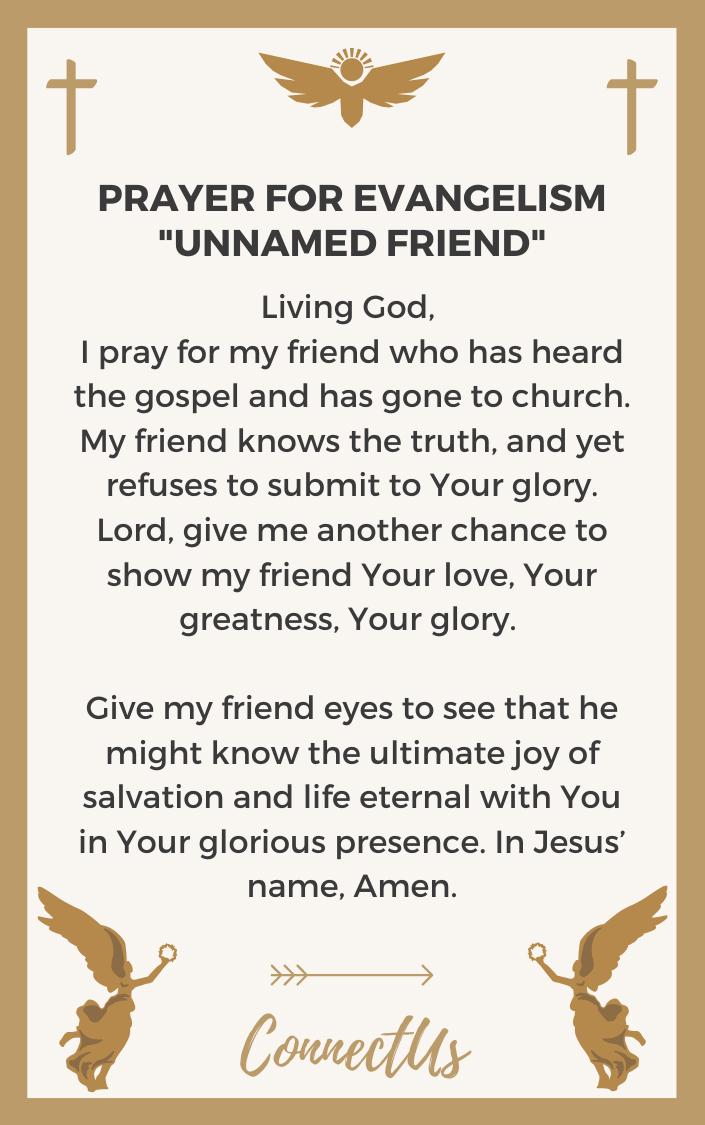 A Prayer for a Clear Mind
Abba, Father, as I go in boldness to proclaim Your gospel today, give me a clarity of mind that allows me to remember Your word. Help me remember how Your word sets people free from slavery and sin. Jesus, You have the words of eternal life. Remind me of the words You want me to speak and when You want me to speak them. Sharpen my memory so I can quickly recall the verses that testify to Your goodness and mercy. Amen.
A Prayer for Those Who Have Gone Before
Maker of Heaven and Earth, I thank You for the examples of Peter and Paul who went forth, even and especially in the midst of much hostility, and proclaimed Your gospel with power and conviction. Lord, their example and testimony are so encouraging. Give me the faith of a Peter or a Paul to preach the gospel in all seasons and in all circumstances. In Jesus' name, Amen.
A Prayer for Full Words
Compassionate and Gracious God, I know that when You speak, Your word does not return empty. So Lord, today, when I open my mouth, I pray that it would be You who speaks and that those words would not return empty. Use Your words through me to lead to the redemption of lives and to the salvation of souls. In Jesus' name, Amen.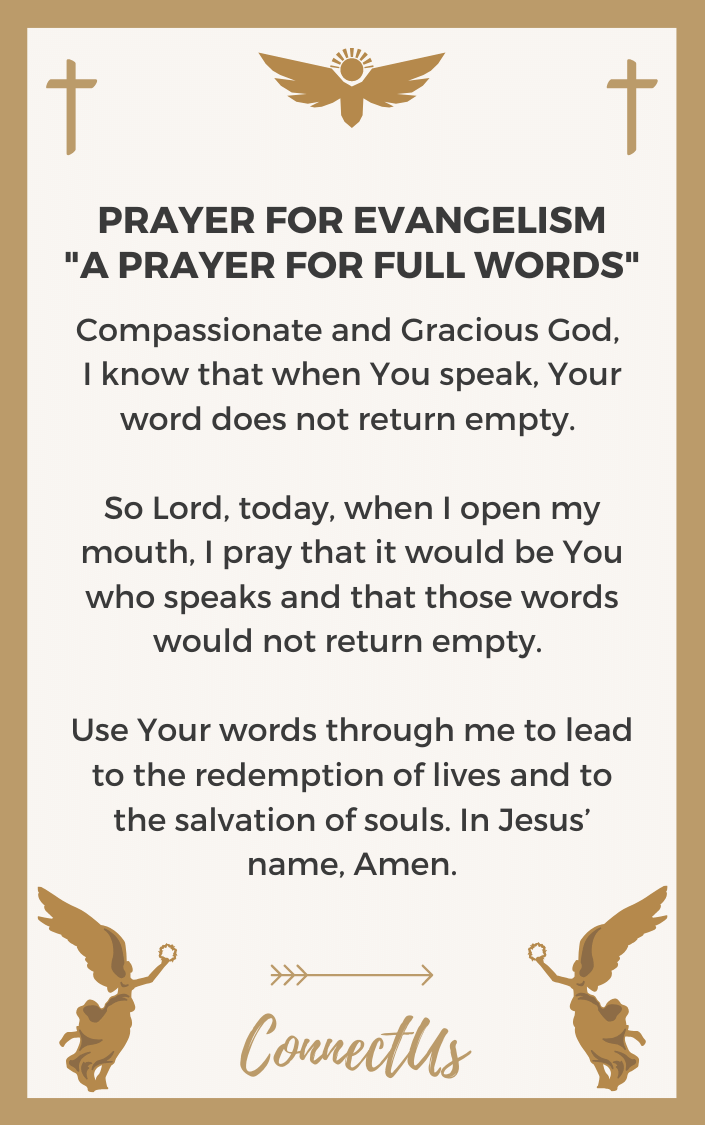 A Prayer for Gospel Strategy
Dear Lord, I pray that You would give me and all the brothers and sisters I know wisdom for how we should proclaim Your word. Lead us, Lord, to speak when we should speak, and to remain silent when we should remain silent. Help us to work together to canvass this city, nation, and world with Your gospel. In Jesus' name, Amen.
A Prayer for a Partner
Sovereign Lord, when You sent out Your disciples, You sent them in twos. I pray that I too might have a gospel partner with whom I can go out boldly to proclaim Your gospel. Jesus, grant that I might have a gospel partner to do the work of planting the gospel seeds that You have called me to plant. Amen.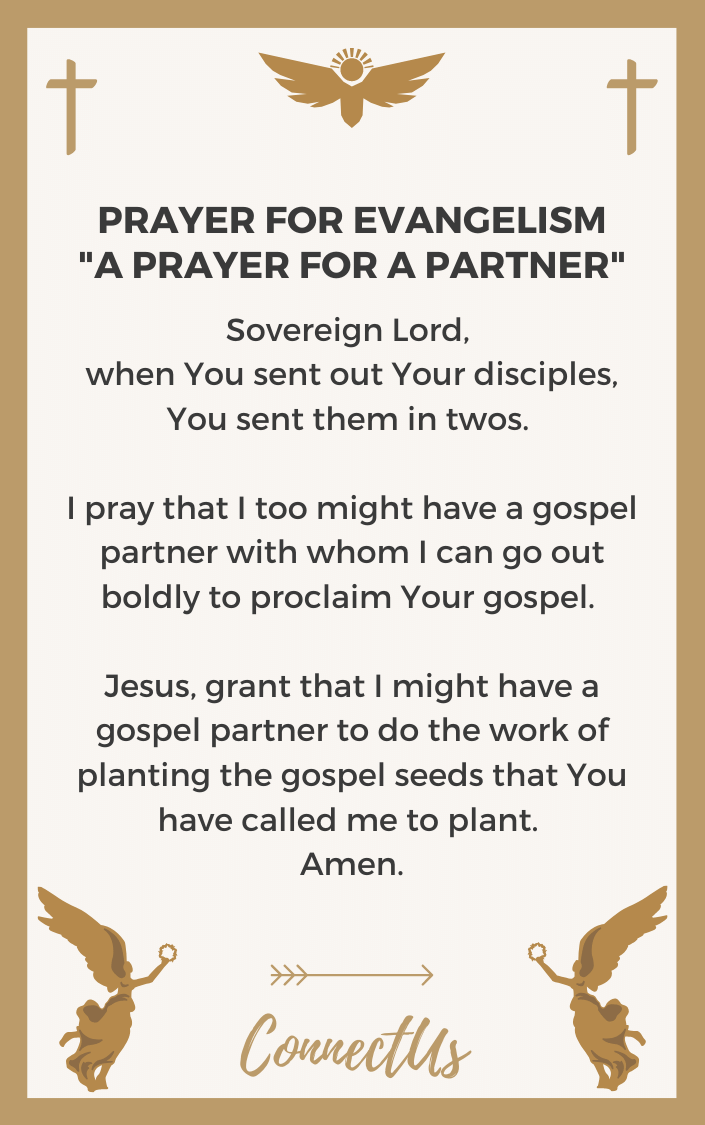 A Prayer for More Laborers
God of Increase, when I look out at the lost world, I am reminded of Your words that the harvest is plentiful, but laborers are few. Lord, we pray to You, the Lord of the harvest, to send out more laborers into the harvest. Lord, we believe in faith that the fields are ripe for harvest and that a great gospel movement is upon us. Send more laborers. In Jesus' name, I pray, Amen.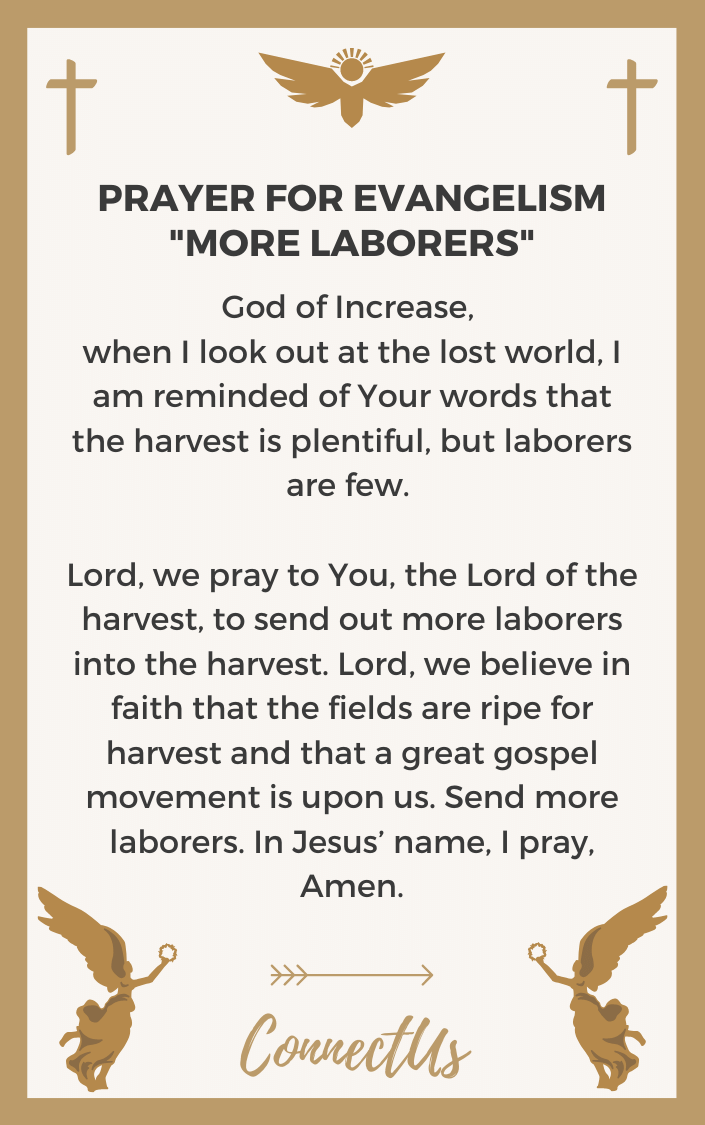 A Prayer for Conviction of Sins
O God of Loving Devotion, it is oh so true today that in many cases before I can save a person, I have to get them lost. Lord, I pray that You would show people their sin and make them hate it. Help them to realize just how sinful they. Help them realize how much they need Christ and the sacrifice He made on their behalf. Lord, convict them of their sins and grant them the incomparable gift of repentance. Amen.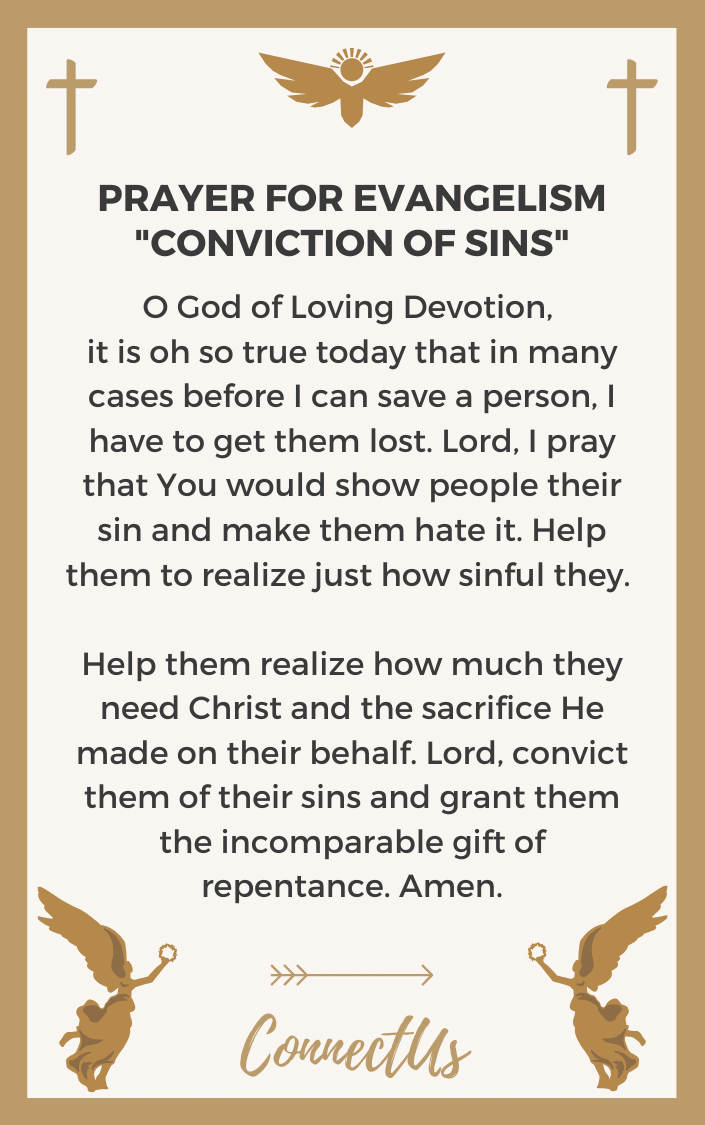 A Prayer for Truth
All-Knowing Lord, I know that Your word is truth and the truth will set me and others free. I pray that You will help those who hear the gospel today to recognize it for the truth that it is. Lord, help me to speak the truth at all times as I go out to proclaim Your word. I praise You for Your truth. In Jesus' name, I pray, Amen.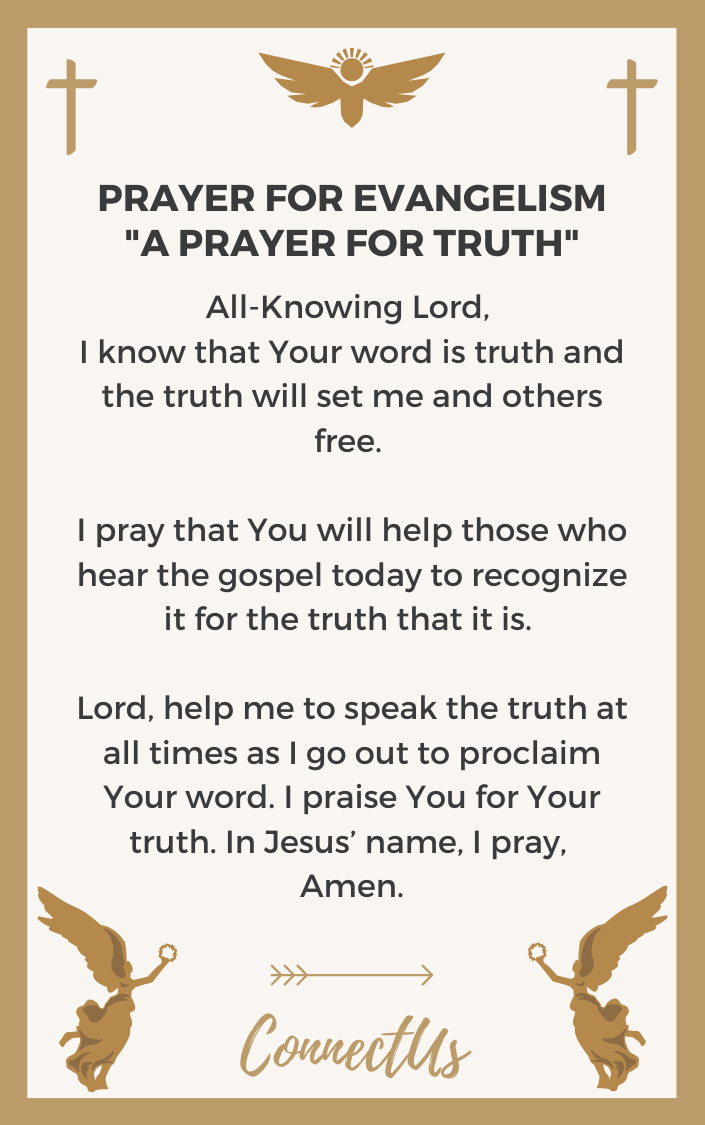 A Prayer for Love
God of Unfailing Love, I pray that as I go out to evangelize the lost and to acquaint them with the truth, that You would grant me the grace to speak that truth in love. Keep me from bashing others over the head with a gospel club, but give me a winsome witness and pleasant disposition. Let people be overcome with my tender heart, and believe in You. Amen.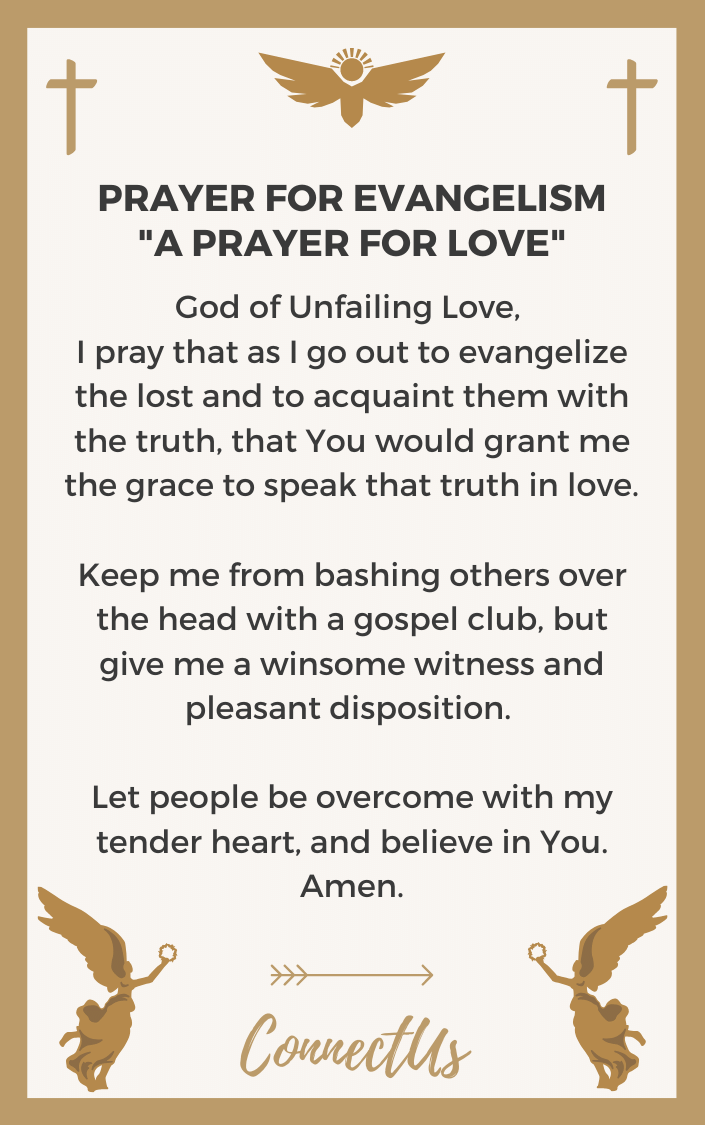 A Prayer for Seasoned Words
My Righteous God, please season my words with salt. Make me ready in season, and out of season, to proclaim the gospel. Make me ready to give an answer for the hope that I have in You. Keep me from making excuses for why I shouldn't share with this person or with that person. Keep me from making excuses for why I shouldn't go to this place or to that place. Help those who hear Your word today to taste and see that You are good. In Jesus' name, I pray, Amen.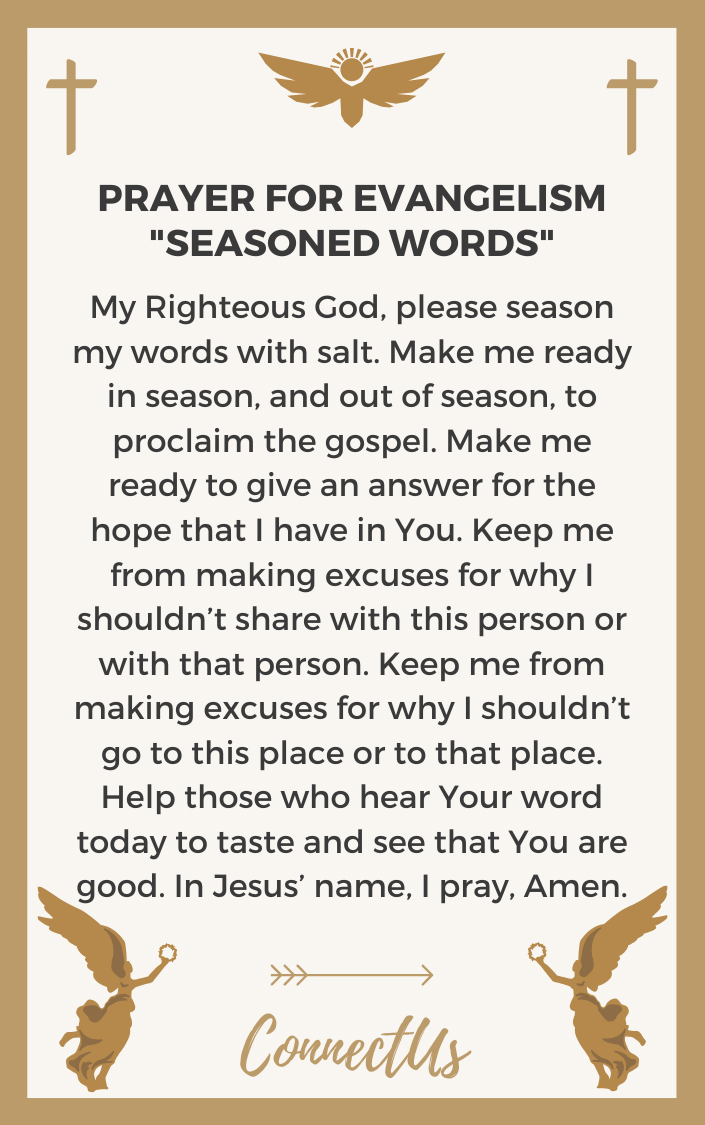 A Prayer that God Would Go Before Me
Name above all Names, I pray that as I go out today to proclaim the glories of Your salvation, that You would go before me and prepare people to hear and believe. Give me favor with all those I come into contact with today. Keep me from offending anyone unless it is the gospel that offends them, in which case, help me to offend everyone! Lord, I know that You are with me, that You will never leave me nor forsake me. Go before me today. Be my rock, my shield, and my strength. In Jesus' name, I pray, Amen.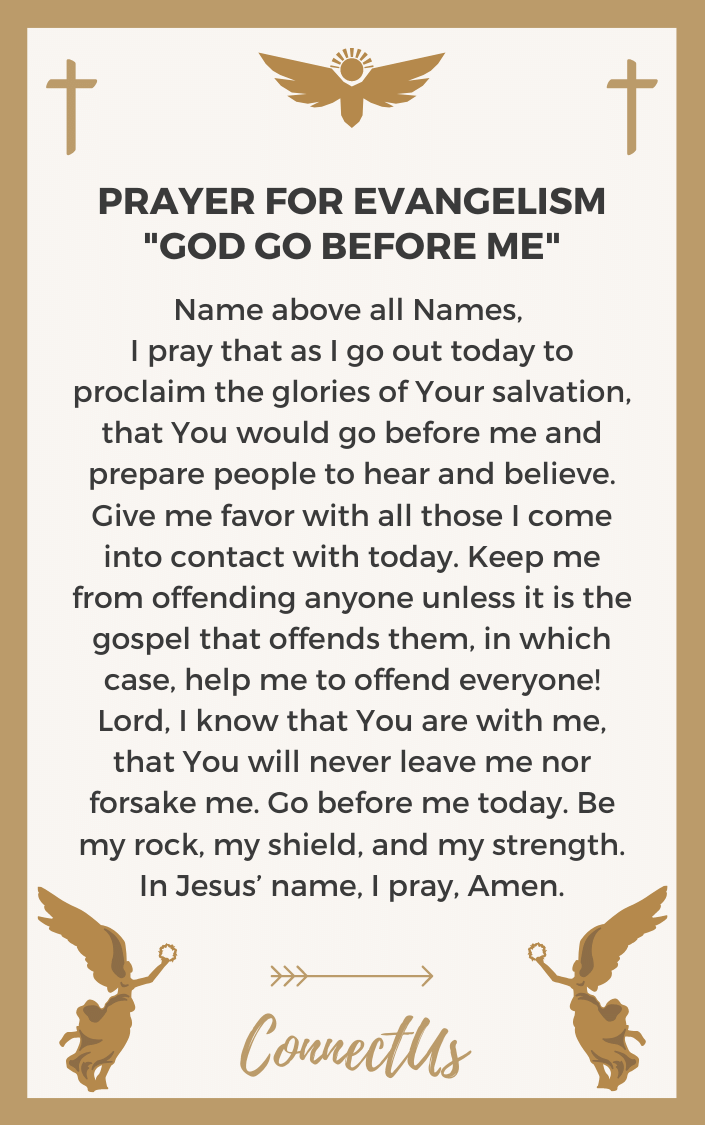 Most Popular Prayers by Topic
For Hard Times
For Financial Prosperity
For Physical Health
For Emotional Health
For Protection
For a Marriage
For Babies and Pregnancy
For Family
For Spiritual Warfare
For Spiritual Health
For a Death
For the Workplace
For Bedtime
Our 10 week prayer journal will guide you through your daily prayers and help you plan out your prayer week. It is completely free. You can
click here to get it now
.

Author Bio
Natalie Regoli is a child of God, devoted wife, and mother of two boys. She has a Master's Degree in Law from The University of Texas. Natalie has been published in several national journals and has been practicing law for 18 years.