Here are the 30 most encouraging Bible scriptures on unbelief.
John 12:48
"The one who rejects me and does not receive my words has a judge; the word that I have spoken will judge him on the last day."
Mark 16:16
"Whoever believes and is baptized will be saved, but whoever does not believe will be condemned."
Jude 1:22
And have mercy on those who doubt.
Ephesians 2:8
For by grace you have been saved through faith. And this is not your own doing; it is the gift of God.
Matthew 7:21
"Not everyone who says to me, 'Lord, Lord,' will enter the kingdom of heaven, but the one who does the will of my Father who is in heaven."
1 John 4:1
Beloved, do not believe every spirit, but test the spirits to see whether they are from God, for many false prophets have gone out into the world.
1 Timothy 2:4
Who desires all people to be saved and to come to the knowledge of the truth.
2 Timothy 3:5
Having the appearance of godliness, but denying its power. Avoid such people.
Ephesians 5:11
Take no part in the unfruitful works of darkness, but instead expose them.
Galatians 3:11
Now it is evident that no one is justified before God by the law, for "The righteous shall live by faith."
Hebrews 11:1
Now faith is the assurance of things hoped for, the conviction of things not seen.
Hebrews 11:6
And without faith it is impossible to please him, for whoever would draw near to God must believe that he exists and that he rewards those who seek him.
Hebrews 3:19
So we see that they were unable to enter because of unbelief.
Hebrews 4:11
Let us therefore strive to enter that rest, so that no one may fall by the same sort of disobedience.
Isaiah 66:2
"All these things my hand has made, and so all these things came to be," declares the Lord. "But this is the one to whom I will look: he who is humble and contrite in spirit and trembles at my word."
James 1:6
But let him ask in faith, with no doubting, for the one who doubts is like a wave of the sea that is driven and tossed by the wind.
John 3:16
For God so loved the world, that he gave his only Son, that whoever believes in him should not perish but have eternal life.
John 3:36
Whoever believes in the Son has eternal life; whoever does not obey the Son shall not see life, but the wrath of God remains on him.
Luke 18:8
"I tell you, he will give justice to them speedily. Nevertheless, when the Son of Man comes, will he find faith on earth?"
Luke 7:23
"And blessed is the one who is not offended by me."
Mark 9:24
Immediately the father of the child cried out and said, "I believe; help my unbelief!"
Matthew 17:17
And Jesus answered, "O faithless and twisted generation, how long am I to be with you? How long am I to bear with you? Bring him here to me."
Matthew 17:20
He said to them, "Because of your little faith. For truly, I say to you, if you have faith like a grain of mustard seed, you will say to this mountain, 'Move from here to there,' and it will move, and nothing will be impossible for you."
Matthew 22:14
"For many are called, but few are chosen."
Revelation 3:11
"I am coming soon. Hold fast what you have, so that no one may seize your crown."
Romans 10:4
For Christ is the end of the law for righteousness to everyone who believes.
Romans 16:17
I appeal to you, brothers, to watch out for those who cause divisions and create obstacles contrary to the doctrine that you have been taught; avoid them.
Romans 4:20
No distrust made him waver concerning the promise of God, but he grew strong in his faith as he gave glory to God.
Romans 6:1
What shall we say then? Are we to continue in sin that grace may abound?
Romans 6:23
For the wages of sin is death, but the free gift of God is eternal life in Christ Jesus our Lord.
More Bible Verses that Will Move You
50 Most Powerful Scriptures on Faith
60 Transcendent Verses on Trust
50 Strong Scriptures on Perseverance
68 Powerful Verses on Forgiveness
40 Uplifting Scriptures on Patience
Add Our Infographic Below to Your Pinterest Board
Hit the pin button below to add our infographic, with all the verses, to one of your Pinterest boards.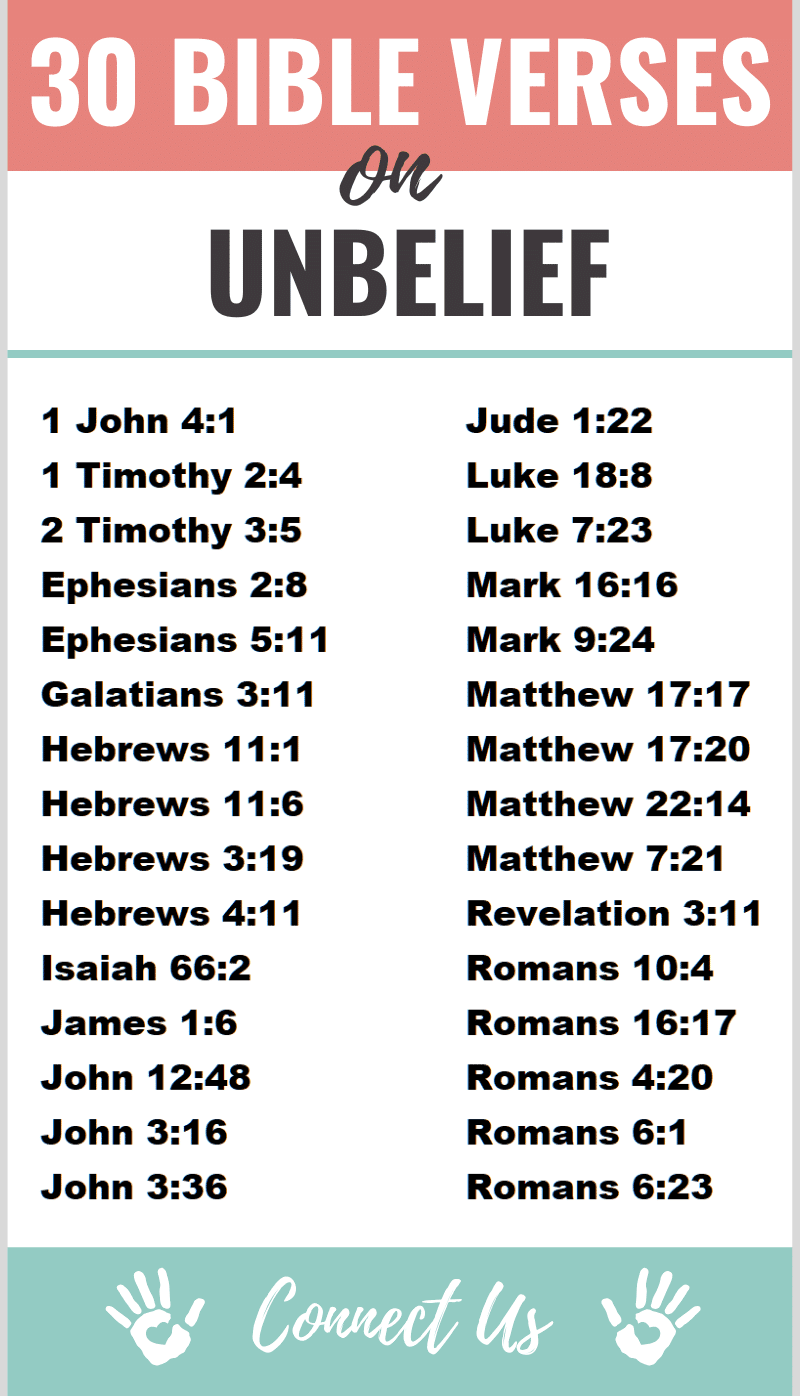 Author Bio
Natalie Regoli is a child of God, devoted wife, and mother of two boys. She has a Master's Degree in Law from The University of Texas. Natalie has been published in several national journals and has been practicing law for 18 years.