The word "adultery" occurs 44 times in the Bible. The infographic below identifies the points of each occurrence. This graphic presentation starts with Genesis in the top left and concludes with Revelation in the bottom right.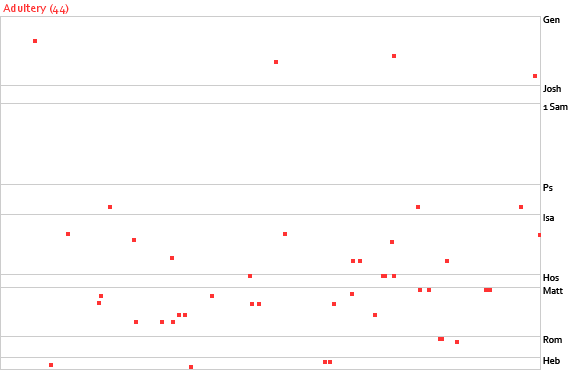 Here are the 30 most important Bible scriptures on adultery.
Exodus 20:14
"You shall not commit adultery."
Hebrews 13:4
Let marriage be held in honor among all, and let the marriage bed be undefiled, for God will judge the sexually immoral and adulterous.
Proverbs 6:32
He who commits adultery lacks sense; he who does it destroys himself.
Matthew 19:9
"And I say to you: whoever divorces his wife, except for sexual immorality, and marries another, commits adultery."
Matthew 5:28
"But I say to you that everyone who looks at a woman with lustful intent has already committed adultery with her in his heart."
1 Corinthians 10:13
No temptation has overtaken you that is not common to man. God is faithful, and he will not let you be tempted beyond your ability, but with the temptation he will also provide the way of escape, that you may be able to endure it.
1 Corinthians 5:1
It is actually reported that there is sexual immorality among you, and of a kind that is not tolerated even among pagans, for a man has his father's wife.
1 Corinthians 6:18
Flee from sexual immorality. Every other sin a person commits is outside the body, but the sexually immoral person sins against his own body.
1 Corinthians 6:9
Or do you not know that the unrighteous will not inherit the kingdom of God? Do not be deceived: neither the sexually immoral, nor idolaters, nor adulterers, nor men who practice homosexuality.
1 Corinthians 7:15
But if the unbelieving partner separates, let it be so. In such cases the brother or sister is not enslaved. God has called you to peace.
Deuteronomy 22:22
If a man is found lying with the wife of another man, both of them shall die, the man who lay with the woman, and the woman. So you shall purge the evil from Israel.
Deuteronomy 5:18
"And you shall not commit adultery."
Ephesians 5:5
For you may be sure of this, that everyone who is sexually immoral or impure, or who is covetous (that is, an idolater), has no inheritance in the kingdom of Christ and God.
Ezekiel 23:37
For they have committed adultery, and blood is on their hands. With their idols they have committed adultery, and they have even offered up to them for food the children whom they had borne to me.
Galatians 5:19
Now the works of the flesh are evident: sexual immorality, impurity, sensuality.
James 4:17
So whoever knows the right thing to do and fails to do it, for him it is sin.
Jeremiah 13:27
"I have seen your abominations, your adulteries and neighings, your lewd whorings, on the hills in the field. Woe to you, O Jerusalem! How long will it be before you are made clean?"
Jeremiah 3:8
"She saw that for all the adulteries of that faithless one, Israel, I had sent her away with a decree of divorce. Yet her treacherous sister Judah did not fear, but she too went and played the whore."
Leviticus 18:20
"And you shall not lie sexually with your neighbor's wife and so make yourself unclean with her."
Leviticus 20:10
"If a man commits adultery with the wife of his neighbor, both the adulterer and the adulteress shall surely be put to death."
Luke 16:18
"Everyone who divorces his wife and marries another commits adultery, and he who marries a woman divorced from her husband commits adultery."
Malachi 2:16
"For the man who does not love his wife but divorces her," says the Lord, the God of Israel, "covers his garment with violence," says the Lord of hosts. "So guard yourselves in your spirit, and do not be faithless."
Mark 10:11
And he said to them, "Whoever divorces his wife and marries another commits adultery against her."
Mark 10:12
"And if she divorces her husband and marries another, she commits adultery."
Matthew 15:19
"For out of the heart come evil thoughts, murder, adultery, sexual immorality, theft, false witness, slander."
Matthew 5:27
"You have heard that it was said, 'You shall not commit adultery.'"
Matthew 5:32
"But I say to you that everyone who divorces his wife, except on the ground of sexual immorality, makes her commit adultery, and whoever marries a divorced woman commits adultery."
Revelation 21:8
"But as for the cowardly, the faithless, the detestable, as for murderers, the sexually immoral, sorcerers, idolaters, and all liars, their portion will be in the lake that burns with fire and sulfur, which is the second death."
Romans 7:2
For a married woman is bound by law to her husband while he lives, but if her husband dies she is released from the law of marriage.
Romans 7:3
Accordingly, she will be called an adulteress if she lives with another man while her husband is alive. But if her husband dies, she is free from that law, and if she marries another man she is not an adulteress.
More Bible Verses that Will Move You
50 Most Powerful Scriptures on Faith
60 Transcendent Verses on Trust
50 Strong Scriptures on Perseverance
68 Powerful Verses on Forgiveness
40 Uplifting Scriptures on Patience
Add Our Infographic Below to Your Pinterest Board
Hit the pin button below to add our infographic, with all the verses, to one of your Pinterest boards.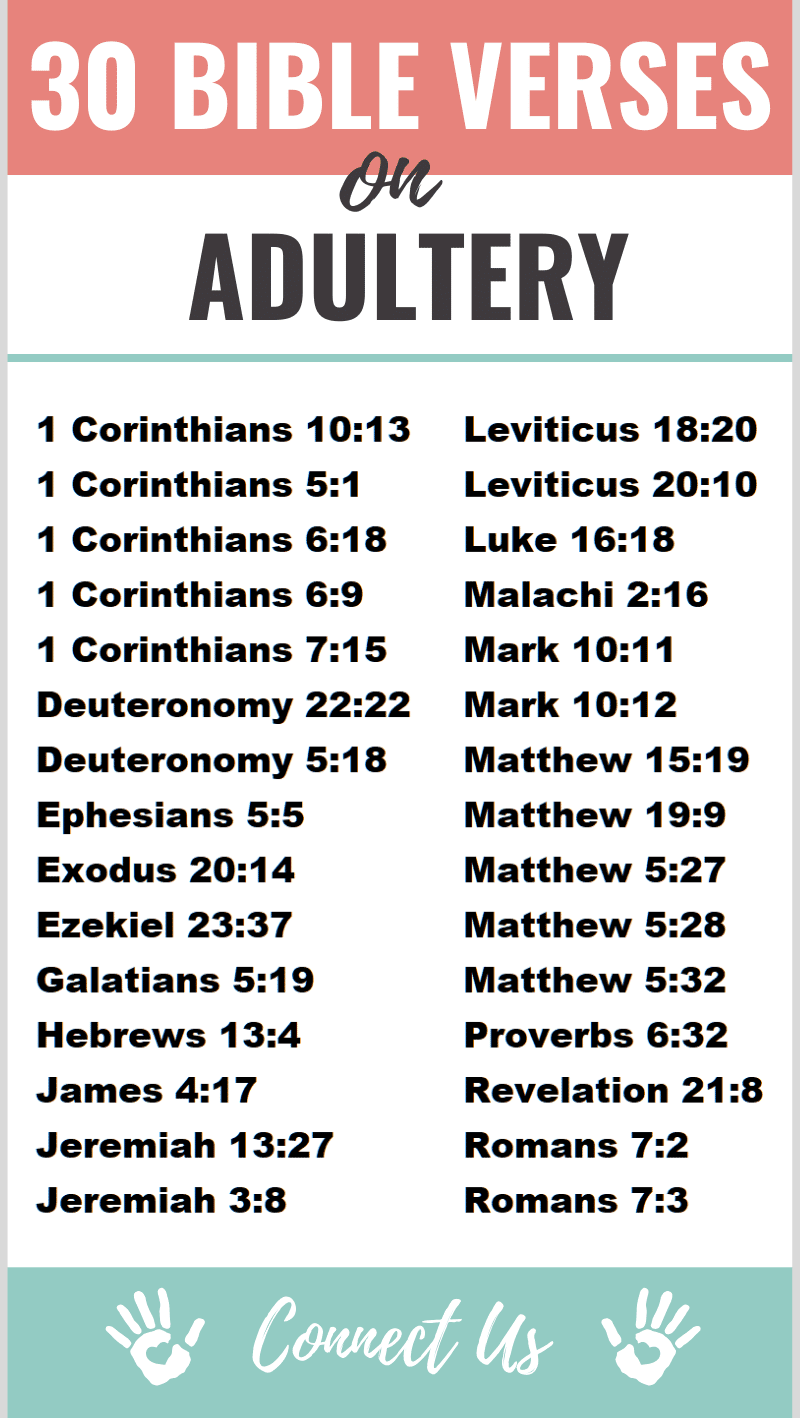 Author Bio
Natalie Regoli is a child of God, devoted wife, and mother of two boys. She has a Masters Degree in Law from The University of Texas. Natalie has been published in several national journals and has been practicing law for 18 years. If you would like to reach out to contact Natalie, then go here to
send her a message
.