Here are the 30 most important bible scriptures on false prophets.
Matthew 7:15
"Beware of false prophets, who come to you in sheep's clothing but inwardly are ravenous wolves."
1 John 4:1
Beloved, do not believe every spirit, but test the spirits to see whether they are from God, for many false prophets have gone out into the world.
Matthew 24:24
"For false christs and false prophets will arise and perform great signs and wonders, so as to lead astray, if possible, even the elect."
2 Peter 2:1
But false prophets also arose among the people, just as there will be false teachers among you, who will secretly bring in destructive heresies, even denying the Master who bought them, bringing upon themselves swift destruction.
Matthew 24:11
"And many false prophets will arise and lead many astray."
1 Corinthians 14:33
For God is not a God of confusion but of peace. As in all the churches of the saints.
2 Corinthians 11:13
For such men are false apostles, deceitful workmen, disguising themselves as apostles of Christ.
2 Peter 2:2
And many will follow their sensuality, and because of them the way of truth will be blasphemed.
2 Peter 2:3
And in their greed they will exploit you with false words. Their condemnation from long ago is not idle, and their destruction is not asleep.
2 Timothy 4:3
For the time is coming when people will not endure sound teaching, but having itching ears they will accumulate for themselves teachers to suit their own passions.
Colossians 2:8
See to it that no one takes you captive by philosophy and empty deceit, according to human tradition, according to the elemental spirits of the world, and not according to Christ.
Deuteronomy 18:20
"But the prophet who presumes to speak a word in my name that I have not commanded him to speak, or who speaks in the name of other gods, that same prophet shall die."
Ezekiel 13:6
They have seen false visions and lying divinations. They say, "Declares the Lord," when the Lord has not sent them, and yet they expect him to fulfill their word.
Ezekiel 13:9
"My hand will be against the prophets who see false visions and who give lying divinations. They shall not be in the council of my people, nor be enrolled in the register of the house of Israel, nor shall they enter the land of Israel. And you shall know that I am the Lord God."
Ezekiel 22:28
And her prophets have smeared whitewash for them, seeing false visions and divining lies for them, saying, "Thus says the Lord God," when the Lord has not spoken.
Isaiah 8:20
To the teaching and to the testimony! If they will not speak according to this word, it is because they have no dawn.
Jeremiah 14:14
And the Lord said to me: "The prophets are prophesying lies in my name. I did not send them, nor did I command them or speak to them. They are prophesying to you a lying vision, worthless divination, and the deceit of their own minds."
Jeremiah 23:16
Thus says the Lord of hosts: "Do not listen to the words of the prophets who prophesy to you, filling you with vain hopes. They speak visions of their own minds, not from the mouth of the Lord."
Jeremiah 5:31
"The prophets prophesy falsely, and the priests rule at their direction; my people love to have it so, but what will you do when the end comes?"
John 14:6
Jesus said to him, "I am the way, and the truth, and the life. No one comes to the Father except through me."
Jude 1:4
For certain people have crept in unnoticed who long ago were designated for this condemnation, ungodly people, who pervert the grace of our God into sensuality and deny our only Master and Lord, Jesus Christ.
Lamentations 2:14
Your prophets have seen for you false and deceptive visions; they have not exposed your iniquity to restore your fortunes, but have seen for you oracles that are false and misleading.
Luke 6:26
"Woe to you, when all people speak well of you, for so their fathers did to the false prophets."
Mark 13:22
"For false christs and false prophets will arise and perform signs and wonders, to lead astray, if possible, the elect."
Matthew 7:21
"Not everyone who says to me, 'Lord, Lord,' will enter the kingdom of heaven, but the one who does the will of my Father who is in heaven."
Revelation 13:14
And by the signs that it is allowed to work in the presence of the beast it deceives those who dwell on earth, telling them to make an image for the beast that was wounded by the sword and yet lived.
Revelation 19:20
And the beast was captured, and with it the false prophet who in its presence had done the signs by which he deceived those who had received the mark of the beast and those who worshiped its image. These two were thrown alive into the lake of fire that burns with sulfur.
Revelation 2:20
"But I have this against you, that you tolerate that woman Jezebel, who calls herself a prophetess and is teaching and seducing my servants to practice sexual immorality and to eat food sacrificed to idols."
Revelation 20:10
And the devil who had deceived them was thrown into the lake of fire and sulfur where the beast and the false prophet were, and they will be tormented day and night forever and ever.
Romans 16:18
For such persons do not serve our Lord Christ, but their own appetites, and by smooth talk and flattery they deceive the hearts of the naive.
More Bible Verses that Will Move You
50 Most Powerful Scriptures on Faith
60 Transcendent Verses on Trust
50 Strong Scriptures on Perseverance
68 Powerful Verses on Forgiveness
40 Uplifting Scriptures on Patience
Add Our Infographic Below to Your Pinterest Board
Hit the pin button below to add our infographic, with all the verses, to one of your Pinterest boards.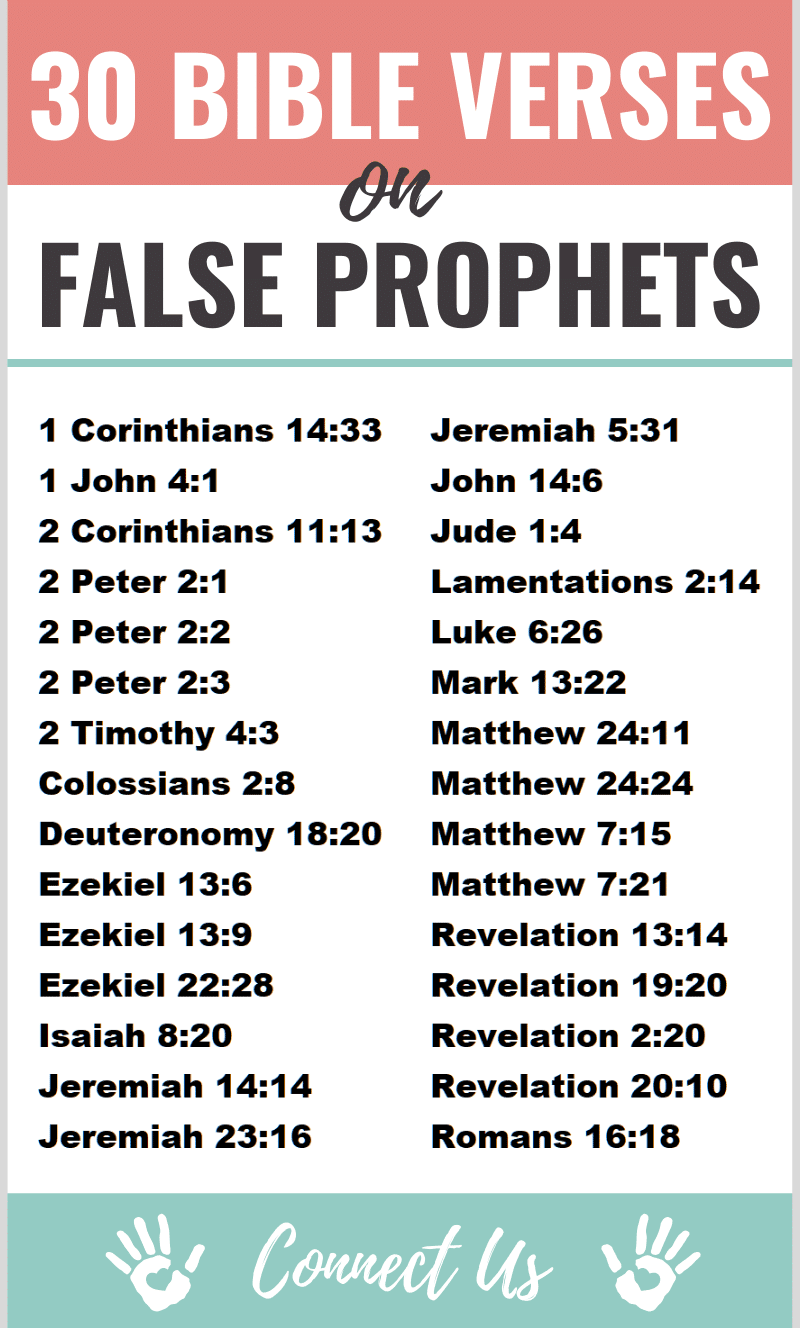 Author Bio
Natalie Regoli is a child of God, devoted wife, and mother of two boys. She has a Master's Degree in Law from The University of Texas. Natalie has been published in several national journals and has been practicing law for 18 years.