Here are the 30 most important Bible scriptures on influence.
1 Corinthians 15:33
Do not be deceived: "Bad company ruins good morals."
Proverbs 27:17
Iron sharpens iron, and one man sharpens another.
Proverbs 13:20
Whoever walks with the wise becomes wise, but the companion of fools will suffer harm.
1 Peter 3:16
Having a good conscience, so that, when you are slandered, those who revile your good behavior in Christ may be put to shame.
1 Peter 2:12
Keep your conduct among the Gentiles honorable, so that when they speak against you as evildoers, they may see your good deeds and glorify God on the day of visitation.
1 Corinthians 5:6
Your boasting is not good. Do you not know that a little leaven leavens the whole lump?
1 Peter 2:9
But you are a chosen race, a royal priesthood, a holy nation, a people for his own possession, that you may proclaim the excellencies of him who called you out of darkness into his marvelous light.
1 Peter 3:15
But in your hearts honor Christ the Lord as holy, always being prepared to make a defense to anyone who asks you for a reason for the hope that is in you; yet do it with gentleness and respect.
1 Timothy 4:12
Let no one despise you for your youth, but set the believers an example in speech, in conduct, in love, in faith, in purity.
1 Timothy 6:1
Let all who are under a yoke as slaves regard their own masters as worthy of all honor, so that the name of God and the teaching may not be reviled.
2 Corinthians 4:4
In their case the god of this world has blinded the minds of the unbelievers, to keep them from seeing the light of the gospel of the glory of Christ, who is the image of God.
2 Timothy 2:14
Remind them of these things, and charge them before God not to quarrel about words, which does no good, but only ruins the hearers.
Daniel 12:3
And those who are wise shall shine like the brightness of the sky above; and those who turn many to righteousness, like the stars forever and ever.
Hebrews 11:4
By faith Abel offered to God a more acceptable sacrifice than Cain, through which he was commended as righteous, God commending him by accepting his gifts. And through his faith, though he died, he still speaks.
James 4:7
Submit yourselves therefore to God. Resist the devil, and he will flee from you.
Jeremiah 17:9
The heart is deceitful above all things, and desperately sick; who can understand it?
John 8:44
"You are of your father the devil, and your will is to do your father's desires. He was a murderer from the beginning, and has nothing to do with the truth, because there is no truth in him. When he lies, he speaks out of his own character, for he is a liar and the father of lies."
Jude 1:6
And the angels who did not stay within their own position of authority, but left their proper dwelling, he has kept in eternal chains under gloomy darkness until the judgment of the great day.
Matthew 5:13
"You are the salt of the earth, but if salt has lost its taste, how shall its saltiness be restored? It is no longer good for anything except to be thrown out and trampled under people's feet."
Matthew 5:16
"In the same way, let your light shine before others, so that they may see your good works and give glory to your Father who is in heaven."
Proverbs 10:17
Whoever heeds instruction is on the path to life, but he who rejects reproof leads others astray.
Proverbs 12:26
One who is righteous is a guide to his neighbor, but the way of the wicked leads them astray.
Proverbs 15:1
A soft answer turns away wrath, but a harsh word stirs up anger.
Proverbs 19:6
Many seek the favor of a generous man, and everyone is a friend to a man who gives gifts.
Proverbs 22:24
Make no friendship with a man given to anger, nor go with a wrathful man.
Proverbs 22:25
Lest you learn his ways and entangle yourself in a snare.
Proverbs 9:9
Give instruction to a wise man, and he will be still wiser; teach a righteous man, and he will increase in learning.
Revelation 12:9
And the great dragon was thrown down, that ancient serpent, who is called the devil and Satan, the deceiver of the whole world—he was thrown down to the earth, and his angels were thrown down with him.
Romans 12:2
Do not be conformed to this world, but be transformed by the renewal of your mind, that by testing you may discern what is the will of God, what is good and acceptable and perfect.
Romans 12:21
Do not be overcome by evil, but overcome evil with good.
More Bible Verses that Will Move You
50 Most Powerful Scriptures on Faith
60 Transcendent Verses on Trust
50 Strong Scriptures on Perseverance
68 Powerful Verses on Forgiveness
40 Uplifting Scriptures on Patience
Add Our Infographic Below to Your Pinterest Board
Hit the pin button below to add our infographic, with all the verses, to one of your Pinterest boards.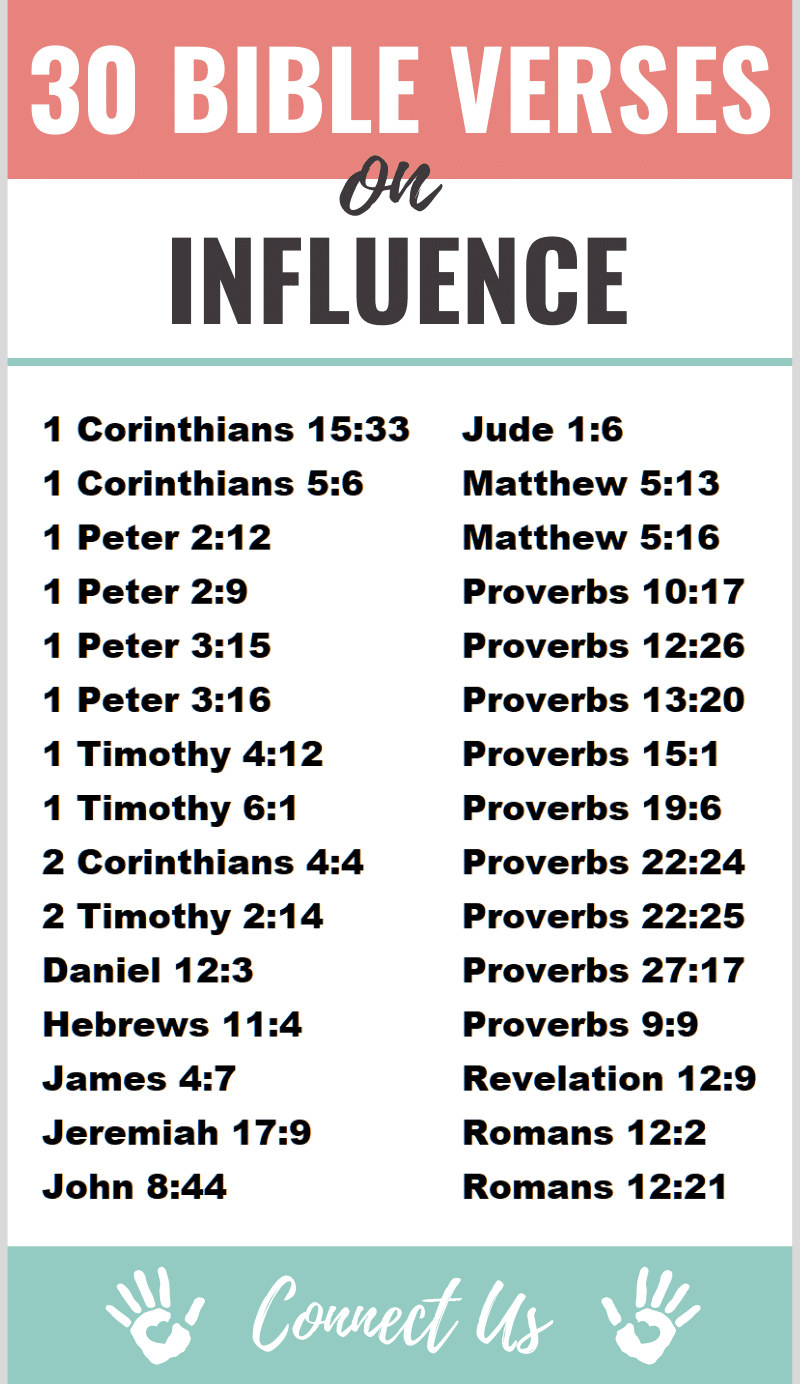 Author Bio
Natalie Regoli is a child of God, devoted wife, and mother of two boys. She has a Master's Degree in Law from The University of Texas. Natalie has been published in several national journals and has been practicing law for 18 years.