Here are the 30 most powerful Bible scriptures on evangelism.
Mark 16:15
And he said to them, "Go into all the world and proclaim the gospel to the whole creation."
1 Peter 3:15
But in your hearts honor Christ the Lord as holy, always being prepared to make a defense to anyone who asks you for a reason for the hope that is in you; yet do it with gentleness and respect.
1 Corinthians 9:22
To the weak I became weak, that I might win the weak. I have become all things to all people, that by all means I might save some.
Isaiah 6:8
And I heard the voice of the Lord saying, "Whom shall I send, and who will go for us?" Then I said, "Here am I! Send me."
Romans 1:16
For I am not ashamed of the gospel, for it is the power of God for salvation to everyone who believes, to the Jew first and also to the Greek.
1 Corinthians 1:17
For Christ did not send me to baptize but to preach the gospel, and not with words of eloquent wisdom, lest the cross of Christ be emptied of its power.
2 Corinthians 5:20
Therefore, we are ambassadors for Christ, God making his appeal through us. We implore you on behalf of Christ, be reconciled to God.
2 Peter 3:9
The Lord is not slow to fulfill his promise as some count slowness, but is patient toward you, not wishing that any should perish, but that all should reach repentance.
2 Timothy 2:15
Do your best to present yourself to God as one approved, a worker who has no need to be ashamed, rightly handling the word of truth.
2 Timothy 4:5
As for you, always be sober-minded, endure suffering, do the work of an evangelist, fulfill your ministry.
Acts 1:8
"But you will receive power when the Holy Spirit has come upon you, and you will be my witnesses in Jerusalem and in all Judea and Samaria, and to the end of the earth."
Acts 2:38
And Peter said to them, "Repent and be baptized every one of you in the name of Jesus Christ for the forgiveness of your sins, and you will receive the gift of the Holy Spirit."
Isaiah 45:22
"Turn to me and be saved, all the ends of the earth! For I am God, and there is no other."
John 14:6
Jesus said to him, "I am the way, and the truth, and the life. No one comes to the Father except through me."
John 3:16
For God so loved the world, that he gave his only Son, that whoever believes in him should not perish but have eternal life.
John 5:24
"Truly, truly, I say to you, whoever hears my word and believes him who sent me has eternal life. He does not come into judgment, but has passed from death to life."
John 8:24
"I told you that you would die in your sins, for unless you believe that I am he you will die in your sins."
Luke 12:8
"And I tell you, everyone who acknowledges me before men, the Son of Man also will acknowledge before the angels of God."
Luke 13:3
"No, I tell you; but unless you repent, you will all likewise perish."
Luke 19:10
"For the Son of Man came to seek and to save the lost."
Mark 16:14
Afterward he appeared to the eleven themselves as they were reclining at table, and he rebuked them for their unbelief and hardness of heart, because they had not believed those who saw him after he had risen.
Mark 16:16
"Whoever believes and is baptized will be saved, but whoever does not believe will be condemned."
Matthew 12:30
"Whoever is not with me is against me, and whoever does not gather with me scatters."
Matthew 5:16
"In the same way, let your light shine before others, so that they may see your good works and give glory to your Father who is in heaven."
Matthew 9:36
When he saw the crowds, he had compassion for them, because they were harassed and helpless, like sheep without a shepherd.
Philemon 1:6
And I pray that the sharing of your faith may become effective for the full knowledge of every good thing that is in us for the sake of Christ.
Proverbs 11:30
The fruit of the righteous is a tree of life, and whoever captures souls is wise.
Romans 10:17
So faith comes from hearing, and hearing through the word of Christ.
Romans 5:8
But God shows his love for us in that while we were still sinners, Christ died for us.
Romans 6:23
For the wages of sin is death, but the free gift of God is eternal life in Christ Jesus our Lord.
More Bible Verses that Will Move You
50 Most Powerful Scriptures on Faith
60 Transcendent Verses on Trust
50 Strong Scriptures on Perseverance
68 Powerful Verses on Forgiveness
40 Uplifting Scriptures on Patience
Add Our Infographic Below to Your Pinterest Board
Hit the pin button below to add our infographic, with all the verses, to one of your Pinterest boards.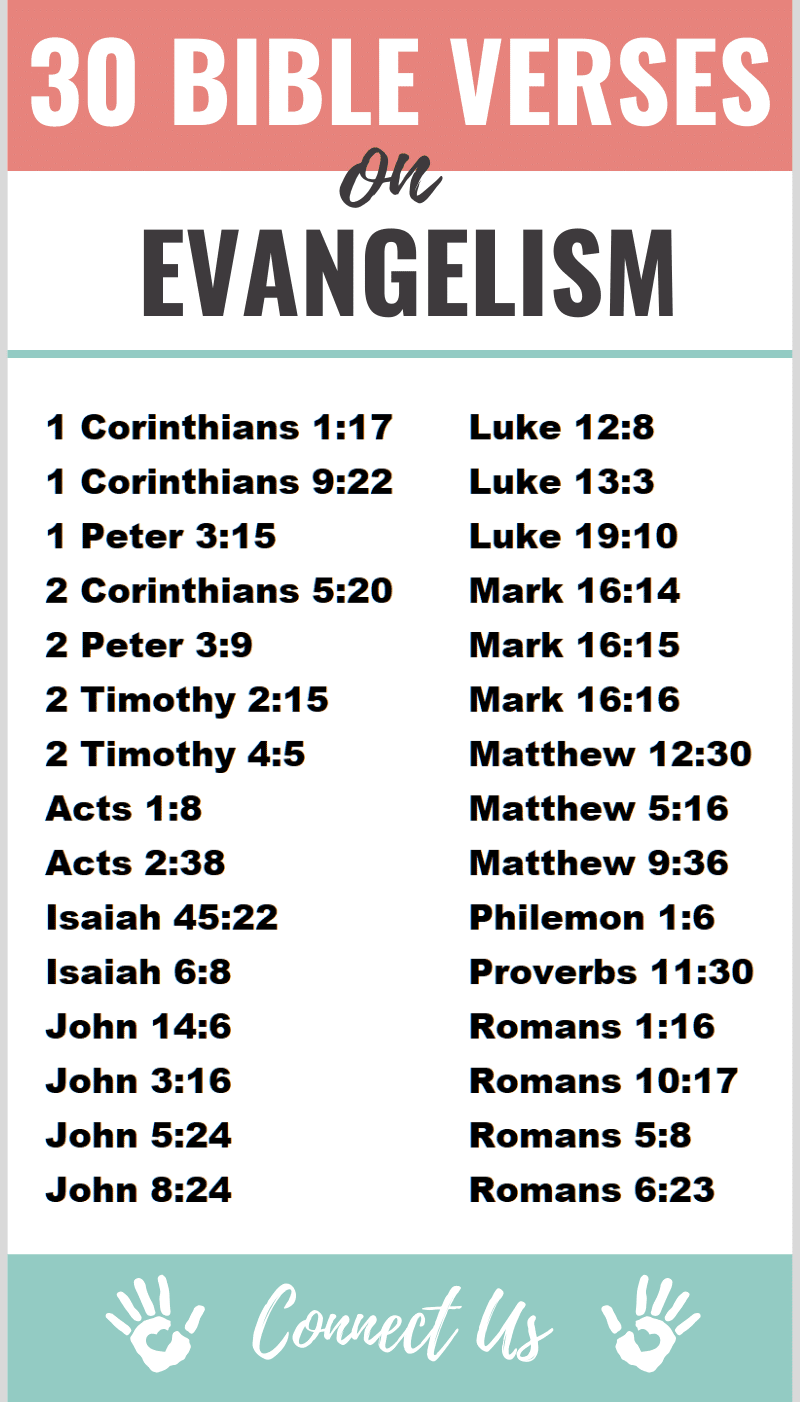 Author Bio
Natalie Regoli is a child of God, devoted wife, and mother of two boys. She has a Master's Degree in Law from The University of Texas. Natalie has been published in several national journals and has been practicing law for 18 years.