Here are the 30 most powerful Bible scriptures on stewardship.
1 Peter 4:10
As each has received a gift, use it to serve one another, as good stewards of God's varied grace.
Genesis 1:28
And God blessed them. And God said to them, "Be fruitful and multiply and fill the earth and subdue it and have dominion over the fish of the sea and over the birds of the heavens and over every living thing that moves on the earth."
Genesis 2:15
The Lord God took the man and put him in the garden of Eden to work it and keep it.
Colossians 3:23
Whatever you do, work heartily, as for the Lord and not for men.
Luke 16:11
"If then you have not been faithful in the unrighteous wealth, who will entrust to you the true riches?"
1 Chronicles 29:14
But who am I, and what is my people, that we should be able thus to offer willingly? For all things come from you, and of your own have we given you.
1 Corinthians 4:2
Moreover, it is required of stewards that they be found trustworthy.
1 Corinthians 6:20
For you were bought with a price. So glorify God in your body.
Deuteronomy 8:18
You shall remember the Lord your God, for it is he who gives you power to get wealth, that he may confirm his covenant that he swore to your fathers, as it is this day.
James 1:17
Every good gift and every perfect gift is from above, coming down from the Father of lights with whom there is no variation or shadow due to change.
John 10:20
Many of them said, "He has a demon, and is insane; why listen to him?"
John 3:27
John answered, "A person cannot receive even one thing unless it is given him from heaven."
Leviticus 27:30
"Every tithe of the land, whether of the seed of the land or of the fruit of the trees, is the Lord's; it is holy to the Lord."
Luke 12:48
"But the one who did not know, and did what deserved a beating, will receive a light beating. Everyone to whom much was given, of him much will be required, and from him to whom they entrusted much, they will demand the more."
Luke 14:28
"For which of you, desiring to build a tower, does not first sit down and count the cost, whether he has enough to complete it?"
Luke 16:10
"One who is faithful in a very little is also faithful in much, and one who is dishonest in a very little is also dishonest in much."
Luke 6:38
"Give, and it will be given to you. Good measure, pressed down, shaken together, running over, will be put into your lap. For with the measure you use it will be measured back to you."
Malachi 3:10
"Bring the full tithe into the storehouse, that there may be food in my house. And thereby put me to the test, says the Lord of hosts, if I will not open the windows of heaven for you and pour down for you a blessing until there is no more need."
Matthew 10:8
"Heal the sick, raise the dead, cleanse lepers, cast out demons. You received without paying; give without pay."
Matthew 25:21
"His master said to him, 'Well done, good and faithful servant. You have been faithful over a little; I will set you over much. Enter into the joy of your master.'"
Matthew 6:24
"No one can serve two masters, for either he will hate the one and love the other, or he will be devoted to the one and despise the other. You cannot serve God and money."
Matthew 6:33
"But seek first the kingdom of God and his righteousness, and all these things will be added to you."
Proverbs 13:11
Wealth gained hastily will dwindle, but whoever gathers little by little will increase it.
Proverbs 13:22
A good man leaves an inheritance to his children's children, but the sinner's wealth is laid up for the righteous.
Proverbs 16:3
Commit your work to the Lord, and your plans will be established.
Proverbs 21:20
Precious treasure and oil are in a wise man's dwelling, but a foolish man devours it.
Proverbs 22:7
The rich rules over the poor, and the borrower is the slave of the lender.
Proverbs 3:9
Honor the Lord with your wealth and with the firstfruits of all your produce.
Psalm 24:1
A Psalm of David. The earth is the Lord's and the fullness thereof, the world and those who dwell therein.
Titus 1:7
For an overseer, as God's steward, must be above reproach. He must not be arrogant or quick-tempered or a drunkard or violent or greedy for gain.
More Bible Verses that Will Move You
50 Most Powerful Scriptures on Faith
60 Transcendent Verses on Trust
50 Strong Scriptures on Perseverance
68 Powerful Verses on Forgiveness
40 Uplifting Scriptures on Patience
Add Our Infographic Below to Your Pinterest Board
Hit the pin button below to add our infographic, with all the verses, to one of your Pinterest boards.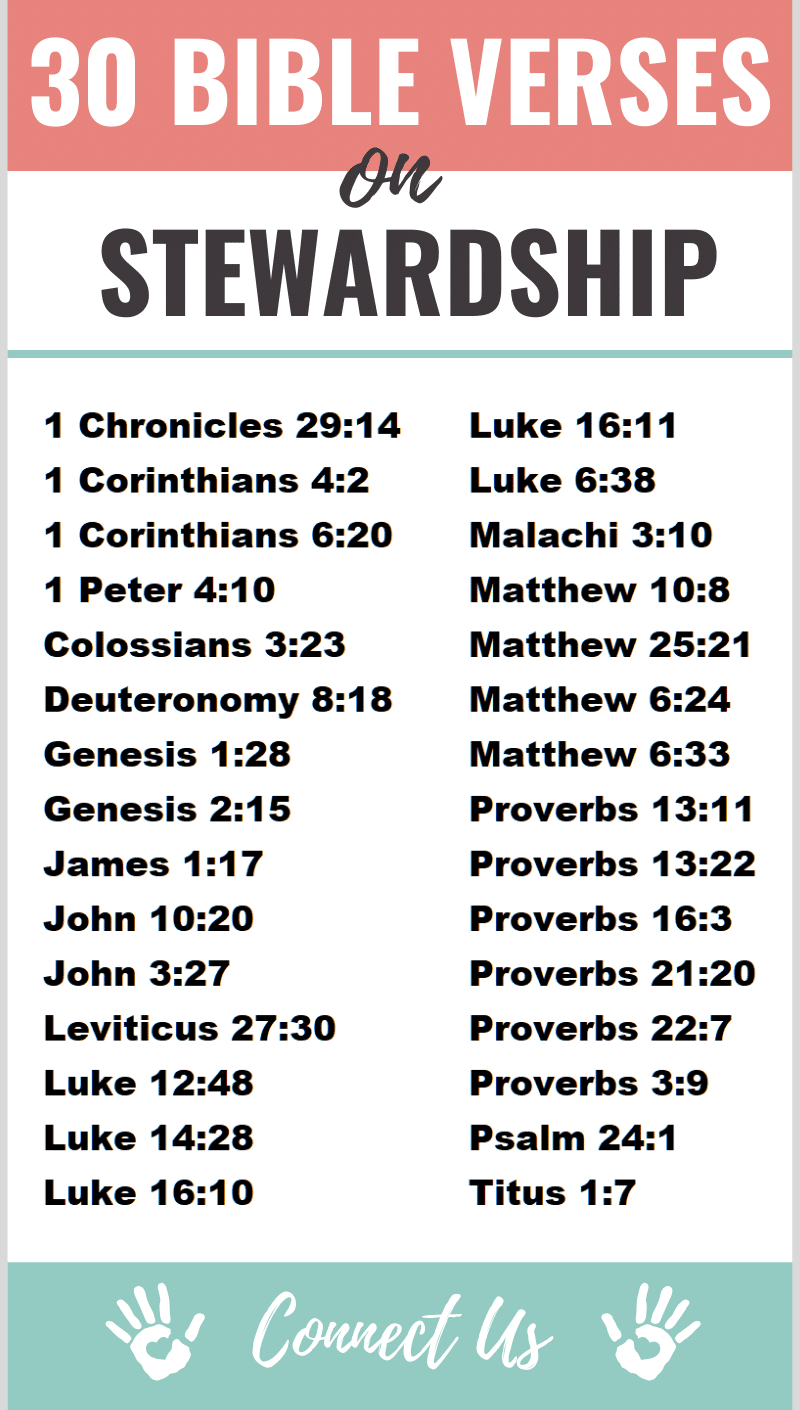 Author Bio
Natalie Regoli is a child of God, devoted wife, and mother of two boys. She has a Master's Degree in Law from The University of Texas. Natalie has been published in several national journals and has been practicing law for 18 years.