Here are the 30 strongest Bible scriptures on maturity.
1 Corinthians 14:20
Brothers, do not be children in your thinking. Be infants in evil, but in your thinking be mature.
1 Corinthians 13:11
When I was a child, I spoke like a child, I thought like a child, I reasoned like a child. When I became a man, I gave up childish ways.
Ephesians 4:13
Until we all attain to the unity of the faith and of the knowledge of the Son of God, to mature manhood, to the measure of the stature of the fullness of Christ.
2 Peter 3:18
But grow in the grace and knowledge of our Lord and Savior Jesus Christ. To him be the glory both now and to the day of eternity. Amen.
1 Peter 2:2
Like newborn infants, long for the pure spiritual milk, that by it you may grow up into salvation.
1 Corinthians 10:13
No temptation has overtaken you that is not common to man. God is faithful, and he will not let you be tempted beyond your ability, but with the temptation he will also provide the way of escape, that you may be able to endure it.
1 Corinthians 2:6
Yet among the mature we do impart wisdom, although it is not a wisdom of this age or of the rulers of this age, who are doomed to pass away.
1 John 4:18
There is no fear in love, but perfect love casts out fear. For fear has to do with punishment, and whoever fears has not been perfected in love.
1 Peter 2:9
But you are a chosen race, a royal priesthood, a holy nation, a people for his own possession, that you may proclaim the excellencies of him who called you out of darkness into his marvelous light.
1 Timothy 4:12
Let no one despise you for your youth, but set the believers an example in speech, in conduct, in love, in faith, in purity.
2 Corinthians 5:17
Therefore, if anyone is in Christ, he is a new creation. The old has passed away; behold, the new has come.
2 Timothy 1:7
For God gave us a spirit not of fear but of power and love and self-control.
2 Timothy 2:22
So flee youthful passions and pursue righteousness, faith, love, and peace, along with those who call on the Lord from a pure heart.
Colossians 4:12
Epaphras, who is one of you, a servant of Christ Jesus, greets you, always struggling on your behalf in his prayers, that you may stand mature and fully assured in all the will of God.
Ephesians 4:14
So that we may no longer be children, tossed to and fro by the waves and carried about by every wind of doctrine, by human cunning, by craftiness in deceitful schemes.
Galatians 2:20
I have been crucified with Christ. It is no longer I who live, but Christ who lives in me. And the life I now live in the flesh I live by faith in the Son of God, who loved me and gave himself for me.
Hebrews 5:14
But solid food is for the mature, for those who have their powers of discernment trained by constant practice to distinguish good from evil.
Hebrews 6:1
Therefore let us leave the elementary doctrine of Christ and go on to maturity, not laying again a foundation of repentance from dead works and of faith toward God.
James 1:4
And let steadfastness have its full effect, that you may be perfect and complete, lacking in nothing.
John 17:17
"Sanctify them in the truth; your word is truth."
Luke 2:52
And Jesus increased in wisdom and in stature and in favor with God and man.
Luke 8:14
"And as for what fell among the thorns, they are those who hear, but as they go on their way they are choked by the cares and riches and pleasures of life, and their fruit does not mature."
Matthew 5:48
"You therefore must be perfect, as your heavenly Father is perfect."
Philippians 1:6
And I am sure of this, that he who began a good work in you will bring it to completion at the day of Jesus Christ.
Philippians 3:12
Not that I have already obtained this or am already perfect, but I press on to make it my own, because Christ Jesus has made me his own.
Philippians 3:15
Let those of us who are mature think this way, and if in anything you think otherwise, God will reveal that also to you.
Philippians 4:13
I can do all things through him who strengthens me.
Proverbs 9:9
Give instruction to a wise man, and he will be still wiser; teach a righteous man, and he will increase in learning.
Psalm 119:105
Your word is a lamp to my feet and a light to my path.
Romans 12:2
Do not be conformed to this world, but be transformed by the renewal of your mind, that by testing you may discern what is the will of God, what is good and acceptable and perfect.
More Bible Verses that Will Move You
50 Most Powerful Scriptures on Faith
60 Transcendent Verses on Trust
50 Strong Scriptures on Perseverance
68 Powerful Verses on Forgiveness
40 Uplifting Scriptures on Patience
Add Our Infographic Below to Your Pinterest Board
Hit the pin button below to add our infographic, with all the verses, to one of your Pinterest boards.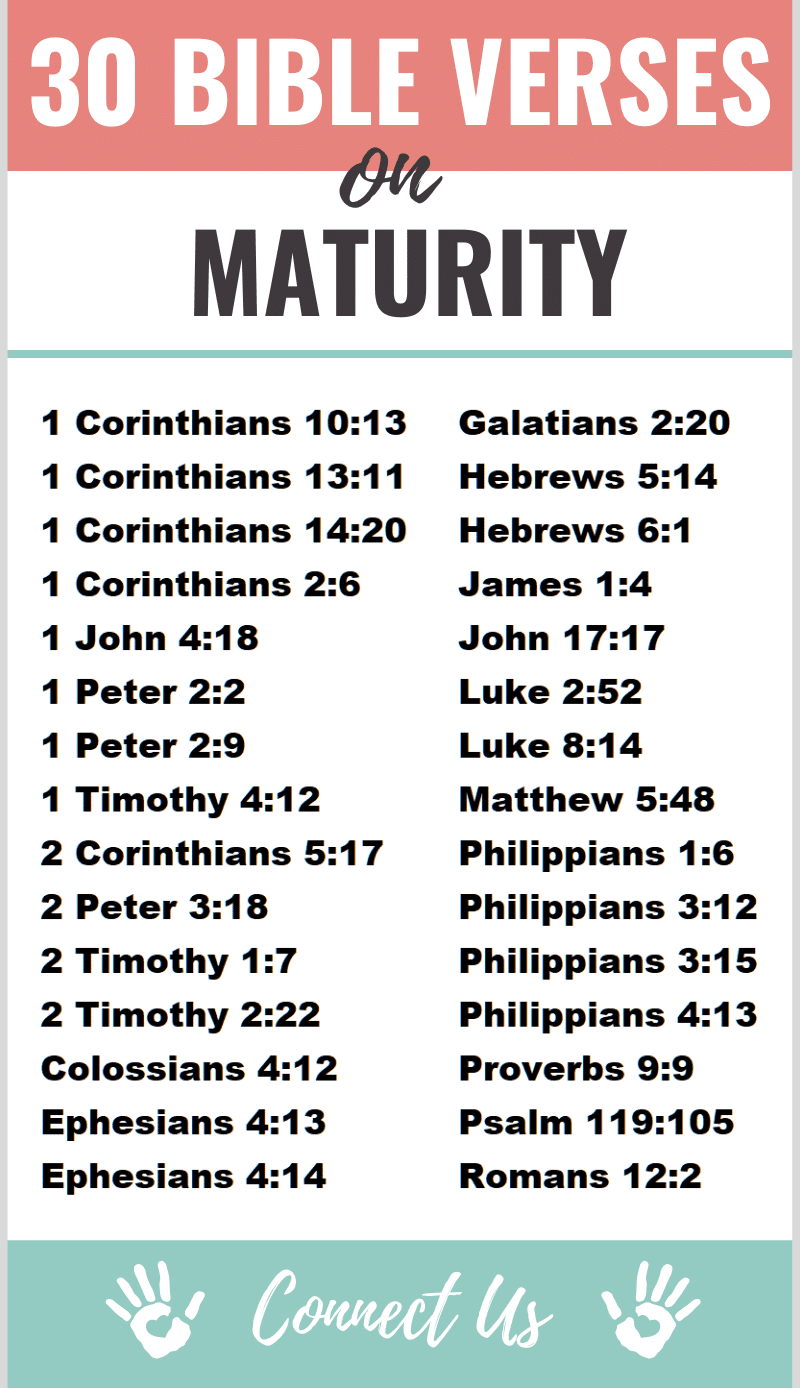 Author Bio
Natalie Regoli is a child of God, devoted wife, and mother of two boys. She has a Master's Degree in Law from The University of Texas. Natalie has been published in several national journals and has been practicing law for 18 years.