Here are the 30 strongest Bible scriptures on selflessness.
Philippians 2:4
Let each of you look not only to his own interests, but also to the interests of others.
Luke 6:35
"But love your enemies, and do good, and lend, expecting nothing in return, and your reward will be great, and you will be sons of the Most High, for he is kind to the ungrateful and the evil."
Philippians 2:3
Do nothing from rivalry or conceit, but in humility count others more significant than yourselves.
1 Peter 3:8
Finally, all of you, have unity of mind, sympathy, brotherly love, a tender heart, and a humble mind.
1 Thessalonians 5:15
See that no one repays anyone evil for evil, but always seek to do good to one another and to everyone.
1 Corinthians 10:24
Let no one seek his own good, but the good of his neighbor.
1 Corinthians 9:19
For though I am free from all, I have made myself a servant to all, that I might win more of them.
1 John 4:10
In this is love, not that we have loved God but that he loved us and sent his Son to be the propitiation for our sins.
Acts 20:24
But I do not account my life of any value nor as precious to myself, if only I may finish my course and the ministry that I received from the Lord Jesus, to testify to the gospel of the grace of God.
Galatians 2:20
I have been crucified with Christ. It is no longer I who live, but Christ who lives in me. And the life I now live in the flesh I live by faith in the Son of God, who loved me and gave himself for me.
Galatians 5:14
For the whole law is fulfilled in one word: "You shall love your neighbor as yourself."
Hebrews 13:5
Keep your life free from love of money, and be content with what you have, for he has said, "I will never leave you nor forsake you."
James 3:16
For where jealousy and selfish ambition exist, there will be disorder and every vile practice.
John 15:13
"Greater love has no one than this, that someone lay down his life for his friends."
John 3:16
For God so loved the world, that he gave his only Son, that whoever believes in him should not perish but have eternal life.
John 3:30
"He must increase, but I must decrease."
Leviticus 19:18
"You shall not take vengeance or bear a grudge against the sons of your own people, but you shall love your neighbor as yourself: I am the Lord."
Luke 1:37
"For nothing will be impossible with God."
Luke 22:42
Saying, "Father, if you are willing, remove this cup from me. Nevertheless, not my will, but yours, be done."
Mark 12:31
"The second is this: 'You shall love your neighbor as yourself.' There is no other commandment greater than these."
Matthew 25:40
"And the King will answer them, 'Truly, I say to you, as you did it to one of the least of these my brothers, you did it to me.'"
Philippians 2:13
For it is God who works in you, both to will and to work for his good pleasure.
Philippians 4:8
Finally, brothers, whatever is true, whatever is honorable, whatever is just, whatever is pure, whatever is lovely, whatever is commendable, if there is any excellence, if there is anything worthy of praise, think about these things.
Proverbs 18:1
Whoever isolates himself seeks his own desire; he breaks out against all sound judgment.
Proverbs 19:17
Whoever is generous to the poor lends to the Lord, and he will repay him for his deed.
Proverbs 28:6
Better is a poor man who walks in his integrity than a rich man who is crooked in his ways.
Psalm 119:36
Incline my heart to your testimonies, and not to selfish gain!
Romans 12:2
Do not be conformed to this world, but be transformed by the renewal of your mind, that by testing you may discern what is the will of God, what is good and acceptable and perfect.
Romans 12:3
For by the grace given to me I say to everyone among you not to think of himself more highly than he ought to think, but to think with sober judgment, each according to the measure of faith that God has assigned.
Romans 5:8
But God shows his love for us in that while we were still sinners, Christ died for us.
More Bible Verses that Will Move You
50 Most Powerful Scriptures on Faith
60 Transcendent Verses on Trust
50 Strong Scriptures on Perseverance
68 Powerful Verses on Forgiveness
40 Uplifting Scriptures on Patience
Add Our Infographic Below to Your Pinterest Board
Hit the pin button below to add our infographic, with all the verses, to one of your Pinterest boards.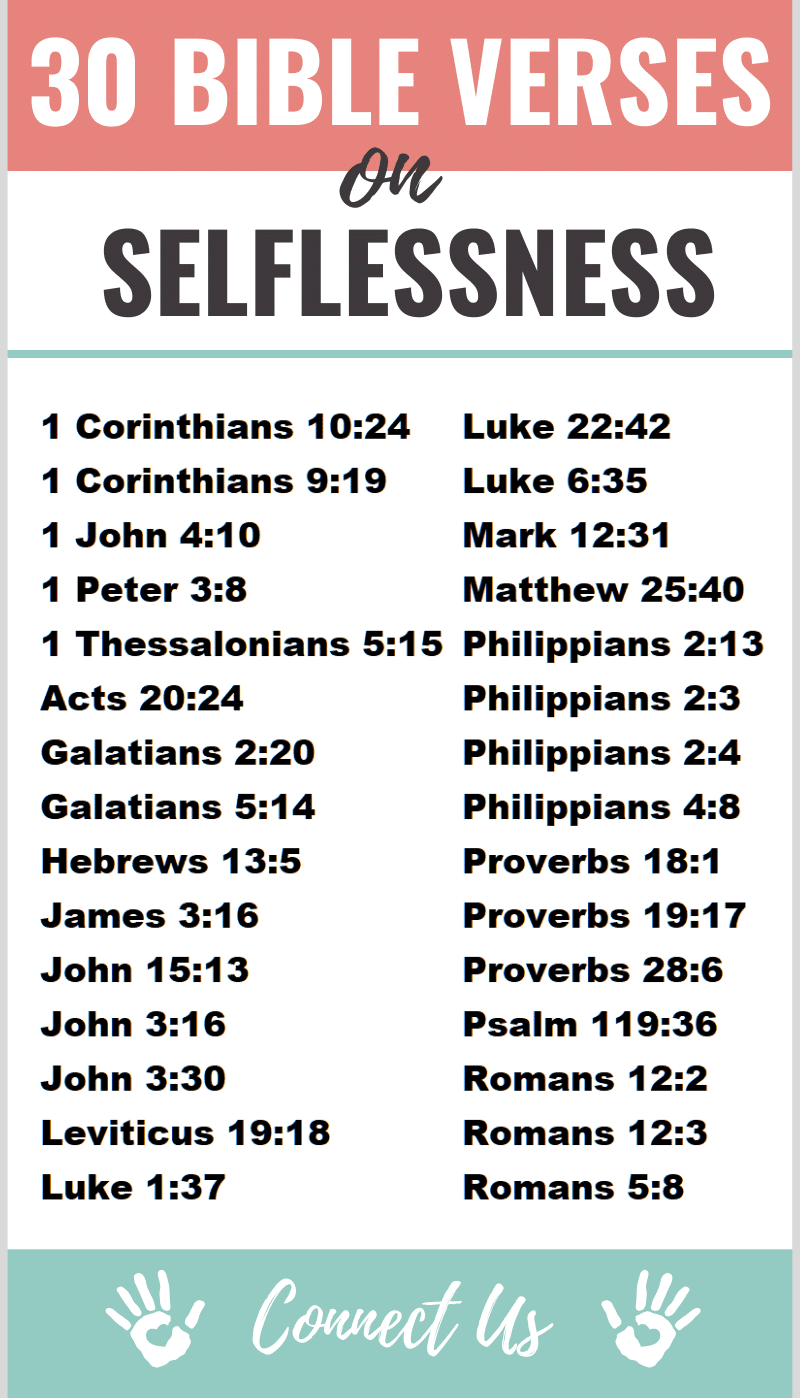 Author Bio
Natalie Regoli is a child of God, devoted wife, and mother of two boys. She has a Master's Degree in Law from The University of Texas. Natalie has been published in several national journals and has been practicing law for 18 years.