The word "calling" appears 38 times throughout the books of the Bible. The graph below shows the locations of each appearance. It begins with Genesis in the top left and concludes with Revelation in the bottom right.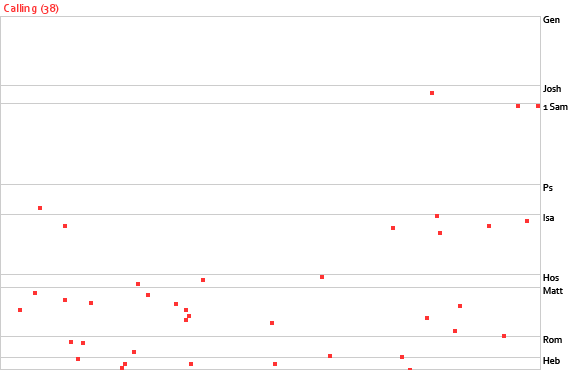 Here are the 30 most transcendent Bible scriptures on calling.
Romans 11:29
For the gifts and the calling of God are irrevocable.
2 Peter 1:10
Therefore, brothers, be all the more diligent to make your calling and election sure, for if you practice these qualities you will never fall.
Jeremiah 29:11
"For I know the plans I have for you," declares the Lord, "plans for welfare and not for evil, to give you a future and a hope."
Ephesians 4:1
I therefore, a prisoner for the Lord, urge you to walk in a manner worthy of the calling to which you have been called.
Romans 12:4
For as in one body we have many members, and the members do not all have the same function.
1 Corinthians 1:9
God is faithful, by whom you were called into the fellowship of his Son, Jesus Christ our Lord.
1 Peter 2:21
For to this you have been called, because Christ also suffered for you, leaving you an example, so that you might follow in his steps.
1 Peter 2:9
But you are a chosen race, a royal priesthood, a holy nation, a people for his own possession, that you may proclaim the excellencies of him who called you out of darkness into his marvelous light.
1 Peter 3:9
Do not repay evil for evil or reviling for reviling, but on the contrary, bless, for to this you were called, that you may obtain a blessing.
1 Peter 5:10
And after you have suffered a little while, the God of all grace, who has called you to his eternal glory in Christ, will himself restore, confirm, strengthen, and establish you.
1 Thessalonians 4:7
For God has not called us for impurity, but in holiness.
1 Thessalonians 5:24
He who calls you is faithful; he will surely do it.
2 Peter 1:3
His divine power has granted to us all things that pertain to life and godliness, through the knowledge of him who called us to his own glory and excellence.
2 Thessalonians 2:14
To this he called you through our gospel, so that you may obtain the glory of our Lord Jesus Christ.
2 Timothy 1:9
Who saved us and called us to a holy calling, not because of our works but because of his own purpose and grace, which he gave us in Christ Jesus before the ages began.
Acts 1:8
But you will receive power when the Holy Spirit has come upon you, and you will be my witnesses in Jerusalem and in all Judea and Samaria, and to the end of the earth."
Acts 2:38
And Peter said to them, "Repent and be baptized every one of you in the name of Jesus Christ for the forgiveness of your sins, and you will receive the gift of the Holy Spirit."
Acts 22:16
And now why do you wait? Rise and be baptized and wash away your sins, calling on his name.
Ephesians 4:11
And he gave the apostles, the prophets, the evangelists, the shepherds and teachers.
Ephesians 4:4
There is one body and one Spirit—just as you were called to the one hope that belongs to your call.
Isaiah 6:8
And I heard the voice of the Lord saying, "Whom shall I send, and who will go for us?" Then I said, "Here am I! Send me."
Jeremiah 1:5
"Before I formed you in the womb I knew you, and before you were born I consecrated you; I appointed you a prophet to the nations."
John 14:6
Jesus said to him, "I am the way, and the truth, and the life. No one comes to the Father except through me."
John 15:16
"You did not choose me, but I chose you and appointed you that you should go and bear fruit and that your fruit should abide, so that whatever you ask the Father in my name, he may give it to you."
John 6:44
"No one can come to me unless the Father who sent me draws him. And I will raise him up on the last day."
Matthew 22:14
"For many are called, but few are chosen."
Matthew 5:22
"But I say to you that everyone who is angry with his brother will be liable to judgment; whoever insults his brother will be liable to the council; and whoever says, 'You fool!' will be liable to the hell of fire."
Philippians 3:14
I press on toward the goal for the prize of the upward call of God in Christ Jesus.
Psalm 18:6
In my distress I called upon the Lord; to my God I cried for help. From his temple he heard my voice, and my cry to him reached his ears.
Romans 8:28
And we know that for those who love God all things work together for good, for those who are called according to his purpose.
More Bible Verses that Will Move You
50 Most Powerful Scriptures on Faith
60 Transcendent Verses on Trust
50 Strong Scriptures on Perseverance
68 Powerful Verses on Forgiveness
40 Uplifting Scriptures on Patience
Add Our Infographic Below to Your Pinterest Board
Hit the pin button below to add our infographic, with all the verses, to one of your Pinterest boards.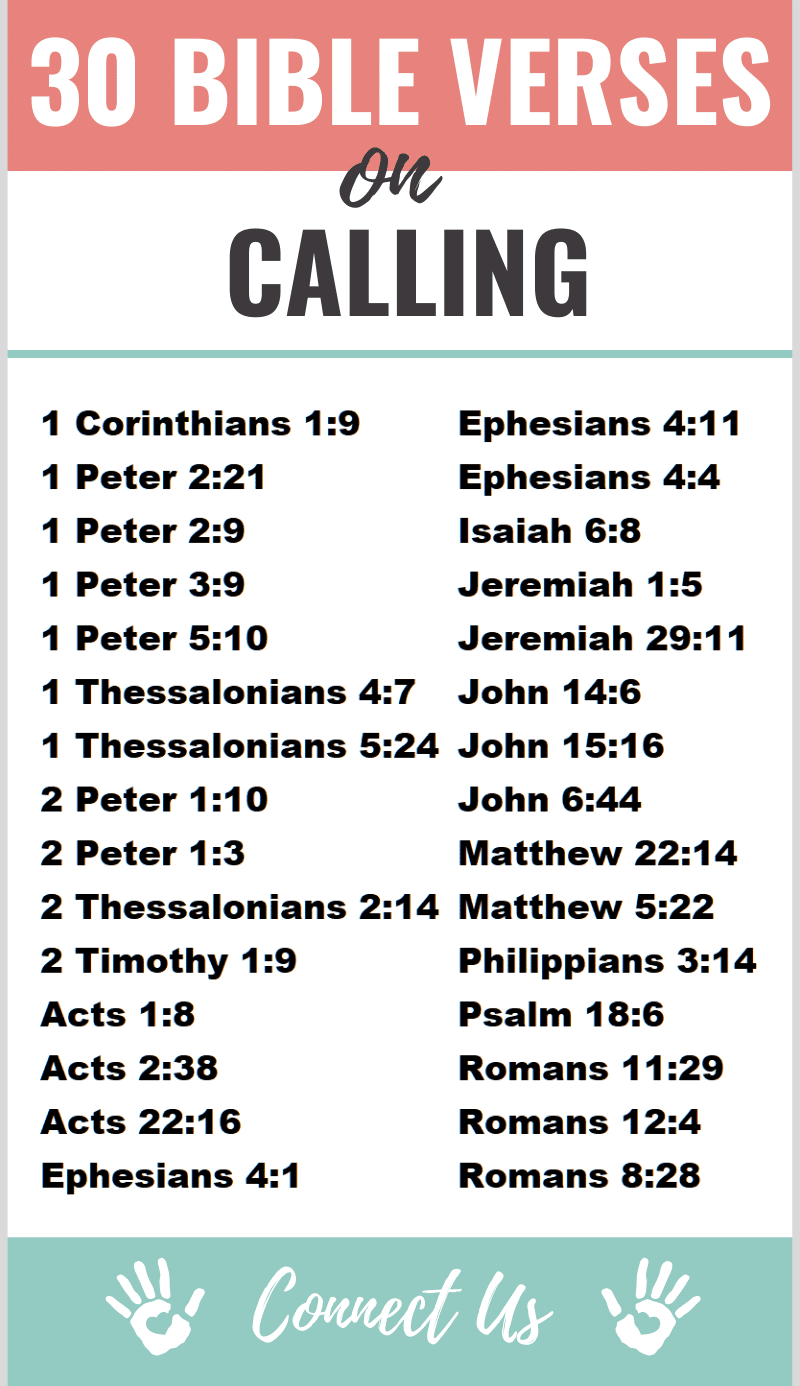 Author Bio
Natalie Regoli is a child of God, devoted wife, and mother of two boys. She has a Master's Degree in Law from The University of Texas. Natalie has been published in several national journals and has been practicing law for 18 years.