Here are the 30 most transcendent Bible scriptures on submission to God.
James 4:7
Submit yourselves therefore to God. Resist the devil, and he will flee from you.
Ephesians 5:21
Submitting to one another out of reverence for Christ.
Romans 8:7
For the mind that is set on the flesh is hostile to God, for it does not submit to God's law; indeed, it cannot.
1 Peter 5:5
Likewise, you who are younger, be subject to the elders. Clothe yourselves, all of you, with humility toward one another, for "God opposes the proud but gives grace to the humble."
Hebrews 13:17
Obey your leaders and submit to them, for they are keeping watch over your souls, as those who will have to give an account. Let them do this with joy and not with groaning, for that would be of no advantage to you.
1 Corinthians 11:3
But I want you to understand that the head of every man is Christ, the head of a wife is her husband, and the head of Christ is God.
1 Corinthians 14:34
The women should keep silent in the churches. For they are not permitted to speak, but should be in submission, as the Law also says.
1 Corinthians 3:16
Do you not know that you are God's temple and that God's Spirit dwells in you?
1 Peter 2:13
Be subject for the Lord's sake to every human institution, whether it be to the emperor as supreme.
1 Peter 2:23
When he was reviled, he did not revile in return; when he suffered, he did not threaten, but continued entrusting himself to him who judges justly.
1 Peter 3:1
Likewise, wives, be subject to your own husbands, so that even if some do not obey the word, they may be won without a word by the conduct of their wives.
1 Peter 5:6
Humble yourselves, therefore, under the mighty hand of God so that at the proper time he may exalt you.
1 Peter 5:8
Be sober-minded; be watchful. Your adversary the devil prowls around like a roaring lion, seeking someone to devour.
1 Samuel 8:7
And the Lord said to Samuel, "Obey the voice of the people in all that they say to you, for they have not rejected you, but they have rejected me from being king over them."
2 Corinthians 10:5
We destroy arguments and every lofty opinion raised against the knowledge of God, and take every thought captive to obey Christ.
Deuteronomy 30:19
I call heaven and earth to witness against you today, that I have set before you life and death, blessing and curse. Therefore choose life, that you and your offspring may live.
Ephesians 5:22
Wives, submit to your own husbands, as to the Lord.
Ephesians 5:24
Now as the church submits to Christ, so also wives should submit in everything to their husbands.
Ephesians 5:25
Husbands, love your wives, as Christ loved the church and gave himself up for her.
Ephesians 6:11
Put on the whole armor of God, that you may be able to stand against the schemes of the devil.
John 14:10
"Do you not believe that I am in the Father and the Father is in me? The words that I say to you I do not speak on my own authority, but the Father who dwells in me does his works."
John 7:17
"If anyone's will is to do God's will, he will know whether the teaching is from God or whether I am speaking on my own authority."
Luke 19:46
Saying to them, "It is written, 'My house shall be a house of prayer,' but you have made it a den of robbers."
Luke 21:36
"But stay awake at all times, praying that you may have strength to escape all these things that are going to take place, and to stand before the Son of Man."
Luke 22:42
Saying, "Father, if you are willing, remove this cup from me. Nevertheless, not my will, but yours, be done."
Matthew 11:29
"Take my yoke upon you, and learn from me, for I am gentle and lowly in heart, and you will find rest for your souls."
Romans 12:10
Love one another with brotherly affection. Outdo one another in showing honor.
Romans 12:2
Do not be conformed to this world, but be transformed by the renewal of your mind, that by testing you may discern what is the will of God, what is good and acceptable and perfect.
Romans 13:1
Let every person be subject to the governing authorities. For there is no authority except from God, and those that exist have been instituted by God.
Titus 3:1
Remind them to be submissive to rulers and authorities, to be obedient, to be ready for every good work.
More Bible Verses that Will Move You
50 Most Powerful Scriptures on Faith
60 Transcendent Verses on Trust
50 Strong Scriptures on Perseverance
68 Powerful Verses on Forgiveness
40 Uplifting Scriptures on Patience
Add Our Infographic Below to Your Pinterest Board
Hit the pin button below to add our infographic, with all the verses, to one of your Pinterest boards.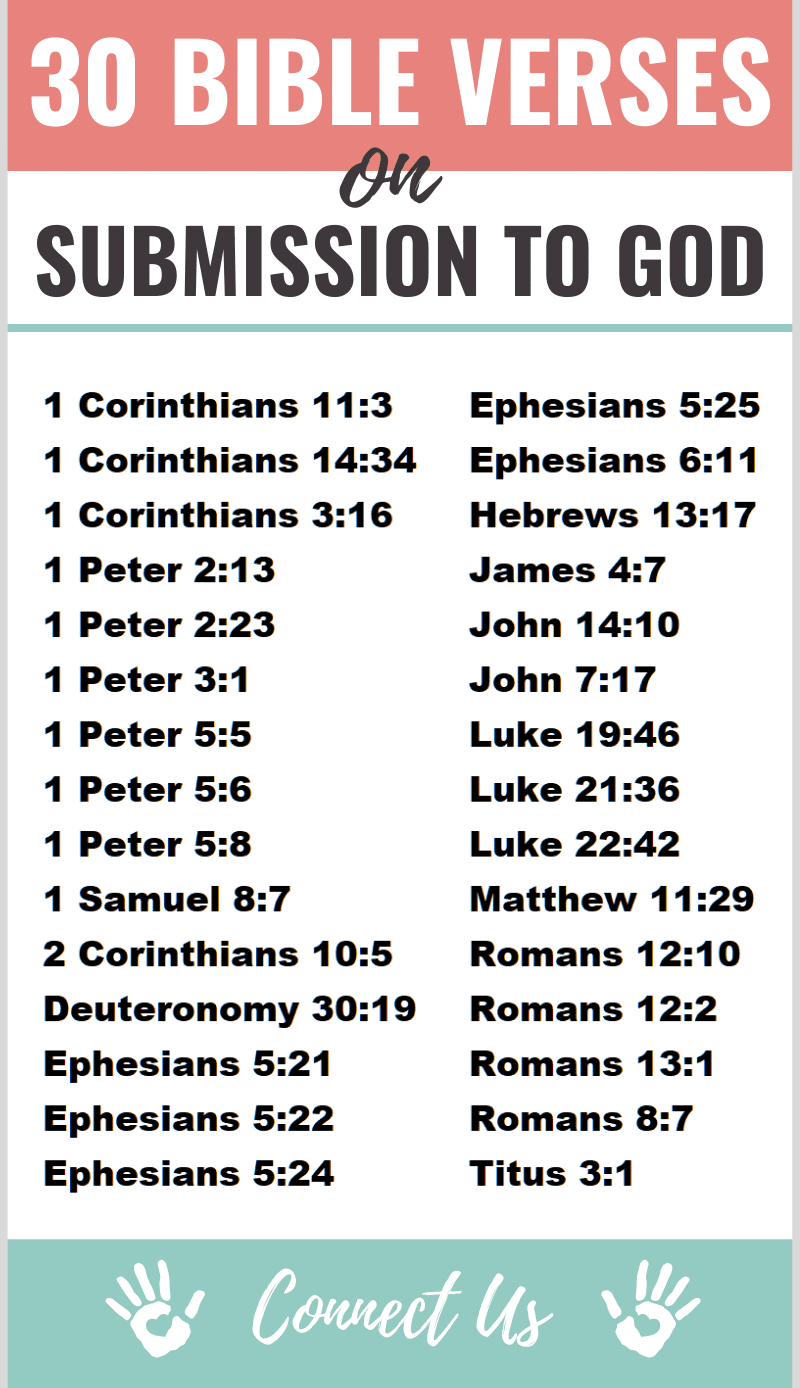 Author Bio
Natalie Regoli is a child of God, devoted wife, and mother of two boys. She has a Masters Degree in Law from The University of Texas. Natalie has been published in several national journals and has been practicing law for 18 years. If you would like to reach out to contact Natalie, then go here to
send her a message
.