The word "love" appears 796 times throughout the books of the Bible. The graph below shows the locations of each appearance. It begins with Genesis in the top left and concludes with Revelation in the bottom right.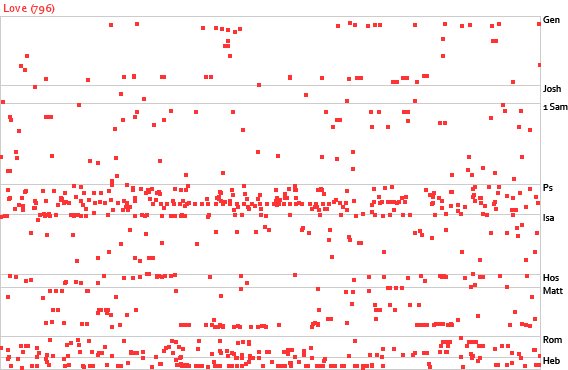 Here are the 30 most uplifting Bible scriptures on loving God.
Luke 10:27
And he answered, "You shall love the Lord your God with all your heart and with all your soul and with all your strength and with all your mind, and your neighbor as yourself."
Deuteronomy 6:5
You shall love the Lord your God with all your heart and with all your soul and with all your might.
1 John 4:19
We love because he first loved us.
John 3:16
For God so loved the world, that he gave his only Son, that whoever believes in him should not perish but have eternal life.
John 14:21
"Whoever has my commandments and keeps them, he it is who loves me. And he who loves me will be loved by my Father, and I will love him and manifest myself to him."
1 Corinthians 13:13
So now faith, hope, and love abide, these three; but the greatest of these is love.
1 Corinthians 2:9
But, as it is written, "What no eye has seen, nor ear heard, nor the heart of man imagined, what God has prepared for those who love him."
1 John 3:1
See what kind of love the Father has given to us, that we should be called children of God; and so we are. The reason why the world does not know us is that it did not know him.
1 John 4:16
So we have come to know and to believe the love that God has for us. God is love, and whoever abides in love abides in God, and God abides in him.
1 John 4:7
Beloved, let us love one another, for love is from God, and whoever loves has been born of God and knows God.
1 John 4:8
Anyone who does not love does not know God, because God is love.
1 John 5:3
For this is the love of God, that we keep his commandments. And his commandments are not burdensome.
1 Peter 4:8
Above all, keep loving one another earnestly, since love covers a multitude of sins.
Colossians 3:14
And above all these put on love, which binds everything together in perfect harmony.
Deuteronomy 10:12
And now, Israel, what does the Lord your God require of you, but to fear the Lord your God, to walk in all his ways, to love him, to serve the Lord your God with all your heart and with all your soul.
Deuteronomy 7:9
Know therefore that the Lord your God is God, the faithful God who keeps covenant and steadfast love with those who love him and keep his commandments, to a thousand generations.
Ephesians 5:25
Husbands, love your wives, as Christ loved the church and gave himself up for her.
Galatians 2:20
I have been crucified with Christ. It is no longer I who live, but Christ who lives in me. And the life I now live in the flesh I live by faith in the Son of God, who loved me and gave himself for me.
Jeremiah 31:3
The Lord appeared to him from far away. "I have loved you with an everlasting love; therefore I have continued my faithfulness to you."
John 14:15
"If you love me, you will keep my commandments."
John 14:23
Jesus answered him, "If anyone loves me, he will keep my word, and my Father will love him, and we will come to him and make our home with him."
John 15:13
"Greater love has no one than this, that someone lay down his life for his friends."
Matthew 22:37
And he said to him, "You shall love the Lord your God with all your heart and with all your soul and with all your mind."
Matthew 6:24
"No one can serve two masters, for either he will hate the one and love the other, or he will be devoted to the one and despise the other. You cannot serve God and money."
Proverbs 10:12
Hatred stirs up strife, but love covers all offenses.
Proverbs 8:17
I love those who love me, and those who seek me diligently find me.
Psalm 86:15
But you, O Lord, are a God merciful and gracious, slow to anger and abounding in steadfast love and faithfulness.
Romans 5:5
And hope does not put us to shame, because God's love has been poured into our hearts through the Holy Spirit who has been given to us.
Romans 5:8
But God shows his love for us in that while we were still sinners, Christ died for us.
Zephaniah 3:17
The Lord your God is in your midst, a mighty one who will save; he will rejoice over you with gladness; he will quiet you by his love; he will exult over you with loud singing.
More Bible Verses that Will Move You
50 Most Powerful Scriptures on Faith
60 Transcendent Verses on Trust
50 Strong Scriptures on Perseverance
68 Powerful Verses on Forgiveness
40 Uplifting Scriptures on Patience
Add Our Infographic Below to Your Pinterest Board
Hit the pin button below to add our infographic, with all the verses, to one of your Pinterest boards.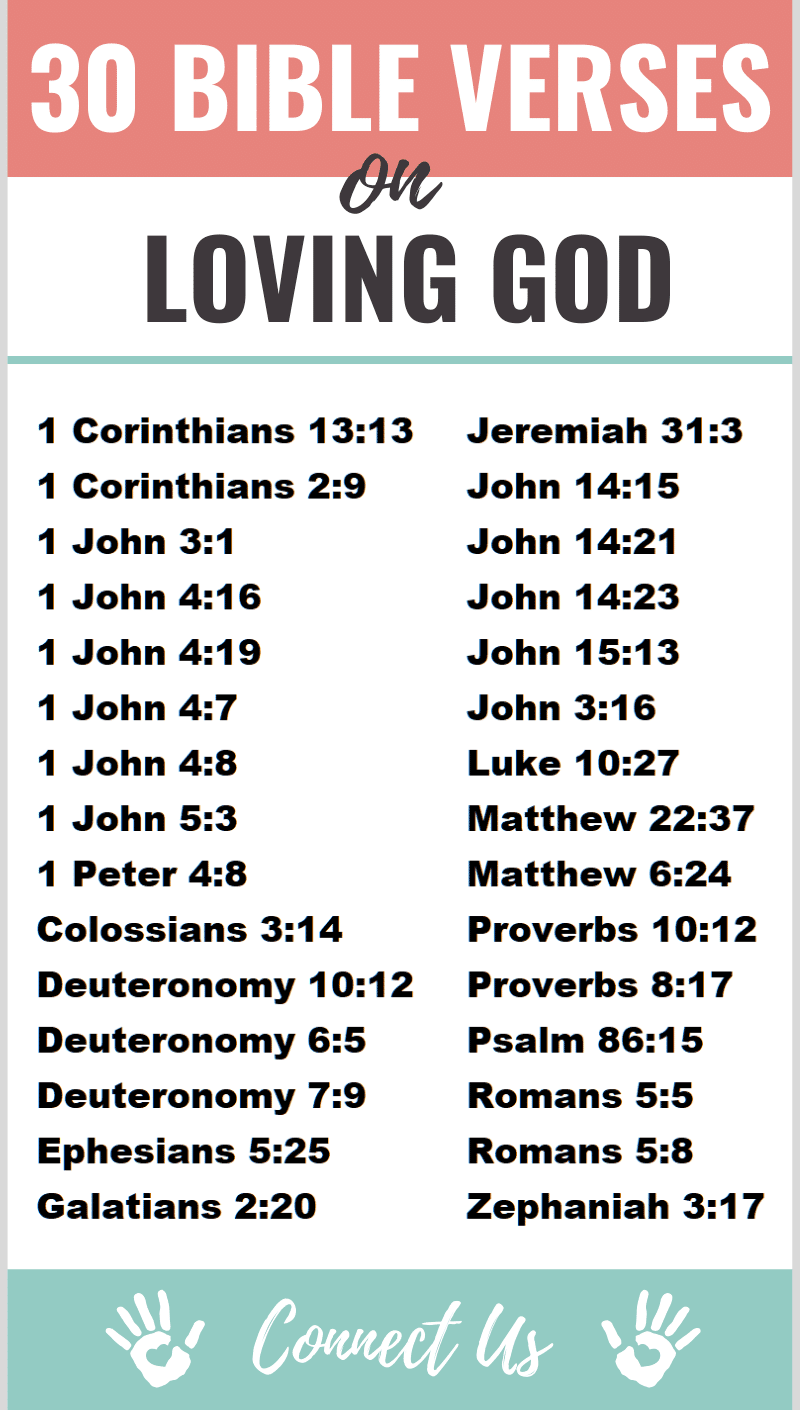 Author Bio
Natalie Regoli is a child of God, devoted wife, and mother of two boys. She has a Masters Degree in Law from The University of Texas. Natalie has been published in several national journals and has been practicing law for 18 years. If you would like to reach out to contact Natalie, then go here to
send her a message
.