The word "baby" is found 321 times in the Old and New Testament. The image below reveals the locations of each occurrence. This cool graph starts with Genesis in the top left and ends with Revelation in the bottom right.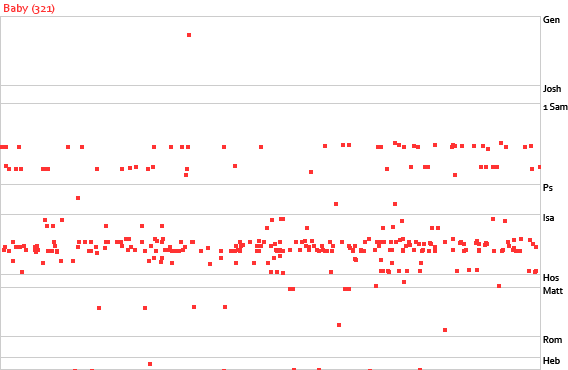 Here are the 35 best Bible scriptures on having a baby.
Psalm 127:3
Behold, children are a heritage from the Lord, the fruit of the womb a reward.
Genesis 1:28
And God blessed them. And God said to them, "Be fruitful and multiply and fill the earth and subdue it and have dominion over the fish of the sea and over the birds of the heavens and over every living thing that moves on the earth."
Jeremiah 1:5
"Before I formed you in the womb I knew you, and before you were born I consecrated you; I appointed you a prophet to the nations."
Proverbs 22:6
Train up a child in the way he should go; even when he is old he will not depart from it.
Genesis 25:21
And Isaac prayed to the Lord for his wife, because she was barren. And the Lord granted his prayer, and Rebekah his wife conceived.
1 Samuel 1:27
For this child I prayed, and the Lord has granted me my petition that I made to him.
1 Timothy 5:14
So I would have younger widows marry, bear children, manage their households, and give the adversary no occasion for slander.
Deuteronomy 28:11
And the Lord will make you abound in prosperity, in the fruit of your womb and in the fruit of your livestock and in the fruit of your ground, within the land that the Lord swore to your fathers to give you.
Deuteronomy 28:4
Blessed shall be the fruit of your womb and the fruit of your ground and the fruit of your cattle, the increase of your herds and the young of your flock.
Deuteronomy 7:14
You shall be blessed above all peoples. There shall not be male or female barren among you or among your livestock.
Ephesians 6:4
Fathers, do not provoke your children to anger, but bring them up in the discipline and instruction of the Lord.
Exodus 23:25
You shall serve the Lord your God, and he will bless your bread and your water, and I will take sickness away from among you.
Galatians 1:15
But when he who had set me apart before I was born, and who called me by his grace.
Genesis 25:22
The children struggled together within her, and she said, "If it is thus, why is this happening to me?" So she went to inquire of the Lord.
Genesis 9:1
And God blessed Noah and his sons and said to them, "Be fruitful and multiply and fill the earth."
James 1:17
Every good gift and every perfect gift is from above, coming down from the Father of lights with whom there is no variation or shadow due to change.
Jeremiah 1:12
Then the Lord said to me, "You have seen well, for I am watching over my word to perform it."
John 16:21
"When a woman is giving birth, she has sorrow because her hour has come, but when she has delivered the baby, she no longer remembers the anguish, for joy that a human being has been born into the world."
John 3:16
For God so loved the world, that he gave his only Son, that whoever believes in him should not perish but have eternal life.
Luke 1:13
But the angel said to him, "Do not be afraid, Zechariah, for your prayer has been heard, and your wife Elizabeth will bear you a son, and you shall call his name John."
Luke 1:14
And you will have joy and gladness, and many will rejoice at his birth.
Luke 1:31
And behold, you will conceive in your womb and bear a son, and you shall call his name Jesus.
Luke 1:36
And behold, your relative Elizabeth in her old age has also conceived a son, and this is the sixth month with her who was called barren.
Luke 1:41
And when Elizabeth heard the greeting of Mary, the baby leaped in her womb. And Elizabeth was filled with the Holy Spirit.
Luke 2:16
And they went with haste and found Mary and Joseph, and the baby lying in a manger.
Luke 2:40
And the child grew and became strong, filled with wisdom. And the favor of God was upon him.
Luke 2:7
And she gave birth to her firstborn son and wrapped him in swaddling cloths and laid him in a manger, because there was no place for them in the inn.
Matthew 18:10
"See that you do not despise one of these little ones. For I tell you that in heaven their angels always see the face of my Father who is in heaven."
Matthew 19:14
But Jesus said, "Let the little children come to me and do not hinder them, for to such belongs the kingdom of heaven."
Proverbs 30:16
Sheol, the barren womb, the land never satisfied with water, and the fire that never says, "Enough."
Psalm 113:9
He gives the barren woman a home, making her the joyous mother of children. Praise the Lord!
Psalm 8:2
Out of the mouth of babies and infants, you have established strength because of your foes, to still the enemy and the avenger.
Revelation 21:4
"He will wipe away every tear from their eyes, and death shall be no more, neither shall there be mourning, nor crying, nor pain anymore, for the former things have passed away."
Romans 9:11
Though they were not yet born and had done nothing either good or bad—in order that God's purpose of election might continue, not because of works but because of him who calls.
Titus 2:4
And so train the young women to love their husbands and children.
More Bible Verses that Will Move You
50 Most Powerful Scriptures on Faith
60 Transcendent Verses on Trust
50 Strong Scriptures on Perseverance
68 Powerful Verses on Forgiveness
40 Uplifting Scriptures on Patience
Add Our Infographic Below to Your Pinterest Board
Hit the pin button below to add our infographic, with all the verses, to one of your Pinterest boards.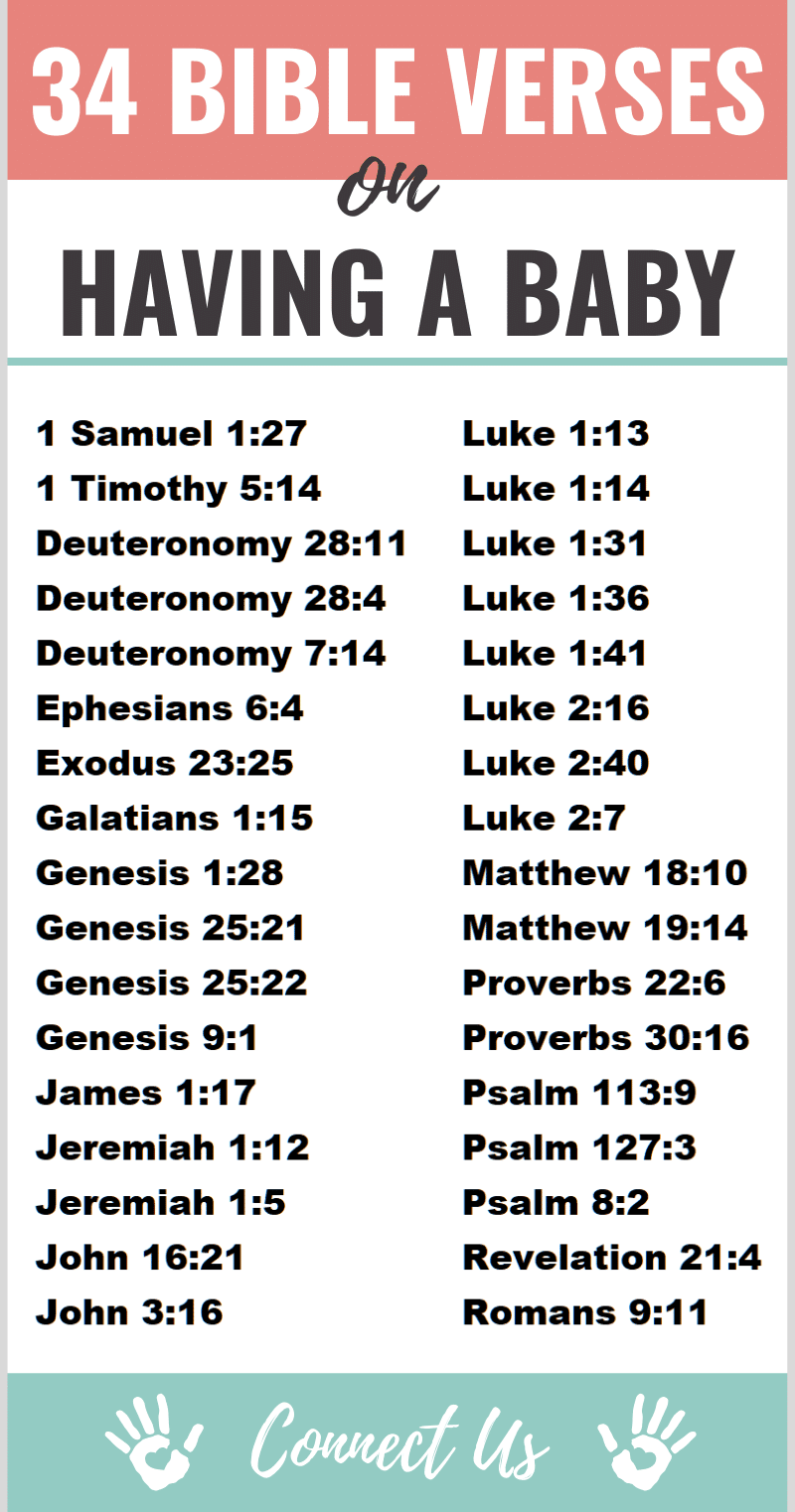 Author Bio
Natalie Regoli is a child of God, devoted wife, and mother of two boys. She has a Masters Degree in Law from The University of Texas. Natalie has been published in several national journals and has been practicing law for 18 years. If you would like to reach out to contact Natalie, then go here to
send her a message
.