Matthew 10:14
"If anyone will not welcome you or listen to your words, leave that home or town and shake the dust off your feet."
Explanation and Commentary of Matthew 10:14
The earthly ministry of Jesus Christ could be characterized by saying that the God of the universe incarnated (Jn 1:14) in order to lead the world to water, but not to make them drink. The paradox of God's choosing notwithstanding, Jesus' call was to "Come follow me," as he continually moved forward, his face like a flint (Isa 50:7), walking his straight path to the cross. He invited all who had "ears to hear" to walk behind him. He led all "horses to water," but he made none of them drink.
This verse is a counter to the many forms of ministry that seek to coerce, manipulate, or market men and women into the kingdom of God. Paul denounced crafty and underhanded ways of winning souls (2 Cor 4:2), and instead commended the Gospel to the conscience of each and every person to deal with. What we have to deal with is the call, "Come follow me," (Mt 4:19) which comes with, "Take up your cross" (Mt 16:24). This must be voluntary and based on an objective understanding of who God is, what Jesus has done, and how then one should respond.
Because of this, the nature of the ministry of evangelism and disciple-making should be to keep moving toward the day of judgment, calling as many as possible to come and follow Jesus. Not to chase people, not to trick them, coerce them, or sell them the kingdom in any way, but to commend the truth to their conscience, helping them to first count the cost (Lk 14:28), and then showing them the way forward as we travel. If someone rejects the message, or at first seems to, we must keep moving until we find ears to hear our message.
Breaking Down the Key Parts of Matthew 10:14
#1 "If anyone will not welcome you,"
Jesus is addressing the disciples who he sent out to demonstrate and preach the kingdom of God. He instructs them to stay where they are welcome and find listening ears for the message. Where they are not welcome, he instructs them to move on.
#2 "or listen to your words,"
It has been said that to evangelize we need only show the Gospel by the way we live our lives. A famous saint in Christian tradition said, "Preach the Gospel everywhere you go, and if necessary, use words." But words, emphatically, are necessary. "14 How, then, can they call on the one they have not believed in? And how can they believe in the one of whom they have not heard? And how can they hear without someone preaching to them? 15 And how can anyone preach unless they are sent? As it is written: 'How beautiful are the feet of those who bring good news'" (Ro 10:14-15)!
#3 "leave that home or town and shake the dust off your feet."
There are simply too many people that need to hear the Good News of Jesus Christ crucified and resurrected for the forgiveness of our sins. The current trends of long relational evangelism, where we don't go out and preach because we are cultivating a five-year friendship with an unbeliever so that we can tell them about Jesus, are keeping us from obeying Christ. Not that we should not cultivate relationships, but their salvation does not depend on the quality of our friendship, but rather on the supernatural power of the message of Christ and him crucified, the power for the miracle of salvation.
Expert Overview of Matthew Ch. 1-13
Biblical Translations of Matthew 10:14
NIV
"If anyone will not welcome you or listen to your words, leave that home or town and shake the dust off your feet."
NLT
"If any household or town refuses to welcome you or listen to your message, shake its dust from your feet as you leave."
ESV
"And if anyone will not receive you or listen to your words, shake off the dust from your feet when you leave that house or town."
KJV
"And whosoever shall not receive you, nor hear your words, when ye depart out of that house or city, shake off the dust of your feet."
NKJV
"And whoever will not receive you nor hear your words, when you depart from that house or city, shake off the dust from your feet."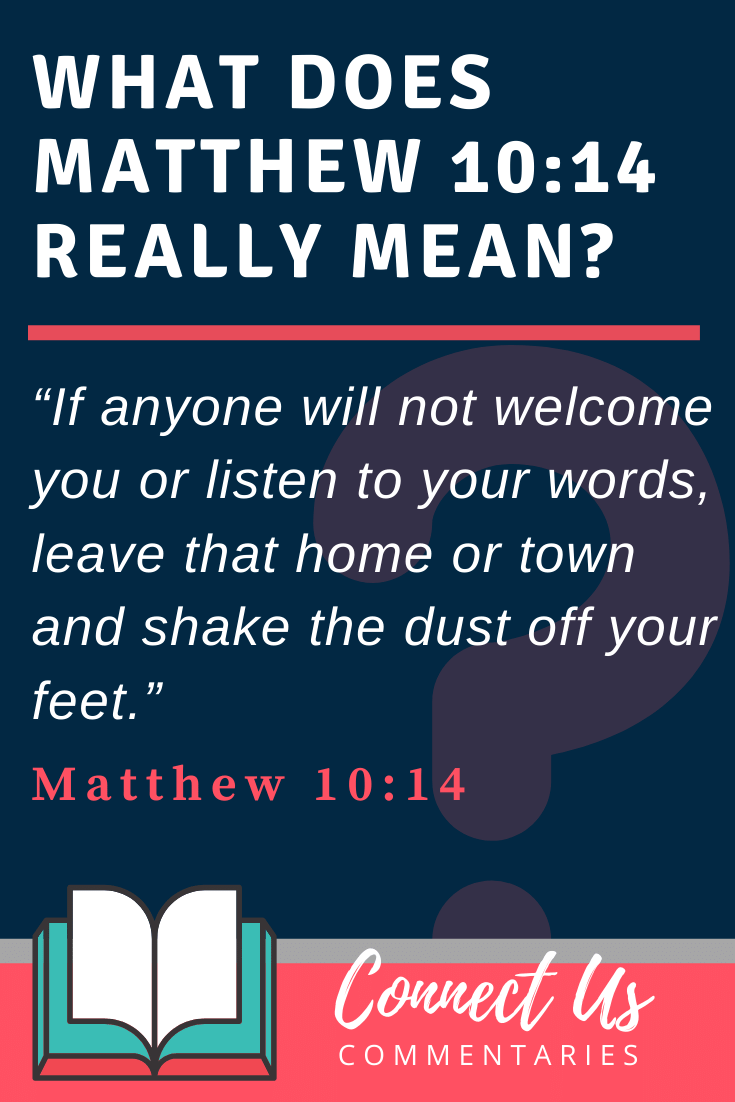 Author Bio
Natalie Regoli is a child of God, devoted wife, and mother of two boys. She has a Masters Degree in Law from The University of Texas. Natalie has been published in several national journals and has been practicing law for 18 years. If you would like to reach out to contact Natalie, then go here to
send her a message
.