Here are the 25 most important Bible scriptures on arrogance.
1 Samuel 2:3
Talk no more so very proudly, let not arrogance come from your mouth; for the Lord is a God of knowledge, and by him actions are weighed.
Romans 12:3
For by the grace given to me I say to everyone among you not to think of himself more highly than he ought to think, but to think with sober judgment, each according to the measure of faith that God has assigned.
Proverbs 8:13
The fear of the Lord is hatred of evil. Pride and arrogance and the way of evil and perverted speech I hate.
Isaiah 13:11
"I will punish the world for its evil, and the wicked for their iniquity; I will put an end to the pomp of the arrogant, and lay low the pompous pride of the ruthless."
Proverbs 27:2
Let another praise you, and not your own mouth; a stranger, and not your own lips.
1 John 4:1
Beloved, do not believe every spirit, but test the spirits to see whether they are from God, for many false prophets have gone out into the world.
1 Timothy 5:8
But if anyone does not provide for his relatives, and especially for members of his household, he has denied the faith and is worse than an unbeliever.
Hebrews 13:5
Keep your life free from love of money, and be content with what you have, for he has said, "I will never leave you nor forsake you."
James 1:19
Know this, my beloved brothers: let every person be quick to hear, slow to speak, slow to anger.
James 4:1
What causes quarrels and what causes fights among you? Is it not this, that your passions are at war within you?
James 4:6
But he gives more grace. Therefore it says, "God opposes the proud, but gives grace to the humble."
Luke 10:27
And he answered, "You shall love the Lord your God with all your heart and with all your soul and with all your strength and with all your mind, and your neighbor as yourself."
Malachi 3:15
"'And now we call the arrogant blessed. Evildoers not only prosper but they put God to the test and they escape.'"
Philippians 2:3
Do nothing from rivalry or conceit, but in humility count others more significant than yourselves.
Proverbs 12:15
The way of a fool is right in his own eyes, but a wise man listens to advice.
Proverbs 15:1
A soft answer turns away wrath, but a harsh word stirs up anger.
Proverbs 16:18
Pride goes before destruction, and a haughty spirit before a fall.
Proverbs 16:5
Everyone who is arrogant in heart is an abomination to the Lord; be assured, he will not go unpunished.
Proverbs 21:24
"Scoffer" is the name of the arrogant, haughty man who acts with arrogant pride.
Proverbs 26:12
Do you see a man who is wise in his own eyes? There is more hope for a fool than for him.
Proverbs 29:9
If a wise man has an argument with a fool, the fool only rages and laughs, and there is no quiet.
Psalm 17:10
They close their hearts to pity; with their mouths they speak arrogantly.
Psalm 94:4
They pour out their arrogant words; all the evildoers boast.
Romans 12:16
Live in harmony with one another. Do not be haughty, but associate with the lowly. Never be wise in your own sight.
Romans 14:1
As for the one who is weak in faith, welcome him, but not to quarrel over opinions.
More Bible Verses that Will Move You
50 Most Powerful Scriptures on Faith
60 Transcendent Verses on Trust
50 Strong Scriptures on Perseverance
68 Powerful Verses on Forgiveness
40 Uplifting Scriptures on Patience
Add Our Infographic Below to Your Pinterest Board
Hit the pin button below to add our infographic, with all the verses, to one of your Pinterest boards.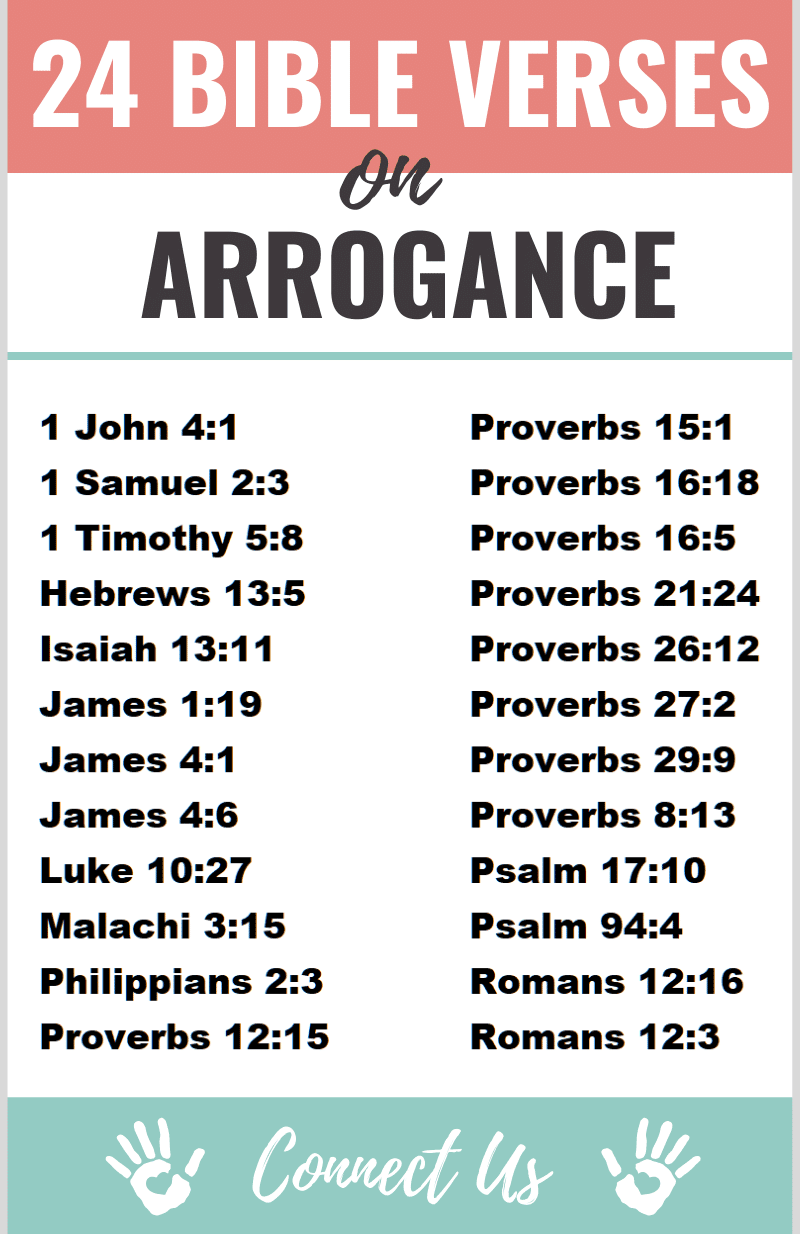 Author Bio
Natalie Regoli is a child of God, devoted wife, and mother of two boys. She has a Masters Degree in Law from The University of Texas. Natalie has been published in several national journals and has been practicing law for 18 years. If you would like to reach out to contact Natalie, then go here to
send her a message
.