The word "anger" is found 274 times in the Old and New Testament. The image below reveals the locations of each occurrence. This cool graph starts with Genesis in the top left and ends with Revelation in the bottom right.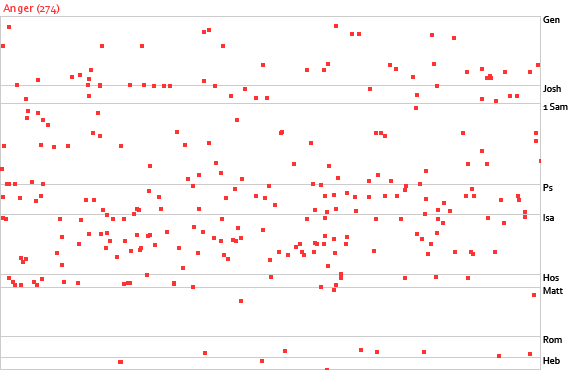 Here are the 40 most compelling Bible scriptures on anger.
Psalm 37:8
Refrain from anger, and forsake wrath! Fret not yourself; it tends only to evil.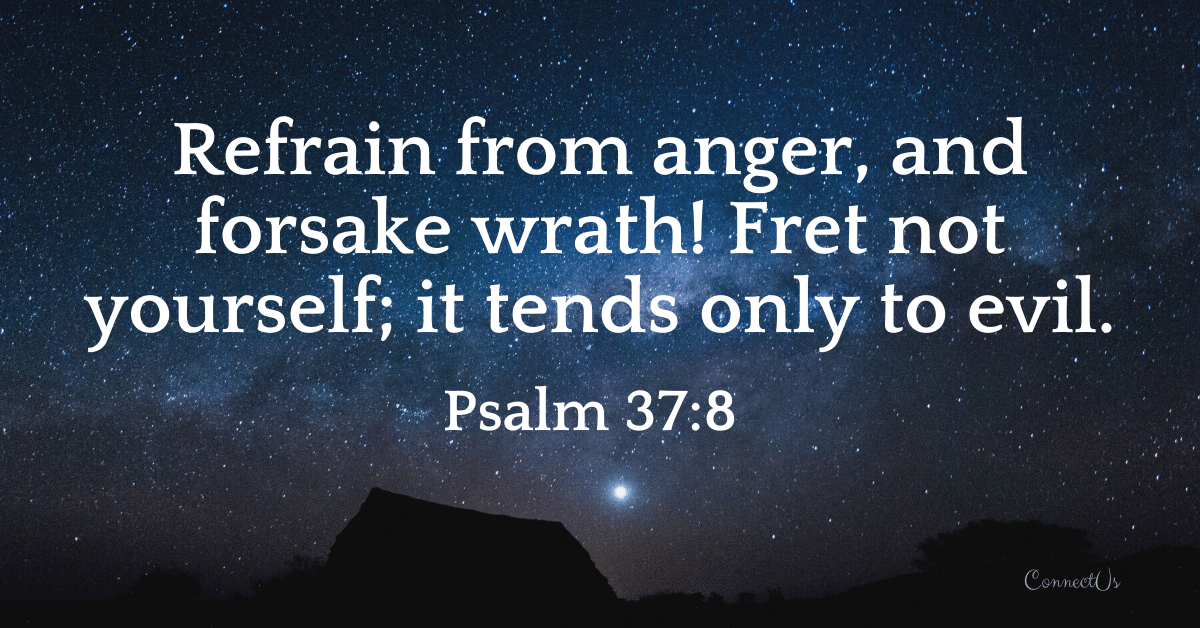 Proverbs 14:29
Whoever is slow to anger has great understanding, but he who has a hasty temper exalts folly.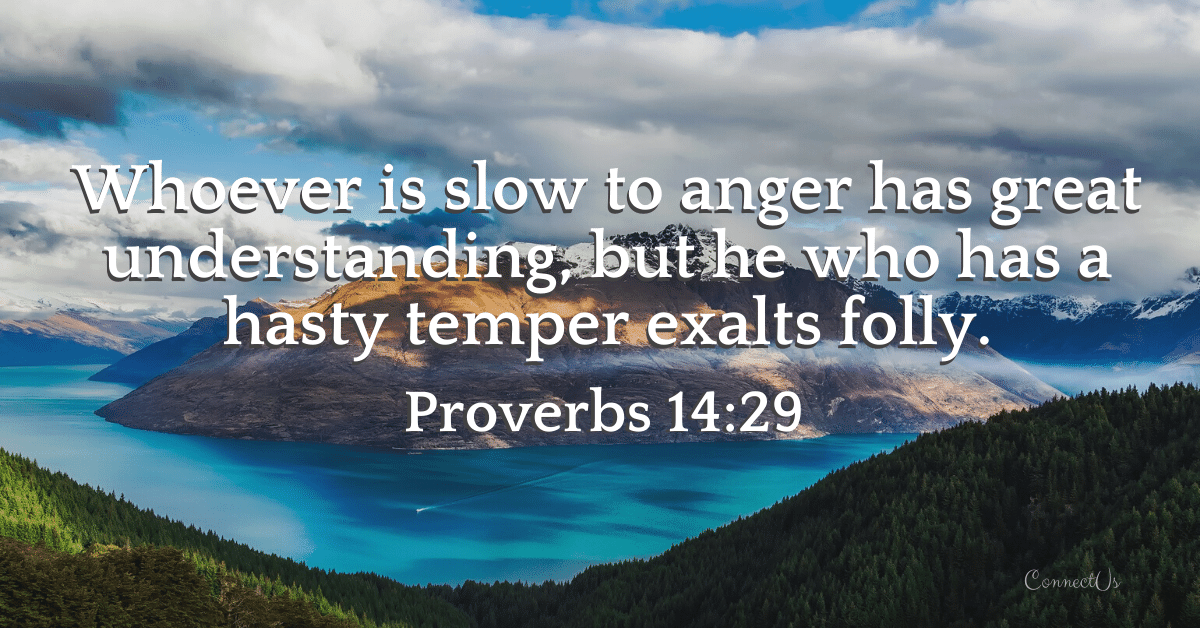 James 1:20
For the anger of man does not produce the righteousness of God.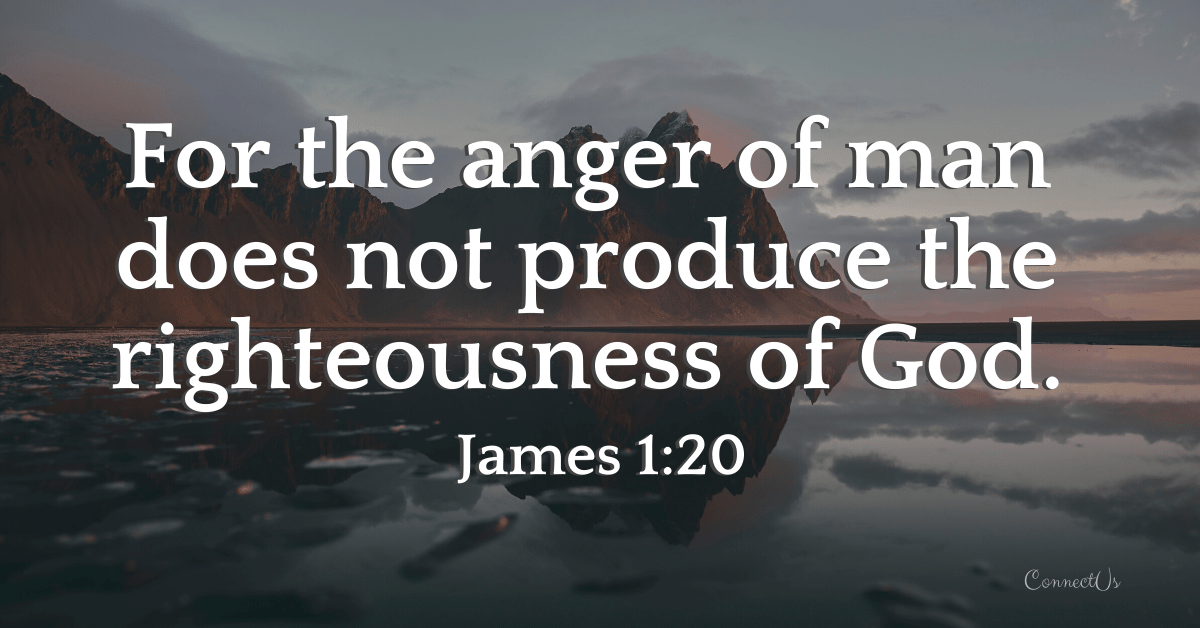 Ephesians 4:26
Be angry and do not sin; do not let the sun go down on your anger.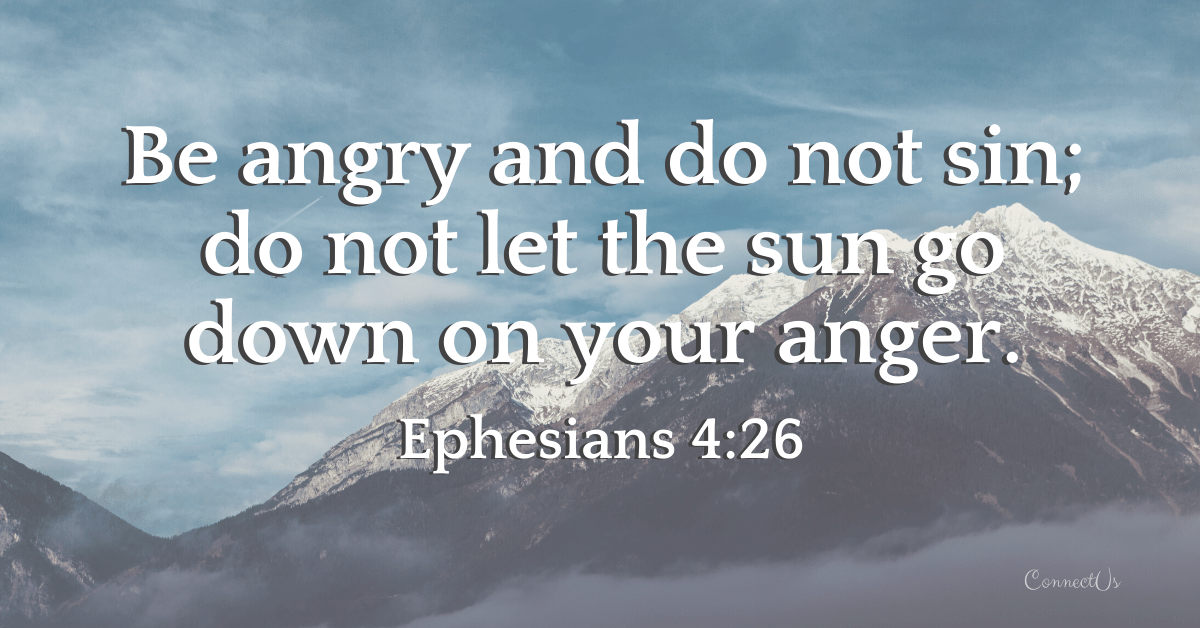 Proverbs 15:1
A soft answer turns away wrath, but a harsh word stirs up anger.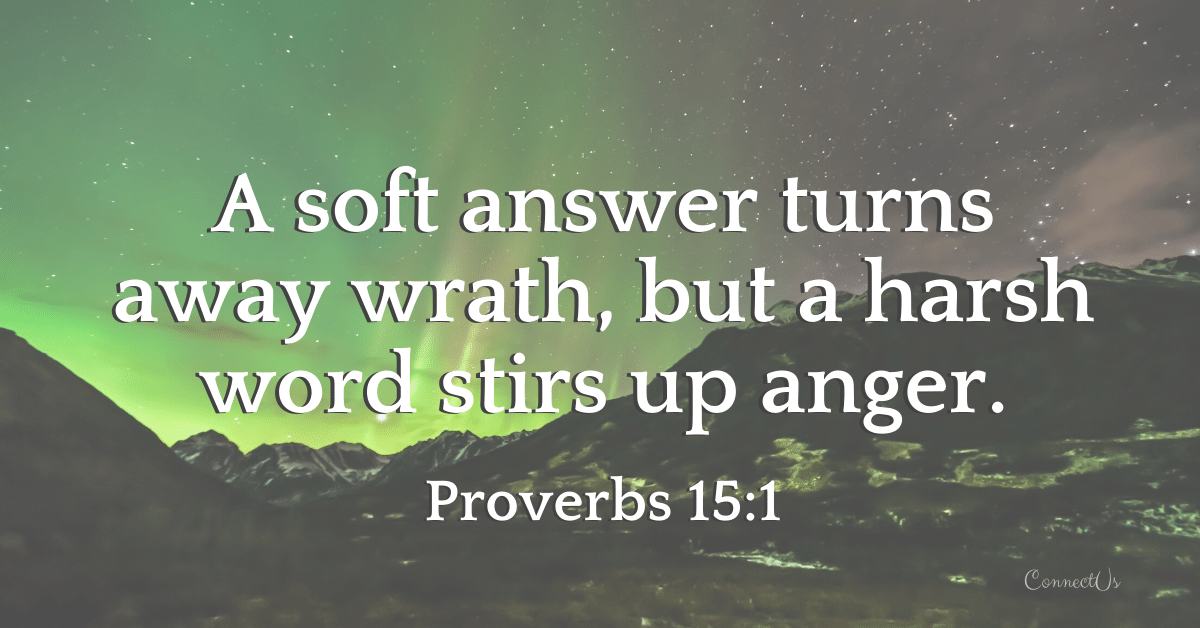 1 John 3:15
Everyone who hates his brother is a murderer, and you know that no murderer has eternal life abiding in him.
1 Timothy 2:8
I desire then that in every place the men should pray, lifting holy hands without anger or quarreling.
2 Kings 17:18
Therefore the Lord was very angry with Israel and removed them out of his sight. None was left but the tribe of Judah only.
Colossians 3:8
But now you must put them all away: anger, wrath, malice, slander, and obscene talk from your mouth.
Ecclesiastes 7:9
Be not quick in your spirit to become angry, for anger lodges in the bosom of fools.
Ephesians 4:31
Let all bitterness and wrath and anger and clamor and slander be put away from you, along with all malice.
Ephesians 6:4
Fathers, do not provoke your children to anger, but bring them up in the discipline and instruction of the Lord.
Galatians 5:12
I wish those who unsettle you would emasculate themselves!
Isaiah 48:9
"For my name's sake I defer my anger, for the sake of my praise I restrain it for you, that I may not cut you off."
James 1:19
Know this, my beloved brothers: let every person be quick to hear, slow to speak, slow to anger.
Job 5:2
Surely vexation kills the fool, and jealousy slays the simple.
Jonah 4:4
And the Lord said, "Do you do well to be angry?"
Mark 3:5
And he looked around at them with anger, grieved at their hardness of heart, and said to the man, "Stretch out your hand." He stretched it out, and his hand was restored.
Matthew 5:22
"But I say to you that everyone who is angry with his brother will be liable to judgment; whoever insults his brother will be liable to the council; and whoever says, 'You fool!' will be liable to the hell of fire."
Philippians 2:14
Do all things without grumbling or questioning.
Proverbs 12:16
The vexation of a fool is known at once, but the prudent ignores an insult.
Proverbs 14:17
A man of quick temper acts foolishly, and a man of evil devices is hated.
Proverbs 15:18
A hot-tempered man stirs up strife, but he who is slow to anger quiets contention.
Proverbs 16:29
A man of violence entices his neighbor and leads him in a way that is not good.
Proverbs 16:32
Whoever is slow to anger is better than the mighty, and he who rules his spirit than he who takes a city.
Proverbs 19:11
Good sense makes one slow to anger, and it is his glory to overlook an offense.
Proverbs 19:19
A man of great wrath will pay the penalty, for if you deliver him, you will only have to do it again.
Proverbs 22:24
Make no friendship with a man given to anger, nor go with a wrathful man.
Proverbs 25:28
A man without self-control is like a city broken into and left without walls.
Proverbs 27:4
Wrath is cruel, anger is overwhelming, but who can stand before jealousy?
Proverbs 29:11
A fool gives full vent to his spirit, but a wise man quietly holds it back.
Proverbs 29:22
A man of wrath stirs up strife, and one given to anger causes much transgression.
Proverbs 29:9
If a wise man has an argument with a fool, the fool only rages and laughs, and there is no quiet.
Proverbs 30:33
For pressing milk produces curds, pressing the nose produces blood, and pressing anger produces strife.
Psalm 103:8
The Lord is merciful and gracious, slow to anger and abounding in steadfast love.
Psalm 4:4
Be angry, and do not sin; ponder in your own hearts on your beds, and be silent. Selah.
Psalm 7:11
God is a righteous judge, and a God who feels indignation every day.
Romans 12:19
Beloved, never avenge yourselves, but leave it to the wrath of God, for it is written, "Vengeance is mine, I will repay", says the Lord.
Romans 2:5
But because of your hard and impenitent heart you are storing up wrath for yourself on the day of wrath when God's righteous judgment will be revealed.
Titus 1:7
For an overseer, as God's steward, must be above reproach. He must not be arrogant or quick-tempered or a drunkard or violent or greedy for gain.
More Bible Verses that Will Move You
50 Most Powerful Scriptures on Faith
60 Transcendent Verses on Trust
50 Strong Scriptures on Perseverance
68 Powerful Verses on Forgiveness
40 Uplifting Scriptures on Patience
Add Our Infographic Below to Your Pinterest Board
Hit the pin button below to add our infographic, with all the verses, to one of your Pinterest boards.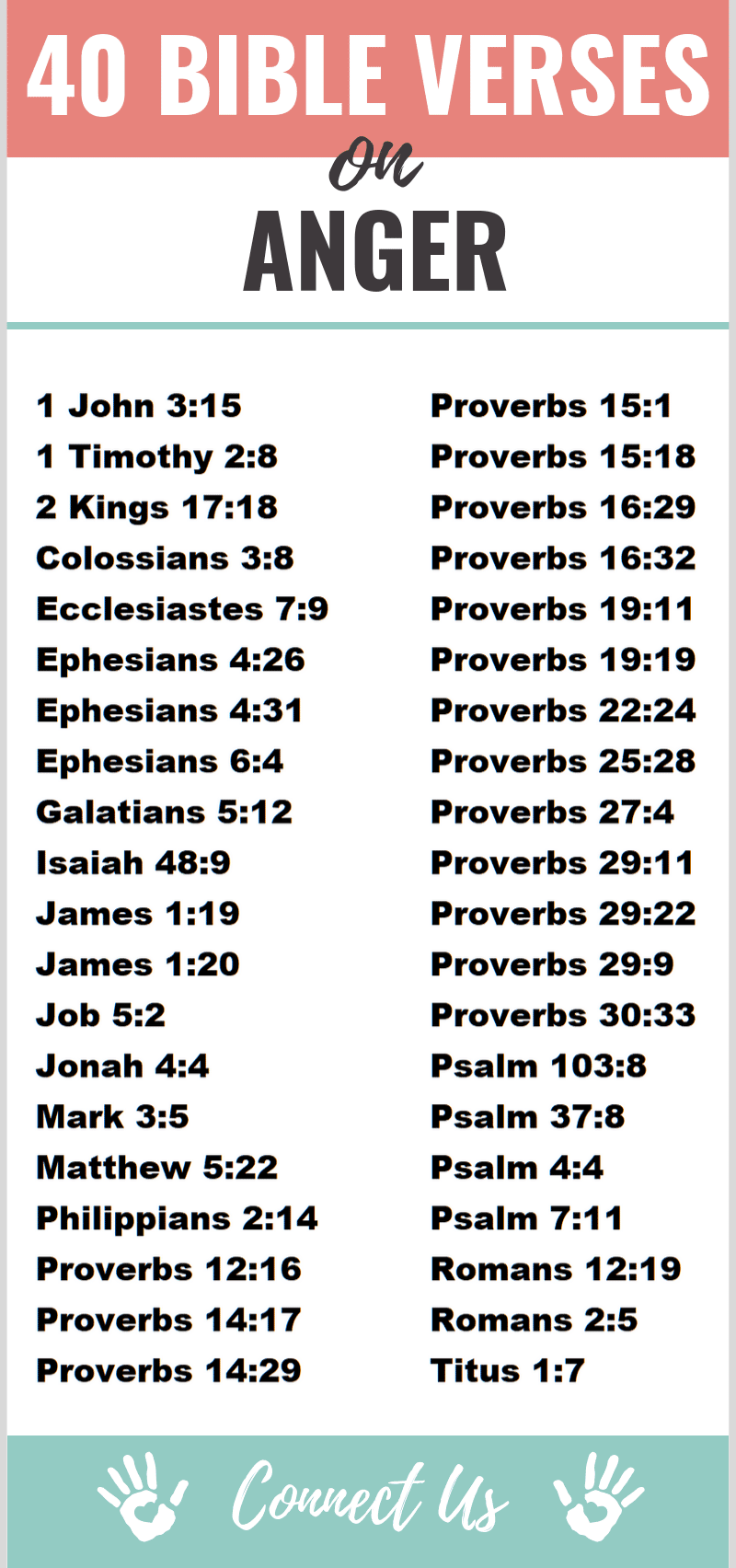 Author Bio
Natalie Regoli is a child of God, devoted wife, and mother of two boys. She has a Master's Degree in Law from The University of Texas. Natalie has been published in several national journals and has been practicing law for 18 years.