The word compassion is found 60 times in the Old and New Testament. The image below reveals the locations of each occurrence. This cool graph starts with Genesis in the top left and ends with Revelation in the bottom right.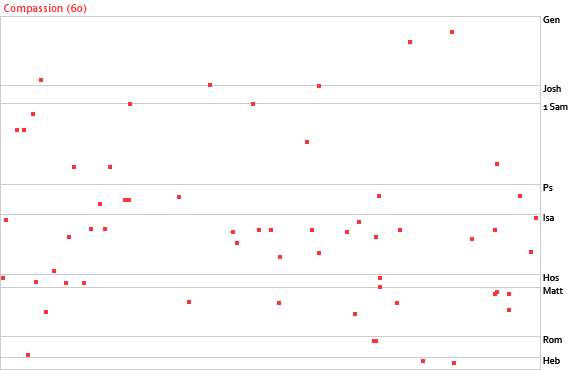 Here are the 40 most comforting Bible scriptures on compassion.
Ephesians 4:32
Be kind to one another, tenderhearted, forgiving one another, as God in Christ forgave you.
Mark 6:34
When he went ashore he saw a great crowd, and he had compassion on them, because they were like sheep without a shepherd. And he began to teach them many things.
Galatians 6:2
Bear one another's burdens, and so fulfill the law of Christ.
Genesis 6:6
And the Lord was sorry that he had made man on the earth, and it grieved him to his heart.
Matthew 14:14
When he went ashore he saw a great crowd, and he had compassion on them and healed their sick.
1 John 1:9
If we confess our sins, he is faithful and just to forgive us our sins and to cleanse us from all unrighteousness.
1 John 3:17
But if anyone has the world's goods and sees his brother in need, yet closes his heart against him, how does God's love abide in him?
1 Peter 3:8
Finally, all of you, have unity of mind, sympathy, brotherly love, a tender heart, and a humble mind.
1 Peter 4:10
As each has received a gift, use it to serve one another, as good stewards of God's varied grace.
2 Peter 3:9
The Lord is not slow to fulfill his promise as some count slowness, but is patient toward you, not wishing that any should perish, but that all should reach repentance.
Colossians 3:12
Put on then, as God's chosen ones, holy and beloved, compassionate hearts, kindness, humility, meekness, and patience.
Exodus 2:6
When she opened it, she saw the child, and behold, the baby was crying. She took pity on him and said, "This is one of the Hebrews' children."
Exodus 22:27
"For that is his only covering, and it is his cloak for his body; in what else shall he sleep? And if he cries to me, I will hear, for I am compassionate."
Exodus 33:19
And he said, "I will make all my goodness pass before you and will proclaim before you my name 'The Lord.' And I will be gracious to whom I will be gracious, and will show mercy on whom I will show mercy."
Hebrews 4:15
For we do not have a high priest who is unable to sympathize with our weaknesses, but one who in every respect has been tempted as we are, yet without sin.
Isaiah 30:18
Therefore the Lord waits to be gracious to you, and therefore he exalts himself to show mercy to you. For the Lord is a God of justice; blessed are all those who wait for him.
Isaiah 49:15
"Can a woman forget her nursing child, that she should have no compassion on the son of her womb? Even these may forget, yet I will not forget you."
James 1:27
Religion that is pure and undefiled before God, the Father, is this: to visit orphans and widows in their affliction, and to keep oneself unstained from the world.
James 5:11
Behold, we consider those blessed who remained steadfast. You have heard of the steadfastness of Job, and you have seen the purpose of the Lord, how the Lord is compassionate and merciful.
Jeremiah 1:5
"Before I formed you in the womb I knew you, and before you were born I consecrated you; I appointed you a prophet to the nations."
John 16:33
"I have said these things to you, that in me you may have peace. In the world you will have tribulation. But take heart; I have overcome the world."
Luke 15:20
And he arose and came to his father. But while he was still a long way off, his father saw him and felt compassion, and ran and embraced him and kissed him.
Luke 7:13
And when the Lord saw her, he had compassion on her and said to her, "Do not weep."
Mark 1:41
Moved with pity, he stretched out his hand and touched him and said to him, "I will; be clean."
Matthew 20:34
And Jesus in pity touched their eyes, and immediately they recovered their sight and followed him.
Matthew 7:12
"So whatever you wish that others would do to you, do also to them, for this is the Law and the Prophets."
Matthew 9:36
When he saw the crowds, he had compassion for them, because they were harassed and helpless, like sheep without a shepherd.
Micah 6:8
He has told you, O man, what is good; and what does the Lord require of you but to do justice, and to love kindness, and to walk humbly with your God?
Proverbs 19:17
Whoever is generous to the poor lends to the Lord, and he will repay him for his deed.
Psalm 103:13
As a father shows compassion to his children, so the Lord shows compassion to those who fear him.
Psalm 103:8
The Lord is merciful and gracious, slow to anger and abounding in steadfast love.
Psalm 111:4
He has caused his wondrous works to be remembered; the Lord is gracious and merciful.
Psalm 112:4
Light dawns in the darkness for the upright; he is gracious, merciful, and righteous.
Psalm 116:5
Gracious is the Lord, and righteous; our God is merciful.
Psalm 51:1
To the choirmaster. A Psalm of David, when Nathan the prophet went to him, after he had gone in to Bathsheba. Have mercy on me, O God, according to your steadfast love; according to your abundant mercy blot out my transgressions.
Psalm 78:38
Yet he, being compassionate, atoned for their iniquity and did not destroy them; he restrained his anger often and did not stir up all his wrath.
Psalm 86:15
But you, O Lord, are a God merciful and gracious, slow to anger and abounding in steadfast love and faithfulness.
Romans 12:15
Rejoice with those who rejoice, weep with those who weep.
Romans 12:20
To the contrary, "if your enemy is hungry, feed him; if he is thirsty, give him something to drink; for by so doing you will heap burning coals on his head."
Romans 8:1
There is therefore now no condemnation for those who are in Christ Jesus.
More Bible Verses that Will Move You
50 Most Powerful Scriptures on Faith
60 Transcendent Verses on Trust
50 Strong Scriptures on Perseverance
68 Powerful Verses on Forgiveness
40 Uplifting Scriptures on Patience
Add Our Infographic Below to Your Pinterest Board
Hit the pin button below to add our infographic, with all the verses, to one of your Pinterest boards.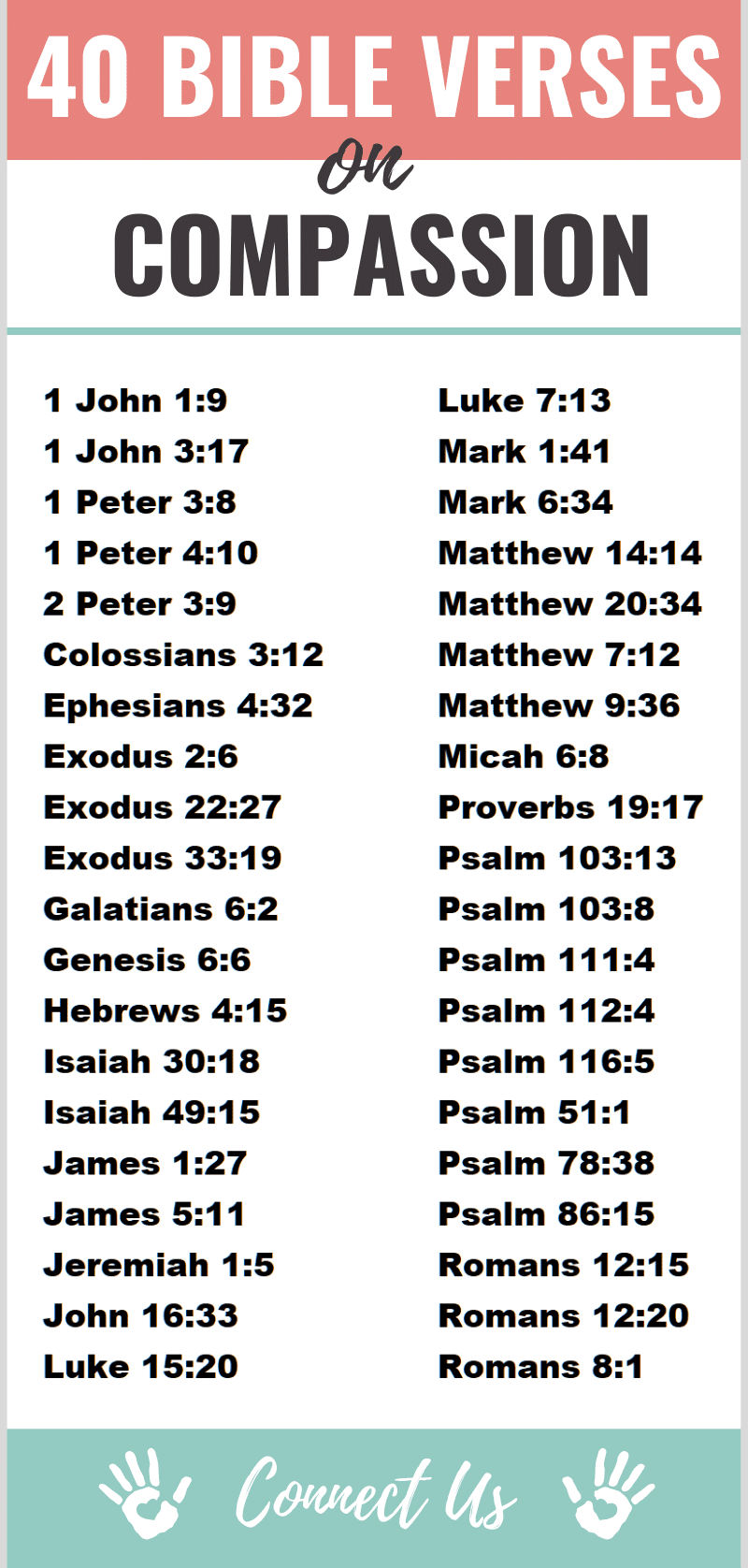 Author Bio
Natalie Regoli is a child of God, devoted wife, and mother of two boys. She has a Master's Degree in Law from The University of Texas. Natalie has been published in several national journals and has been practicing law for 18 years.