Here are the 40 most comforting Bible scriptures on family love.
1 Timothy 5:8
But if anyone does not provide for his relatives, and especially for members of his household, he has denied the faith and is worse than an unbeliever.
Exodus 20:12
"Honor your father and your mother, that your days may be long in the land that the Lord your God is giving you."
1 Corinthians 13:13
So now faith, hope, and love abide, these three; but the greatest of these is love.
Proverbs 22:6
Train up a child in the way he should go; even when he is old he will not depart from it.
Joshua 24:15
And if it is evil in your eyes to serve the Lord, choose this day whom you will serve, whether the gods your fathers served in the region beyond the River, or the gods of the Amorites in whose land you dwell. But as for me and my house, we will serve the Lord.
1 Corinthians 16:14
Let all that you do be done in love.
1 John 3:1
See what kind of love the Father has given to us, that we should be called children of God; and so we are. The reason why the world does not know us is that it did not know him.
1 John 4:19
We love because he first loved us.
1 John 4:7
Beloved, let us love one another, for love is from God, and whoever loves has been born of God and knows God.
1 Peter 4:8
Above all, keep loving one another earnestly, since love covers a multitude of sins.
2 Corinthians 6:18
And I will be a father to you, and you shall be sons and daughters to me, says the Lord Almighty."
Acts 10:2
A devout man who feared God with all his household, gave alms generously to the people, and prayed continually to God.
Colossians 3:13
Bearing with one another and, if one has a complaint against another, forgiving each other; as the Lord has forgiven you, so you also must forgive.
Colossians 3:14
And above all these put on love, which binds everything together in perfect harmony.
Colossians 3:20
Children, obey your parents in everything, for this pleases the Lord.
Deuteronomy 5:16
Honor your father and your mother, as the Lord your God commanded you, that your days may be long, and that it may go well with you in the land that the Lord your God is giving you.
Ephesians 4:2
With all humility and gentleness, with patience, bearing with one another in love.
Ephesians 5:21
Submitting to one another out of reverence for Christ.
Ephesians 5:25
Husbands, love your wives, as Christ loved the church and gave himself up for her.
Ephesians 5:28
In the same way husbands should love their wives as their own bodies. He who loves his wife loves himself.
Ephesians 5:33
However, let each one of you love his wife as himself, and let the wife see that she respects her husband.
Ephesians 6:4
Fathers, do not provoke your children to anger, but bring them up in the discipline and instruction of the Lord.
Genesis 1:28
And God blessed them. And God said to them, "Be fruitful and multiply and fill the earth and subdue it and have dominion over the fish of the sea and over the birds of the heavens and over every living thing that moves on the earth."
Genesis 2:24
Therefore a man shall leave his father and his mother and hold fast to his wife, and they shall become one flesh.
John 15:13
"Greater love has no one than this, that someone lay down his life for his friends."
John 3:16
For God so loved the world, that he gave his only Son, that whoever believes in him should not perish but have eternal life.
Matthew 15:4
"For God commanded, 'Honor your father and your mother,' and, 'Whoever reviles father or mother must surely die.'"
Philippians 4:13
I can do all things through him who strengthens me.
Proverbs 1:8
Hear, my son, your father's instruction, and forsake not your mother's teaching.
Proverbs 10:12
Hatred stirs up strife, but love covers all offenses.
Proverbs 11:29
Whoever troubles his own household will inherit the wind, and the fool will be servant to the wise of heart.
Proverbs 15:20
A wise son makes a glad father, but a foolish man despises his mother.
Proverbs 15:27
Whoever is greedy for unjust gain troubles his own household, but he who hates bribes will live.
Proverbs 17:17
A friend loves at all times, and a brother is born for adversity.
Proverbs 6:20
My son, keep your father's commandment, and forsake not your mother's teaching.
Psalm 103:17
But the steadfast love of the Lord is from everlasting to everlasting on those who fear him, and his righteousness to children's children.
Psalm 128:3
Your wife will be like a fruitful vine within your house; your children will be like olive shoots around your table.
Romans 12:10
Love one another with brotherly affection. Outdo one another in showing honor.
Romans 12:9
Let love be genuine. Abhor what is evil; hold fast to what is good.
Romans 13:8
Owe no one anything, except to love each other, for the one who loves another has fulfilled the law.
More Bible Verses that Will Move You
50 Most Powerful Scriptures on Faith
60 Transcendent Verses on Trust
50 Strong Scriptures on Perseverance
68 Powerful Verses on Forgiveness
40 Uplifting Scriptures on Patience
Add Our Infographic Below to Your Pinterest Board
Hit the pin button below to add our infographic, with all the verses, to one of your Pinterest boards.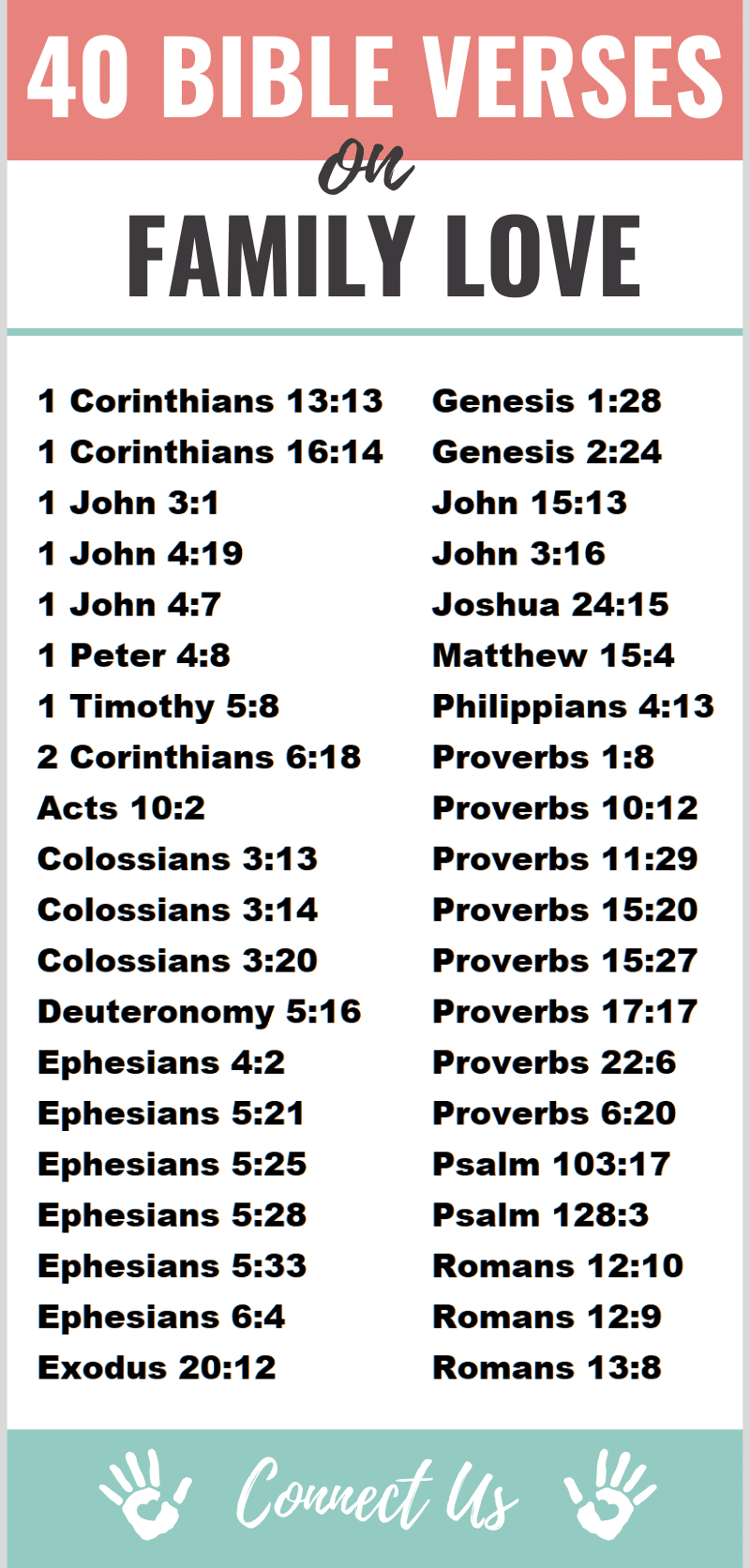 Author Bio
Natalie Regoli is a child of God, devoted wife, and mother of two boys. She has a Master's Degree in Law from The University of Texas. Natalie has been published in several national journals and has been practicing law for 18 years.