Here are the 40 most comforting Bible scriptures on reconciliation.
Ephesians 4:32
Be kind to one another, tenderhearted, forgiving one another, as God in Christ forgave you.
2 Corinthians 5:18
All this is from God, who through Christ reconciled us to himself and gave us the ministry of reconciliation.
Romans 5:10
For if while we were enemies we were reconciled to God by the death of his Son, much more, now that we are reconciled, shall we be saved by his life.
Colossians 1:20
And through him to reconcile to himself all things, whether on earth or in heaven, making peace by the blood of his cross.
Hebrews 12:14
Strive for peace with everyone, and for the holiness without which no one will see the Lord.
1 Corinthians 15:58
Therefore, my beloved brothers, be steadfast, immovable, always abounding in the work of the Lord, knowing that in the Lord your labor is not in vain.
1 Corinthians 4:5
Therefore do not pronounce judgment before the time, before the Lord comes, who will bring to light the things now hidden in darkness and will disclose the purposes of the heart. Then each one will receive his commendation from God.
1 Corinthians 7:15
But if the unbelieving partner separates, let it be so. In such cases the brother or sister is not enslaved. God has called you to peace.
1 John 1:9
If we confess our sins, he is faithful and just to forgive us our sins and to cleanse us from all unrighteousness.
1 John 4:4
Little children, you are from God and have overcome them, for he who is in you is greater than he who is in the world.
1 Peter 2:24
He himself bore our sins in his body on the tree, that we might die to sin and live to righteousness. By his wounds you have been healed.
1 Peter 4:8
Above all, keep loving one another earnestly, since love covers a multitude of sins.
2 Corinthians 5:17
Therefore, if anyone is in Christ, he is a new creation. The old has passed away; behold, the new has come.
2 Corinthians 5:19
That is, in Christ God was reconciling the world to himself, not counting their trespasses against them, and entrusting to us the message of reconciliation.
2 Corinthians 5:20
Therefore, we are ambassadors for Christ, God making his appeal through us. We implore you on behalf of Christ, be reconciled to God.
2 Corinthians 5:21
For our sake he made him to be sin who knew no sin, so that in him we might become the righteousness of God.
Acts 3:19
Repent therefore, and turn again, that your sins may be blotted out.
Colossians 3:13
Bearing with one another and, if one has a complaint against another, forgiving each other; as the Lord has forgiven you, so you also must forgive.
Ephesians 2:13
But now in Christ Jesus you who once were far off have been brought near by the blood of Christ.
Ephesians 2:16
And might reconcile us both to God in one body through the cross, thereby killing the hostility.
Genesis 33:4
But Esau ran to meet him and embraced him and fell on his neck and kissed him, and they wept.
Hebrews 9:14
How much more will the blood of Christ, who through the eternal Spirit offered himself without blemish to God, purify our conscience from dead works to serve the living God.
Hebrews 9:22
Indeed, under the law almost everything is purified with blood, and without the shedding of blood there is no forgiveness of sins.
John 3:36
"Whoever believes in the Son has eternal life; whoever does not obey the Son shall not see life, but the wrath of God remains on him."
Leviticus 8:15
And he killed it, and Moses took the blood, and with his finger put it on the horns of the altar around it and purified the altar and poured out the blood at the base of the altar and consecrated it to make atonement for it.
Luke 17:3
"Pay attention to yourselves! If your brother sins, rebuke him, and if he repents, forgive him."
Luke 23:34
And Jesus said, "Father, forgive them, for they know not what they do." And they cast lots to divide his garments.
Mark 11:25
"And whenever you stand praying, forgive, if you have anything against anyone, so that your Father also who is in heaven may forgive you your trespasses."
Matthew 18:15
"If your brother sins against you, go and tell him his fault, between you and him alone. If he listens to you, you have gained your brother."
Matthew 18:33
"And should not you have had mercy on your fellow servant, as I had mercy on you?"
Matthew 5:24
"Leave your gift there before the altar and go. First be reconciled to your brother, and then come and offer your gift."
Matthew 5:9
"Blessed are the peacemakers, for they shall be called sons of God."
Psalm 34:8
Oh, taste and see that the Lord is good! Blessed is the man who takes refuge in him!
Romans 11:15
For if their rejection means the reconciliation of the world, what will their acceptance mean but life from the dead?
Romans 3:23
For all have sinned and fall short of the glory of God.
Romans 4:25
Who was delivered up for our trespasses and raised for our justification.
Romans 5:1
Therefore, since we have been justified by faith, we have peace with God through our Lord Jesus Christ.
Romans 5:11
More than that, we also rejoice in God through our Lord Jesus Christ, through whom we have now received reconciliation.
Romans 5:8
But God shows his love for us in that while we were still sinners, Christ died for us.
Romans 6:23
For the wages of sin is death, but the free gift of God is eternal life in Christ Jesus our Lord.
More Bible Verses that Will Move You
50 Most Powerful Scriptures on Faith
60 Transcendent Verses on Trust
50 Strong Scriptures on Perseverance
68 Powerful Verses on Forgiveness
40 Uplifting Scriptures on Patience
Add Our Infographic Below to Your Pinterest Board
Hit the pin button below to add our infographic, with all the verses, to one of your Pinterest boards.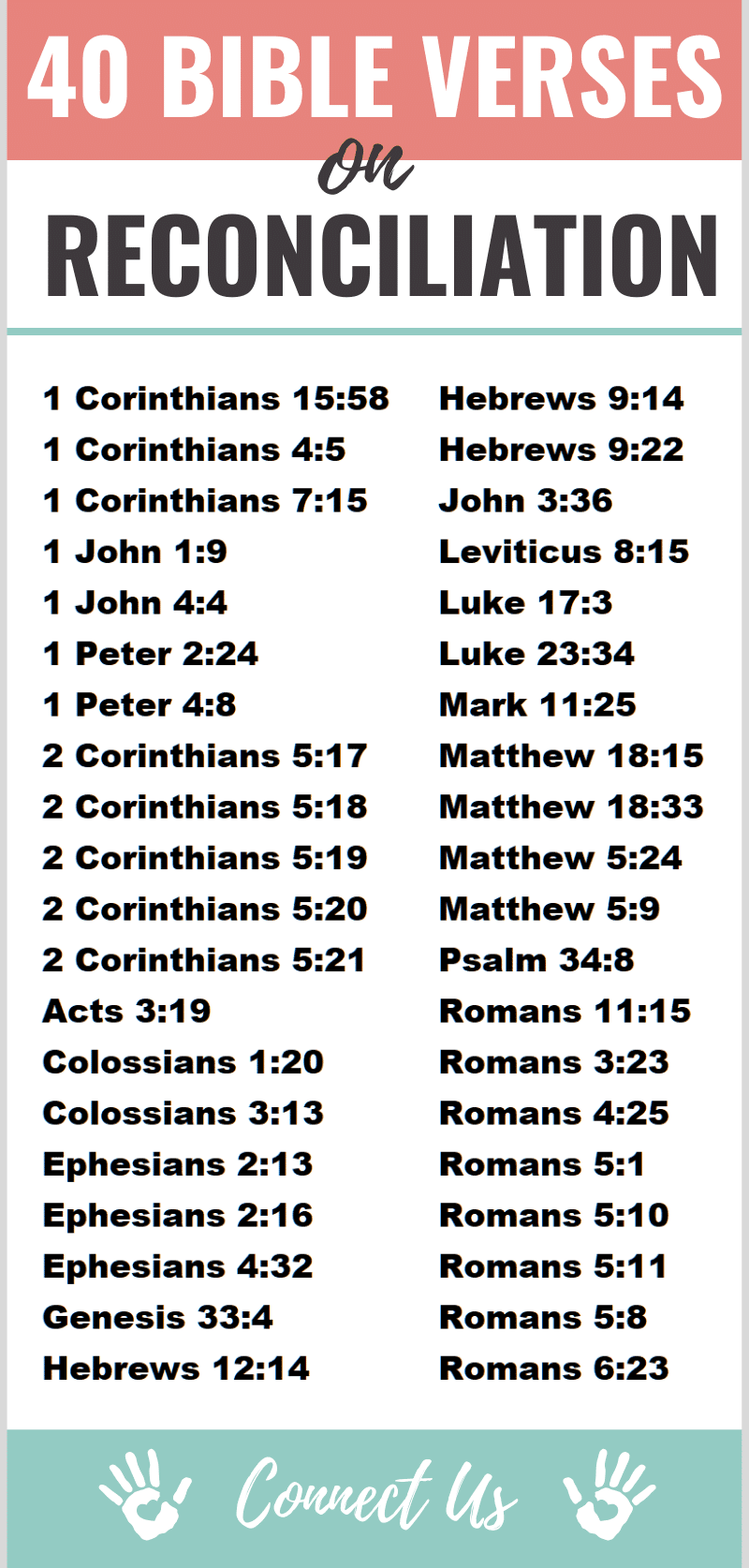 Author Bio
Natalie Regoli is a child of God, devoted wife, and mother of two boys. She has a Master's Degree in Law from The University of Texas. Natalie has been published in several national journals and has been practicing law for 18 years.