The word truth is found 151 times in the Old and New Testament. The image below reveals the locations of each occurrence. This cool graph starts with Genesis in the top left and ends with Revelation in the bottom right.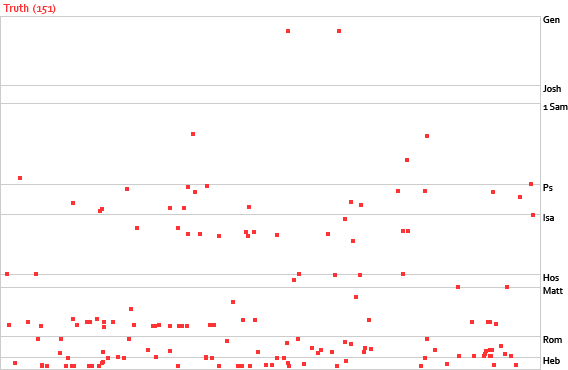 Here are the 40 most compelling Bible scriptures on truth.
John 14:6
Jesus said to him, "I am the way, and the truth, and the life. No one comes to the Father except through me."
John 8:32
"And you will know the truth, and the truth will set you free."
John 16:13
"When the Spirit of truth comes, he will guide you into all the truth, for he will not speak on his own authority, but whatever he hears he will speak, and he will declare to you the things that are to come."
John 17:17
"Sanctify them in the truth; your word is truth."
John 4:24
"God is spirit, and those who worship him must worship in spirit and truth."
1 John 1:6
If we say we have fellowship with him while we walk in darkness, we lie and do not practice the truth.
1 John 1:8
If we say we have no sin, we deceive ourselves, and the truth is not in us.
1 John 3:18
Little children, let us not love in word or talk but in deed and in truth.
1 John 4:6
We are from God. Whoever knows God listens to us; whoever is not from God does not listen to us. By this we know the Spirit of truth and the spirit of error.
1 John 5:20
And we know that the Son of God has come and has given us understanding, so that we may know him who is true; and we are in him who is true, in his Son Jesus Christ. He is the true God and eternal life.
1 Kings 17:24
And the woman said to Elijah, "Now I know that you are a man of God, and that the word of the Lord in your mouth is truth."
1 Timothy 3:15
If I delay, you may know how one ought to behave in the household of God, which is the church of the living God, a pillar and buttress of the truth.
2 Timothy 2:15
Do your best to present yourself to God as one approved, a worker who has no need to be ashamed, rightly handling the word of truth.
Ephesians 4:15
Rather, speaking the truth in love, we are to grow up in every way into him who is the head, into Christ.
Ephesians 4:21
Assuming that you have heard about him and were taught in him, as the truth is in Jesus.
Ephesians 4:25
Therefore, having put away falsehood, let each one of you speak the truth with his neighbor, for we are members one of another.
Ephesians 6:14
Stand therefore, having fastened on the belt of truth, and having put on the breastplate of righteousness.
Exodus 20:16
"You shall not bear false witness against your neighbor."
Hebrews 11:1
Now faith is the assurance of things hoped for, the conviction of things not seen.
James 1:18
Of his own will he brought us forth by the word of truth, that we should be a kind of firstfruits of his creatures.
John 1:14
And the Word became flesh and dwelt among us, and we have seen his glory, glory as of the only Son from the Father, full of grace and truth.
John 1:17
For the law was given through Moses; grace and truth came through Jesus Christ.
John 14:17
"Even the Spirit of truth, whom the world cannot receive, because it neither sees him nor knows him. You know him, for he dwells with you and will be in you."
John 15:26
"But when the Helper comes, whom I will send to you from the Father, the Spirit of truth, who proceeds from the Father, he will bear witness about me."
John 18:37
Then Pilate said to him, "So you are a king?" Jesus answered, "You say that I am a king. For this purpose I was born and for this purpose I have come into the world—to bear witness to the truth. Everyone who is of the truth listens to my voice."
John 18:38
Pilate said to him, "What is truth?" After he had said this, he went back outside to the Jews and told them, "I find no guilt in him."
John 8:44
"You are of your father the devil, and your will is to do your father's desires. He was a murderer from the beginning, and has nothing to do with the truth, because there is no truth in him. When he lies, he speaks out of his own character, for he is a liar and the father of lies."
Philippians 4:8
Finally, brothers, whatever is true, whatever is honorable, whatever is just, whatever is pure, whatever is lovely, whatever is commendable, if there is any excellence, if there is anything worthy of praise, think about these things.
Proverbs 12:22
Lying lips are an abomination to the Lord, but those who act faithfully are his delight.
Proverbs 16:13
Righteous lips are the delight of a king, and he loves him who speaks what is right.
Proverbs 30:5
Every word of God proves true; he is a shield to those who take refuge in him.
Psalm 119:142
Your righteousness is righteous forever, and your law is true.
Psalm 119:160
The sum of your word is truth, and every one of your righteous rules endures forever.
Psalm 145:18
The Lord is near to all who call on him, to all who call on him in truth.
Psalm 25:10
All the paths of the Lord are steadfast love and faithfulness, for those who keep his covenant and his testimonies.
Psalm 25:5
Lead me in your truth and teach me, for you are the God of my salvation; for you I wait all the day long.
Psalm 43:3
Send out your light and your truth; let them lead me; let them bring me to your holy hill and to your dwelling!
Psalm 51:6
Behold, you delight in truth in the inward being, and you teach me wisdom in the secret heart.
Psalm 86:11
Teach me your way, O Lord, that I may walk in your truth; unite my heart to fear your name.
Romans 1:18
For the wrath of God is revealed from heaven against all ungodliness and unrighteousness of men, who by their unrighteousness suppress the truth.
More Bible Verses that Will Move You
50 Most Powerful Scriptures on Faith
60 Transcendent Verses on Trust
50 Strong Scriptures on Perseverance
68 Powerful Verses on Forgiveness
40 Uplifting Scriptures on Patience
Add Our Infographic Below to Your Pinterest Board
Hit the pin button below to add our infographic, with all the verses, to one of your Pinterest boards.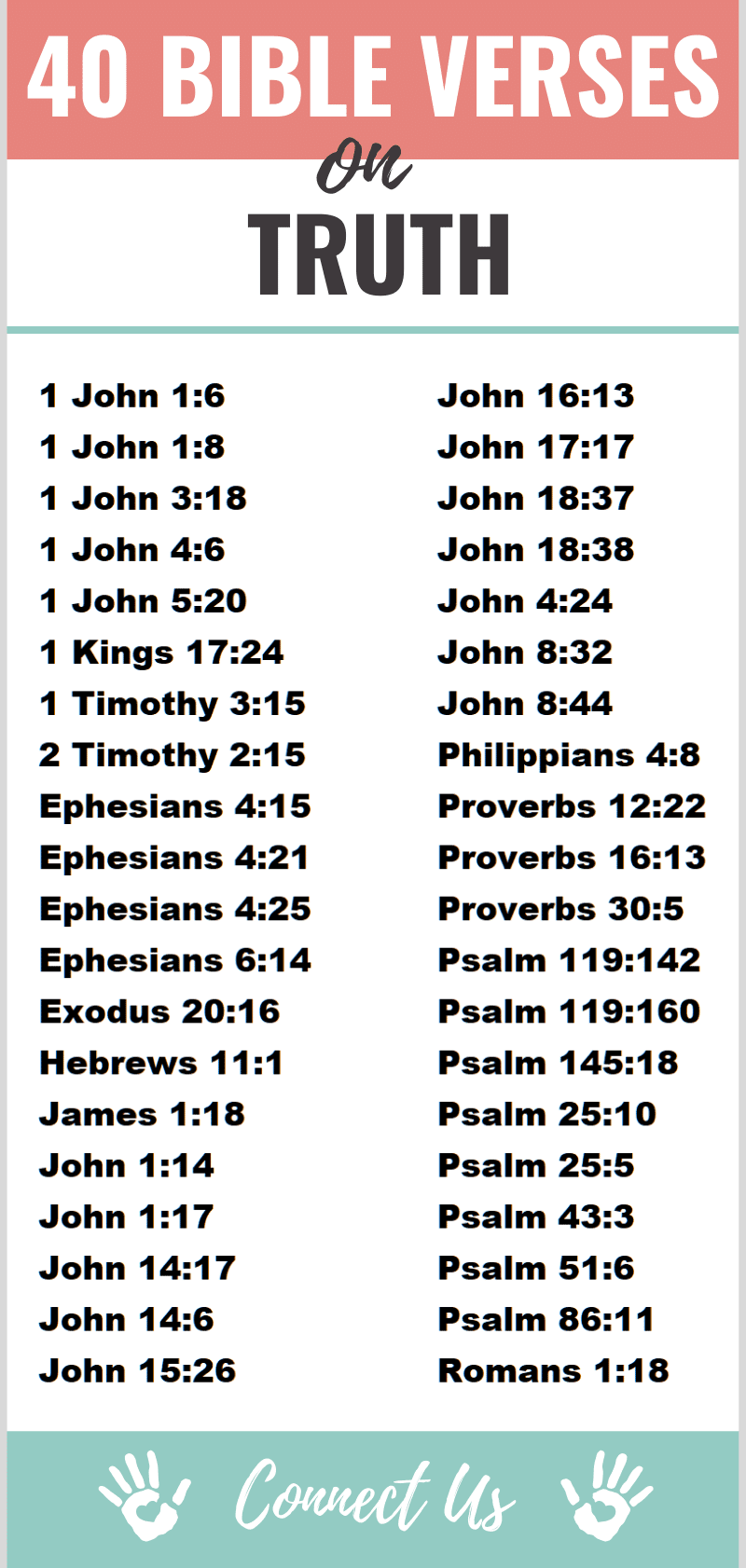 Author Bio
Natalie Regoli is a child of God, devoted wife, and mother of two boys. She has a Master's Degree in Law from The University of Texas. Natalie has been published in several national journals and has been practicing law for 18 years.