The word "thanks" occurs 144 times in the Bible. The infographic below identifies the points of each occurrence. This graphic presentation starts with Genesis in the top left and concludes with Revelation in the bottom right.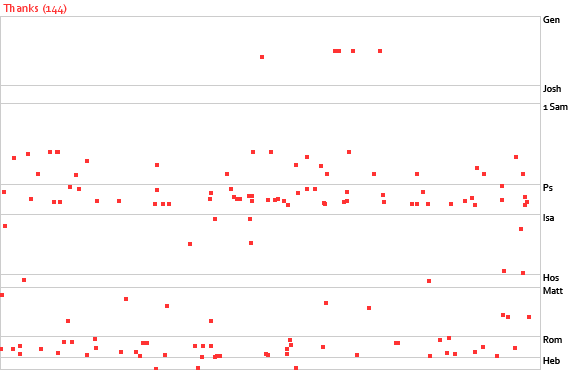 Here are the 40 most encouraging Bible scriptures on being thankful.
1 Thessalonians 5:18
Give thanks in all circumstances; for this is the will of God in Christ Jesus for you.
Psalm 107:1
Oh give thanks to the Lord, for he is good, for his steadfast love endures forever!
Ephesians 5:20
Giving thanks always and for everything to God the Father in the name of our Lord Jesus Christ.
James 1:17
Every good gift and every perfect gift is from above, coming down from the Father of lights with whom there is no variation or shadow due to change.
Philippians 4:6
Do not be anxious about anything, but in everything by prayer and supplication with thanksgiving let your requests be made known to God.
1 Chronicles 16:34
Oh give thanks to the Lord, for he is good; for his steadfast love endures forever!
1 Chronicles 16:8
Oh give thanks to the Lord; call upon his name; make known his deeds among the peoples!
1 Chronicles 29:13
And now we thank you, our God, and praise your glorious name.
1 Corinthians 15:57
But thanks be to God, who gives us the victory through our Lord Jesus Christ.
2 Corinthians 9:15
Thanks be to God for his inexpressible gift!
2 Peter 3:9
The Lord is not slow to fulfill his promise as some count slowness, but is patient toward you, not wishing that any should perish, but that all should reach repentance.
Acts 2:38
And Peter said to them, "Repent and be baptized every one of you in the name of Jesus Christ for the forgiveness of your sins, and you will receive the gift of the Holy Spirit."
Colossians 2:7
Rooted and built up in him and established in the faith, just as you were taught, abounding in thanksgiving.
Colossians 3:15
And let the peace of Christ rule in your hearts, to which indeed you were called in one body. And be thankful.
Colossians 3:17
And whatever you do, in word or deed, do everything in the name of the Lord Jesus, giving thanks to God the Father through him.
Colossians 4:2
Continue steadfastly in prayer, being watchful in it with thanksgiving.
Ephesians 2:8
For by grace you have been saved through faith. And this is not your own doing; it is the gift of God.
Hebrews 12:28
Therefore let us be grateful for receiving a kingdom that cannot be shaken, and thus let us offer to God acceptable worship, with reverence and awe.
Jeremiah 1:5
"Before I formed you in the womb I knew you, and before you were born I consecrated you; I appointed you a prophet to the nations."
John 14:1
"Let not your hearts be troubled. Believe in God; believe also in me."
John 3:16
For God so loved the world, that he gave his only Son, that whoever believes in him should not perish but have eternal life.
Micah 6:8
He has told you, O man, what is good; and what does the Lord require of you but to do justice, and to love kindness, and to walk humbly with your God?
Philemon 1:4
I thank my God always when I remember you in my prayers.
Philippians 1:3
I thank my God in all my remembrance of you.
Psalm 100:4
Enter his gates with thanksgiving, and his courts with praise! Give thanks to him; bless his name!
Psalm 105:1
Oh give thanks to the Lord; call upon his name; make known his deeds among the peoples!
Psalm 106:1
Praise the Lord! Oh give thanks to the Lord, for he is good, for his steadfast love endures forever!
Psalm 118:28
You are my God, and I will give thanks to you; you are my God; I will extol you.
Psalm 20:4
May he grant you your heart's desire and fulfill all your plans!
Psalm 28:7
The Lord is my strength and my shield; in him my heart trusts, and I am helped; my heart exults, and with my song I give thanks to him.
Psalm 30:12
That my glory may sing your praise and not be silent. O Lord my God, I will give thanks to you forever!
Psalm 35:18
I will thank you in the great congregation; in the mighty throng I will praise you.
Psalm 69:30
I will praise the name of God with a song; I will magnify him with thanksgiving.
Psalm 7:17
I will give to the Lord the thanks due to his righteousness, and I will sing praise to the name of the Lord, the Most High.
Psalm 95:2
Let us come into his presence with thanksgiving; let us make a joyful noise to him with songs of praise!
Romans 1:21
For although they knew God, they did not honor him as God or give thanks to him, but they became futile in their thinking, and their foolish hearts were darkened.
Romans 10:10
For with the heart one believes and is justified, and with the mouth one confesses and is saved.
Romans 10:9
Because, if you confess with your mouth that Jesus is Lord and believe in your heart that God raised him from the dead, you will be saved.
Romans 5:1
Therefore, since we have been justified by faith, we have peace with God through our Lord Jesus Christ.
Romans 6:23
For the wages of sin is death, but the free gift of God is eternal life in Christ Jesus our Lord.
More Bible Verses that Will Move You
50 Most Powerful Scriptures on Faith
60 Transcendent Verses on Trust
50 Strong Scriptures on Perseverance
68 Powerful Verses on Forgiveness
40 Uplifting Scriptures on Patience
Add Our Infographic Below to Your Pinterest Board
Hit the pin button below to add our infographic, with all the verses, to one of your Pinterest boards.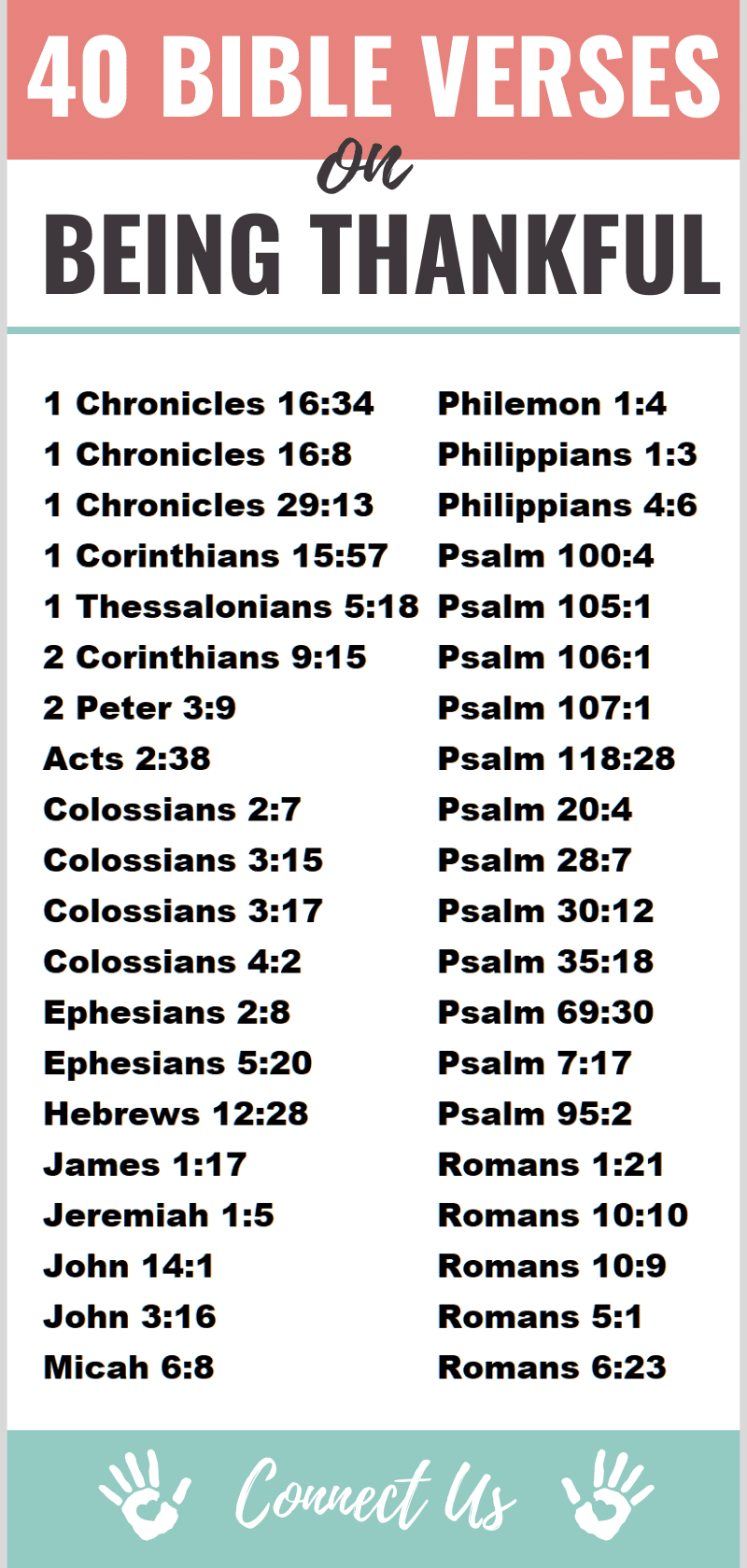 Author Bio
Natalie Regoli is a child of God, devoted wife, and mother of two boys. She has a Master's Degree in Law from The University of Texas. Natalie has been published in several national journals and has been practicing law for 18 years.