Jeremiah 33:3
"Call to me and I will answer you and tell you great and unsearchable things you do not know."
Explanation and Commentary of Jeremiah 33:3
Jeremiah heard this Word from the Lord while he was confined. His situation looked bleak, as this was not a good time to be a true prophet of God. False prophets were popular, but truth-bearers have been persecuted in every generation, especially the one Jeremiah ministered in.
But God's promise was true. Jeremiah was imprisoned, but his life was in hearing and speaking the messages of God. Even in a pit, he would be able to converse with the Lord (Jer 38). God will speak to us if we will only listen. He has given us his Word, and he has given us his Holy Spirit to be able to discern and keep it.
The Word God had for Jeremiah was one of hope and promise (Jer 33:6-9), along with a true Word about the reality of the wickedness of the times. No matter what circumstances you find yourself in, God has a Word of hope for you. Even when you have read the Bible through a hundred times, go to him for a fresh Word and be filled with hope.
Breaking Down the Key Parts of Jeremiah 33:3
#1 "Call to me…"
It is an astounding and undervalued fact that the creator of the whole universe knows you. It is even more astounding that he wants to hear from you. And if that were not incredible enough, he promises to answer you when you call on him.
#2 "…and I will answer you…"
When we call on the Lord, let us set our minds on seeking the truth. It is understandable to call on God for a certain answer that we want, but let us learn to seek him for his best answer. If at first you do not like the answer that God gives when you call, stay in his presence and ask him to help you conform to him. Let him teach you to love what he loves, to think as he thinks, and to do what he does.
#3 "…and tell you great and unsearchable things…"
When Paul had written his letter to the Romans and had gotten through chapter 11, he was forced to stop and praise God.
"The depth of the riches of the wisdom and knowledge of God! How unsearchable his judgments, and his paths beyond tracing out!"
Romans 11:33
His ways are so far above our ways, but a great privilege for the Christian is to learn what he has revealed about himself. Every time we truly grow in our knowledge of him, we will be like Paul, praising God for his "unsearchable" ways.
#4 "…you do not know."
It is a very great blessing to become the type of Christian who has studied the Word of God enough to realize that there is a great deal that we "do not know." It is a blessing because this understanding will lead to total surrender. What you cannot know, you do not need to know. We know that God knows all, and that is enough to trust him and let him be in charge.
Expert Overview of Jeremiah
Biblical Translations of Jeremiah 33:3
NIV
"Call to me and I will answer you and tell you great and unsearchable things you do not know."
NLT
"Ask me and I will tell you remarkable secrets you do not know about things to come."
ESV
"Call to me and I will answer you, and will tell you great and hidden things that you have not known."
KJV
"Call unto me, and I will answer thee, and show thee great and mighty things, which thou knowest not."
NKJV
"Call to Me, and I will answer you, and show you great and mighty things, which you do not know."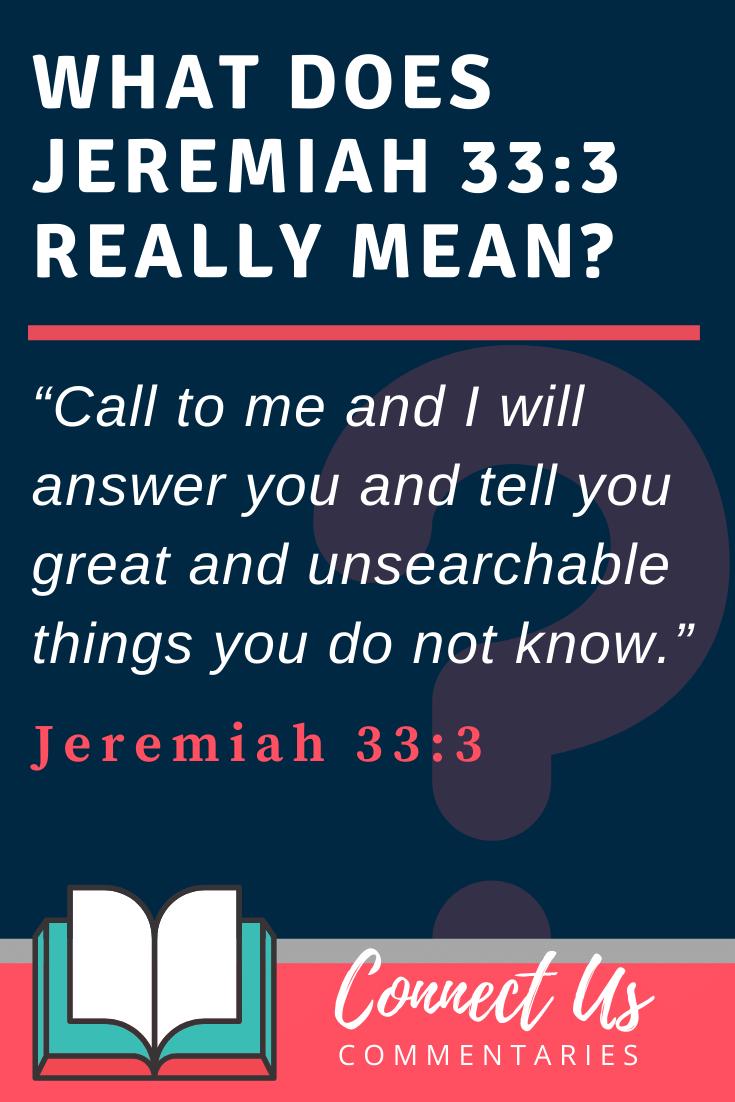 Author Bio
Natalie Regoli is a child of God, devoted wife, and mother of two boys. She has a Master's Degree in Law from The University of Texas. Natalie has been published in several national journals and has been practicing law for 18 years.