Here are the 40 most transcendent Bible scriptures on beauty.
Song of Solomon 4:7
You are altogether beautiful, my love; there is no flaw in you.
Proverbs 31:30
Charm is deceitful, and beauty is vain, but a woman who fears the Lord is to be praised.
Psalm 139:14
I praise you, for I am fearfully and wonderfully made. Wonderful are your works; my soul knows it very well.
1 Samuel 16:7
But the Lord said to Samuel, "Do not look on his appearance or on the height of his stature, because I have rejected him. For the Lord sees not as man sees: man looks on the outward appearance, but the Lord looks on the heart."
Ecclesiastes 3:11
He has made everything beautiful in its time. Also, he has put eternity into man's heart, yet so that he cannot find out what God has done from the beginning to the end.
1 Chronicles 16:29
Ascribe to the Lord the glory due his name; bring an offering and come before him! Worship the Lord in the splendor of holiness.
1 Samuel 16:18
One of the young men answered, "Behold, I have seen a son of Jesse the Bethlehemite, who is skillful in playing, a man of valor, a man of war, prudent in speech, and a man of good presence, and the Lord is with him."
1 Timothy 2:9
Likewise also that women should adorn themselves in respectable apparel, with modesty and self-control, not with braided hair and gold or pearls or costly attire.
2 Corinthians 3:18
And we all, with unveiled face, beholding the glory of the Lord, are being transformed into the same image from one degree of glory to another. For this comes from the Lord who is the Spirit.
2 Corinthians 4:16
So we do not lose heart. Though our outer self is wasting away, our inner self is being renewed day by day.
2 Samuel 11:2
It happened, late one afternoon, when David arose from his couch and was walking on the roof of the king's house, that he saw from the roof a woman bathing; and the woman was very beautiful.
2 Samuel 13:1
Now Absalom, David's son, had a beautiful sister, whose name was Tamar. And after a time Amnon, David's son, loved her.
2 Samuel 14:25
Now in all Israel there was no one so much to be praised for his handsome appearance as Absalom. From the sole of his foot to the crown of his head there was no blemish in him.
Ephesians 2:10
For we are his workmanship, created in Christ Jesus for good works, which God prepared beforehand, that we should walk in them.
Esther 1:11
To bring Queen Vashti before the king with her royal crown, in order to show the peoples and the princes her beauty, for she was lovely to look at.
Esther 2:7
He was bringing up Hadassah, that is Esther, the daughter of his uncle, for she had neither father nor mother. The young woman had a beautiful figure and was lovely to look at, and when her father and her mother died, Mordecai took her as his own daughter.
Ezekiel 16:14
And your renown went forth among the nations because of your beauty, for it was perfect through the splendor that I had bestowed on you, declares the Lord God.
Ezekiel 28:17
Your heart was proud because of your beauty; you corrupted your wisdom for the sake of your splendor. I cast you to the ground; I exposed you before kings, to feast their eyes on you.
Genesis 1:27
So God created man in his own image, in the image of God he created him; male and female he created them.
Genesis 12:11
When he was about to enter Egypt, he said to Sarai his wife, "I know that you are a woman beautiful in appearance."
Genesis 29:17
Leah's eyes were weak, but Rachel was beautiful in form and appearance.
Hebrews 11:23
By faith Moses, when he was born, was hidden for three months by his parents, because they saw that the child was beautiful, and they were not afraid of the king's edict.
Isaiah 40:8
The grass withers, the flower fades, but the word of our God will stand forever.
Isaiah 52:7
How beautiful upon the mountains are the feet of him who brings good news, who publishes peace, who brings good news of happiness, who publishes salvation, who says to Zion, "Your God reigns."
Isaiah 61:3
To grant to those who mourn in Zion— to give them a beautiful headdress instead of ashes, the oil of gladness instead of mourning, the garment of praise instead of a faint spirit; that they may be called oaks of righteousness, the planting of the Lord, that he may be glorified.
Isaiah 62:3
You shall be a crown of beauty in the hand of the Lord, and a royal diadem in the hand of your God.
Matthew 6:28
"And why are you anxious about clothing? Consider the lilies of the field, how they grow: they neither toil nor spin."
Philippians 4:8
Finally, brothers, whatever is true, whatever is honorable, whatever is just, whatever is pure, whatever is lovely, whatever is commendable, if there is any excellence, if there is anything worthy of praise, think about these things.
Proverbs 31:10
An excellent wife who can find? She is far more precious than jewels.
Proverbs 6:25
Do not desire her beauty in your heart, and do not let her capture you with her eyelashes.
Psalm 147:3
He heals the brokenhearted and binds up their wounds.
Psalm 149:4
For the Lord takes pleasure in his people; he adorns the humble with salvation.
Psalm 27:4
One thing have I asked of the Lord, that will I seek after: that I may dwell in the house of the Lord all the days of my life, to gaze upon the beauty of the Lord and to inquire in his temple.
Psalm 29:2
Ascribe to the Lord the glory due his name; worship the Lord in the splendor of holiness.
Psalm 45:11
And the king will desire your beauty. Since he is your lord, bow to him.
Psalm 50:2
Out of Zion, the perfection of beauty, God shines forth.
Song of Solomon 1:15
Behold, you are beautiful, my love; behold, you are beautiful; your eyes are doves.
Song of Solomon 1:5
I am very dark, but lovely, O daughters of Jerusalem, like the tents of Kedar, like the curtains of Solomon.
Song of Solomon 2:2
As a lily among brambles, so is my love among the young women.
Zechariah 9:17
For how great is his goodness, and how great his beauty! Grain shall make the young men flourish, and new wine the young women.
More Bible Verses that Will Move You
50 Most Powerful Scriptures on Faith
60 Transcendent Verses on Trust
50 Strong Scriptures on Perseverance
68 Powerful Verses on Forgiveness
40 Uplifting Scriptures on Patience
Add Our Infographic Below to Your Pinterest Board
Hit the pin button below to add our infographic, with all the verses, to one of your Pinterest boards.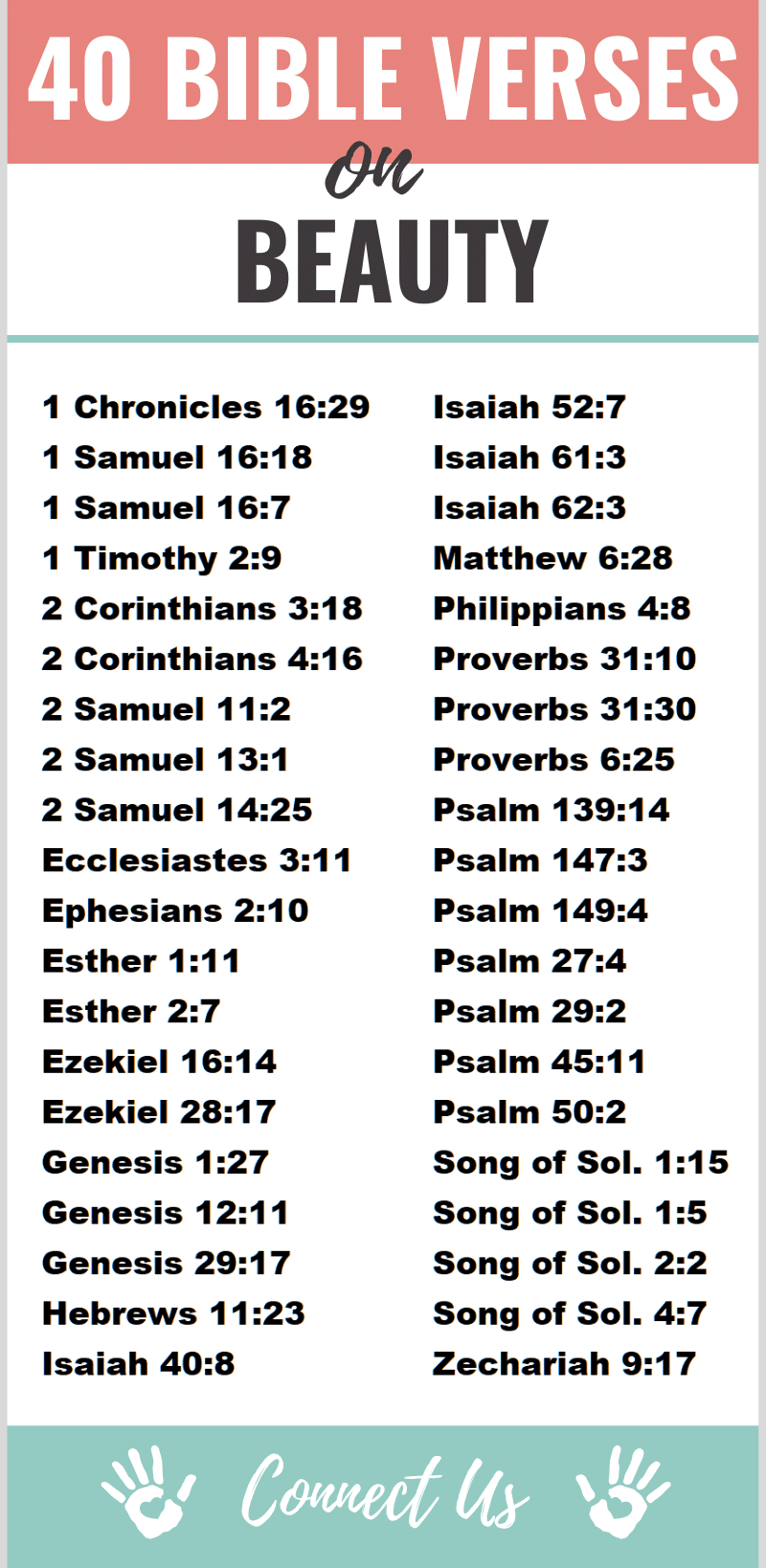 Author Bio
Natalie Regoli is a child of God, devoted wife, and mother of two boys. She has a Master's Degree in Law from The University of Texas. Natalie has been published in several national journals and has been practicing law for 18 years.