The word hate is found 178 times in the Old and New Testament. The image below reveals the locations of each occurrence. This cool graph starts with Genesis in the top left and ends with Revelation in the bottom right.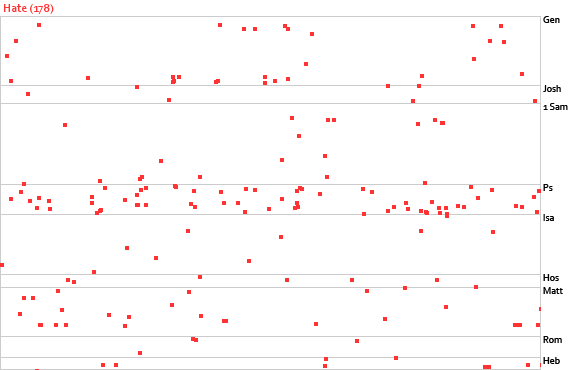 Here are the 40 most encouraging Bible scriptures on bullying.
Leviticus 19:18
"You shall not take vengeance or bear a grudge against the sons of your own people, but you shall love your neighbor as yourself: I am the Lord."
2 Timothy 1:7
For God gave us a spirit not of fear but of power and love and self-control.
Deuteronomy 31:6
Be strong and courageous. Do not fear or be in dread of them, for it is the Lord your God who goes with you. He will not leave you or forsake you.
1 John 3:15
Everyone who hates his brother is a murderer, and you know that no murderer has eternal life abiding in him.
1 John 2:9
Whoever says he is in the light and hates his brother is still in darkness.
1 Corinthians 14:33
For God is not a God of confusion but of peace. As in all the churches of the saints.
1 Corinthians 16:14
Let all that you do be done in love.
2 Corinthians 12:10
For the sake of Christ, then, I am content with weaknesses, insults, hardships, persecutions, and calamities. For when I am weak, then I am strong.
2 Timothy 2:22
So flee youthful passions and pursue righteousness, faith, love, and peace, along with those who call on the Lord from a pure heart.
Ephesians 4:29
Let no corrupting talk come out of your mouths, but only such as is good for building up, as fits the occasion, that it may give grace to those who hear.
Jeremiah 29:11
"For I know the plans I have for you, declares the Lord, plans for welfare and not for evil, to give you a future and a hope."
John 15:12
"This is my commandment, that you love one another as I have loved you."
Joshua 1:8
"This Book of the Law shall not depart from your mouth, but you shall meditate on it day and night, so that you may be careful to do according to all that is written in it. For then you will make your way prosperous, and then you will have good success."
Mark 12:31
"The second is this: 'You shall love your neighbor as yourself.' There is no other commandment greater than these."
Matthew 10:28
"And do not fear those who kill the body but cannot kill the soul. Rather fear him who can destroy both soul and body in hell."
Matthew 5:11
"Blessed are you when others revile you and persecute you and utter all kinds of evil against you falsely on my account."
Matthew 5:22
"But I say to you that everyone who is angry with his brother will be liable to judgment; whoever insults his brother will be liable to the council; and whoever says, 'You fool!' will be liable to the hell of fire."
Matthew 5:44
"But I say to you, Love your enemies and pray for those who persecute you."
Matthew 7:12
"So whatever you wish that others would do to you, do also to them, for this is the Law and the Prophets."
Micah 6:8
He has told you, O man, what is good; and what does the Lord require of you but to do justice, and to love kindness, and to walk humbly with your God?
Numbers 22:32
And the angel of the Lord said to him, "Why have you struck your donkey these three times? Behold, I have come out to oppose you because your way is perverse before me."
Philippians 2:3
Do nothing from rivalry or conceit, but in humility count others more significant than yourselves.
Proverbs 10:12
Hatred stirs up strife, but love covers all offenses.
Proverbs 12:18
There is one whose rash words are like sword thrusts, but the tongue of the wise brings healing.
Proverbs 17:9
Whoever covers an offense seeks love, but he who repeats a matter separates close friends.
Proverbs 22:10
Drive out a scoffer, and strife will go out, and quarreling and abuse will cease.
Proverbs 24:16
For the righteous falls seven times and rises again, but the wicked stumble in times of calamity.
Psalm 118:13
I was pushed hard, so that I was falling, but the Lord helped me.
Psalm 121:2
My help comes from the Lord, who made heaven and earth.
Psalm 18:3
I call upon the Lord, who is worthy to be praised, and I am saved from my enemies.
Psalm 5:6
You destroy those who speak lies; the Lord abhors the bloodthirsty and deceitful man.
Psalm 82:4
Rescue the weak and the needy; deliver them from the hand of the wicked."
Revelation 20:12
And I saw the dead, great and small, standing before the throne, and books were opened. Then another book was opened, which is the book of life. And the dead were judged by what was written in the books, according to what they had done.
Revelation 21:4
"'He will wipe away every tear from their eyes, and death shall be no more, neither shall there be mourning, nor crying, nor pain anymore, for the former things have passed away.'"
Revelation 21:8
"'But as for the cowardly, the faithless, the detestable, as for murderers, the sexually immoral, sorcerers, idolaters, and all liars, their portion will be in the lake that burns with fire and sulfur, which is the second death.'"
Revelation 22:12
"'Behold, I am coming soon, bringing my recompense with me, to repay everyone for what he has done.'"
Romans 12:18
If possible, so far as it depends on you, live peaceably with all.
Romans 15:7
Therefore welcome one another as Christ has welcomed you, for the glory of God.
Romans 2:1
Therefore you have no excuse, O man, every one of you who judges. For in passing judgment on another you condemn yourself, because you, the judge, practice the very same things.
Romans 8:31
What then shall we say to these things? If God is for us, who can be against us?
More Bible Verses that Will Move You
50 Most Powerful Scriptures on Faith
60 Transcendent Verses on Trust
50 Strong Scriptures on Perseverance
68 Powerful Verses on Forgiveness
40 Uplifting Scriptures on Patience
Add Our Infographic Below to Your Pinterest Board
Hit the pin button below to add our infographic, with all the verses, to one of your Pinterest boards.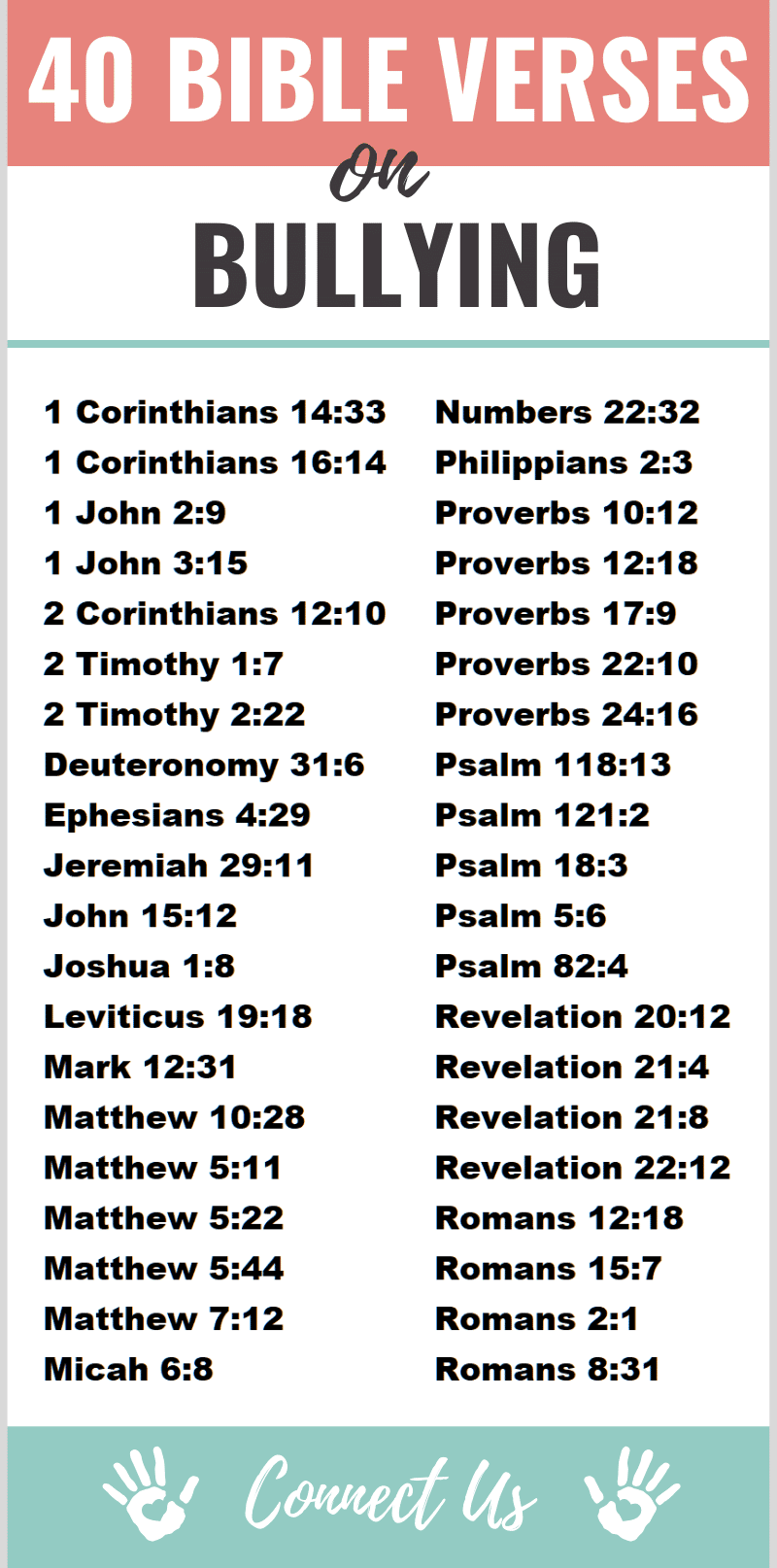 Author Bio
Natalie Regoli is a child of God, devoted wife, and mother of two boys. She has a Master's Degree in Law from The University of Texas. Natalie has been published in several national journals and has been practicing law for 18 years.