The word "deceit" appears 65 times throughout the books of the Bible. The graph below shows the locations of each appearance. It begins with Genesis in the top left and concludes with Revelation in the bottom right.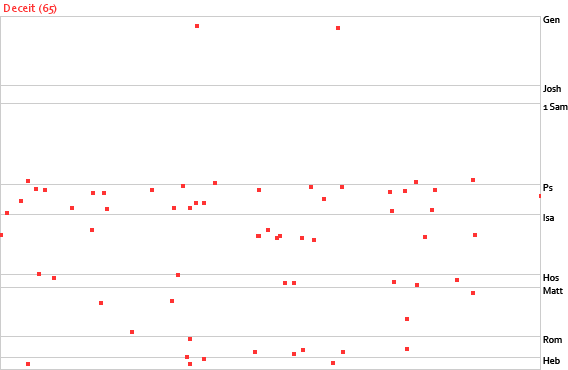 Here are the 40 most important Bible scriptures on deceit.
Psalm 101:7
No one who practices deceit shall dwell in my house; no one who utters lies shall continue before my eyes.
Proverbs 20:17
Bread gained by deceit is sweet to a man, but afterward his mouth will be full of gravel.
Psalm 120:2
Deliver me, O Lord, from lying lips, from a deceitful tongue.
Romans 16:18
For such persons do not serve our Lord Christ, but their own appetites, and by smooth talk and flattery they deceive the hearts of the naive.
Jeremiah 17:9
The heart is deceitful above all things, and desperately sick; who can understand it?
1 Peter 2:1
So put away all malice and all deceit and hypocrisy and envy and all slander.
1 Peter 2:22
He committed no sin, neither was deceit found in his mouth.
1 Peter 3:10
For "Whoever desires to love life and see good days, let him keep his tongue from evil and his lips from speaking deceit."
1 Thessalonians 2:3
For our appeal does not spring from error or impurity or any attempt to deceive.
2 Corinthians 11:13
For such men are false apostles, deceitful workmen, disguising themselves as apostles of Christ.
2 Corinthians 4:2
But we have renounced disgraceful, underhanded ways. We refuse to practice cunning or to tamper with God's word, but by the open statement of the truth we would commend ourselves to everyone's conscience in the sight of God.
2 John 1:7
For many deceivers have gone out into the world, those who do not confess the coming of Jesus Christ in the flesh. Such a one is the deceiver and the antichrist.
2 Thessalonians 2:10
And with all wicked deception for those who are perishing, because they refused to love the truth and so be saved.
2 Timothy 3:13
While evil people and impostors will go on from bad to worse, deceiving and being deceived.
Colossians 2:8
See to it that no one takes you captive by philosophy and empty deceit, according to human tradition, according to the elemental spirits of the world, and not according to Christ.
Ephesians 4:14
So that we may no longer be children, tossed to and fro by the waves and carried about by every wind of doctrine, by human cunning, by craftiness in deceitful schemes.
Ephesians 5:6
Let no one deceive you with empty words, for because of these things the wrath of God comes upon the sons of disobedience.
Jeremiah 5:27
"Like a cage full of birds, their houses are full of deceit; therefore they have become great and rich."
Jeremiah 9:6
"Heaping oppression upon oppression, and deceit upon deceit, they refuse to know me," declares the Lord.
Job 15:35
They conceive trouble and give birth to evil, and their womb prepares deceit."
Job 27:4
My lips will not speak falsehood, and my tongue will not utter deceit.
John 8:44
"You are of your father the devil, and your will is to do your father's desires. He was a murderer from the beginning, and has nothing to do with the truth, because there is no truth in him. When he lies, he speaks out of his own character, for he is a liar and the father of lies."
Proverbs 11:18
The wicked earns deceptive wages, but one who sows righteousness gets a sure reward.
Proverbs 12:17
Whoever speaks the truth gives honest evidence, but a false witness utters deceit.
Proverbs 12:5
The thoughts of the righteous are just; the counsels of the wicked are deceitful.
Proverbs 14:25
A truthful witness saves lives, but one who breathes out lies is deceitful.
Proverbs 14:8
The wisdom of the prudent is to discern his way, but the folly of fools is deceiving.
Proverbs 19:9
A false witness will not go unpunished, and he who breathes out lies will perish.
Proverbs 24:28
Be not a witness against your neighbor without cause, and do not deceive with your lips.
Proverbs 27:6
Faithful are the wounds of a friend; profuse are the kisses of an enemy.
Psalm 10:7
His mouth is filled with cursing and deceit and oppression; under his tongue are mischief and iniquity.
Psalm 32:2
Blessed is the man against whom the Lord counts no iniquity, and in whose spirit there is no deceit.
Psalm 35:20
For they do not speak peace, but against those who are quiet in the land they devise words of deceit.
Psalm 36:3
The words of his mouth are trouble and deceit; he has ceased to act wisely and do good.
Psalm 43:1
Vindicate me, O God, and defend my cause against an ungodly people, from the deceitful and unjust man deliver me!
Psalm 5:6
You destroy those who speak lies; the Lord abhors the bloodthirsty and deceitful man.
Revelation 21:8
"But as for the cowardly, the faithless, the detestable, as for murderers, the sexually immoral, sorcerers, idolaters, and all liars, their portion will be in the lake that burns with fire and sulfur, which is the second death."
Romans 1:29
They were filled with all manner of unrighteousness, evil, covetousness, malice. They are full of envy, murder, strife, deceit, maliciousness. They are gossips.
Romans 3:13
Their throat is an open grave; they use their tongues to deceive. The venom of asps is under their lips.
Zephaniah 3:13
"Those who are left in Israel; they shall do no injustice and speak no lies, nor shall there be found in their mouth a deceitful tongue. For they shall graze and lie down, and none shall make them afraid."
More Bible Verses that Will Move You
50 Most Powerful Scriptures on Faith
60 Transcendent Verses on Trust
50 Strong Scriptures on Perseverance
68 Powerful Verses on Forgiveness
40 Uplifting Scriptures on Patience
Add Our Infographic Below to Your Pinterest Board
Hit the pin button below to add our infographic, with all the verses, to one of your Pinterest boards.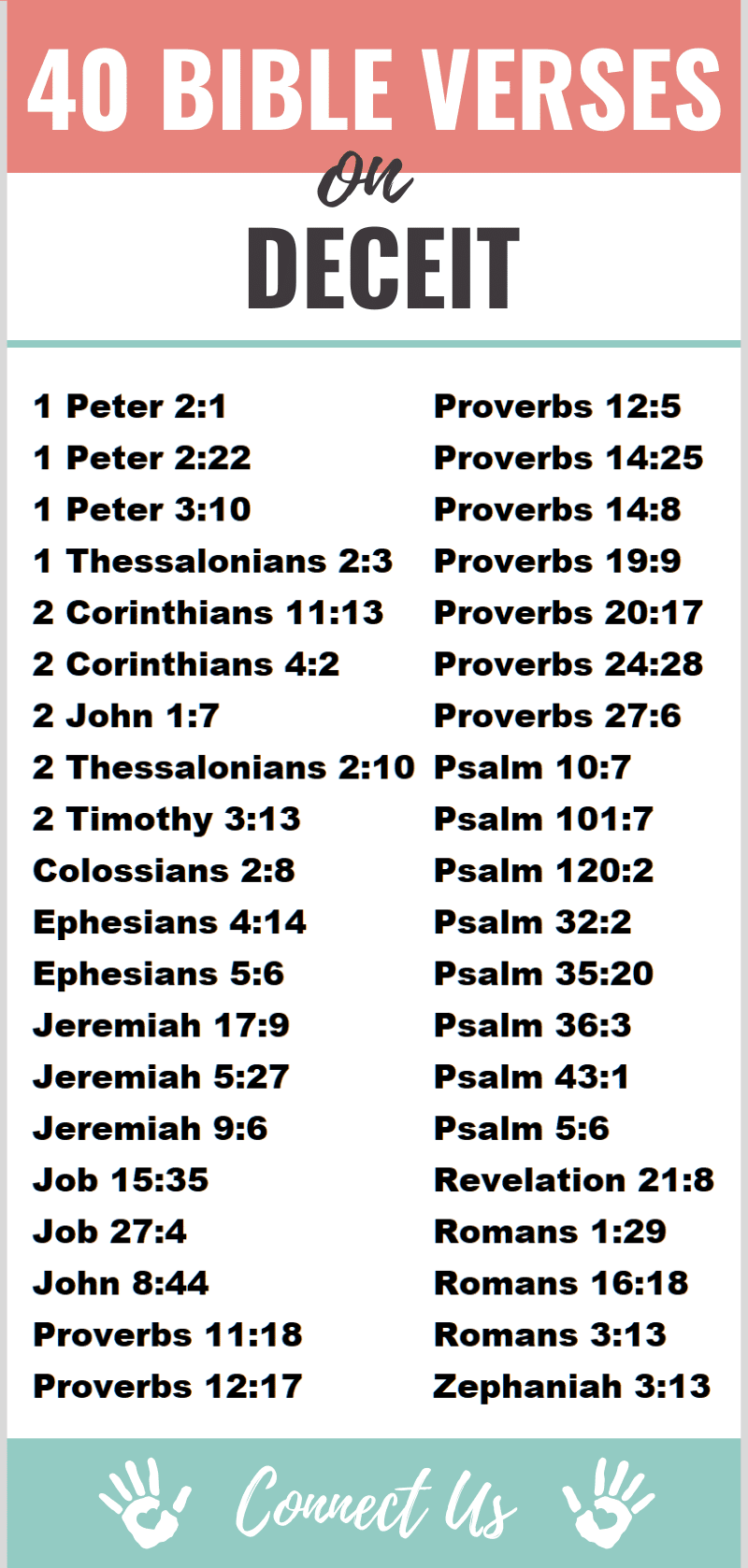 Author Bio
Natalie Regoli is a child of God, devoted wife, and mother of two boys. She has a Master's Degree in Law from The University of Texas. Natalie has been published in several national journals and has been practicing law for 18 years.