The word prepare is found 159 times in the Old and New Testament. The image below reveals the locations of each occurrence. This cool graph starts with Genesis in the top left and ends with Revelation in the bottom right.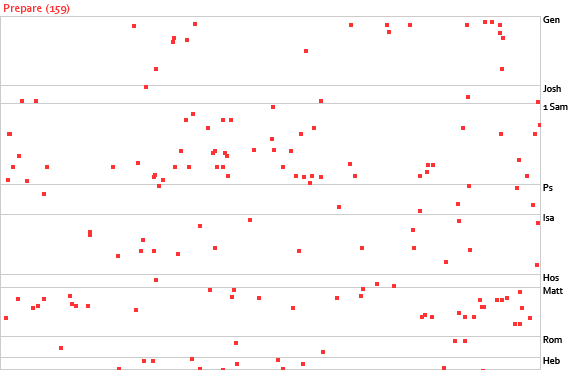 Here are the 40 most important Bible scriptures on preparation.
Proverbs 24:27
Prepare your work outside; get everything ready for yourself in the field, and after that build your house.
1 Peter 3:15
But in your hearts honor Christ the Lord as holy, always being prepared to make a defense to anyone who asks you for a reason for the hope that is in you; yet do it with gentleness and respect.
Luke 21:36
"But stay awake at all times, praying that you may have strength to escape all these things that are going to take place, and to stand before the Son of Man."
Proverbs 22:3
The prudent sees danger and hides himself, but the simple go on and suffer for it.
Matthew 24:44
"Therefore you also must be ready, for the Son of Man is coming at an hour you do not expect."
1 Corinthians 2:9
But, as it is written, "What no eye has seen, nor ear heard, nor the heart of man imagined, what God has prepared for those who love him."
1 Corinthians 9:24
Do you not know that in a race all the runners run, but only one receives the prize? So run that you may obtain it.
1 John 4:1
Beloved, do not believe every spirit, but test the spirits to see whether they are from God, for many false prophets have gone out into the world.
1 Peter 1:13
Therefore, preparing your minds for action, and being sober-minded, set your hope fully on the grace that will be brought to you at the revelation of Jesus Christ.
1 Peter 5:7
Casting all your anxieties on him, because he cares for you.
1 Timothy 5:8
But if anyone does not provide for his relatives, and especially for members of his household, he has denied the faith and is worse than an unbeliever.
2 Timothy 2:15
Do your best to present yourself to God as one approved, a worker who has no need to be ashamed, rightly handling the word of truth.
2 Timothy 4:2
Preach the word; be ready in season and out of season; reprove, rebuke, and exhort, with complete patience and teaching.
Acts 2:38
And Peter said to them, "Repent and be baptized every one of you in the name of Jesus Christ for the forgiveness of your sins, and you will receive the gift of the Holy Spirit."
Acts 2:40
And with many other words he bore witness and continued to exhort them, saying, "Save yourselves from this crooked generation."
Ephesians 2:10
For we are his workmanship, created in Christ Jesus for good works, which God prepared beforehand, that we should walk in them.
Ephesians 6:16
In all circumstances take up the shield of faith, with which you can extinguish all the flaming darts of the evil one.
Exodus 23:20
"Behold, I send an angel before you to guard you on the way and to bring you to the place that I have prepared."
Ezekiel 38:7
"Be ready and keep ready, you and all your hosts that are assembled about you, and be a guard for them."
Hebrews 11:7
By faith Noah, being warned by God concerning events as yet unseen, in reverent fear constructed an ark for the saving of his household. By this he condemned the world and became an heir of the righteousness that comes by faith.
Isaiah 40:3
A voice cries: "In the wilderness prepare the way of the Lord; make straight in the desert a highway for our God."
Isaiah 45:7
"I form light and create darkness, I make well-being and create calamity, I am the Lord, who does all these things."
John 16:33
"I have said these things to you, that in me you may have peace. In the world you will have tribulation. But take heart; I have overcome the world."
John 17:17
"Sanctify them in the truth; your word is truth."
John 9:4
"We must work the works of him who sent me while it is day; night is coming, when no one can work."
Luke 12:47
"And that servant who knew his master's will but did not get ready or act according to his will, will receive a severe beating."
Luke 14:28
"For which of you, desiring to build a tower, does not first sit down and count the cost, whether he has enough to complete it?"
Luke 14:31
"Or what king, going out to encounter another king in war, will not sit down first and deliberate whether he is able with ten thousand to meet him who comes against him with twenty thousand?"
Luke 21:34
"But watch yourselves lest your hearts be weighed down with dissipation and drunkenness and cares of this life, and that day come upon you suddenly like a trap."
Mark 15:42
And when evening had come, since it was the day of Preparation, that is, the day before the Sabbath.
Matthew 24:13
"But the one who endures to the end will be saved."
Matthew 24:36
"But concerning that day and hour no one knows, not even the angels of heaven, nor the Son, but the Father only."
Matthew 24:42
"Therefore, stay awake, for you do not know on what day your Lord is coming."
Proverbs 15:22
Without counsel plans fail, but with many advisers they succeed.
Proverbs 20:4
The sluggard does not plow in the autumn; he will seek at harvest and have nothing.
Proverbs 21:20
Precious treasure and oil are in a wise man's dwelling, but a foolish man devours it.
Proverbs 21:31
The horse is made ready for the day of battle, but the victory belongs to the Lord.
Proverbs 27:12
The prudent sees danger and hides himself, but the simple go on and suffer for it.
Romans 13:11
Besides this you know the time, that the hour has come for you to wake from sleep. For salvation is nearer to us now than when we first believed.
Romans 8:28
And we know that for those who love God all things work together for good, for those who are called according to his purpose.
More Bible Verses that Will Move You
50 Most Powerful Scriptures on Faith
60 Transcendent Verses on Trust
50 Strong Scriptures on Perseverance
68 Powerful Verses on Forgiveness
40 Uplifting Scriptures on Patience
Add Our Infographic Below to Your Pinterest Board
Hit the pin button below to add our infographic, with all the verses, to one of your Pinterest boards.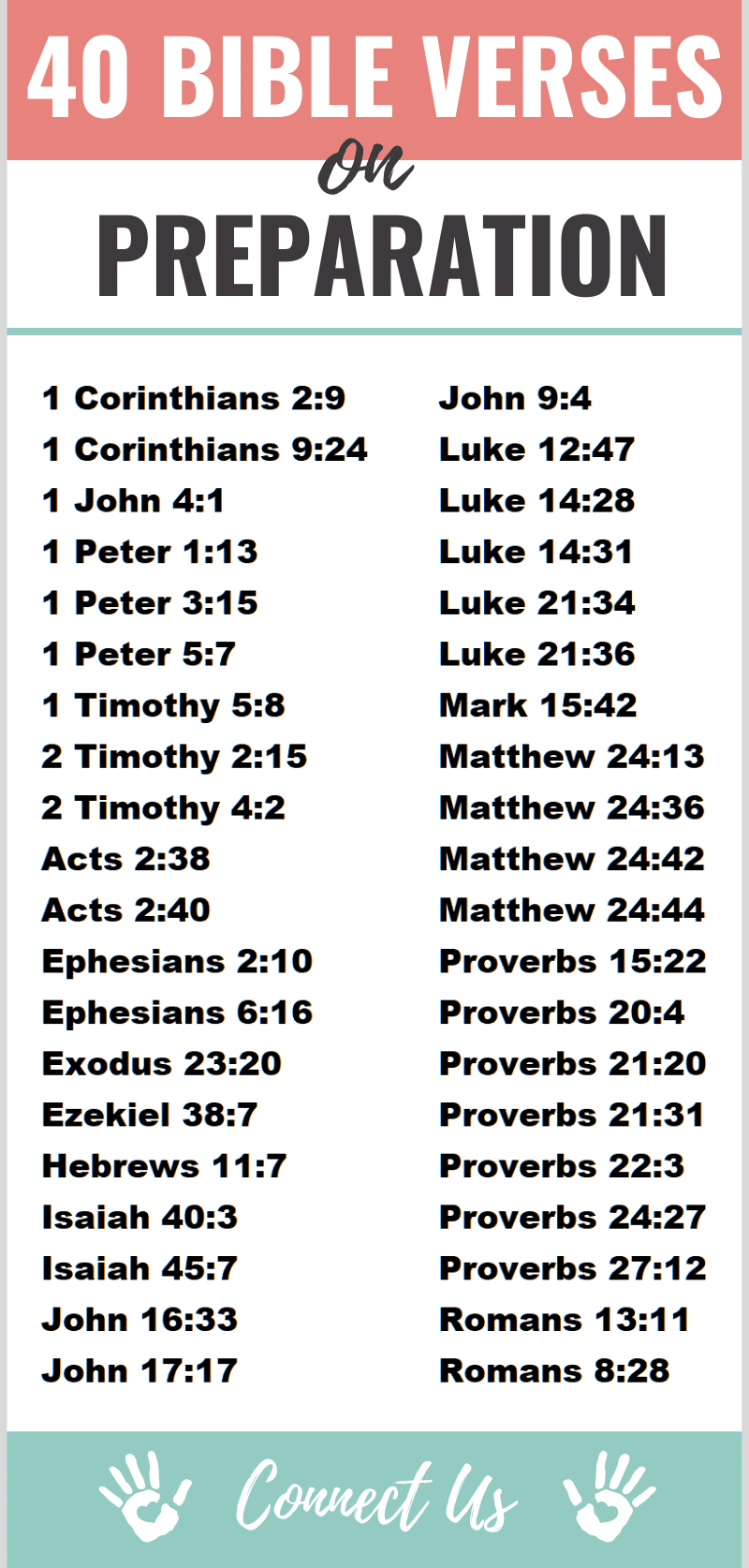 Author Bio
Natalie Regoli is a child of God, devoted wife, and mother of two boys. She has a Master's Degree in Law from The University of Texas. Natalie has been published in several national journals and has been practicing law for 18 years.