Here are the 40 most meaningful Bible scriptures on pleasing God.
Hebrews 11:6
And without faith it is impossible to please him, for whoever would draw near to God must believe that he exists and that he rewards those who seek him.
Galatians 1:10
For am I now seeking the approval of man, or of God? Or am I trying to please man? If I were still trying to please man, I would not be a servant of Christ.
1 Thessalonians 2:4
But just as we have been approved by God to be entrusted with the gospel, so we speak, not to please man, but to please God who tests our hearts.
Proverbs 16:7
When a man's ways please the Lord, he makes even his enemies to be at peace with him.
Romans 8:8
Those who are in the flesh cannot please God.
1 Chronicles 29:17
I know, my God, that you test the heart and have pleasure in uprightness. In the uprightness of my heart I have freely offered all these things, and now I have seen your people, who are present here, offering freely and joyously to you.
1 Corinthians 10:31
So, whether you eat or drink, or whatever you do, do all to the glory of God.
1 Corinthians 10:33
Just as I try to please everyone in everything I do, not seeking my own advantage, but that of many, that they may be saved.
1 John 3:22
And whatever we ask we receive from him, because we keep his commandments and do what pleases him.
1 Thessalonians 4:1
Finally, then, brothers, we ask and urge you in the Lord Jesus, that as you received from us how you ought to walk and to please God, just as you are doing, that you do so more and more.
2 Corinthians 5:9
So whether we are at home or away, we make it our aim to please him.
2 Peter 3:9
The Lord is not slow to fulfill his promise as some count slowness, but is patient toward you, not wishing that any should perish, but that all should reach repentance.
2 Timothy 2:4
No soldier gets entangled in civilian pursuits, since his aim is to please the one who enlisted him.
Acts 5:29
But Peter and the apostles answered, "We must obey God rather than men."
Colossians 1:10
So as to walk in a manner worthy of the Lord, fully pleasing to him, bearing fruit in every good work and increasing in the knowledge of God.
Colossians 3:20
Children, obey your parents in everything, for this pleases the Lord.
Colossians 3:22
Slaves, obey in everything those who are your earthly masters, not by way of eye-service, as people-pleasers, but with sincerity of heart, fearing the Lord.
Colossians 3:23
Whatever you do, work heartily, as for the Lord and not for men.
Ephesians 5:10
And try to discern what is pleasing to the Lord.
Ephesians 6:6
Not by the way of eye-service, as people-pleasers, but as servants of Christ, doing the will of God from the heart.
Ezekiel 33:11
"Say to them, As I live," declares the Lord God, "I have no pleasure in the death of the wicked, but that the wicked turn from his way and live; turn back, turn back from your evil ways, for why will you die, O house of Israel?"
Galatians 2:20
I have been crucified with Christ. It is no longer I who live, but Christ who lives in me. And the life I now live in the flesh I live by faith in the Son of God, who loved me and gave himself for me.
Hebrews 11:5
By faith Enoch was taken up so that he should not see death, and he was not found, because God had taken him. Now before he was taken he was commended as having pleased God.
Hebrews 13:16
Do not neglect to do good and to share what you have, for such sacrifices are pleasing to God.
Hosea 6:6
For I desire steadfast love and not sacrifice, the knowledge of God rather than burnt offerings.
Jeremiah 17:5
Thus says the Lord: "Cursed is the man who trusts in man and makes flesh his strength, whose heart turns away from the Lord."
John 12:43
"For they loved the glory that comes from man more than the glory that comes from God."
John 5:30
"I can do nothing on my own. As I hear, I judge, and my judgment is just, because I seek not my own will but the will of him who sent me."
John 5:44
"How can you believe, when you receive glory from one another and do not seek the glory that comes from the only God?"
John 8:29
"And he who sent me is with me. He has not left me alone, for I always do the things that are pleasing to him."
Matthew 17:5
He was still speaking when, behold, a bright cloud overshadowed them, and a voice from the cloud said, "This is my beloved Son, with whom I am well pleased; listen to him."
Philippians 2:13
For it is God who works in you, both to will and to work for his good pleasure.
Philippians 4:18
I have received full payment, and more. I am well supplied, having received from Epaphroditus the gifts you sent, a fragrant offering, a sacrifice acceptable and pleasing to God.
Proverbs 29:25
The fear of man lays a snare, but whoever trusts in the Lord is safe.
Psalm 149:4
For the Lord takes pleasure in his people; he adorns the humble with salvation.
Psalm 19:14
Let the words of my mouth and the meditation of my heart be acceptable in your sight, O Lord, my rock and my redeemer.
Romans 12:1
I appeal to you therefore, brothers, by the mercies of God, to present your bodies as a living sacrifice, holy and acceptable to God, which is your spiritual worship.
Romans 12:12
Rejoice in hope, be patient in tribulation, be constant in prayer.
Romans 12:2
Do not be conformed to this world, but be transformed by the renewal of your mind, that by testing you may discern what is the will of God, what is good and acceptable and perfect.
Romans 8:5
For those who live according to the flesh set their minds on the things of the flesh, but those who live according to the Spirit set their minds on the things of the Spirit.
More Bible Verses that Will Move You
50 Most Powerful Scriptures on Faith
60 Transcendent Verses on Trust
50 Strong Scriptures on Perseverance
68 Powerful Verses on Forgiveness
40 Uplifting Scriptures on Patience
Add Our Infographic Below to Your Pinterest Board
Hit the pin button below to add our infographic, with all the verses, to one of your Pinterest boards.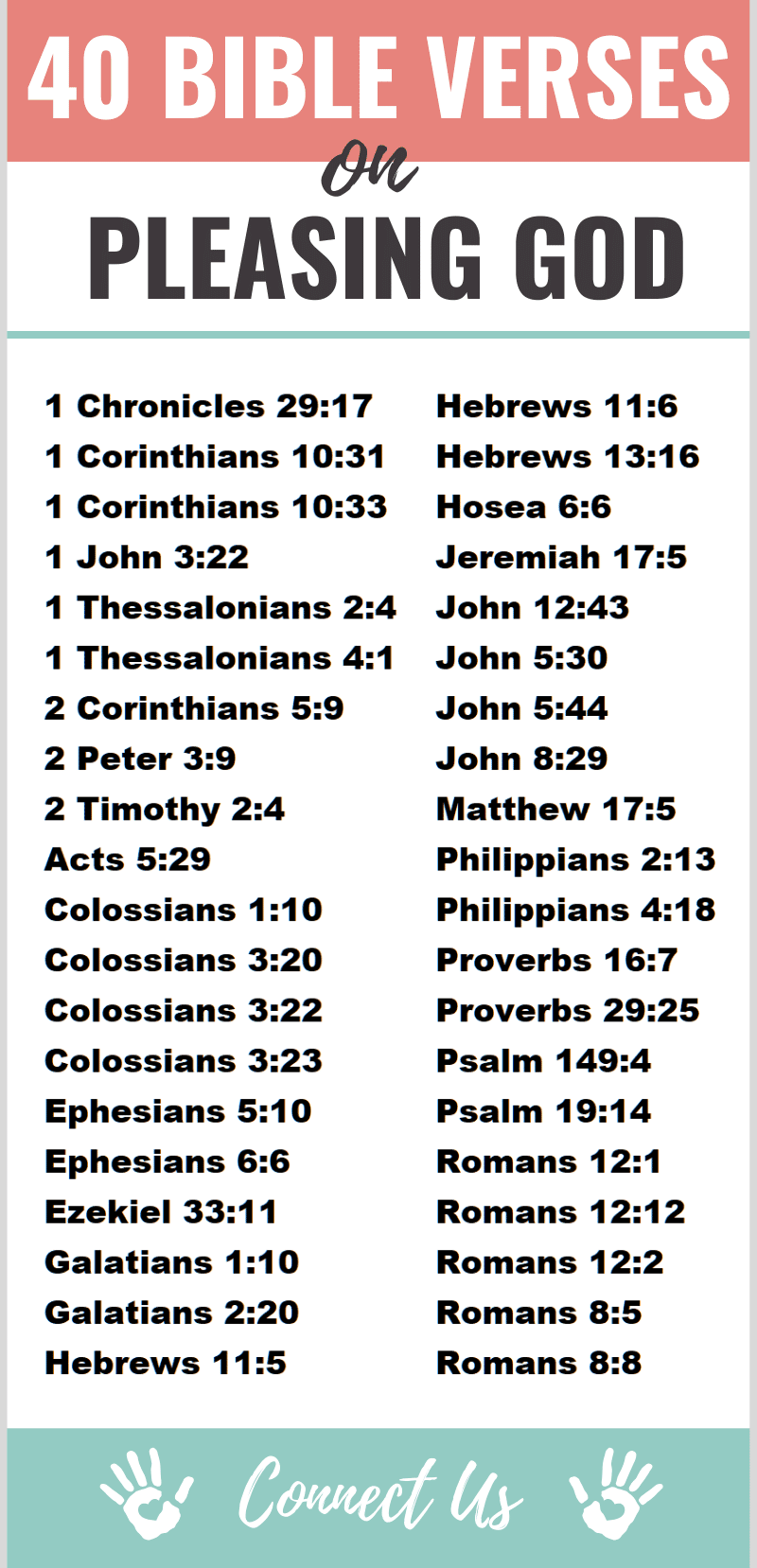 Author Bio
Natalie Regoli is a child of God, devoted wife, and mother of two boys. She has a Master's Degree in Law from The University of Texas. Natalie has been published in several national journals and has been practicing law for 18 years.