Here are the 40 most important Bible scriptures on putting God first.
Matthew 6:33
"But seek first the kingdom of God and his righteousness, and all these things will be added to you."
Proverbs 16:3
Commit your work to the Lord, and your plans will be established.
Matthew 6:24
"No one can serve two masters, for either he will hate the one and love the other, or he will be devoted to the one and despise the other. You cannot serve God and money."
Galatians 2:20
I have been crucified with Christ. It is no longer I who live, but Christ who lives in me. And the life I now live in the flesh I live by faith in the Son of God, who loved me and gave himself for me.
John 3:30
"He must increase, but I must decrease."
1 Corinthians 10:13
No temptation has overtaken you that is not common to man. God is faithful, and he will not let you be tempted beyond your ability, but with the temptation he will also provide the way of escape, that you may be able to endure it.
2 Corinthians 8:5
And this, not as we expected, but they gave themselves first to the Lord and then by the will of God to us.
2 Peter 3:9
The Lord is not slow to fulfill his promise as some count slowness, but is patient toward you, not wishing that any should perish, but that all should reach repentance.
2 Timothy 2:15
Do your best to present yourself to God as one approved, a worker who has no need to be ashamed, rightly handling the word of truth.
2 Timothy 3:16
All Scripture is breathed out by God and profitable for teaching, for reproof, for correction, and for training in righteousness.
2 Timothy 3:17
That the man of God may be competent, equipped for every good work.
Acts 10:35
But in every nation anyone who fears him and does what is right is acceptable to him.
Acts 4:12
And there is salvation in no one else, for there is no other name under heaven given among men by which we must be saved."
Acts 5:29
But Peter and the apostles answered, "We must obey God rather than men."
Colossians 3:2
Set your minds on things that are above, not on things that are on earth.
Deuteronomy 6:5
You shall love the Lord your God with all your heart and with all your soul and with all your might.
Ephesians 4:27
And give no opportunity to the devil.
Exodus 20:3
"You shall have no other gods before me."
Hebrews 11:6
And without faith it is impossible to please him, for whoever would draw near to God must believe that he exists and that he rewards those who seek him.
Hebrews 12:2
Looking to Jesus, the founder and perfecter of our faith, who for the joy that was set before him endured the cross, despising the shame, and is seated at the right hand of the throne of God.
Isaiah 42:8
"I am the Lord; that is my name; my glory I give to no other, nor my praise to carved idols."
John 10:10
"The thief comes only to steal and kill and destroy. I came that they may have life and have it abundantly."
John 15:5
"I am the vine; you are the branches. Whoever abides in me and I in him, he it is that bears much fruit, for apart from me you can do nothing."
John 3:16
For God so loved the world, that he gave his only Son, that whoever believes in him should not perish but have eternal life.
Luke 14:26
"If anyone comes to me and does not hate his own father and mother and wife and children and brothers and sisters, yes, and even his own life, he cannot be my disciple."
Luke 14:33
"So therefore, any one of you who does not renounce all that he has cannot be my disciple."
Mark 12:30
"And you shall love the Lord your God with all your heart and with all your soul and with all your mind and with all your strength."
Matthew 22:37
And he said to him, "You shall love the Lord your God with all your heart and with all your soul and with all your mind."
Matthew 4:10
Then Jesus said to him, "Be gone, Satan! For it is written, 'You shall worship the Lord your God and him only shall you serve.'"
Matthew 5:6
"Blessed are those who hunger and thirst for righteousness, for they shall be satisfied."
Matthew 7:1
"Judge not, that you be not judged."
Philippians 4:13
I can do all things through him who strengthens me.
Philippians 4:19
And my God will supply every need of yours according to his riches in glory in Christ Jesus.
Proverbs 3:6
In all your ways acknowledge him, and he will make straight your paths.
Psalm 37:4
Delight yourself in the Lord, and he will give you the desires of your heart.
Psalm 46:10
"Be still, and know that I am God. I will be exalted among the nations, I will be exalted in the earth!"
Romans 12:2
Do not be conformed to this world, but be transformed by the renewal of your mind, that by testing you may discern what is the will of God, what is good and acceptable and perfect.
Romans 5:8
But God shows his love for us in that while we were still sinners, Christ died for us.
Romans 6:4
We were buried therefore with him by baptism into death, in order that, just as Christ was raised from the dead by the glory of the Father, we too might walk in newness of life.
Romans 8:5
For those who live according to the flesh set their minds on the things of the flesh, but those who live according to the Spirit set their minds on the things of the Spirit.
More Bible Verses that Will Move You
50 Most Powerful Scriptures on Faith
60 Transcendent Verses on Trust
50 Strong Scriptures on Perseverance
68 Powerful Verses on Forgiveness
40 Uplifting Scriptures on Patience
Add Our Infographic Below to Your Pinterest Board
Hit the pin button below to add our infographic, with all the verses, to one of your Pinterest boards.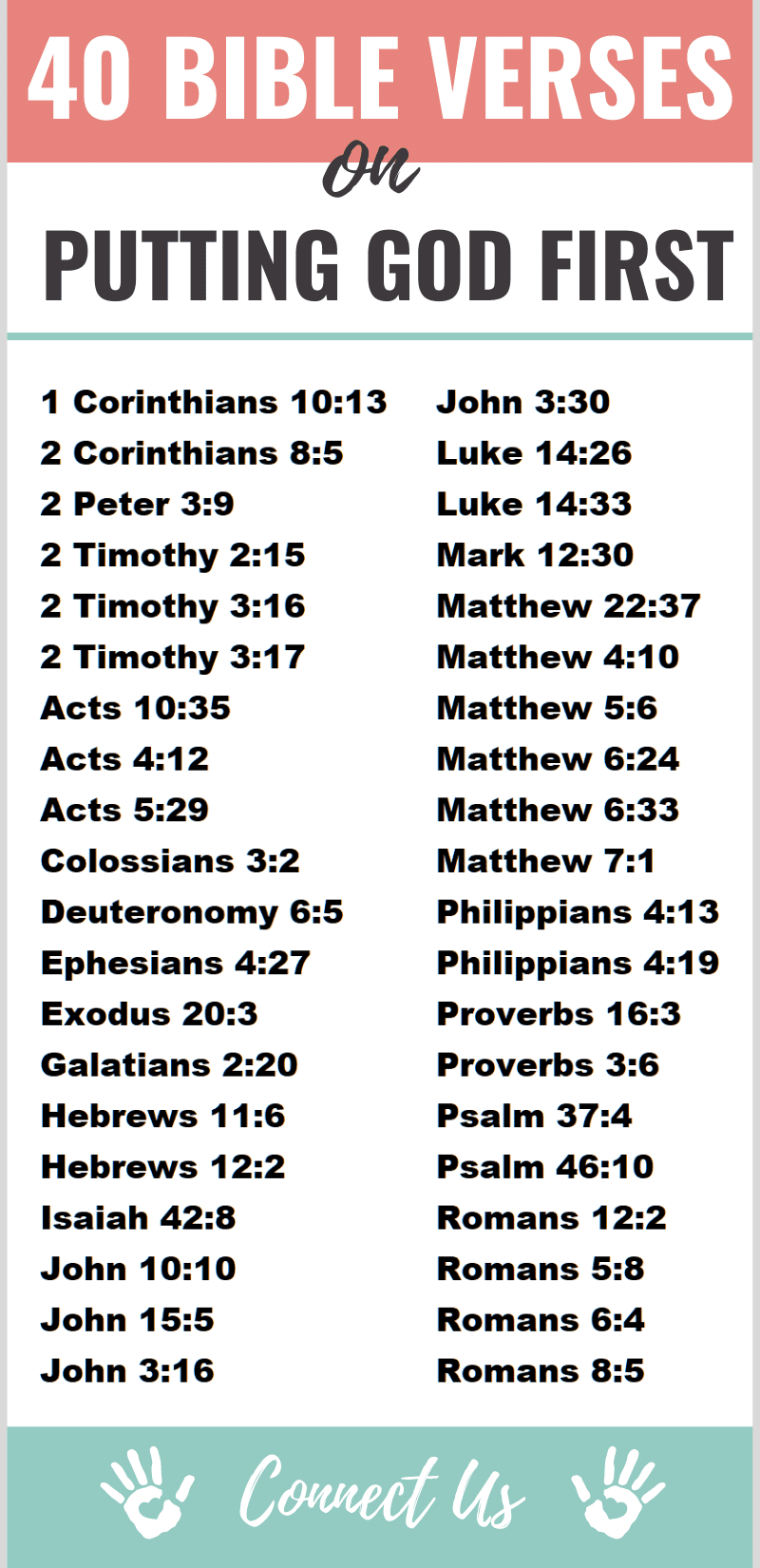 Author Bio
Natalie Regoli is a child of God, devoted wife, and mother of two boys. She has a Master's Degree in Law from The University of Texas. Natalie has been published in several national journals and has been practicing law for 18 years.