The word "rebel" appears 130 times throughout the books of the Bible. The graph below shows the locations of each appearance. It begins with Genesis in the top left and concludes with Revelation in the bottom right.
Here are the 40 most important Bible scriptures on rebellion.
1 Samuel 15:23
For rebellion is as the sin of divination, and presumption is as iniquity and idolatry. Because you have rejected the word of the Lord, he has also rejected you from being king.
Proverbs 17:11
An evil man seeks only rebellion, and a cruel messenger will be sent against him.
Psalm 68:6
God settles the solitary in a home; he leads out the prisoners to prosperity, but the rebellious dwell in a parched land.
Matthew 5:19
"Therefore whoever relaxes one of the least of these commandments and teaches others to do the same will be called least in the kingdom of heaven, but whoever does them and teaches them will be called great in the kingdom of heaven."
John 14:15
"If you love me, you will keep my commandments."
1 Corinthians 10:13
No temptation has overtaken you that is not common to man. God is faithful, and he will not let you be tempted beyond your ability, but with the temptation he will also provide the way of escape, that you may be able to endure it.
2 Peter 2:4
For if God did not spare angels when they sinned, but cast them into hell and committed them to chains of gloomy darkness to be kept until the judgment.
2 Thessalonians 2:3
Let no one deceive you in any way. For that day will not come, unless the rebellion comes first, and the man of lawlessness is revealed, the son of destruction.
2 Timothy 1:7
For God gave us a spirit not of fear but of power and love and self-control.
Acts 16:16
As we were going to the place of prayer, we were met by a slave girl who had a spirit of divination and brought her owners much gain by fortune-telling.
Acts 5:29
But Peter and the apostles answered, "We must obey God rather than men."
Colossians 3:20
Children, obey your parents in everything, for this pleases the Lord.
Deuteronomy 13:5
But that prophet or that dreamer of dreams shall be put to death, because he has taught rebellion against the Lord your God, who brought you out of the land of Egypt and redeemed you out of the house of slavery, to make you leave the way in which the Lord your God commanded you to walk. So you shall purge the evil from your midst.
Deuteronomy 31:27
For I know how rebellious and stubborn you are. Behold, even today while I am yet alive with you, you have been rebellious against the Lord. How much more after my death!
Ephesians 5:21
Submitting to one another out of reverence for Christ.
Ephesians 5:6
Let no one deceive you with empty words, for because of these things the wrath of God comes upon the sons of disobedience.
Ezra 4:19
And I made a decree, and search has been made, and it has been found that this city from of old has risen against kings, and that rebellion and sedition have been made in it.
Isaiah 1:5
"Why will you still be struck down? Why will you continue to rebel? The whole head is sick, and the whole heart faint."
Isaiah 30:1
"Ah, stubborn children," declares the Lord, "who carry out a plan, but not mine, and who make an alliance, but not of my Spirit, that they may add sin to sin."
Isaiah 63:10
But they rebelled and grieved his Holy Spirit; therefore he turned to be their enemy, and himself fought against them.
Isaiah 65:2
"I spread out my hands all the day to a rebellious people, who walk in a way that is not good, following their own devices."
Jeremiah 28:16
Therefore thus says the Lord: "Behold, I will remove you from the face of the earth. This year you shall die, because you have uttered rebellion against the Lord."
Jeremiah 29:32
Therefore thus says the Lord: "Behold, I will punish Shemaiah of Nehelam and his descendants. He shall not have anyone living among this people, and he shall not see the good that I will do to my people, declares the Lord, for he has spoken rebellion against the Lord."
Job 34:37
For he adds rebellion to his sin; he claps his hands among us and multiplies his words against God.
John 14:26
"But the Helper, the Holy Spirit, whom the Father will send in my name, he will teach you all things and bring to your remembrance all that I have said to you."
John 8:44
"You are of your father the devil, and your will is to do your father's desires. He was a murderer from the beginning, and has nothing to do with the truth, because there is no truth in him. When he lies, he speaks out of his own character, for he is a liar and the father of lies."
Joshua 22:22
The Mighty One, God, the Lord! The Mighty One, God, the Lord! He knows; and let Israel itself know! If it was in rebellion or in breach of faith against the Lord, do not spare us today.
Jude 1:11
Woe to them! For they walked in the way of Cain and abandoned themselves for the sake of gain to Balaam's error and perished in Korah's rebellion.
Jude 1:6
And the angels who did not stay within their own position of authority, but left their proper dwelling, he has kept in eternal chains under gloomy darkness until the judgment of the great day.
Luke 6:46
"Why do you call me 'Lord, Lord,' and not do what I tell you?"
Matthew 4:7
Jesus said to him, "Again it is written, 'You shall not put the Lord your God to the test.'"
Nehemiah 9:17
They refused to obey and were not mindful of the wonders that you performed among them, but they stiffened their neck and appointed a leader to return to their slavery in Egypt. But you are a God ready to forgive, gracious and merciful, slow to anger and abounding in steadfast love, and did not forsake them.
Numbers 14:9
Only do not rebel against the Lord. And do not fear the people of the land, for they are bread for us. Their protection is removed from them, and the Lord is with us; do not fear them.
Proverbs 22:6
Train up a child in the way he should go; even when he is old he will not depart from it.
Psalm 107:11
For they had rebelled against the words of God, and spurned the counsel of the Most High.
Revelation 12:4
His tail swept down a third of the stars of heaven and cast them to the earth. And the dragon stood before the woman who was about to give birth, so that when she bore her child he might devour it.
Revelation 12:9
And the great dragon was thrown down, that ancient serpent, who is called the devil and Satan, the deceiver of the whole world—he was thrown down to the earth, and his angels were thrown down with him.
Romans 12:19
Beloved, never avenge yourselves, but leave it to the wrath of God, for it is written, "Vengeance is mine, I will repay," says the Lord.
Romans 13:1
Let every person be subject to the governing authorities. For there is no authority except from God, and those that exist have been instituted by God.
Romans 13:4
For he is God's servant for your good. But if you do wrong, be afraid, for he does not bear the sword in vain. For he is the servant of God, an avenger who carries out God's wrath on the wrongdoer.
More Bible Verses that Will Move You
50 Most Powerful Scriptures on Faith
60 Transcendent Verses on Trust
50 Strong Scriptures on Perseverance
68 Powerful Verses on Forgiveness
40 Uplifting Scriptures on Patience
Add Our Infographic Below to Your Pinterest Board
Hit the pin button below to add our infographic, with all the verses, to one of your Pinterest boards.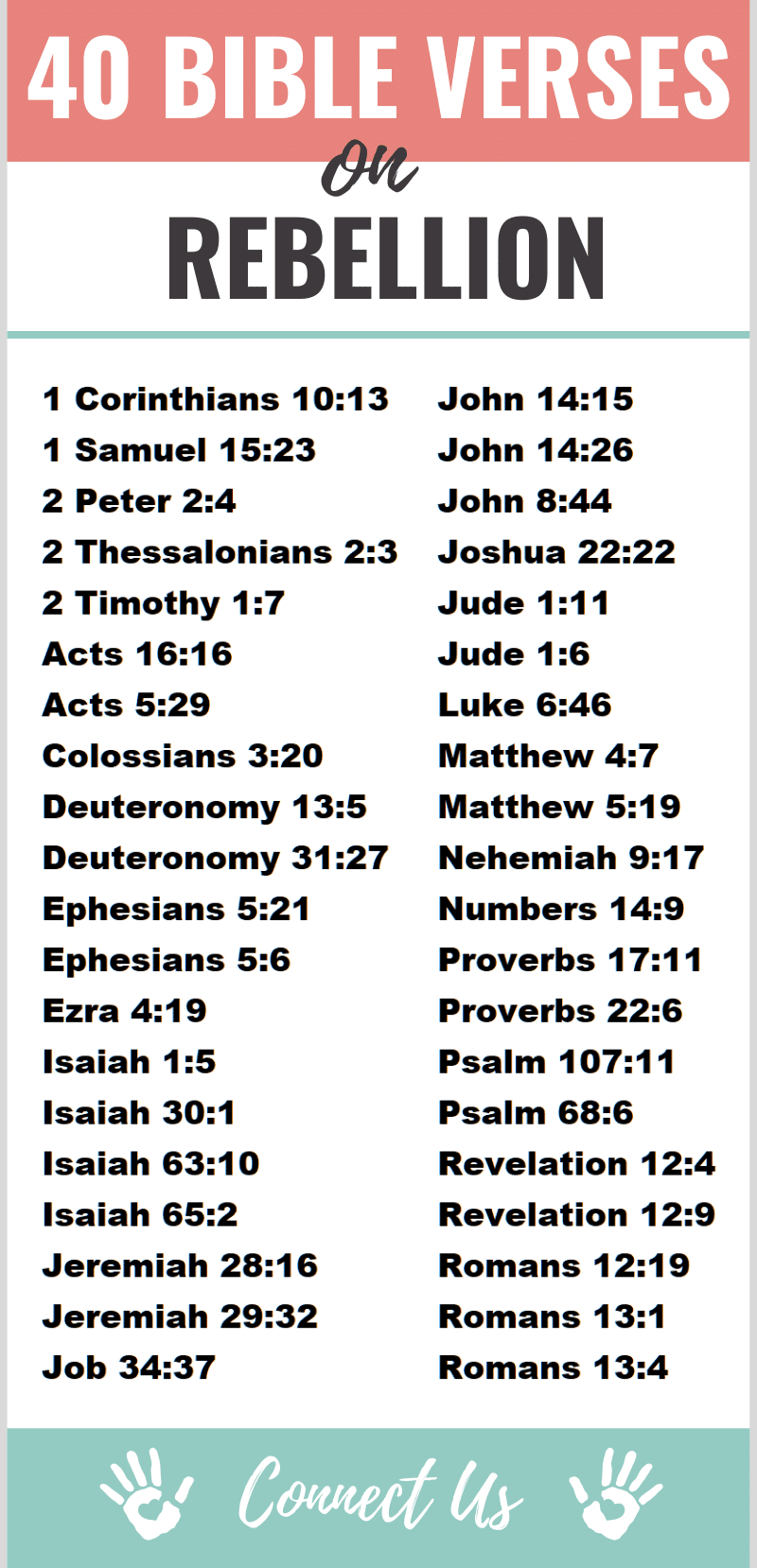 Author Bio
Natalie Regoli is a child of God, devoted wife, and mother of two boys. She has a Master's Degree in Law from The University of Texas. Natalie has been published in several national journals and has been practicing law for 18 years.